All Photos By Travis Failey

Metropolitan Park in Jacksonville will once again host Monster Energy's Welcome To Rockville on April 25th and 26th. 43 bands will be gracing the stages over the two day event, with something for everyone who enjoys the hard rock/metal genre with a few anomalies mixed in. Welcome To Rockville alumni KORN will be headlining Saturday night by playing their self- titled debut release in its entirety, and the mighty SLIPKNOT will be closing out the festival on Sunday night.

Saturday's lineup is a who's who of classic metal and showcases some of the forefathers of "thrash." With EXODUS, TESTAMENT and one of the Big Four in SLAYER, audience members new and old will experience the spirit and energy that spawned a whole new style of metal. In SLAYER you will have crosses and pyro….lots of pyro. With Mike Muir and SUICIDAL TENDENCIES also on the bill, the pits will be flowing old school style that I hope some of the younger crowd picks up on. There has been a disturbing shift in the culture of mosh pits of late with people entering them with the intention of hurting others.

Other old school bands on the stage on Saturday will be a rejuvenated QUEENSRYCHE, who are fronted by a vocal powerhouse in Todd La Torre. QUEENSRYCHE has completed the transition from Geoff Tate and they have been constantly touring and writing the follow up album to their highly successful release Queensryche. With many hits and a new focus on the next chapter in their career, they are a must-see band at the Festival.
It's amazing how these bands have survived through the 30 plus years of existence, especially when most critics looked at thrash and metal and never gave it the credit it deserved and said it was a fad. Despite several band member changes and many years of ups and downs, these bands have persevered and their fans have remained loyal.
There are other and many must see bands on Saturday, two of them being MINISTRY and MARILYN MANSON.
When someone says Industrial music, everyone thinks Al Jorgenson and MINISTRY. Jorgenson started MINISTRY in Chicago in 1981 and also spawned a sound that most had never heard of before. Combining jack hammering drum machines, synthesizers, keyboards, unconventional electronic processing, and heavy distorted electric guitar and bass, MINISTRY created an underground scene all its own.
With MARILYN MANSON you not only get to hear some great music but also get to see a great stage show. With the incorporation of props and theatrics, Manson always makes his shows an event, not just another concert. With him out in support of his January 2015 release The Pale Emperor, Monster Energy's Welcome To Rockville will be a perfect venue for a Manson spectacle.
Other bands that will be performing on Saturday are alumni of Rockville in the masked madmen of HALESTORM and HOLLYWOOD UNDEAD.
Lzzy Hale and HALESTORM crushed the Rockville audience in 2013 and with their highly anticipated release Into The Wild Life hitting the shelves in early April, I expect to see a huge crowd for their performance. Lzzy is a monster vocally and equally proficient on the guitar (and piano) and they know what their fans want and expect from them.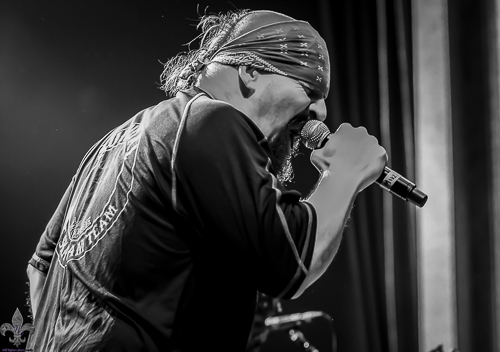 SUICIDAL TENDENCIES aren't the only band that will get your body grooving as rap rockers HOLLYWOOD UNDEAD will be bringing their masks and beats to the masses. You may be hesitant to go and check them out because of the rap influence on the music, but they are very talented with quality songs and the girls love them. They are releasing a new album in Day Of The Dead as their follow up to Notes From The Underground which was HOLLYWOOD UNDEAD's introduction to many new fans. It is outstanding and the songs vary from track to track and does not suffer from redundancy.
Another interesting pair of bands for Saturday's lineup are LIVE and SCOTT WEILAND AND THE WILDABOUTS. Scott Weiland's antics are as legendary as a few of the songs that he wrote and performed with STONE TEMPLE PILOTS. One of the big questions for the Rockville weekend will be answered during or after his performance with his new band.
Another question for Saturday will be the crowd's reaction to the band LIVE. LIVE is a much mellower band than the rest of the lineup, and have a new singer in Chris Shin, replacing founding member Ed Kowalczyk. It will be tough to replace Kowalczyk as his distinct vocal sound sets LIVE apart from many of the other post- grunge sound artists.
Some of the newer but established bands for Saturday are the Chris Jericho-led FOZZY, OF MICE & MEN, PERIPHERY, THE DEVIL WEARS PRADA and NONPOINT. NONPOINT must never take a break because they are always on tour. They are the definition of high energy and always provide a memorable performance like they did two years ago at Metropolitan Park.
Other bands for Saturday include BEARTOOTH, UPON A BURNING BODY, SONS OF TEXAS, RED SUN RISING & WORLD GONE. SONS OF TEXAS have been burning up Sirius XM's Octane with their single "Baptized In The Rio Grande".
After a thrashing kind of Monster on Saturday, the lineup shifts to a more modern HR/HM approach with PAPA ROACH, SLASH, GODSMACK then SLIPKNOT closing out the weekend.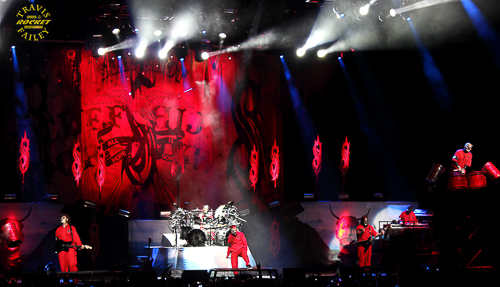 It will be a first time appearance for the masked men of SLIPKNOT. Yes, Corey Taylor and Jim Root have played the Monster Energy Welcome To Rockville Stage with STONE SOUR but the fans are in for audio and visual chaos. SLIPKNOT released The Gray Chapter in October of 2014 and have been getting huge airplay on Sirius XM and terrestrial radio. Love them or hate them, you have to experience a SLIPKNOT show and Rockville is great place to do it at.
After headlining last year's Uproar Tour, GODSMACK is back on tour in support of 1000HP. They are hit-makers and Sully Erna and GODSMACK should go down as a great American Rock Band. With every release comes memorable songs and they have done it once again with 1000HP. With singles in "Something Wrong" and "1000 HP", GODSMACK always brings it live and hopefully they will bring the dual drum kit with Erna taking a turn behind the skins.
SLASH will be appearing with MYLES KENNEDY AND THE CONSPIRATORS and it will be interesting to see if Myles joins his other band mate from ALTER BRIDGE on stage in TREMONTI, who is also playing on Sunday's lineup.
Sunday also brings three of the biggest female-fronted bands in the business in Maria Brink with IN THIS MOMENT, THE PRETTY RECKLESS and Taylor Momsen, and two of the most aggressive voices: The BUTCHER BABIES' Carla Harvey and Heidi Shepherd. Brink always puts on an entertaining stage show and the BUTCHER BABIES have proven that they are more than pretty faces and have earned their spot at these festivals.
Other Rockville alumni that will be playing on Sunday will be BREAKING BENJAMIN and PAPA ROACH. Jacoby Shaddix of PAPA ROACH is a great live vocalist and what you hear from the studio is how he performs live. He also doesn't mind jumping into the crowd.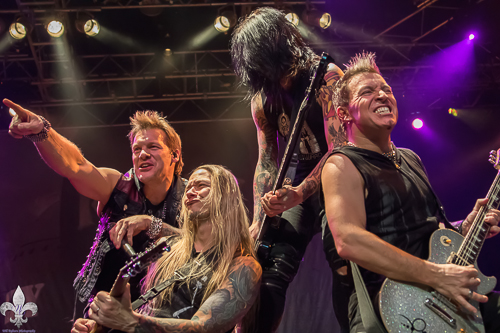 Speaking of the crowd, be prepared for huge numbers at this festival. If you haven't been here before, you should expect over 20,000 people and patience is a must. Other necessities are sunscreen, comfortable walking shoes, and money. The park has charging stations for your cell, a wide variety of food vendors, and almost everything else you will need to make it through the weekend. Did I mention walking shoes? There's nothing worse than being on your feet for 10 plus hours and then having to do it again the next day and your feet are killing you.
There are many ticket options available and one these is the Weekend 2-Day VIP Tickets. These include: Separate VIP entrance to venue; access to VIP Lounge area featuring dedicated bar, beverage, and food service; VIP-only viewing area of main stage; seated area with shade for dining; private restroom facilities; commemorative VIP laminates.
These and other options can be purchased here : http://welcometorockvillefestival.com/tickets/ Water Taxi Service is also available. The water taxis will pick up and drop off concert goers from the Jacksonville Landing, the Crowne Plaza Hotel, and the Wyndam Riverwalk Hotel, and deliver them to the marina dock at Metropolitan Park.
Ok, that's my Public Service Announcement. Back to the bands. Three of the more heavier bands in this weekend's Rockville lineup will bring their own style of mosh pit on Sunday.
IN FLAMES, ALL THAT REMAINS and HATEBREED are well established bands and these three could do very well with their core fans if they decided to put this lineup as their own separate tour. Metalcore and Melodic Death Metal at its finest.
Chris Motionless and MOTIONLESS IN WHITE are back at Rockville. Since playing here last year, they released their third studio album, Reincarnate, in September of 2014. They achieved traction from this release and have seen their fan base grow exponentially since the Mayhem Festival a few years back.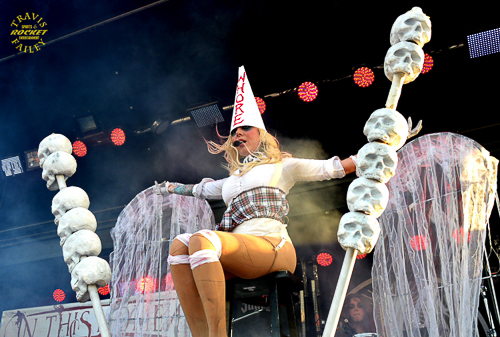 Other artists on Sunday include many bands who have spent a lot of time on the Sirius XM's Big Ins charts:
STARSET who released their debut album, Transmissions, in July of 2014, featuring "My Demons" and "Carnivore".
LIKE A STORM released their third studio album, Awaken The Fire, in February of 2015. Songs include "Wish You Hell" and "Love The Way You Hate Me".
Rounding out the Sunday lineup are :
VAMPS, the Japanese rock duo who released Bloodsuckers in October of 2014 and YOUNG GUNS, who will release their third studio album, Ones And Zeros, in June of 2015. Songs include "I Want Out" and "Speaking In Tongues".
WE ARE HARLOT, '68, ISLANDER and FROM ASHES TO NEW will get the festivities started Sunday afternoon.For the full lineup please check out: http://welcometorockvillefestival.com/lineup/
Rockville will also be bringing "Tequila World," Crazy Dave's Music Experience, and new in 2015 is the RISK interactive graffiti art installation.
If this year is anything like the previous incarnations of the Monster Energy Welcome To Rockville Festival at Metropolitan Park, be prepared! Prepared to hear all different kinds of hard rock, see some of the absolute legends of thrash that spawned and influenced many of your favorite bands, and last but not least, have an unforgettable time.
For all things Rockville, please go to the website at:
http://welcometorockvillefestival.com/