Live Photo By Charlie Steffens

They've been doing the Toxic Waltz for nearly 30 years and they're still at it. EXODUS will be hitting the road to wow audiences as a top billed act on the Dark Roots of Thrash II Tour with TESTAMENT this Spring. The tour starts on April 1st and hits as many major markets as possible. This will be a continuation of touring support for the band's critically acclaimed latest album, the Andy Sneap mastered and Gary Holt produced Blood In, Blood Out.

The band has enjoyed years of success and stability amongst the biggest of the Bay Area thrash bands that emerged during the 1980's and while they have had singer changes, as well as personal and performance related challenges for the other members, the band has survived and thrived. This year marks the 30th Anniversary of the legendary Bonded By Blood album and the band is in top form.
The release of the new album also garnered another milestone for the band because it featured the return of vocalist Steve "Zetro" Souza. The band is also currently comprised of Tom Hunting (drums), Jack Gibson (bass), Lee Altus (guitars) and Gary Holt (guitars). Sousa had been away from the band for about ten years and the opportunity to rejoin and work on new music was exciting for him.
"We have so much going on right now," Souza said. "We actually have a little Japanese run before we head out with TESTAMENT so it has been really busy. We start the tour at home on April 1st. This is my third stint as the band's singer and this time I am so mentally and physically prepared for this tour. I think I am more excited this time around than I have been."
Souza says that the new record shows the band's fan-base that there has been stability of sound and that the music on the record has kept the pace with what today's fans have asked for. It bears the signature EXODUS formula and has been well received critically.
"The fans love the album," he said. "The reaction has been, 'wow, here we are 30 years later and EXODUS is still bringing it, still kicking ass.' I am talking about performances and writing. We are considered the elder statesmen of our craft, and I don't mean for that to sound at all pompous because I'm not; I feel so privileged to still be doing this. We know what our fans want and we do our best to deliver it to them. We have stood the test of time because we have been loyal to our sound and that has kept the fans interested."
The Dark Roots of Thrash II Tour is going to be a high energy tour that Souza thinks will showcase the band exceptionally well not only to loyal, die-hard fans that have been with them for the past thirty years, but also for the new fans that are just discovering the band.
"We are going to have a 60 minute set so we get to do a pretty full show," he said. "You never know what kind of surprises may be in store. People that know our history know that I was the original singer for TESTAMENT when they were LEGACY, and I wrote most of the music on their first record so Chuck (Billy) and I have this way of singing together that is dynamic. So, don't rule out some onstage collaboration on this tour during either of our sets. We are going to talk shop and see what we may want to do and I think that will lend an element of excitement to the show for our fans. We are known for doing stuff like this. The live show should be like a party or have a 'wow I didn't expect that' type of feel. We try to do off the cuff things whenever we can, like when we were in Australia, we brought Max Cavalera (SEPULTURA) up to do "Bonded By Blood" and the fans went crazy! It's fun and I hope people enjoy it!"
While EXODUS may be celebrating longevity as a band, they have certainly branched out and become the darlings of the younger thrash generation. When you look out among the audience members at any of their shows, you not only see fans from the 80's thrash generation, you see a younger set that is creating a pit and engaging in friendly, violent fun.
"I think that with every great band you get a new fan base with every album you release," Souza said. "I think that we have been fortunate enough to be around a long time so we have a fan base that is all ages and there is always an audience for us. The age range is getting younger and I had to get up and scream where are the "new-schoolers" at some of our shows in South America because the average age was between 20 and 30. You know, thrash has been around for more than 30 years and I think of when I was a kid and when I thought of oldies, it was music from the 50's and now I think that when you listen to one of our songs from the eighties, you think to yourself 'would that be considered oldies?' I don't think so. So many of the bands have had this longevity and keep gaining fans of all ages so you don't see yourself in that 'oldies' category. We are able to stay close to our fans no matter what the age group. We haven't lost the integrity or the energy of the music."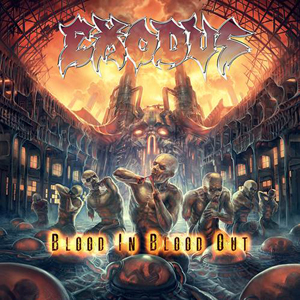 This will be yet another package tour that EXODUS has participated on the past two years. They were on Metal Alliance in 2013 and recently toured with the SLAYER package. It appears that package tours for the behemoths of the metal world will become the norm.
"The package tours are the wave of the future for bands like us and it has a lot to do with record sales and ticket prices that are being charged now," he said. "Everything is digital now and that has, of course, affected physical sales of albums for so many bands and when you look back at what you used to pay for a show ticket, $10 to $15 per ticket, and now you have to charge so much to make up for shortfalls elsewhere, you have to put together a package that is worth what you are paying for the ticket. Also, the big festival packages are really taking off in this country in ways they didn't before. Some of them are taking a page from the European festival book and patterning after that format and you may find that there are multiple genres of rock and metal on the same festival so that there is something for everyone. We are also doing the VIP ticket package with the meet and greet and that is something that has gained popularity over the past couple of years. We are trying new things to put ourselves out there and to reach the audience."
This may be the best tour of this season and EXODUS will certainly work toward making it the most fun you will have at a show. So join TESTAMENT, EXODUS and SHATTERED SUN on the Dark Roots Of Thrash II Tour. Waltz it up, the Pit is it! You will be glad you did!
Band and tour information can be found at: www.exodusattack.com