Band Photo By Arnold Garza

It is often said that big things come in small packages. The same holds true with small places. Let us focus on the little town of Alice, Texas; Population 19,576. The booming oilfield industry thrives there and it is well known as the birthplace of Tejano music. It is also the birthplace of fast rising metal superstars SHATTERED SUN. The hard-hitting six-piece is preparing to release their debut album via Victory Records, Hope Within Hatred, and have secured a spot on the most coveted tour of the season, the TESTAMENT/EXODUS Dark Roots Of Thrash II Tour.

Comprised of bassist Joseph Guajardo, keyboardist Henry Garza, guitarists Jessie Santos and Daniel Trejo, drummer Robert Garza and vocalist Marcos Leal, the band has recorded an album with a sound that doesn't pigeonhole them into any particular genre but is in fact a melding of the best of European progressive power metal and American thrash.

"We plan to head out to join the tour around March 28th or so and the tour starts on April 1st and we are super excited to be on this tour," Leal said. "We have been cultivating our sound for a long time and we are fans of new and old music. We came up on bands like METALLICA, MEGADETH and PANTERA but we also have bands like MACHINE HEAD and KORN from our generation and so we warped our sound to mesh our influences. I feel like we are trying to do something fresh and different. We are really not about being labeled and we really want to create a new sound; to move toward what metal is going to be."
SHATTERED SUN has emerged with not only a unique sound but also a different outlook on life. While many bands tend to focus on the negative, this band projects a positive outlook and a determination that is not always so evident in other bands currently on the scene. They have traditional metal influences but they have also grown up during the nu-metal era.
"You know, I have always said that we are trying to bridge the gap between heavy metal and attract fans that like the bands you hear on the radio," he said. "We can tour with TESTAMENT and EXODUS and appeal to those fans, but we could also appeal to people that are just getting into the metal scene or don't like super aggressive music. We are a jack of all trades. Our fan base is very diverse and we try to let our fans know that they, too, can live their musical dream."
The band has seen an air of excitement consistently build around the release of the album. They have a previously released, self-produced EP, but this is their first major market recording.
"This is our first record that has been nationally released so this is very new to us and Victory has been very good to us," Leal said.
SHATTERED SUN garnered much label interest upon their signing to Breaking Bands LLC, the management group jointly owned by Maria Ferrero (Adrenaline PR), Jon Zazula (Megaforce Records) and Chuck Billy (TESTAMENT), and they took their time making a decision on which label to work with.
"We didn't want to just sign to the first label that wanted to sign us, we wanted to have a label that truly believed in us and Victory stuck by us and continued to approach us with the best interest in our futures; so in the long run, we knew that they were who we needed to sign with. They are really behind the band and it feels great," he said.
Growing up with musical interests is a large factor in the career path the band members have chosen. They always knew they wanted to work together and they regularly played together in local acts and then later they worked on their own original music as a fully formed band.
"We have been a band for a long time. We are from a small town and we have all been aspiring to this since we were kids," Leal said. "We all did the cover band thing and we grew up jamming together. So, once we decided to do this right, we put a lot into the band and released an EP and video independently. We wanted to branch beyond south Texas so we bought onto the SPINESHANK tour a few years back and they took us under their wing and because of them we met Maria (Ferrero, Adrenaline PR and Breaking Bands LLC). That meeting eventually led to our current management deal and I think it is fate how this has happened for us. We are six childhood friends who are getting to live our dream."
Additionally, the band has garnered quite a bit of attention south of the Texas border. Thanks to increased publicity campaigns and quite a bit of social media, the band has become inspirational to a number of fans of Hispanic heritage.
"A lot of the people that are reaching out to us about the music are from Mexico, South America and Spain," he said. "Our heritage is Hispanic and so many people have reached out to us that think we are leaders for kids in the Hispanic culture who want to participate in music. It can be very positive. Also, we did something while we were putting the finishing touches on the CD; we covered a TESTAMENT song ("Return To Serenity") on the record and Jon (Zazula) and Chuck (Billy) had the idea to record the song in Spanish so that we could feature it on the albums that are being released to Spanish language destinations. So fans in those areas are going to be able to hear the song in both languages. We are pretty proud of it."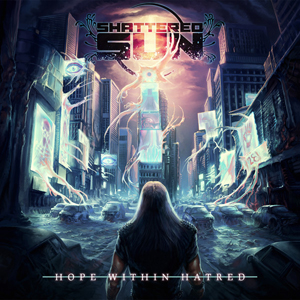 The band recently travelled to Chicago to work with the label on a video for the album title track and the video should hit the airwaves during the tour.
"We are all about getting the music out to the fans and we can't wait for them to see the video and hear the record. We have just been amazed because we always thought that things like this don't happen to bands like us so we are very grateful to everyone who has helped us and believed in us."
The Dark Roots Of Thrash II Tour will run for a few months and then the band will prepare for the wave of inevitable summer touring. There are many options available for them and it is likely that fans will see them on one of the many package tours planned for summer.
"I can't let you in on everything but I will say that you should keep an eye out for us on a lot of summer shows," he laughed. "There are some things that we hope to do and some tours that we are looking at so I know you will see us this summer and I think people will enjoy the show."
In the meantime, check out SHATTERED SUN on social media and the web. The album drops on April 21, 2015 and the band is featured as direct support on the upcoming tour. Don't miss it!