Eddie Trunk is a busy man; he writes, he tours, he cruises, and it's rare that anyone Stumps the Trunk. And now we eagerly anticipate the 14th season of That Metal Show and Trunk and his co-hosts Don Jamieson and Jim Florentine will add layers to the metal motif of VH1 Classic's Saturday night line-up. The new season premieres on February 21, 2015 and their first guest of the season wonderfully opens the show.

"Our first show features Geddy Lee (RUSH) and it's a huge splash of a first guest," Trunk said. "In earlier seasons we had Geddy and Alex (Lifeson) and it was very popular so we were happy to get Geddy back to talk about the upcoming tour and other highlights of RUSH's career."

There are some minor changes in the show that Trunk says are a bit different from the norm regarding how the show is filmed and how talent is booked.

"We like to have a large variety of artists on the show and this season we will have a lot of new, first time guests as well as some that have been with us before. Also, we are going to be taping weekly, whereas before, everything was booked and taped up front. There are still some holes as far as who is going to be on the show, but it is shaping up nicely and I think that viewers are going to like what they see and hear," he said.
Trunk says that the hosts have not yet been to the new set, but with the way the show will be taped they plan to see the new set on Monday, tape on Tuesday and then the show will air each Saturday.
"We have a new start time as well," he said. "the show will now be aired at 9PM Eastern time and I think that is a good slot. There are some things that we would like to do and that we talk about doing, but ultimately, we have some rather rigid restrictions from the network, but we make it work and we make it exciting. I love that we are still doing this show and thrilled to still be on the air. Fourteen seasons sounds like a lot of time but you also have to remember that the show usually only has about 12 episodes each season and other shows have more than that. We make the most of the time we are given."
That much is evident in the guest choices. Trunk says that this year's first guitarist is one that has never been on the show and that fans should be in rapture because of the virtuosity of the player.
"Our first guitarist this year is John Petrucci. DREAM THEATER is a heavyweight and we have never had him on the show. There are a lot of fans that are going to love this," he said. "We try to have varied players each season and this year we plan to have some first timers and some returning guests. We will also have John 5, Zakk Wylde, Frank Hannon and Nita Strauss. We are in the works with some exciting guitarists."
Trunk credits the show's fans for its continued popularity and that fourteen seasons is a feat that he may not have originally envisioned.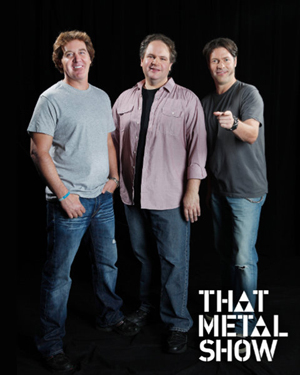 "This is an amazing testament to our fans," he said. "The live audience, word of mouth, people constantly talking about the show; it means the world to me and it is the audience support that makes this happen. I call it the 'little show that could' and the network thinks that it is an important part of the culture of the station. All of the support has really kept us going."
The show standards will remain the same. There will always be a segment for Stump the Trunk, the Top 5 Throwdown and Put it On the Table. Trunk also says that he plans to keep Metal Modem, which started in previous seasons as a way to feature remote guests who can't actually come to the studio because of touring commitments or foreign locales.
"We do have some surprises in store for this season that I can't give away," he said. "We will have a major guest that you would never guess and I am so excited but I can't give it away. Just watch and see what we have in store."
While not on the air, Trunk stays busy with his journalistic and broadcast endeavors; he's looking at options for a new book and he is still plugging away as an on air personality in between live touring dates and speaking engagements at music venues. Stay tuned to his show on KNAC.COM in between airings of That Metal Show.
And don't forget, the first episode of Season 14 of That Metal Show premiere's this Saturday, February 21st on VH1 Classic! Let's see if anyone can Stump the Trunk!