Exclusive: Riot Survives Through The Storm

By Larry Petro, News Monkey
Wednesday, October 9, 2002 @ 7:00 AM

| | | |
| --- | --- | --- |
| | | Riot Vocalist Mike DiMeo On Ge |
ďSwords and tequila carry me through the night...Ē ďSwords & Tequila,Ē from Fire Down Under, 1981. It took more than just swords and tequila to get the band Riot through the nights over the years, but there were probably ample occasions to be driven to drinking and they certainly had to slash their way through the different musical styles that have come and gone since the bandís inception. Formed in 1976 by guitarist Mark Reale, the band immediately sought to establish themselves as a rock act with a hard edge and catchy riffs. Joined by Guy Speranza (vocals), L.A. Kouvaris (guitar), Peter Bitelli (drums) and Jimmy Iommi (bass), the band released their first album, Rock City in 1978. The band caught the attention of Capitol Records, who signed the band and released their second opus, Narita in 1979, but not before replacing Kouvaris on guitar with Rick Ventura. The band changed labels again, signing with Elektra Records and in 1981 released quite possibility the bandís most definitive album, Fire Down Under, which contained the above mentioned song ďSwords & Tequila,Ē which by itself probably turned more fans on to this band than any other in their entire catalog. This recording again was preceded by member changes, this time adding Kip Leming on bass and Sandy Slavin on drums.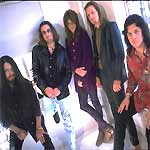 The following year Rhett Forrester joined the band as vocalist and this lineup stayed with them through the next two studio albums, Restless Breed (1982) and Born in America (1984). However, following this last release, the band disbanded due to problems with the record company and the bandís management. The band reformed in 1988, again changing lineups. Rhett was gone, replaced by Tony Moore, the second guitarist was also gone, and the band obtained Bobby Jarzombek on drums and Don Vanstavern on bass. Thunder Steel (1988) was released with this lineup before adding second guitarist Mike Flyntz for 1990ís Privilege of Power. The ever-revolving door of band members continued with the addition of vocalist Mike DiMeo in 1992 and bassist Pete Perez. After releasing another live album and greatest hits collection, the new lineup recorded Nightbreaker (1994), but not before tragedy would indirectly strike the band. In January of í94 vocalist Rhett Forrester was shot and killed while sitting in his car in a suburban Atlanta intersection. The band forged on, releasing five more albums between 1996 and 1999. This particular lineup would prove to be the most long-lived of all of Riotís incarnations. But alas, as though jinxed in some way, the band lost drummer Bobby Jarzombek in 1999-2000 to the band Halford, namesake of founder and ex-Judas Priest throat Rob Halford. The vacancy was short-lived as the band found drummer Bobby Rondinelli of Blue Oyster Cult fame to fill the slot, which brings us to 2002 and the release of the bandís 17th total album, Through the Storm, which sees the return of Riot to the classic melodic sound that fans had been used to hearing from the band, and somewhat of a departure from the past couple of albums that had Riot sounding more like a thrash/power metal band than the straight ahead hard rock band they initially sought out to be. I had the opportunity recently to chat with now long-time vocalist Mike DiMeo on whatís up with Riot these days, his time with the band, and what might transpire in the future for this American rock outfit. KNAC.COM: Riotís one of those great underrated bands that seems to have been around for ages, over twenty years in fact, and has released a plethora of great music. Whatís going on with Riot in 2002?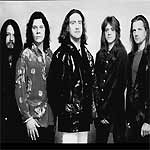 MIKE: Well, letís see, we have a new record out, we lost our drummer in 2001, Bobby Jarzombek, he went to play with Halford and we got Bobby Rondinelli on board who I consider probably one of the greatest hard rock drummers of all time. We have a new record out and itís a little bit of a change for us, itís not as heavy as maybe Sons of Society and maybe it isnít as fast -- you know some people listen to Jarzombek and heís an extremely intense drummer and his style lends itself to more of a thrash, power metal kind of style -- and I think we got labeled kind of awfully because of that. You know Jarzombek is an amazing drummer and I think that on this record itís a little bit of a departure because Rondinelli is just a straight ahead rock, hard rock, drummer and I think that it made this record. You know, weíve been getting some pretty good feedback and itís pretty cool. KNAC.COM: Speaking of the new album, given the trials and tribulations that the band has endured over the years, the title Through the Storm seems to typify where the bandís been and where it is now.
MIKE: Exactly. Itís funny that you point that out because pretty much everyone has been saying that to me, and I think that it applies pretty nicely with what weíve been going through, especially in the last couple years. Last year for all intents and purposes I was out of the band -- it wasnít gonna happen -- but we sort of rectified the situation and we came together and we had gotten an offer to do a Dio tour in the states, and at the last minute our management said Ďnoí and I strongly disagree with that. KNAC.COM: Well, what was the reason for that?
MIKE: Well, you know, their opinion was that we werenít getting enough support from our label, and for all intents and purposes I thought we should have done it. KNAC.COM: Now if other bands had had to deal with all of the issues that Riot has with the multiple member changes, the label changes, changes in the music trends as a whole, most would not have been able to survive that. How has Riot managed to stay focused and emerge from it all?
MIKE: Throughout itís history Riot has produced some great music. It pretty much comes down to that. If you listen to the stuff over the years, I think itís really, really quality stuff, I donít think itís junk, itís not garbage, and Iím talking as a listener now. Itís stuff for people that are into hard music. They really dig our stuff. KNAC.COM: I personally think that Through the Storm is a really great piece of music, itís well written and really true to the classic Riot melodic sound. In todayís world with new bands popping up all the time and jumping on the bandwagon with the latest fads, Riot has stayed true to its original form for the most part. Has this always been a conscious effort by the band?


"Throughout itís history, Riot has produced some great music... I think itís really, really quality stuff... Itís stuff for people that are into hard music."

MIKE: Let me tell you something, thereís a lot of jumping on the bandwagon. Since I joined, the bandwagons have come and gone. When I joined this band, the flannel shirt, Eddie Vedder and all that stuff was just happening and it would have been easy for us to try something like that, and then with Nirvana and all that stuff and the several phases since then from Kid Rock to Godsmack. Itís all good stuff, but throughout all of that weíve been doing exactly what weíve been doing. Sticking to your guns is tough sometimes. KNAC.COM: In addition to the great original tunes on the new album you guys did covers of UFOís ďOnly You Can Rock MeĒ and an instrumental version of the Beatleís hit ďHere Comes the Sun.Ē Whose idea was it to do these tunes and why did ďHere Comes the SunĒ remain instrumental?
MIKE: Well, first off, ďHere Comes the SunĒÖ Mark decided to do after George Harrison passed away, that was sort of his own personal tribute. That was the reason why Mark picked up a guitar, and it had a huge influence on his life. I just sort of think that he personally felt like he owed some sort of debt of gratitude and that was his repaying. And UFO, well it wasnít hard to come up with one of their songs, with so many to choose from. KNAC.COM: Now a lot of bands, as I mentioned, that endure numerous member changes usually end up in a situation where the core original member or members do the bulk of the songwriting. How much have you been able to contribute to the process since joining the band in 1992?
MIKE: Well, I write all of the words and the melodies. On this record it was pretty much all of the words and melodies. On a couple of albums like The Brethren of the Long House, I contributed a song called ďSanta Maria.Ē As far as on the other end, Mark pretty much covers the music and I cover the vocals and melodies, words. Itís pretty easy for me because his style allows me to write lyrics easily. KNAC.COM: Now, being in the band in 1992, you were a part of the band when original vocalist Rhett Forrester was killed. Did you know Rhett and how did his death affect the band?
MIKE: I didnít know Rhett but, you know itís funny that you ask thatÖ I remember the night that we were in Green Street studios in Manhattan when someone called up the studios from Texas to tell Mark that Rhett had just been shot and killed. He was shot in Georgia, I believe. KNAC.COM: Yeah, it was just outside Atlanta.
MIKE: Yeah, and I think that Mark was kind of upset. I think that Mark knew this guy was headed for trouble, I think he had some personal problems. I personally didnít know the guy so I canít comment about that. KNAC.COM: Did that seem to give Mark or any of the other members more resolve to continue on with the band?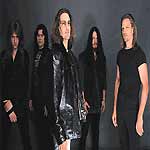 MIKE: Yeah, but think that band is resolved to continue on anyway, regardless of what sort of things happen. KNAC.COM: Your vocal sound has been compared to Glenn Hughes and Joe Lynn Turner, among others. Who influenced you the most vocally when you were growing up?
MIKE: When I was a kid my main influence was Stevie Wonder. Maybe that comes from, I think, Glenn Hughes worshipped Stevie Wonder. I think that thatís where the similarity comes from. You know I grew up listening to soul and R&B and blues and stuff like Otis Clay and Otis Redding, Ray Charles even. KNAC.COM: Dating yourself a little there, arenít ya?
MIKE: Yeah, absolutely, but you know I think the real roots of rock are in the blues. And as I started to get into hard rock, I really started to focus in on the blues and the early guys like David Coverdale and those types of guys, I was just really into them when I was younger, and still am. KNAC.COM: Does the band approach writing material to suit your singing style, or do you just write the songs and then let your vocals take them to a whole new level?
MIKE: On this record, the music was completely done when I got cassettes and I just wrote around those songs. Mark knows my range and he knows what would sound good with my voice. KNAC.COM: The very first Riot album I ever had, and probably everyone elseís as well, was Fire Down Under and you know, when I listened to the new album for the first time I thought the years had changed little at all as far as the bandís sound goes. A lot of the new songs could have been on Fire Down Under.
MIKE: Itís true, I couldnít agree with you more. Thatís one of the things Iíve been getting back to, though, because I think that itís so important for a band to be consistent, if you put out quality stuff throughout your years itís ultimately gonna pay off. Fire Down Under was a great record and you know, hopefully this new record is right up there with it. I think that we try to make a conscious effort to be soul oriented. KNAC.COM: The new album has been out for a month or so now. Any ideas how itís doing?
MIKE: To be honest with you, Iím not really sure, but thatís the next question I have for Metal Blade. I think itís doing pretty good and Iím getting a lot of feedback and Iím starting to hear people playing it on the radio and I know a couple people that bought it, so I think itís doing alright. Iím gonna find it out. KNAC.COM: Does it ever frustrate you that, being an American band, youíve never really garnered the following or enjoyed the success that you have overseas?
MIKE: For sure. Absolutely. Itís really tough, man, because we go to Japan and Europe all the time and we come home and itís like, you know, almost nonexistent. We could be driving down the road in Greece and hear one of our songs come on. I live in New York and I never-- well, a couple times, but you know, itís very rare that Iíll hear one of my own songs on the radio here.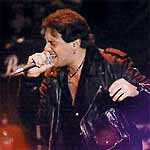 KNAC.COM: Do you think that not being mega-successful then has allowed the band to be more comfortable in writing material, say, as opposed to what some corporate label types would have you write?
MIKE: You know what, I donít know about that, because I think that sometimes we tend to worry a lot because a lot of people overseas know us as a power metal band I think that sometimes we try too hard. We were in Greece and in Italy and we want to keep those kids into the band, and yet weíre essentially a hard rock band and we want to sort of go in that direction more, but weíre sort of afraid to lose the following we have there. So, itís kind of a catch-22, you donít want to lose the fans you do have but you do want to gain new ones. KNAC.COM: But then of course, if you were mega-successful like some of these other bands like Creed and Godsmack, for example, that have gotten successful fairly quickly, thereís pressure there to release an album at least as good as the last one, if not better, whereas in Riotís situation you really donít have that pressure.
MIKE: One thing for sure, we donít have that record company pressure as far as what to release. I think that we sort of know what fans expect of us. Itís like, I donít know if theyíre going to be around in twenty years. KNAC.COM: Exactly. When people think of bands that have been around for twenty years they think of KISS, Aerosmith and some of these other bands and hereís Riot right in there with them.
MIKE: Right. KNAC.COM: Does it ever bother you at all that the band is probably best remembered for ďSwords and Tequila,Ē when there are really so many other great Riot songs?
MIKE: No, it really doesnít bother me at all, I love the song! I love playing it live, too, Ďcause the kids go fucking nuts. KNAC.COM: When was the last time Riot toured the States, and are there any plans to tour with Through the Storm -- I know you mentioned the Dio thing that was called off at the last minuteÖ

MIKE: Well, Iíve never done a full tour in the States with Riot. KNAC.COM: So you guys are about due now?
MIKE: Oh, yeah. Weíre looking for tours right now. KNAC.COM: So whatís your take on all of these Ď80s style bands that are still out there today, some of which are trying to make a comeback?
MIKE: I would never take anything away from any of them; I think that if theyíre playing rock-n-roll, itís all good. I was never really into that glam type stuff. KNAC.COM: Any final thoughts?
MIKE: I just want to say thanks to all the fans. We hope theyíre really happy with this record and they show us, write to us and stuff. I think itís really cool when people help us out, people like yourself, who show interest in the band and show interest in the music even more important. KNAC.COM: Absolutely. Thereís a lot of bands out there, a lot of them that were never really hugely successful, but yet theyíre still out there and I try to give them all the support and exposure I can. Mike, I certainly appreciate your time. Have you checked out KNAC.COM yet?
MIKE: You know what, I have, and Iím gonna check it out again tonight! KNAC.COM: Best of luck to everybody and we hope to see you all here in Houston and elsewhere real soon.
MIKE: Thank you very much for your support, man, I really appreciate your time as well. KNAC.COM: My pleasure, Mike! Take care now.
MIKE: Later, dude!
Please log in to view RANTS