Band Photo Credit Tim Tronckoe

Her name is synonymous with strength and for thirty years she has been the best known female name in metal. She's the metal pioneer that blazed out of Germany and lit the world on fire with one of the most recognizable voices of the genre. And this spring, Doro will once again invade the United States in support of her most recent album, Raise Your Fist.

"I'm so excited to be coming back to the states for this tour," she said. "I was just in London to do a show with SAXON for their 35th anniversary and then we are gearing up for all the festivals and I'm so happy to be doing what I love. We are also working on a new record and I have so many ideas for new music and collaborations. I can't wait for everyone to hear what we are doing. We have highlights, old school surprises and hopefully some new songs since we are writing for a new record that I am very excited about. We are so psyched!"

One of the best things about Doro Pesch is the wealth of her musical catalogue. She has seventeen albums to her credit and prior to her solo career, she was the voice of WARLOCK. With albums like Burning The Witches, Hellbound, True As Steel, Triumph And Agony and the ultra-rare You Hurt My Soul EP, she began forging her way to becoming a metal legend. Her first solo album, 1989's Force Majuere was a strong effort and then 1990's self-titled, Doro, with the backing of KISS mogul Gene Simmons, solidified her as a prominent solo artist. Later releases like Angels Never Die, True At Heart, Machine II Machine, Love Me In Black, Calling The Wild, Fight and Fear No Evil made her a worldwide force though she primarily toured in Europe. American fans were ecstatic over the idea a few years back that she would again began touring the U.S. and they show their love by selling out shows nationwide.
However, the Teutonic Temptress also inspires loyalty not only in her fan base, but in the musicians with whom she surrounds herself. Her band has been with her for many years and you rarely hear of a line-up change. Drummer Johnny Dee (ex-BRITNY FOX) has been with Doro since 1993 and bassist Nick Douglas since 1990. The rest of the band is rounded out by guitarists Bas Maas and Luca Princiotta.
"At this time we are like a well-oiled machine and we play so wonderfully together," she said. "We have so much music to share with the fans and they will hear a lot of WARLOCK songs, songs from Raise Your Fist and all the other records. When you have seventeen records to choose from you can do so much and we try to play something from each of the records. For the encore we will sometimes let the fans choose. People will yell out what they want to hear and we can play it. We want to give the metalheads what they deserve and we have so many die-hard fans that have such good energy."
The tour will run through the first part of the spring season and then Doro plans to head back to Europe to start the summer festival circuit. She is also actively involved in planning the release of the 30th anniversary concert DVD that will come out sometime over the summer.
"Right now touring and playing are such a top priority," she said. "I couldn't be more thankful that so many people are coming out. It has been great and some of the shows are sold out and have such good crowds. You see so many types of people; old fans, new fans, young people that are just learning about us. It's really what we live for. I think the new DVD will showcase so much of what our life and love for this music is about."
Doro is well known for her collaborations with other artists as well as branching out into other forms of media and film. Besides her duets with singers like Udo Dirkschneider and Lemmy Kilmister, Doro has taken to the big screen. Her acting debut in 2005's Anuk: The Path Of The Warrior has yielded her reprisal of her role as warrior woman Meha in a sequel, Anuk: The Fire Mountain that should come out in theaters this year.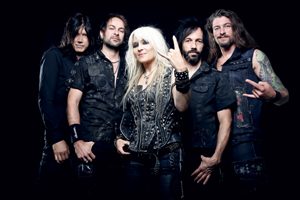 "All of my dreams have come true working with so many other artists over the years and to be able to work with artists like Lemmy. I love to collaborate and it has to be the right song at the right moment. I am thinking that it doesn't always have to be a singer; it could be a great guitar player," Doro said. "I just collaborated with ANGRA and I also did a song on Liv Kristine's new album. I think it brings me closer to so many of the fans and I want to do something nice for them and maybe even something totally unexpected. I also got to be in another movie as Meha, my character in Anuk. I have seen it and it looks great so far and I hope that everyone likes it as much as they did the first one. I can never stop because I have so much that I want to do! Music, movies, sports, I love it all."
Doro is expanding her audience base and she sees that there is a wide range of metal fans. She has noticed that the younger kids are entering the scene not only in Europe but in America too and she hopes that she empowers young fans and musicians alike.
"I love the young blood! Sometimes young fans will say that they just got our record and they ask if there is more music and I tell them that we have so many other records out that they may enjoy and they just get really into it. I want them to fall in love with it. Old or young, as long as they are there with us and enjoying the music! Let us do all the work and let them headbang and stage dive! It's what I live for!" The metal queen has stood the test of time and Doro is certainly the pioneer that has forged the way for so many women in the metal world.
"I just did what I loved and then to find that so many other women were inspired makes me happy. Sometimes, in the beginning it was a bit lonely but now I see that it is so much more balanced with so many great female metal singers who have come out over the years. I even try take out support bands with female members if I can because there are so many out there that are so great and I have tried to do collaborations with female artists as well," she said, referring to her work with artists like Tarja Turunen, Floor Jansen and many others.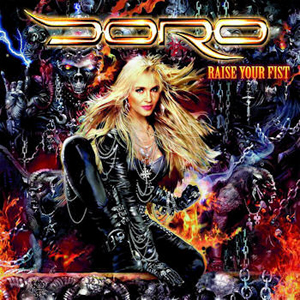 "I will do this until the day I die. You will not see a 'goodbye' tour from me! I am in better shape than ever and I have the drive and passion and I am going to do this as long as my voice and my body will let me. It's my heart and soul and I hope the fans love this as much as I do. I hope that I can give them shows that are meaningful and powerful, and that they hear and see something they will never forget."
Doro's tour will kick off on the East coast and travel south. If you are able to see her, you should. This is a show that no true metalhead should ever miss and she is a sight to behold. Her beauty and vitality are the epitome of metal and she has the heart and drive that makes her a true metal legend.
PS — I will be the loud person in Dallas screaming "EVIL" during the encore and maybe MY wish will come true!
Tour Dates:
3-Mar-15 Philadelphia PA The Legendary Dobbs
4-Mar-15 USA - Springfield VA Empire
5-Mar-15 USA - Atlanta GA The Masquerade
8-Mar-15 USA - Houston TX Scout Bar
9-Mar-15 USA - Dallas TX Trees
11-Mar-15 USA - Denver CO Bluebird Theater
13-Mar-15 USA - Tempe AZ Club Red
14-Mar-15 USA - Anaheim CA City National Grove
15-Mar-15 USA - Ramona CA Ramona Mainstage
17-Mar-15 USA - Las Vegas NV LVCS
18-Mar-15 USA - West Hollywood CA Whiskey a Go Go