Careful With That Life: An Exclusive Interview With Guitarist Extraordinaire JOHN 5

By Geoff Ketler, Cleveland Contributor
Monday, February 9, 2015 @ 1:08 PM

| | | |
| --- | --- | --- |
| | | "'cause that's like the thing, if you listen to someone – you always have a chance to make it. Just practice and sometimes opportunity will show up and there ya go." |
Since the late eighties, guitar phenom John Lowery, better known as JOHN 5 has been overwhelmingly productive both in the studio and on the touring path. In the past decade he has released seven solo albums, but has been unable to support them on the road…until now. With his first-ever solo tour about to kick off, I got on the horn with JOHN 5 to talk about his solo career, inspiration, the new Rob Zombie album and his recently-booked gig at Ripper's Rock House.

KNAC.COM: I was skimming my facebook news feed the other day and saw that you added a couple dates to your solo tour, one of which is at Ripper's Rock House in Akron, Ohio – I immediately reached out to your publicist because I knew that I had to do something for this. Ripper's Rock House is owned by Tim "Ripper" Owens, so we all know that you worked previously with Rob Halford, but have you ever crossed paths with Tim?

JOHN 5: Um…just by saying, "hello, how are you?", just if I see him out and about or at an awards show or something like that.

KNAC.COM: I see, so no sessions work or collaborations or anything like that.

JOHN 5: No, no, nothing like that.

KNAC.COM: So this is your first-ever solo tour, right?

JOHN 5: Yeah, First. Ever. Like I've been doing instrumental records for ten years and I have never done a live show, I've just always been so busy. Not where it's so busy that I can't go do a show, but you have to put a band together, you have to rehearse – it takes a very, very, long time. It was just really exciting though, really exciting. My first show is actually tomorrow (2/8/15) in San Diego.

KNAC.COM: Tell me how this came together, because it seems like you've been a pretty busy dude lately, with the announcement of a new Rob Zombie album coming up and whatnot. Who is in your touring band? Anyone we may know?
JOHN 5: The band is this guy, Roger Carter, whom I've known most of my life, he is playing drums. He has played on a lot of my instrumental records. And he's just a phenomenal drummer, great drummer, and really smart guy, too. The guy that played on the album, Careful With That Axe, his name is Matt Bissonnette, but he is playing with Elton John. He's touring with Elton John, so I knew I needed a bass player and the bass is really difficult on Careful With That Axe and stuff like that, so. So I went to M.I. and just auditioned all of these bass players and there was one kid there that could, you know, cut the mustard. His name is Ian Ross, so, I am really, really happy to have him.
KNAC.COM: That has to be a dream come true for him.
JOHN 5: Yeah, I mean, 'cause that's like the thing, if you listen to someone – you always have a chance to make it. Just practice and sometimes opportunity will show up and there ya go.
KNAC.COM: Talk a little bit about what the fans can expect at these shows – without giving too much away. Is the set going to be strictly your solo material, any Zombie, Manson, etc?
JOHN 5: Well I have put a lot of thought into this and what I'm going to do is, it is mostly instrumental and then I am going to do a medley at the end, just tunes and things like that. There is going to be some production and some things that are happening, so it's not going to be like your normal instrumental show. There are definitely going to be some things that are going to happen.
KNAC.COM: You mentioned before that it was a banjo-playing kid on Hee Haw that first sort of inspired you to pick up a guitar. Here we are decades later – what do you call upon for inspiration for new music now?
JOHN 5: Well I always look for inspiration, so I don't know. I am always looking for really great stuff. I think that's the most difficult thing – to find some inspiration and I was listening to Sirius XM, the bluegrass channel, and there was some cool things, I thought, wow that's really interesting – I could turn that around like this or like that. So that's where I found inspiration yesterday.
KNAC.COM: I think I heard you say before that you initially wanted to basically be a session guitarist – did you ever expect to be doing what you are doing now?
JOHN 5: Never. I had no idea and I couldn't even wish that far, that big, that large. It's just like saying, "I'm going to be a billionaire". It just seems so impossible. So I am really happy and I appreciate everything that has happened, that's for sure.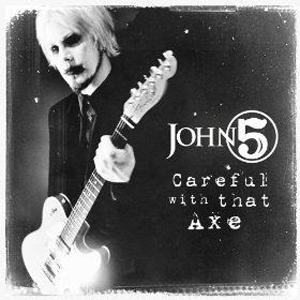 KNAC.COM: Over the years you have recorded and collaborated with such an eclectic group of artists – from Marilyn Manson to Rob Halford to LYNYRD SKYNYRD – who is the one artist that you have not worked with, that you would like to?
JOHN 5: I would say that, you know, a BEATLE would be great, Paul or Ringo, or a ROLLING STONE. I did get to jam with Ron Wood, that was amazing. I'd like a Mick or a Keith or Prince or some one like that, you know, would be great. But I am so happy in (Rob) Zombie, I couldn't want anything more. It's just amazing.
KNAC.COM: I have to ask you if you can tell me anything about the upcoming release from Rob Zombie. Rob is referring to it as his heaviest album to date – your thoughts?
JOHN 5: Well what I can say is – and I am a Zombie fan, before I got in the band, I loved WHITE ZOMBIE; I loved Rob Zombie - and this is by far, the greatest album he has put out and I am not just saying that. It is amazing. The songs are great. It's aggressive. It's heavy. It's interesting. And I cannot wait for it to come out.
KNAC.COM: Are you filling in some tours then, after that? I have seen some festival dates peppered in here and there.
JOHN 5: Yeah, we are doing stuff here or there, but we are going to tour like crazy.
Don't miss John 5 at one of these shows on his first ever solo tour!
2.10 - DNA Lounge - San Francisco, CA
2.11 - Whisky A Go Go - Los Angeles, CA
2.12 - The Coach House - San Juan Capistrano, CA
2.13 - Vamp'D - Las Vegas, NV
2.14 - Pub Rock - Scottsdale, AZ
2.16 - Blue Max - Midland, TX
2.17 - Jake's Backroom - Lubbock, TX
2.18 - Red 7 - Austin, TX
2.20 - Click's Live - Tyler, TX
2.21 - Scout Bar - Houston, TX
2.24 - Kapone's Live - San Antonio, TX
2.25 - Trees - Dallas, TX
2.27 - WorkPlay Theatre - Birmingham, AL
2.28 - Capones - Johnson City, TN
3.1 - Hard Times Cafe - Hagerstown, MD
3.4 - The Gramercy Theatre - New York, NY
3.5 - Jewel Nightclub - Manchester, NH
3.6 - Stafford Palace Theater - Stafford Springs, CT
3.7 - Montage Music Hall - Rochester, NY
3.8 - Ripper's Rock House - Akron, OH
3.9 - Cheers Pub - South Bend, IN
3.10 - The Token Lounge - Westland, MI
3.11 - Mojoes - Joliet, IL
3.12 - The Wicked Moose - Rochester, MN
3.13 - The District - Sioux Falls, SD
3.15 - Vaudeville Mews - Des Moines, IA
3.21 - Ft. Defiance Chapter House - Fort Defiance, AZ
Please log in to view RANTS