There must be something in the water in Texas of late. Ever since PANTERA breathed life back into a then dying metal scene with their 1990 release Cowboys From Hell, Texas continues to deliver one outstanding metal band after the next. From DROWNING POOL to TEXAS HIPPIE COALITION to IMMORTAL GUARDIAN, there seems to be a never-ending supply of metal being forged in the Lone Star State. Formed in 2005 in San Antonio, UPON A BURNING BODY (UABB) is, without question, yet another example of this ongoing trend.

UABB is a full-on, metal tour de force and they make no apologies about their brash, in-your-face style. After their 2005 self-released EP, Genocide, the band broke with their first full-length album, The World Is Ours, released in 2010. This album not only delivered in terms of metal magic, it was also a revolutionary concept in that each song was titled and themed after a movie in which Al Pacino had starred.

The band's second release, Red. White. Green., came in 2012 and offered up a similar concept. The album's songs were titled and themed after films that had been produced or directed by Robert Rodriguez. The track "Texas Blood Money" features lyrics from Perry Como's 1942 classic, "Deep in the Heart of Texas", a song popularized by Gene Autry in the movie, Heart Of The Rio Grande (1942). "Texas Blood Money" truly resonates with UABB fans at live shows, as well as making it clear that this band is very proud to hale from Texas.
With their latest release, The World Is My Enemy Now, UPON A BURNING BODY abandoned the movie concept theme and went straight for the throat, delivering track after track of pure metal fury. So, what separates UABB from the rest of the pack? Their songs aren't just a bunch of dropped-tuned guitar chords backed by machine gun kick drums. They've actually got great riffs and throughout the course of their very fast climb to stardom, they've already shown a ton of development. Fans and critics alike are taking notice. Here's what UABB lead vocalist Danny Leal had to say when I had the chance to talk with him about the goings-on with the band.
KNAC.COM: It seems like there's a metal explosion happening in Texas and, in particular, San Antonio right now. To what do you attribute this?
LEAL: I'm not certain exactly what's caused it but, hopefully, it continues. Perhaps, now that we're bringing some additional attention to the area, it will help to maintain people's focus. Honestly, it's really great to hear that people are taking notice.
KNAC.COM: What's the back-story behind UPON A BURNING BODY? How did the band get together and what influenced the style of music you chose to create?
LEAL: Each of us started out playing in different bands, but we were really after a certain sound. We wanted to create a particular style of music, so forming our own band was the only way to accomplish our goal. UPON A BURNING BODY was originally a side project from our other bands. Then, a lot of other people got involved and it began to take on a life of its own.
KNAC.COM: With your first album, The World Is Ours, all of the song titles were taken from Al Pacino films. Then, with your sophomore release, Red. White. Green., each track title comes from the title of a film Robert Rodriguez produced or directed. What was the thought process behind this concept and did you find bringing it into fruition difficult during songwriting?
LEAL: The idea for doing these concepts was more or less introduced by the label. We were definitely up to the task and thought it pretty cool to go after themes from movies that already had a foundation and were really popular. Developing the songs' lyrics around movie themes was a bit difficult at times, but we did it fairly well and it ended up turning out to be a good concept in the long run.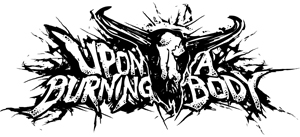 KNAC.COM: Your latest album, 2014's The World Is My Enemy Now, breaks from the film reference tradition. Had that concept's time come and gone for the band or might you revisit it again with a future release?
LEAL: The concept has been kind of played out at this point. Once was cool as an introduction. Twice, we took it a little further, but we really didn't want to do it any more after that. With our third release, we just wanted to do a really raw record, and that's what we have out right now with The World Is My Enemy Now.
As far as doing another concept album, if the concept were cool enough and presented itself at the right moment, we certainly wouldn't rule it out. But, for right now, it's not where we're focused.
KNAC.COM: There are countless different genres and sub-genres within metal music. How would you classify UPON A BURNING BODY and what's the message or vibe you want to relay to your audience with your music and during your live shows?
LEAL: We always just say that we're a metal band. We don't really care for all of the designations and subgenres in the scene. That's really who we say we are, what we believe, and we appreciate all styles of metal music. If you're a fan of metal, we're glad to have you as a fan and we'd love to see you at our shows.
KNAC.COM: What's next for UPON A BURNING BODY? Where will the tour for your latest release take you and is the next album already in the works?
LEAL: It's tough to write on the road. We'd much rather write at home in a jam room but, nevertheless, we have written a bit of new material while we've been on tour. We don't have the next release completely written, but it's definitely in the works.
KNAC.COM: Growing up, what artists influenced you the most? What music did you listen to that helped you develop your style?
LEAL: There's a lot: METALLICA, PANTERA and IRON MAIDEN, just to name a few. I'm not certain if you can hear those influences in our music, but they were definitely what we were listening to when we started out.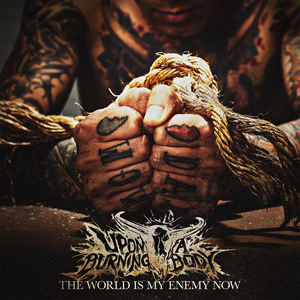 KNAC.COM: Is there anything in particular you want fans to know about the band that they may not know already, perhaps something unique that really sets you apart?
LEAL: For those who aren't aware of it, we wear suits onstage and in our promos. That's definitely something that sets us apart from others in the metal scene. Also, though it's certainly a growing market, being from Texas sets us apart, as well.
Just after the release of The World Is My Enemy Now, UPON A BURNING BODY collaborated with BODY COUNT front man, Ice-T, to do a metal cover of "Turn Down For What?" by DJ Snake and Lil John for the compilation album, Punk Goes Pop 6. There's really no comparison between the original track and the remake. The UABB/Ice-T version is off-the-chain, so much so, in fact, that it's done quite a bit to put even more focus on this band when they were already getting a lot of attention to begin with.
From Spanish guitar ballads to full-tilt, metal anthems, UPON A BURNING BODY's albums cover all of the bases. If you've ever had one of those days when you feel as though The World Is My Enemy Now, maybe the best therapy might be to give the "Middle Finger To the World" and take on the mindset, "Turn Down For What?"
Check out UPON A BURNING BODY on the Web:
facebook.com/uponaburningbody
Twitter: @UABB
sumerianrecords.com/artist/details/id:4/