All Photos By "Gnarly" Charlie Steffens

And the circus came to town.

In a high desert setting, amid carnival-like sideshows, games, rides and concessions right out of some kind of heavy metal storybook, this year's Knotfest hosted an extensive lineup of bands. Like the storied US Festival of 1983, the three-day musical event attracted tens of thousands, many of whom camped overnight at Glen Helen Regional Park, walking distance from the amphitheater.

On Sunday, the finale, well over a dozen bands performed intermittently on four stages. This allowed people to see each act, provided they were willing to hustle around to the different stages. The auxiliary stage performances began around 11 AM and continued until late afternoon. The bands, a smattering of just about every sub-genre of hard rock and heavy metal, ranged from prominent in status to up-and-coming.

At just about noon, under blue skies, NOTHING MORE jumped on Stage 2 and played an extraordinary set. A physical act, led by a shirtless Jonny Hawkins on vocals, the Texas-based band set the stage and set the metal bar high for the acts that would follow throughout the day.

On Stage 3, another San Antonio band, UPON A BURNING BODY, lit up the crowd and played their asses off with a noteworthy 25-minute set.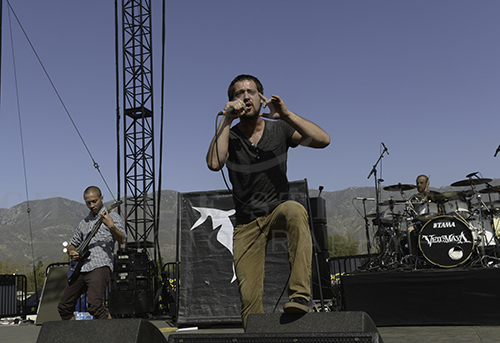 VEIL OF MAYA, a band drawing on elements of thrash, progressive metal and hardcore, hit hard with a pelting opener, "Subject Zero". "Punisher" followed, and by that time the pits were already in motion.
Before WHITECHAPEL hit the stage, there was a contrary vibration in the air: impending doom and "let's party". A blistering set followed, accompanied by a dust storm from the circling pits.
ATTIKA 7, a band of middle-aged tough guys resembling bikers had a Harley onstage for their set. Ex-BIOHAZARD vocalist Evan Seinfeld, in black and white face paint, reported, "We are the soundtrack for being pissed-the-fuck-off." Yeah, sure. Ride the motorcycle onstage. How cliché.
The California Groove Machine, DEVILDRIVER, opened up their set with the crushing "End Of The Line". Other great songs followed. "Clouds Over California" seemed appropriate. This marked the last performance for two members, guitarist Jeff Kendrick and drummer John Boecklin.
While KILLSWITCH ENGAGE played on Stage 3, AVATAR, a five-piece metal band from Sweden was taking Stage 5 to pieces. A conflicting moment where you wished your soul was divvied between two bodies.
Resembling Shaka Zulu tribesmen in white paint and sounding like Hell's own house band, MOTOGRATER pummeled the crowd with a solid set of music and thrashing stage antics.
The day's small stage performances were coming to an end. From a distance, the METAL MULISHA madmen were giving Knotfest a sideshow of the sickest kind. Performing death-defying feats, the riders launched airs in every variation on their tweaked dirtbikes—the majority of jumps were upwards of 30 feet above the blacktop.
Then, for the last act of the afternoon on the small stages, veterans NAPALM DEATH came out and destroyed. Vocalist Barney Greenway contorted his body spasmodically, in what looked like a expression of interpretive dance, grindcore style.
Knotfest offered as many concessions and food options as a concertgoer could want. Costumed performing artists roamed the grounds, the likes of freaks on stilts, fire-breathers, and sword swallowers. The Ring of Fire carnival ride gave thrill seekers something to get into between the bands' sets. The tented SLIPKNOT Museum, curated by SLIPKNOT members themselves, was loaded with assorted memorabilia that any Knothead would find amusing.
By late afternoon, over at the main stage area, droves of people gathered where the next six bands would play.
The first band on the Knotfest main stage was HELLYEAH. Standing tall behind his drum kit, Vinnie Paul dexterously twirled his sticks as he cheerfully greeted the crowd. Singer Chad Gray, sporting a red and black mohawk, resembled his MUDVAYNE persona in both appearance and theatrics. HELLYEAH performed at the top of their game—each member of the band engaged the audience.
Southern California natives ATREYU opened with "Bleeding Mascara" and worked the main stage as if they owned it, particularly with their badass cover of BON JOVI's "You Give Love A Bad Name".
Rap group TECH N9NE must have been a booking blunder—about as out of place as a pork chop in a synagogue. The long and agonizing 45-minute set allowed the rap-intolerant people in the crowd to grab a beer or seek out their next spouse.
VOLBEAT brought a healthy dose of European metal, laced with rockabilly and tasty Americana at high volume. Singer/guitarist Michael Poulsen, a consummate showman, kept the hour-long set fun and engaging. Not a bad Elvis and Johnny Cash impersonator, either. Big props to guitarist Rob Caggiano, the American in the band who complements the VOLBEAT sound nicely. An unlikely event happened when NAPALM DEATH's Barney Greenway came on to sing "Evelyn".
FIVE FINGER DEATH PUNCH have really hit their stride as performers, and Knotfest gave the band an hour to win the audience (or win those who hadn't been won yet). And win they did. Zoltan Bathory and Jason Hook, the FFDP guitar duo, sounded exceptional. Dynamic front man Ivan Moody worked the stage in his characteristic aggro fashion, looking damn happy to be there. Moody's fatal flaw of the evening was inviting TECH N9NE onstage to perform a rock/rap variant of the LL KOOL J hit "Mama Said To Knock You Out". But all TECH N9NE maligning aside, FIVE FINGER DEATH PUNCH scorched the San Bernardino crowd, priming their pumps for SLIPKNOT.
The vibe was unbelievable before SLIPKNOT began. From the front of the stage back to the upper lawn area, it was clear that thousands came to see the masked madmen in blue jumpsuits. Off in the distance, beyond the arena, fiery explosions (apparently controlled), and the Ring of Fire ride intermittently lit the dark desert sky. The stage remained dark while crowd's screams nearly eclipsed the somber intro of "XIX". As a deep blue glow began to illuminate the stage and moving silhouettes appeared, drums sounded and the roar of the crowd got louder as the band played "Sarcastrophe" from the recently released .5: The Gray Chapter album. When vocalist Corey Taylor screamed "Get your fuckin' devil horns in the fuckin' air", the audience relented as the brutal "Heretic Anthem" cut into the night. "Before I Forget" showed just how vicious of a guitar player Jim Root is. Some can only speculate who replaced the late Paul Gray on bass and drummer Joey Jordison. Some know for certain. What matters is that the bassist and drummer who played this night helped provide a solid bottom-end along with percussionists Shawn "Clown" Crahan and Chris Fehn. The lighting, pyrotechnics, stage sets, and superb sound made for a show that will not soon be forgotten.
SLIPKNOT Set List
"XIX"/"Sarcastrophe"
"Heretic Anthem"
"My Plague"
"Devil In I"
"Psychosocial?Liberate"
"Opium Of The People"
"Left Behind"
"Vermillion"
"Custer"
"Blister Exists"
"Before I Forget"
"Duality"
Intro/(SIC)
"Surfacing"
Check out the KNOTFEST Final Day Photo Gallery HERE