JUNKMAN Recaps KNOTFEST 2014 Day 1

By Junkman, On-Air Personality
Tuesday, November 18, 2014 @ 3:50 PM

| | | |
| --- | --- | --- |
| | | San Manuel Amphitheater San Bernardino, California, Saturday, October 25th |
The metal masses gathered en masse to San Bernardino, the mighty "909", for KNOTFEST, the "largest metal festival EVER in the United States " according to stage announcer Jose Mangin-host of Sirius XM's "Liquid Metal" satellite radio program. And massive it was. 27 bands on 5 stages, headlined by the return of SLIPKNOT, who are fresh off the release of their fifth album, appropriately titled .5: The Gray Chapter.

Besides the music, the festival, really had a sort of "carnival feel" to it. From the vendor tents, and the Rockstar Energy Drink" (the festival's sponsor...) booth, to the huge circular roller coaster, there was also a "Zip Line" as well as a circus tent that housed a "SLIPKNOT Museum" where past stage props and masks were displayed.

Not only that, but all kinds of people dressed in all kinds of scary garb, everywhere you looked. Lots of tattoos, piercings, makeup and plenty of fist-pimping and screaming. There was even a caged ring for "ultimate fighting" style combats, as well as motorcycle stuntmen flying through the air at various points throughout the day. Basically, it came down to a big playpen for this generation's misguided youth.

As for the music, there was a pre-party Friday night for VIP's and campers featuring SUICIDE SILENCE, THE BLACK DAHLIA MURDER, BUTCHER BABIES and others that I am sure had the campfires blazing and the beer flowing. From what I heard, everything went smoothly. I am not a camper personally, and as I arrived at the event on Saturday morning, I observed plenty of examples of why. What looked like an army of homeless people emerged from the campsites, harking me back to the days of my youth when sleeping on the ground, and not showering for a couple of days was tolerated by not only myself and my back, but my own "personal hygiene police". Bottom line-I'm a total pussy....

Again, I was there to enjoy and document the music, and there was plenty of it. I got my credentials and checked out ONE OK ROCK from Japan. They are very popular in their home country, and I always like to check out new things. I liked the energy they produced onstage and so did their fans. I could not understand anything they said or sang, though. Could have been in Japanese, could have been in English, I could not tell. The crowd behind me was light, but it was early. People seemed to be enjoying the band, and I guess that is what it is all about, anyway.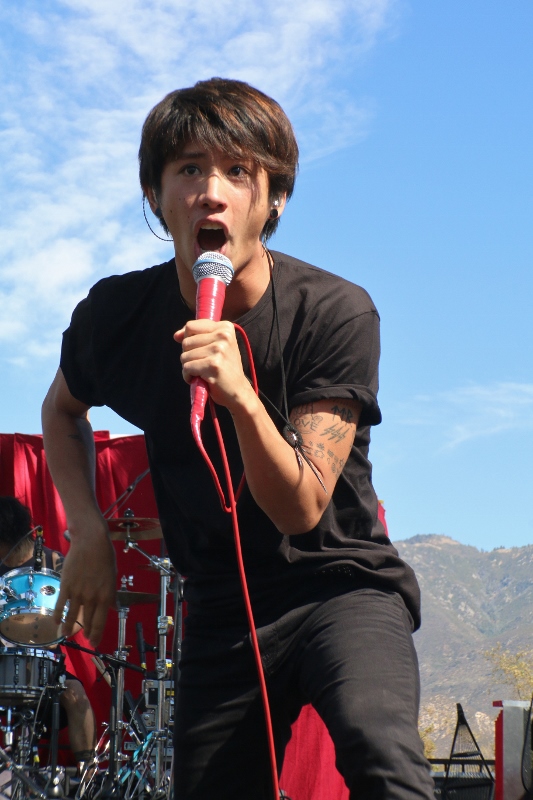 Another Japanese band that I enjoyed was MAN WITH A MISSION. The entire band actually played their entire set wearing stuffed wolf heads. Truly bizarre, but fun. Just watching the drummer, mask atop his head, and fake tongue sticking out, made it look like he was smiling. Kind of like a "Country Bear Jamboree" with metal music being played. I remember, long ago, I once put a SLAYER cassette in my friend's kid's "Teddy Ruxpin" doll. Same effect. Again, a great visual, as for the music, I really could not understand much from the lyrics, but it was very listenable and the moshers really had fun doing their thing to it. "I like the beat Dick. I give it a 7". The most interesting line of the day was heard backstage. "They should have let Glen Danzig onstage with MAN WITH A MISSION, thereby creating "DANZIG With Wolves"...
PRONG put on a great set, as they always do. The "Extreme Stage" (stage 5) crowd had been waiting in anticipation of their heroes and they did not disappoint. Guitarist/singer Tommy Victor is always in command. Today he would be pulling "double duty", playing with PRONG as well as DANZIG, later in the evening. Truly having a good time onstage, this power trio gave their fans, old and new, lots to smile about. Even though it was an extremely short set, I was impressed.
Over on Stage 2, Flint Michigan band KING 810, really and literally, busted up the place. Singer David Gunn was all over the place onstage. Kicking and smashing the chain link fencing stage props, that adorned either end, as well as climbing the lighting rig to unleash his frustration-infused lyrics over a deafening thud from his band members metal core assault. Songs like the opener "Killem All" and "Murder Murder Murder" set the tone of this bands message, and gave you the sense that their hometown of Flint is not a place that you would want to visit, these days. You can check out their latest release, Memoirs Of A Murderer, on Roadrunner Records.
BUTCHER BABIES were the next band scheduled and after a bit of a delay, they stormed the stage to a huge reception. All eyes were on singers (actually shriekers..) Heidi Shepherd and Carla Harvey naturally, and I joked with my fellow photographers when I asked how many shots of the rest of the band had they taken. "Not many" was the reply. But they are a fun band to watch, as both ladies are very animated and provocative at the same time. A cool cover version of SOD's "Pussy Whipped" was a great metaphor, for things to come. Soon the dust clouds were flying, signaling the mosh pits were in full effect and both Shepherd and Harvey ventured out to the security barrier to get up close and personal to the flailing KNOTFEST crowd.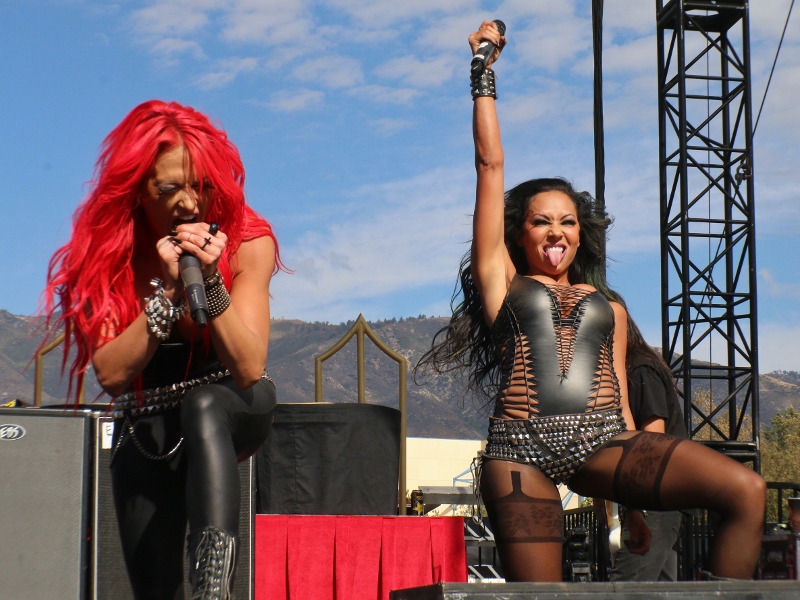 Due to the fact that MAXIMUM THE HORMONE would not allow photographers during their set, I decided to check out a couple of tunes from Mesa, Arizona based band DEHUMANIZER. Very straight ahead, riff heavy rock with growly vocals from singer Cody Cather. Now the "Headbang For The Highway" stage they were performing on was on the small side. Pack 5 guys and a shitload of gear on it, and it becomes pretty compact. Cather seemed to be caught in a mosh on his own stage, but I enjoyed what they did. Not much for stage presence, but I dug the tunes.
Over on the "Extreme Stage", OTEP tore it up. Sporting a tank top with the word "Satan" on it, singer Otep Shamaya is a dynamo onstage. She really got the crowd jumping and the moshers moshing at a furious pace. She is in constant motion. Bassist Cory Wolford lays down a solid groove. At times, it seemed like the impaled pigs head that was onstage as a prop was smiling and bobbing his head up and down, along to the intense and thumping beat supplied by OTEP. The crowd sure was, as the dust kicked up and the circle pits naturally evolved. A solid, enjoyable set by a band that ruled.
Next up was DEVIL WEARS PRADA, on Stage 3. Young and full of angst, this band brought the energy as well as the tempo of the music up a few notches. Singer Mike Hranica is as intense a front man as you will find. He leaps about, and contorts with every word that he yelps. I had the feeling that at any moment he would jump into the photo pit and mosh amongst my fellow paparazzi. It was only fitting that they ended their set with their song "Danger Wildman".
Back to the "Extreme Stage" I trudged, dodging moshers and lots of people who had been indulging in too much alcohol. It was only mid afternoon, but I spotted plenty of casualties already. Luckily, there was plenty of room to just lay down and crash, or hurl, and there was an abundance of 'Porta-Potties" that had not gotten to the mega stink level just yet. The trip was worth it, as we were treated to a killer set from FEAR FACTORY.
Opening with the 1-2 punch of "Shock" and "Edgecrusher"(which featured some spirited background vocals from stage MC Jose Mangin...) FF had the crowd's attention. Bodies were flying and guitarist Dino Cazares, who still looks about 5 feet tall and 5 feet wide, was smiling throughout the set. On the other hand, singer Burton C. Bell was just the opposite, his contorted face and frantic moves were the complete opposite. The crowd on the sides and behind the stage had grown as well. It seemed everyone was into FEAR FACTORY's set, and it was a good thing that they were the final act on the "Extreme Stage", as they are a tough act to follow. Here's a fan-filmed YouTube video from the pit to give you some insight on what it was like-http://youtu.be/9si3tHw1Fgg.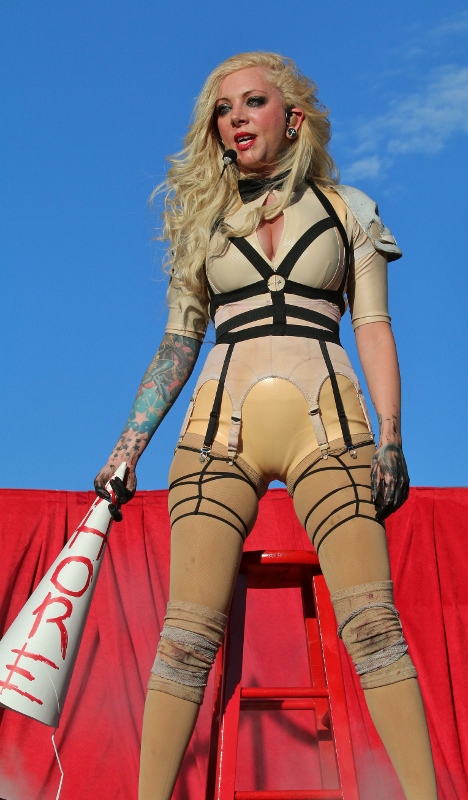 Lots of anticipation awaited IN THIS MOMENT, who were up on "Stage 3", and were debuting their new stage show. And what an interesting extravaganza that turned out to be! Surrounded by her band, and a pair of sexy dancers, singer Maria Brink arose onto the elevated stage in a vampy black cape, with a large black hat, as she crooned to "Sick Like Me", from their forthcoming release which was performed live for the first time. All eyes continued to focus on Brink as she switched to the "naughty school girl" look, along with huge dunce cap and ruler, as she wailed "Whore" from ITM's 2012 album Blood. Another song, another costume change from Maria Brink, as she somehow donned a corset and emerged inside a cage as the band, featuring guitarist/co-founder Chris Howarth, performed another new song from Black Widow (the title of their new release...), "Big Bad Wolf" for the first time. It went over well with the crowd, who already were in "watch mode" after an early day and upcoming late night of thrashing, aggressive sets. Kudo's to those in charge for scheduling a visual act like IN THIS MOMENT at the perfect time of the day.
The final act on the side stages was the band that really set the tone for the festival. The mighty Northern California legends TESTAMENT. Entering to a version of the national anthem piped over the PA system, a sea of flying bodies and dust greeted their heroes from note one of "Rise Up", and that is exactly what happened. The vibe was as chaotic as the beats that touring drummer Gene Hoglan pounded out. During "Into The Pit" reality came to be as fans flew over the barrier separating the stage from the crowd in droves. One hit me with the full weight of his body, drawing blood from a small cut on my head, that looked a lot worse than it was. A battle scar for me, and a non-anomaly at a TESTAMENT show. Singer Chuck Billy even had to admonish someone who climbed onstage and up the scaffold during "Formation Of Damnation", all the while, uber guitarists Alex Skolnick and Eric Peterson, along with new bassist Steve DiGiorgio cranked out the classic thrash, and everyone, the bleeding, the bruised, and the filthy, loved every minute of it. Ending the set with "3 Days In Darkness" the crowd erupted, truly pleased with arguably the best set so far of the day.
A mass exodus headed over the hill and into the bowels of the San Manuel Amphitheater, the largest outdoor amphitheater in the United States. It was like a sea of black clothing marching in unison, as the afternoon sun started to set over San Bernardino. A surreal site it was, combined with the dust swirls that came with it.
HATEBREED got things going on the main stage. Opening with "Everyone Bleeds Now", it was a metaphor for things to come. Instead of the soft ground outside of the side stages, the pit outside the main stage was concrete, therefore upping the blood factor. The tradeoff, I guess, for not having anymore dust clouds. See, there is always a positive to look at when it comes to things on this scale. HATEBREED front man Jamey Jasta is a man possessed. He has the ability to fire up a crowd almost at will, and with his band providing the sonic assault of songs like "Smash Your Enemies" and the set closing "Destroy Everything", they certainly gave the crowd what it came for and was a great way to get the evening portion of the show started.
Next up, the sound of air raid sirens signaled that it was time for BLACK LABEL SOCIETY to hit the stage. And that they did, blazing through their standard hell raising, fist pumping, guitar shredding set. Zakk Wylde is still the heaviest of the heavy, when it comes to true metal guitar playing. He just takes over. During "Bleed For Me" his blazing riffs on his signature Gibson made it seem like he had smoke coming out of the neck. The site of this huge Viking-looking guy cranking out insane licks on said guitar, and singing into a sea of sculls that adorn his microphone stand, is always a treat. "Suicide Messiah" was a crowd pleaser, and it was good to see second guitarist Dario Lorina and bassist JD DeServio get some attention as they pounded their way through an 8 song set, closing with "Stillborn".
Old school thrashers ANTHRAX followed BLS onstage, and again did not disappoint. As energetic as ever, opening the show with "Indians", they have not slowed down one bit. The frenetic pace of "Fight 'Em 'Til You Can't" showed why drummer Charlie Benante is one of the best in the business. Singer Joey Belladonna and guitarist Scott Ian were all over the stage, as usual, with Ian jumping and moshing as if he was trying to get out of a cage, and Belladonna making eye contact with members of the massive audience in front of him. "Madhouse" was a metaphor for the entire festival and bassist Frankie Bello twisted and contorted with every scream of the chorus, and mugged for the crowd, who saluted their heroes throughout the set. Closing with "Antisocial" from 1988, it is remarkable how this band has retained its true spirit through so many years, when others have been completely burnt out. They even tried out a bit of a new song during the set, before launching into "I Am The Law", again from 1987, a generation ago.
DANZIG followed, and due to the fact that eternally moody Glen Danzig would not allow any of the photographers to shoot his set, I headed to the pit to catch a couple of numbers. As expected, it was a very dimly lit stage, with a huge skull and the words DANZIG as a backdrop, really the only things that I could make out. Danzig's band, featuring the afore-mentioned Tommy Victor from PRONG on guitar, and former TYPE O NEGATIVE and current KILL DEVIL HILL drummer Johnny Kelly bashing the tubs, provided the dark dirges that have made so many "Goth Chicks" and social outcasts worship their very existence for years. As for Glenn Danzig himself, he truly is a one of a kind. He prowls the stage and squats to scream out a vocal. Lather, rinse repeat. His followers love it, but I have never been a huge fan. I do admire him for keeping it going after all these years. After hearing him croak out "Mother", I decided it was time to head to the VIP lounge and get a long deserved beer, and get ready for headliners SLIPKNOT.
As for SLIPKNOT, well, that is the reason we are there, right? With a new release, .5: The Gray Chapter to plug, it has been a long time since we last saw them, and a lot of changes have happened since. Bassist Paul Gray died of an overdose and the band parted ways with longtime drummer Joey Jordison. Singer Cory Taylor has had huge success with his other band, STONE SOUR, and has been in the public eye a lot the last few years, to the point of "superstar" status.
So, the band has re-donned their masks (new ones actually) and is using a new bassist (although not an "official member" of SLIPKNOT ) Alessandro Venturella, and a touring drummer, rumored to be Jay Weinberg, son of E STREET BAND drummer Max Weinberg, who was seen backstage. Hmmmm. Needless to say, the anticipation for this weekends shows have been nothing but intense. You could literally feel the buzz in the huge venue before the curtain dropped.
And then-BANG, the curtains dropped, and it was on! An awesome stage set including plenty of pyrotechnics, was the setting for SLIPKNOT's first performance. Opening with "People=Shit", the crowd completely erupted as they found their "second wind" after a long day of getting pounded. SLIPKNOT gave the energy right back as they blew lots of minds by performing the rarity "Eeyore" for the first time in years. Singer Cory Taylor, sporting his new extra evil mask, is still the focus of this band, in spite of the pyro, the new members and the revolving drums onstage. That says a lot for his disposition and stage presence.
He clearly found his comfort zone by the time the band played their debut performance of "The Negative One", one of 2 new songs performed for the first time onstage. A very emotional and thankful Cory Taylor is what I saw onstage, as the new songs are mostly about his late friend and band mate Paul Gray. The whole experience of seeing this band live just seems to get elevated with every tour. I cannot say enough about the performance, so I will treat you to the entire performance via Youtube video. I think you will agree with me. Enjoy-http://youtu.be/mL2kQP-sZDM.
I stayed as long as I could through SLIPKNOT's set and beaten, bloodied, tired, hungry and eager to recap the show, I headed home, knowing full well there was another show tomorrow, with plenty of more bands. My thanks to the wonderful Kristine at AM-Media, and all at Rockstar Energy Drink, as well as all those involved in putting on such a great festival.
SLIPKNOT Setlist:
(515)
"People = Shit"
"Eeyore" (First time live since December 2, 2008)
"Disasterpiece"
"The Negative One" (Live premiere)
"Sulfur"
"Eyeless"
"Wait And Bleed"
"Dead Memories"
"Before I Forget"
"Three Nil" (First time live since June 8, 2005)
"Frail Limb Nursery"
"Purity"
"Custer" (Live premiere)
"Duality"
Encore:
"Spit It Out"
"Surfacing"
"'Til We Die"
Stay tuned for a recap of Day 2 from KNOTFEST 2014...

Check out the Photo Gallery from Day 1 right HERE
Please log in to view RANTS