A Man Of Few Words: An Exclusive Interview With DOYLE WOLFGANG VON FRANKENSTEIN

By Wendy Jasper, Black Metal Aficionado
Monday, November 17, 2014 @ 4:26 PM

| | | |
| --- | --- | --- |
| | | The Monster Man Doesn't Say Much But His Music More Than Makes His Point |
Live Photos By Jenssen Rivera

Doyle Wolfgang Von Frankenstein is a man of few words; but when you're the shredder behind the legendary MISFITS there is really not much that you have to say for people to notice you or any project that you take part in. Over the past year and a half, Doyle has focused on a solo project and released a powerful horror rock record called Abominator. The release of the album spawned a sold out club tour around the country, numerous appearances at festivals and horror conventions, and the ability to keep his legend alive.

In 2013, the DANZIG 25th Anniversary tour featured Doyle as a special guest. Let's be honest and say that he was a main attraction for the fan base that bought tickets to this tour. The idea that Glenn Danzig and Doyle may run through some of the most famous of their MISFITS catalogue was too intriguing to ignore. And it was worth it for Doyle to get his new project the recognition he wanted to make fans aware of his solo effort.
"It was absolutely a chance for me to let the fan base know that I had a solo act that would be producing new music," he said. "We had released some of the music digitally and I wanted to have physical product, so by going out and doing this tour with Glenn, I was able to generate what I needed to complete my own goals while still being able to give the fans a chance to hear MISFITS tunes."
Since Doyle's solo band only has one album to their credit, but they love to make the crowd happy, there will always be an opportunity to hear MISFITS music.
"We only have the one record so if we didn't do some MISFITS songs, there wouldn't be much of a show," he laughed. "But we change the set up all the time and we do play the entire Doyle record. You never know when we might throw in an original from our record or play some older music. I would play all night long if the venue would let me. This is what I love. We will work on new music and tour as much as we can and as long as people want to hear us. This record is about shock, horror and craziness. It's a horror record. It is very true to my past but it also represents a much heavier musical future for me. The songs are more modern but you know it's me. You can feel it in the music.
Released on Doyle's own label, Monster Man Records, Abominator boasts 12 tracks of face-melting music that Doyle is particularly proud of. Songs like the title track, "Learn To bleed", "Land Of The Dead", "Mark Of The Beast" and "Bloodstains" shock the listener into a horror infused hell that keeps them wanting more. The enigmatic guitarist completed quite the North American trek this past summer and each and every show was a full house. There was a minor personnel change by way of drummer departure, but that was easily remedied. Tiny (Biuso) from TSOL filled in on drums on the tour because the band's drummer, DR. CHUD decided that he could not fulfill the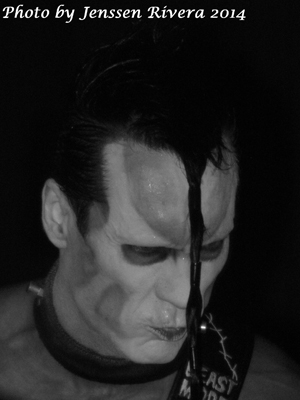 needs of the tour. Singer Alex "Wolfman" Story and bassist "Lefthand" Graham round out the band.
"CHUD suddenly told us, right before we were ready to leave, that he couldn't do the tour. I'm not one to stay down or cancel so I knew we would find the right person and Tiny just happened to cross my path. TSOL is legendary and it took him about ten minutes to learn the songs and we were out the door," Doyle laughed.
Don't think that this is the last we are going to see of Doyle. Not only does he have ideas for MISFITS reunions, he is constantly working on new music, concept projects and creative concepts for more mayhem on the road. If you have not heard Abominator, remedy this faux pas immediately. It is an album not to be missed. Should you have the opportunity to see Doyle live, take the chance. And if you want to keep up with what he is doing, check him out on the web at www.officialdoyle.com
Grab a copy of Abominator in the KNAC.COM More Store right HERE.
Please log in to view RANTS