Bach In The Saddle: An Exclusive Interview With Sebastian Bach

By Keith McDonald, Contributor
Wednesday, December 19, 2001 @ 2:08 PM

| | | |
| --- | --- | --- |
| | | Former Skid Row Vocalist Is Ba |
Sebastian Bach was just a teenager living in Canada when a photographer dropped his name to a local band in New Jersey in need of a frontman. That band was Skid Row, who happened to have a member who was a childhood friend of another New Jersey rocker named Jon Bon Jovi. Sebastian was making a pretty decent living doing voice-overs and had briefly sung in the band Madam X so he really wasnít ready to commit to an unsigned band. But after reading the lyrics to ďYouth Gone Wild,Ē Sebastian was ready to make the commitment. He quickly joined on and after recording their self-titled 1989 debut for Atlantic Records, Sebastian and the boys found themselves in the middle of a major arena tour with Bon Jovi. It took little time for MTV and radio to run with these upstarts and Skid Row found themselves on top of the hard rock world. With the hits ď18 And LifeĒ and ďI Remember You,Ē Skid Row had hit the big time.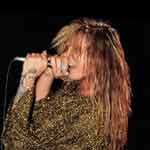 After releasing two more albums, tension started to grow within the band. Sebastian and the rest of the band members grew distant, to the point where in 1996, the band fired Sebastian. Skid Row has since reunited, albeit with a new singer (Johnny Solinger) while Sebastian has started his solo career. In 1999 he released Bring ĎEm Bach Alive! via Spitfire Records, a live album of Skid Row and solo material with a few new studio tracks thrown in for good measure. He has kept busy in between albums, appearing in the Broadway presentation of Jeckyl & Hyde and more recently as Riff Raff in Rocky Horror. He has also seen the shelved album by his short-lived supergroup (featuring members of Smashing Pumpkins, The Breeders and the Frogs) The Last Hard Men released recently, although through Spitfire.

Recently I had an opportunity to chat with the Sebastian, who filled me in on whatís been going on with him in recent times. Never at a loss for words, he filled me in on the New York Steel benefit show with Twisted Sister, his theatrical life, his musical life, and screamingĒhis balls offĒ for rock ní roll.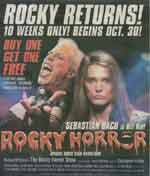 KNAC.COM: What are you currently up to?
BACH: Iím in the Rocky Horror show Off-Broadway. I play the character Riff Raff, eight shows a week till January 6. I just played the biggest show in New York City of my whole solo career, and the biggest show in New York City since the Slave To The Grind tour. I played NY Steel at the Hammerstein Ballroom that was completely sold out. I played with Twisted Sister and Ace FrehleyÖfucking awesome. All the money we gave to the Fire Department and Police Department in New York City. It was incredible. I also have a brand new CD out called The Last Hard Men thatís in stores right now.

KNAC.COM: How did the NY Steel show come about?
BACH: It was organized by Eddie Trunk from WNEW, who has the Saturday Nite Rocks show and JJ French. They put it together. I got the call and wanted to do anything for the cops and firemen. It was great to play with one of my favorite bands, Twisted Sister. (They) were on fire, awesome.

KNAC.COM: You were on the Twisted Sister tribute too, Twisted Forever.
BACH: Yes I was. We did the song ďYou Canít Stop Rock N Roll.Ē I did it with Twisted Sister. It came out really cool. It sounds a lot like the original. Iíve always been a big fan, especially the early (material). Itís an honor. I love those guys.



Whatever hits me in my heart, thatís what Iíll record. I donít have a lot of rules, I follow my heart.

KNAC.COM: How did you land the Rocky Horror spot?
BACH: Actually thatís a funny story. I was Jeckyl & Hyde on Broadway last summer. I was actually asked to be the lead in Rocky Horror before Jeckyl & Hyde. I have a very high voice and this character is very low and I didnít think I look that good in panties (laughs). But Riff Raff is very vocally similar to my voice. Itís very much in my range, vocally. I really enjoy doing it; itís very fun.

KNAC.COM: Why did it take so long for The Last Hard Men to come out?
BACH: Basically because everybody was signed to different labels and legally it was tied up in paperwork for years. Finally I got permission from Atlantic Records to put it out. It took five years but Iím happy to have it out.

KNAC.COM: Was there a reason Atlantic shelved it?
BACH: I guess they thought it sucked. I guess thatís why

KNAC.COM: How did the Live album do?
BACH: About 100,000 worldwide which is pretty good for Spitfire Records, which is a brand new label. Thatís about par for the course for those guys. They have a lot of good bands like Ted Nugent, Alice Cooper and the label is still growing all the time. Iím still actually signed to Atlantic (Records). They have first right on anything I do.


KNAC.COM: How long can Atlantic keep you signed?
BACH: Forever. Jason Flom signed me when I was 19 years old and he has the first right. Thatís the deal they made with Spitfire where they can release Sebastian product but (Atlantic) have first right (to release it).

KNAC.COM: When can we expect a new studio album?
BACH: I jus flew down to Nashville, TN to write my first song with Desmond Child who is responsible for 30 years of hits. Atlantic flew me down there and we came up with a killer song. So as soon as Broadway is over Iíll get back to work on my record and hopefully be on the road in the spring.

KNAC.COM: How has Spitfireís support been so far?
BACH: They paid for my demos and theyíre a record company. When I go to a record store like Sam Goody they have a section of Sebastian Bach CDs. Thatís incredible to me. Thatís the whole reason I do it, is to make music and get it out there.

KNAC.COM: How will the new material sound?
BACH: Itíll be a hard rock record generally. Iíve always believed that there are two types of music Ė good and bad. I always hum my riffs and write down my words. Then when it comes time to make the record I just go through my stuff and collaborate with other musicians. Whatever hits me in my heart, thatís what Iíll record. I donít have a lot of rules, I follow my heart.

KNAC.COM: Will you tour behind The Last Hard Men album?
BACH: No. I will never tour again except as Sebastian Bach because I gave 10 years of my life to another band only to find out that business-wise I didnít own the name at all. I own my name, itís trademarked.



ďI will never tour again except as Sebastian Bach because I gave 10 years of my life to another band only to find out that business-wise I didnít own the name at all.Ē

KNAC.COM: Whatís up with you and Ace?
BACH: Iíve been talking to Ace about working with him. He wants me to work on his record. Maybe Iíll be singing for Frehleyís Comet. I go to his house a lot, hang with him and write songs with him. You never know what will happen. He works hard. Ace is a musician and writes a lot.

KNAC.COM: What are your thoughts on VH1?
BACH: I love VH1. They really treat me right. I just did a movie for them called Donít Fear The Reaper, I played the Reaper. Theyíre great and really keep rock alive. VH1-CR, Classic Rock, is even better than them and MTV-X. MTV-X is all hard rock all day, no commercials, no VJs. All Motley Crue, Skid Row and Judas Priest, all hard rock all day. Itís awesome.

KNAC.COM: Has VH1 asked you do a Behind The Music with Skid Row?
BACH: Yeah. I will never do that with Skid Row. Once they kicked me out they can have a nice life. I will never do anything to support that name ever again. They can do it with their new singer and Iíll do a Sebastian Bach Behind The Music. Weíll see which one gets more ratings.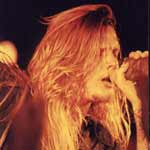 KNAC.COM: How well does the Skid Row catalog sell?
BACH: We do about 300,000 a year worldwide. CDs break and people gotta buy new ones. Pays the bills.

KNAC.COM: Have you heard Skid Row with the new singer?
BACH: No, I have not.

KNAC.COM: Whatís the future for Sebastian Bach?
BACH: Same as the past. Get behind the microphone and I scream my balls off. Thatís what I do. I am Sebastian Bach, USAís original ďYouth Gone Wild.Ē Iím 33 and Iíll be doing this for another 50 years.


Please log in to view RANTS