Interview By Cynthia Fields-Jalil, Houston Contributor

Photos Courtesy Of David Jackson/Jackson & Co

Chad Gray is the front-man for a "Band of Brothers", known as HELLYEAH. Chad hails from Peoria, Illinois after relocating from Florida where he was raised by his beloved deceased grandmother, Betty Rau. He was raised in the church and even sang in the choir as a young child. He was introduced to Classic Rock at an early age by his young mother and his first taste of Heavy Metal was when he first heard MOTLEY CRUE's Too Fast For Love, which he says touched his soul and introduced him to more relateable music and ultimately lead him to perform in a variety of bands where he also wrote, produced and co-produced. The list includes his last band MUDVAYNE (currently on hiatus) and his current band HELLYEAH.

HELLYEAH is made up of members Chad Gray, Lead Singer, Vinnie Paul, drums, Tom Maxwell, guitar, Kyle Sanders, bass, along with Christian "Chris" Brady, touring guitarist. They are currently touring with FIVE FINGER DEATH PUNCH, VOLBEAT and their new label mates NOTHING MORE in support of their latest release that has a renewed and recharged, more focused and emotionally introspective sound that still delivers the Groove Metal sound that they are known for with a slower pace and an overall softer beat. It coincidentally happens to be their first release to be produced by outside producer Las Vegas-based Canadian, Kevin Churko, which has allowed each member to focus exclusively on his role in the band. Blood For Blood is getting positive recognition for allowing the band to show more depth, a range of emotion and more playing styles. HELLYEAH is kicking ass with Chad on the front line who is feeling excited these days and focusing on delivering as many positive messages as he can as a role model while keeping Metal alive and well.

KNAC.COM: I read that you grew up in Florida and that you were raised by your grandmother Betty where she started you out singing in the choir. Can you talk about that a bit?

GRAY: Yeah, my grandmother had to help raise both me and my mother, she was young whenever she had me. My parents gave me life but didn't really know how to take care of me because they were so young so my grandmother who is the "love of my life" had to raise us! So, she took care of me – did everything for me, protected me, fed me, supported me and loved me. Anyway, she would take me to church with her and I naturally started singing in the choir too!

KNAC.COM: Would you say that was your official intro to singing when you were in the choir?

GRAY: Well, my mom had me when she was 17 – she wasn't nothing but a kid so when I was 4 years old, she was 21, ya know what I mean and so I'd be sitting on the floor in the backseat playing with my Hot Wheel cars while they cruised and listened to Frampton, THE EAGLES, SKYNYRD, AEROSMITH and all of the bands that were playing on the radio back then so, at a very nice young age I had my first taste of classic rock music!

KNAC.COM: Growing up who were your favorite artists?
GRAY: Those band were, and the only other music I was around was with my grandparents who liked Bluegrass! My grandpa was a fiddle player and he liked stuff like the banjo. Those guys that are like that or like music like that, they don't wanna play "Tear In My Beer" kinda shit, they wanna play fast Bar Music, hoe down like fast one to two step pedal and like just tearing off and so it's amazing how talented those guys really were but they really couldn't make any money playing – it's pathetic with how talented they really were! I mean compared to our 6 guys their 10-15 guys played guitar, banjo, fiddle, mandolin, piano and stuff and they just kicked ass, ya know? So, I remember that kind of music and I remember the stuff my mom listened to!
KNAC.COM: You had some serious influences!
GRAY: Yeah! I could only be that close to it but I didn't come into my own until I heard MOTLEY CRUE's Too Fast For Love, and then it was like whoa! (laughing). Oh, this is why my mom and all of her friends fucking rocked out (laughing), ya know? I mean, I loved hanging out and listening to my mom's stuff but for something to really touch your soul, I needed that love from something that was much closer in age to me, somewhere like some 18, 19, 20 year old MOTLEY CRUE guy or however old they were, so for me, that band touched my soul!
KNAC.COM: Is that how you transitioned into the underground metal music world pretty much?
GRAY: Well, I guess what I mean is that's what really made me understand that this is what I wanted to do. I was always exploring around and nothing touched my soul and I didn't have a direct connection like a strong bond until Too Fast For Love. Then I was like 'holy shit, this is a crazy world'! Being around something that I liked, you understand what I am saying? As a fan, I had never really been around something that I really liked and I loved it, it liked scratched the surface of my soul and my heart and like really touched me. Then I got Shout At The Devil and then I was fortunate enough to get into ALICE IN CHAINS, PANTERA – I was explaining it to Vin (Vinnie Paul), one of the guys that I am playing with now, that it like left its mark on me, ya know, it did!
KNAC.COM: That's like a dream come true. Really an amazing thing to have happened to you and a real blessing!
GRAY: Yeah, I believe it! I know now that it is what it is and I have a very special place for what he (Vinnie) did in my life but it's not what we are now. Like what he did is something huge for me but now he's my brother and now I know him as a person - it's not Vinnie & I's make-up now, ya know what I mean? Our make-up is the music that we create together ya know - it's really where our bond is now.
KNAC.COM: Before we go into it further I wanted to ask you another question about your grandmother if that's ok?
GRAY: I love talking about her, she was the love of my life!
KNAC.COM: I know that she passed away from cancer back in 2005 and she'd been battling it for several years. You wrote a song called "Thank You" with HELLYEAH and another your other band called "Death Blossoms" about her struggles and illnesses with cancer. Can you elaborate on that a little?
GRAY: She didn't have cancer at that point when I wrote "Death Blossoms", it was a kind of release me kind of thing, and it was about her getting older you know what I mean – late in life. When I did that it was just my interpretation of it, when I wrote that song. My grandma wasn't sick and I certainly didn't want her to die, it was just about that.
KNAC.COM: Oh, ok! Now I am glad that you took the time to elaborate more on it! So, it was just the fear of her getting older and maybe losing her at the time or something?
GRAY: I think it was kind of at that point like me looking through her eyes and realizing that she was getting older and it was just kinda like just my own interpretation of the idea of what it must be like when you are older and maybe that death isn't such a bad thing, because it isn't. Your spirit is all that you leave and then death does cross over to something on the other side and you have to believe that!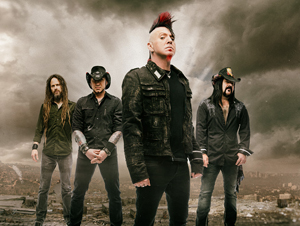 KNAC.COM: So then "Thank You", was actually written to thank her for everything that she had actually done for you, is that right?
GRAY: That song, it meant a lot! I mean obviously the nuts and bolts of it came from my grandmother and from me speaking for my brothers, Vinnie and Tom – Tom lost a mother, I lost my grandmother and Vinnie lost a brother and I think you have to ask yourself that question "did I say thank you enough?". For her always taking care of me and doing all of whatever it took to protect me from being sick and everything else, for what Dime did for Vinnie and for all that Tom's mom did for him. Did we all actually say "thank you" enough because if we didn't then here it is. I wanted to write a song about it so that I could say it every time I sang it. Just because you are not here anymore doesn't mean that I can't still say "thank you for loving me".
KNAC.COM: I feel like they are always with us even though they're not here physically so that's really beautiful.
GRAY: Oh yeah, they're still here! My grandma is on my shoulder every day. I mean, I couldn't live without her! If the idea of my grandmother passing away did not exist anymore more, that's frightening, that'd scare the shit out of me! It's all about your end and the way you feel inside. I'm not willing to allow that to happen. My grandmother is still absolutely with me! Dime, Dimebag is our 6th member, he always has been, there's no doubt about it in my mind! His humor - he also had this wonderful beauty that he brought to music. I wrote this thing and posted it on my Instagram and someone actually printed it from there and posted it to a Metal site on Dime's Birthday! I kinda told the story about the first time that I ever saw them play and how professional he was. Anyway, I put this thing on Instagram and posted a picture of him with me and he just kinda like sneered at the camera and he let me hang out and talk! I found that picture and it reminded me of the first time that I saw them play and Vinnie always lets me tell the story and of course so I wrote that. I've told Vinnie that story a hundred times but every time he still lets me tell it with a smile on his face and they did 3 more fucking shows before both of us played our "Power Tour", this was like before Vulgar Display Of Power and Cowboys From Hell, era! I saw them play at a club in St. Louis, I was in the front row and there was no barricade – right up against the fucking stage and he was just standing up on the monitor with his fucking head back sneering and he had this big fucking slobber hanging out of his mouth and he was just ripping – absolutely just tearing it up! I mean the guy was just a fucking genius when it came to guitar playing, he really was just flawless when it came to playing guitar!
KNAC.COM: I never had a chance to see them or at least that I can remember back in the day when they were together, but I've seen lots of recordings of Dime and he sure did have a funny sense of humor, was so genuinely real and definitely had a very positive impact on a ton of folks. He is definitely missed but his spirit will always live on - the memories of him and what he's done and what he changed!
GRAY: His impact, and that band had so much impact on so many people it is fucking unlimited! There were so many people that wanted to be them. There were probably more bands that wanted to be them then the bigger bands like METALLICA and stuff like that, that played Groove Metal.
KNAC.COM: Talk about "Groove Metal" because that's what you guys are categorized as. Is that what you play?
GRAY: Yeah, the thing is there is something about what we are doing right now, it's got its natural sound – PANTERA had that sound, you know what I mean? It was just fucking unprecedented, it sounded great and it was danceable! It is heavy metal, its danceable, it can be fabulous and not boring and it makes a very good dance song a really good dance song (laughing), like any hip hop song it's got that swagger – you dance a little harder than hip hop and R&B but, it makes you want to move and that is what I love about it.
KNAC.COM: What was it like recording music at Vinnie's studio for the first time after his like 18 months of hiatus and of course with it marking his return to playing after Dime's tragic death?
GRAY: Well the first song that we ever wrote was "Insomnia", and I think that really encapsulates kinda the feeling of us all going in there for the first time because there were a lot of butterflies, a lot of nervous anticipation. There was a lot of pain and there was a lot of weird things but we're resilient and he's resilient ya know, you just gotta let it roll off – you gotta let those emotions inspire you, emotions are very inspiring! Heavy Metal is not easy just because it is popular – Metal is not easy to record!
KNAC.COM: Watching some of the band's performances, listening to some of the music, it's pretty intense.
GRAY: Oh yeah, talk about a trial and error process! It was like when we'd finish a track and you wanted to go over there, you had to kinda make a slow turn like a train because you don't want it coming off of the tracks! But then on the flip side with our writing, we know what we are doing; we are excited about what we are doing. We've got a great bass player and a guitar player, Christian Brady he's very old school and he's a professional musician! He hasn't played on a world stage until now but he is amazing! He has played with like THE BLUE MAN GROUP in Vegas. There are the three guys, but they also have a band that play along with them from each side.
KNAC.COM: I have a friend who plays in that band – Blas Elias. He's from Houston.
GRAY: Yeah, Chris and him play together! He plays in a lot of stuff but he is a very professionally trained musician and sometimes you just gotta be. That's a whole different level of playing. I mean you are coming in and you've got to learn a whole bunch of shit and we've got to work hard just to play the show. He's got the chops and he's playing great stuff and has great energy. Then Bob "Zilla" (Kahaka) departed the band and I fucking said I know exactly who I wanted to play bass and then I called Kyle (Sanders) up and I'm like "Whatcha doing for the next rest of your life?" (laughs)
KNAC.COM: I bet he was super excited about that!
GRAY: Yeah, he was! We have known each other for a long time and we kinda grew up together and he has been a brother to me for a long time. So, we are all brothers who are always laughing, talking and just having a good time together and it is a great feeling to look over to my left and there is Christian, then I look over and there is Kyle and then I look to my left and there is my brother Vinnie and it is awesome, we are a "Band of Brothers"! That is like when one of those moments in my life with that little moment right there, is just one of those kinda of moments that remind me that I just gotta pay attention to life! I am having the most fun that I have ever had in my life and I am the happiest that I have ever been at this stage of my life and I just always want to remember to always pay attention to those kinds of moments. This is the kind of band that I have always wanted to play in and the kind of friends that I have always wanted to have in that band that I have always wanted to play in.
KNAC.COM: So, is it true what they say about Vinnie Paul, that he's awesome, down to earth and he likes to pull out the BBQ Pit, throw some meat on the grill, drinks lots of beer and that he just loves to have a good ole time?
GRAY: Oh yeah and he is a helluva cook, all of us cook! We just love it! In fact I love watching the show Chopped, it is kind of my favorite show – hands down! (laughing) I've learned so much from that show, like making shit out of crazy shit! (laughing) Yeah, they don't know what they are opening up and then they get 30 minutes to make something out of it! It could be anything from gummy bears and shrimp to some other crazy shit! (laughing)
KNAC.COM: So, what's the craziest meal that you've thrown together? (laughing)
GRAY: Oh, I don't know, I mean I haven't done anything with Capt'n Crunch or gummy bears yet, but I just think it is a great show to show that you can make something out of anything! Because when you are hungry no matter what you make, it always tastes good as long as you take your time with it and cook it slow!
KNAC.COM: (Laughing) So let me ask you this: You guys actually recorded and released a live concert DVD and documentary called Below The Belt. What was that?
GRAY: I don't remember much about it (laughing), but, it was basically about being on the road – my memory is not that great but, you know stuff like that.
KNAC.COM: What was the first tour like for you? You're getting to be a pro now but what was the first tour like going out with HELLYEAH?
GRAY: Ummm, drunk, blurry and rough, I did a lot of drinking! I literally feel like this band has really pushed me to another level in my mind, ya know what I mean? I thought I had my ducks in a row and I really didn't. I just kinda let them out to the pasture and then I brought them back in and reeled them back in to prioritize and reevaluate the rest of my life. Drinking, for me being a singer, just dried me out, effected my performance and so now I look forward to getting up there and giving these kids everything that I hope that we can be and I'll tell you what, now I think that we've done that and I don't want to sacrifice one moment of being on that stage and come to the dark side again! I believe that some music is already bad and because I almost ruined my life, but now I have been allowed to touch people, to help people and I've realized my role as a role model and I know what I can give to people is something really special so, I wanted to give it all to them and deliver something really special! So, I wanted to slow down a bit – we are all on a mission here!
KNAC.COM: So, there was a dark period when you guys nearly disband, is that RIGHT? I read that there was really toxic chemistry between the band members or the other members that left. I know that you're in a happier place now but what do you think lead you guys to such an unpleasant place after starting out so positively?
GRAY: It was not something that I noticed immediately, it was like a slow read book, ya know like a movie, a slow read where you could tell that the train is coming off of the tracks. It just kinda got like a cancer where you just try to keep it away from yourself. It was like living in the dark but you gotta do what you gotta do to part the clouds to get in a better place.
KNAC.COM: Who do you think were the member/members that held the band together like glue during your toughest period?
GRAY: The three of us, Vinnie, Tom and myself – we had worked so hard and there were so many feelings and emotions from the beginning until that point and we just decided that we needed to push through it and figure out a way to make it work! Tom was like "Man get up here, I need you, I need you". Tom saying that really inspired me to get off of my ass and get up there – get into the studio, start working and battle through it and we did! I am telling you what it was tough and it was hard and whatnot and it was a hard road but I am telling you what, every song just kept getting better and better and had its own energy and its own vibe and then from that point forward, I just started writing and writing up to today and each of the songs all have different flavors and now the bar for great songs has been set!
KNAC.COM: I've listened to Blood For Blood, and it sounds great! I thought, 'I really gotta catch these guys whenever they come back to town!'
GRAY: Yeah, the band as a whole is doing great for ourselves and we are really enjoying the shows. We had a killer show the other night and tonight we are planning on another killer show and our goal tonight and every night is to deliver a bigger and better show every night to our fans We just always wanna make sure that we keep raising the bar and continue to deliver the best shows to our fans - ya just gotta go for it!
KNAC.COM: So, why the change in record labels (Epic to Eleven Seven Music)?
GRAY: Well, ya know Rock is not anyone's priority these days and with Epic being a major label, it was different and not as personable – we still have major distribution through Sony, but we felt like Eleven Seven would be a much better fit for us and we are pretty happy with our decision.
KNAC.COM: What's it been like having a new production team? I know that you guys are getting some really great feedback with your latest release, Blood For Blood.
GRAY: Yeah, we are! Well, we have been working with Kevin Churko – he's got great energy he's from Canada and I love Canadians, I love them! They are such great people and they have such great energy and personality and they are just so laid back and so he is just a really cool guy, a lot of fun and there was just a lot of pain and he helped to change that and it has been just great! So, now we do not have to worry about self-producing and all of that stuff, we just let him do his thing and left the producing up to him and he's great at it and that is cool!
KNAC.COM: I am sure that that alleviates a lot of stress out of that process and lets you all instead focus on writing and taking care of the things that you guys need to take care of.
GRAY: Absolutely! I just takes one more thing off of the table and lets us focus on other really important things ya know – composition, lyrics, melodies and creating even better songs.
KNAC.COM: What is your favorite track off of the new CD and why?
GRAY: Ummm, it depends – I mean I love every song off of the record but "Hush" is really close to me – "Hush" is about me wearing my life on my sleeve and about some of the turmoil I experienced while I was growing up. It is just so versatile and because of that it is so exciting and when I look at that song it is something that is like something that is going to help a lot of people. I think it explains a bit of when I was going through those really hard times in my life. I felt like I was alone. One of the lines of the song "If this reminds you of home, you better know that you are not alone", you know what I mean, - because I went through it, too. I think the idea of people being able to hear that and that are going through that situation maybe they are an introverted kind of person because that kind of lifestyle makes you introverted. It makes you try to find yourself and you might not talk about it but for me to be able to tell people and then listen to it and end up being able to recognize that I went through hard times too and I am still living – I made it through it and its inspiring and my way to contribute - they can make it too! You know, a lot of people don't and a lot of people will end their lives who feel that way.
KNAC.COM: Just like Robin Williams – I mean who would have ever thought that he was going through such turmoil in his life that we would have taken his life (asphyxiation by hanging), especially considering he was a funny guy!
GRAY: Well a lot of people like him who are expected to be on have a lot of problems! Jim Carey has a lot of fucking bouts with depression, especially when he goes to places he is always expected to be what he is like whenever he is on stage. I mean whether he's walking into a Starbucks to get a cup of coffee and anyone he fucking meets you know is expecting him to be what they see and so like if he is on, he is on ya know and it's like you don't want to be fucking be on all of the time! People think since you always play someone who is at their happiest and totally not taken seriously, that is what they expect from you since that is all that you play and so that becomes all that you are good for. Just because you are a funny ass guy doesn't mean that, that is all that encapsulates you!
KNAC.COM: What's it like for you? Are you starting to feel the pressures of your celebrity or are you enjoying the attention that you are getting?
GRAY: This ain't new and so I have been able to manage that pretty well. I've been doing this for 15 years – I've been a celebrity for a long time I mean in certain circles. It doesn't bother me, I've done it for a long time, I am excited about it every day and I enjoy it!
KNAC.COM: You guys are out on tour with FIVE FINGER DEATH PUNCH, VOLBEAT and your new label mates NOTHING MORE. So, how do you think those guys (NOTHING MORE) are doing?
GRAY: They know what they are doing and they are young, excited and very professional plus they've got a great show and overall, I am enjoying the shows!
KNAC.COM: So, what kind of fans are you seeing out there? Are they like mosh-pitting fans or are they old school bang your head, fist pumping kinds of fans?
GRAY: All of the above!
KNAC.COM: Which venues do you prefer, the festival type venues or the smaller intimate club venues?
GRAY: They all are great, there is just a difference in the crowd sizes and its awesome! Like tonight we are playing an arena and it is all Sold-Out! It's all metal and we are alive and well so, what's not to like?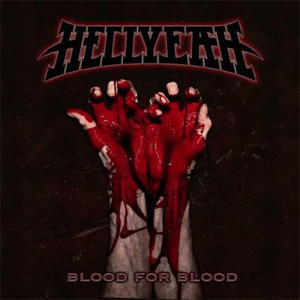 KNAC.COM: How do you like spending your down time?
GRAY: I run, work out, hang out, whatever – there's always something to do, it's a little boring. (laughing)
KNAC.COM: Once the tour wraps what's next for HELLYEAH?
GRAY: We don't know. We're signed with a new Booking Agent and we are playing it out – it's really the beginning of a cycle and we are now just starting to climb the radio charts and so now we can take it all in and tour until the end of the year then we go back to Europe do some festivals and blow it up over there.
KNAC.COM: Any last words that you would like to say to your fans?
GRAY: Support Metal! Like I said Metal saved my life and I just want you to believe that it is alive and doing well – we just Sold-Out our 3000th show and no matter what band it is, it's still Metal and it is always going to be there for you and it won't let you down so don't turn your back on it by saying "Ok, it's been great knowing you – see ya later!" (laughing) It saved my life and I'll work in it and play it until the day I die!
KNAC.COM: That's wonderful! On behalf of KNAC.COM and all of the HELLYEAH fans out there, totally rock your day, enjoy the rest of the tour, take care and safe travels to all of you!
Be sure to visit HELLYEAH's Official Website to check-out their tour schedule for venues, dates and times and for all of the latest news on HELLYEAH!
http://www.hellyeahband.com
http://www.facebook.com/hellyeahband
http://www.youtube.com/user/hellyeahband
http://www.twitter.com/hellyeahband
http://www.elevensevenmusic.com/artists/hellyeah/