JUNKMAN Recaps AFTERSHOCK FESTIVAL 2014

By Junkman, On-Air Personality
Monday, October 6, 2014 @ 4:04 PM

| | | |
| --- | --- | --- |
| | | Sacramento California September 13 & 14, 2014 |
All Photos By JUNKMAN

"With a whole bunch of bands, and a new camera in tow, I made my way up north for another sold out show". Sounds like the lyrics of a song, but in all actuality, it is how I spent a sweltering weekend in California's capitol city, along with an estimated 40,000 other sweaty music fans on what I can only presume as the hottest weekend in recent memory. Either that is just the way "Sactown" is at this time of the year, or it was another fine example of "Global Warming."

Yes, the heat was on in many ways, at Discovery Park in downtown Sacramento, as the Aftershock Festival returned, after a successful 2013 event. This year, it was expanded to 4 stages from last years 3, and Danny Wimmer Events, in association with Monster Energy Drink as well as others, expanded not only room for more people to attend, but they successfully diversified the acts to accommodate today's music fans ever changing tastes.

Day one's lineup reached out to fans of "active" and classic "punk rock" as well as the more heavy bands that dominated on day two. I made it to Discovery Park about 2 PM, got my credentials, and made it to the South Stage, to catch FUEL bring a rousing set of hits to the already sun drenched crowd. All eyes were on singer/guitarist Brett Scallions, who sang shirtless, ( the ladies loved that...) and they pretty much kept the crowd entertained, as their songs have been very radio friendly for many years.

This posed my only issue. Due to the fact that they had 4 stages and lots of bands, which is a good thing, the only way to get them all on, was to have two stages running bands at the same time. In this case, the 'West Stage" and "South Stage". This meant there would be decisions made throughout the weekend at times on who to see. Photographing standards at shows means you get to shoot the first 3 songs. So if two of the bands you would like to photograph, are playing at once, and many did, then you have to make a choice. I missed the set by HELLYEAH because I was photographing FUEL. Again, I had another decision. BLACK LABEL SOCIETY was on the West Stage, and NOTHING MORE was on the South Stage. Decision time again. I opted for BLS, as I had recently seen NOTHING MORE at the "Rock On The Range" festival in May, and even though I loved their stage show, you simply don't turn down a chance to see Zakk Wylde shred on guitar.
And shred he did. Even though it was a short 6 song set, Zakk and second guitarist Dario Lorina crammed in enough guitar notes to fill in most of the other bands sets throughout the day. Highlights for me included "Heart Of Darkness" from his latest release Catacombs Of The Black Vatican, as well as the set closing pounder, "Stillborn".
OG punk band BAD RELIGION amped up the crowd at the North Stage. As soon as they started their first song, the appropriately titled "Fuck You", the mosh pit started, and continued through the set. This raised a bit of a problem due to the fact, that since there has been a major drought in the state of California, the ground is quite dry. Soon, due to moshing to BAD RELIGION drummer Brookes Wackerman's intense drum tempo, the entire grounds of Discovery Park became a giant cloud of dusty dirt. Sort of what Los Angeles looked like in the 1970's.
And this LA band gave their fans what they wanted, a set filled with BAD RELIGION hits like "21st Century Digital Boy", "Struck A Nerve", "Sorrow" and "Infected". Singer Greg Graffin, sporting a "Fuck Cancer" (www.fuckcancerfoundation.org. They had a booth at the festival and many bands were wearing "Fuck Cancer' swag. Go check out the site and help out...) cap, and leading the sing-along's, was clearly having a good time from his safe spot onstage, watching the dirt cloud drift forward, like "Pig Pen" on the old "Peanuts" cartoon strip, as he rocked out alongside other original BAD RELIGION members, guitarist Brett Gurewitz and bassist Jay Bentley. Just an uptempo, sweaty, dirty, set, that was really the kickstart for the day, in my opinion.
SETLIST
"Fuck You"
"Dharma And The Bomb"
"Supersonic"
"Stranger Than Fiction"
"21st Century (Digital Boy)"
"Struck A Nerve"
"Skyscraper"
"Generator"
"Recipe For Hate"
"Sorrow "
"You Are (The Government)"
"1000 More Fools"
"Do What You Want"
"Infected"
"You"
"American Jesus"
I then traveled to the South Stage, (actually side by side with the North Stage...) and caught a set by CHEVELLE. Although not the most exciting band to see live, I do enjoy their songs, and so did the crowd. "Send The Pain Below" and "The Red" had mini-pits going off inside the mass of dust, and the crowd surfers sure seemed to be having fun.

I decided after their set to take a look around the grounds, as I really had no real interest in seeing hipsters AWOLNATION and their keyboard heavy show. There were LOTS of food trucks selling everything from the usual BBQ and pizza, to my favorite- a Bacon Truck. Yep, had me a calorie bustin', grilled Mac and Cheese sandwich, stuffed with bacon that was so big, I couldn't finish it. Oh yeah, lots of BEER stands as well. Festival Sponsors Monster Energy and the afore-mentioned "Fuck Cancer" booth were packed all day. The official Aftershock merch booth was selling everything, from every band appearing. Victory Records was handing out tons of stuff, and the DirecTV booth was a great gathering spot to watch the football games on their network of flat-screen TV's. There were plenty of travelling and local merch stands that sold everything from T-shirts and bandana's (very popular because of all the dust..) to custom artwork and smoking supplies and sunglasses. There was also a cool VIP section that was shaded underneath tall trees and overlooked the North and South Stages. There were tables, and a pavilion, and lounge chairs as well as a big screen set up for VIP's to enjoy the show in a comfortable surrounding. Truly the way to go.
I made my way to the West Stage for what turned out to be a surprisingly entertaining show from none other than LIMP BIZKIT. yeah, I know, probably one of the most hated bands in recent memory, at least among most head-bangers, anyway. As the band was about to start, a guy in a sort of G-string appeared onstage, dancing around, and handed out treats and drinks. Kinda bizarre you say? That was nothing compared to when guitarist Wes Borland appeared, completely covered in black paint and sporting a skirt and a bondage mask.
Opening with their hit "Rollin", the energy in the crowd just exploded, and stayed that way throughout the 9 song set, which included a cover of RAGE AGAINST THE MACHINE's "Killing In The Name Of". Singer/rapper Fred Durst, appearing with his trademark baseball cap turned front ways as opposed to backwards, was on fire. During the set, he and Borland were the main points of interest. He even jumped off the stage, and sang from the barrier. During this time, someone threw a sweaty pair of women's panties at him. Without hesitation, he took a huge whiff of said undergarment, and wrapped them around his microphone and continued singing. The crowd surfers were out in full force, and it looked like wave after wave made it over the barricade and back into the sweaty pit, only to return minutes later. Say what you want about this band, but I truly enjoyed their set, and I was not alone. Here is a fan-filmed YOUTUBE video of "Rollin" to give you a bit of perspective - http://youtu.be/vsAEq-KxM2I.
SETLIST
"Rollin'" (Air Raid Vehicle)
"Hot Dog"
"My Generation"
"Livin' It Up"
"My Way"
"Re-Arranged"
"Killing In The Name Of" (RAGE AGAINST THE MACHINE cover)
"Take a Look Around"
"Break Stuff"
Back to the South Stage, for another band that hit their peak in the 90's, my fellow Huntington Beach California residents, OFFSPRING. I have to admit, I was not expecting a lot, given the fact that this band really has not been around the last few years, but, just like LIMP BIZKIT, I was surprised by how much fun they were. An upbeat, 18 song set, full of hits, and plenty of swagger. Singer Dexter Holland looks to be having fun at all times, even grabbing a guitar for a few songs to join guitarist Noodles in bashing out the rockers like "Gotta Get Away". Plenty of crowd surfing and sing-alongs, especially in the radio hits like "Come Out and Play", "Self Asteem" and especially the nursery rhyme-like "Why Don't You Get A Job?", an anthem for a generation of slackers. A long encore of songs had the sweaty, crowd surfing, moshing masses, completely spent by the last song of their set, appropriately titled, "The Kids aren't Alright".

SETLIST
"Nitro (Youth Energy)"
"Bad Habit"
"Gotta Get Away"
"Genocide"
"Something to Believe In"
"Come Out and Play"
"It'll Be a Long Time"
"Killboy Powerhead" (DIDJITS cover)
"So Alone"
"What Happened to You?"
"Not the One"
"Smash"
"Self Esteem"
Encore:
"All I Want"
"You're Gonna Go Far, Kid"
"Why Don't You Get a Job?"
"Pretty Fly (For a White Guy)"
"The Kids Aren't Alright"
I'm just going to say it. I am a WEEZER fan. And not just the little kid from The Little Rascals. I love a well crafted pop-rock song and WEEZER the band has written and recorded plenty of them with consistancy. Many of my head-banging cronies cannot get past the geeky frat-boy image of this band, but, musically speaking, they do what they do well. Granted, when guitarist/keyboardist Brian Bell strapped on a Gibson Explorer, and the band rocked "Hash Pipe", it was as heavy as the set would be, but it was fine by me, and many others, who stuck around and ended the evening, just grooving to some cool tunes.

The main focus of this band is and always will be, dorky, singer guitarist Rivers Quomo. He likes to identify with his audience, singing lead on all songs, even throwing in a nice little on the spot ditty about wanting a girl from Sacramento, before launching into their mega-hit "Island In The Sun". They also played their catchy new single "Back To The Shack". Again, it was a long day, and this set was like kicking back with a beer , before doing it again with heavier bands on Sunday. Here is a fan-filmed YouTube video of WEEZER at Aftershock-http://youtu.be/_s43NznR4Rw.

SETLIST
"My Name Is Jonas"
"Hash Pipe"
"Perfect Situation"
"Undone - The Sweater Song"
"Beverly Hills"
"Say It Ain't So"
"Sacramento Song"
"Island In The Sun"
"Back To The Shack"
"Buddy Holly"
"Pork And Beans"
After getting some sleep and dealing with the blisters on my feet from navigating my way back to my hotel, "Sunday Fun Day" was upon me. There would be some killer sets today, and I got to Discovery Park early to prepare. At the Media tent, met up with a few of the acts that would be performing on Sunday. First off, a chat with my friends Danny Worsnop and Jeff George from WE ARE HARLOT, who would be hitting the West Stage at 1 PM. After a few years in the making, they are getting ready to release their first CD, and from all points, it should be a good one. Speaking with these guys is always an experience, as they like to have fun and so do I. Jeff was nursing a busted up knee that hampered his getting around a bit, but nonetheless always has time to hang out, and have a few laughs.

I also spoke to old friends Keith Nelson and Josh Todd from BUCKCHERRY, who would be appearing on the South Stage later in the afternoon. They were absolutely stoked about the recent release of F, BUCKCHERRY's latest EP. "We did it all ourselves, and that feels great", they told me. Recorded at Nelsons studio, and produced by the band, every song (except for a killer cover song track 7...) features the word 'Fuck" in the title. Definately not for terrestrial radio play, but the fans will like it, and being a big fan, it is a welcome addition to my playlist.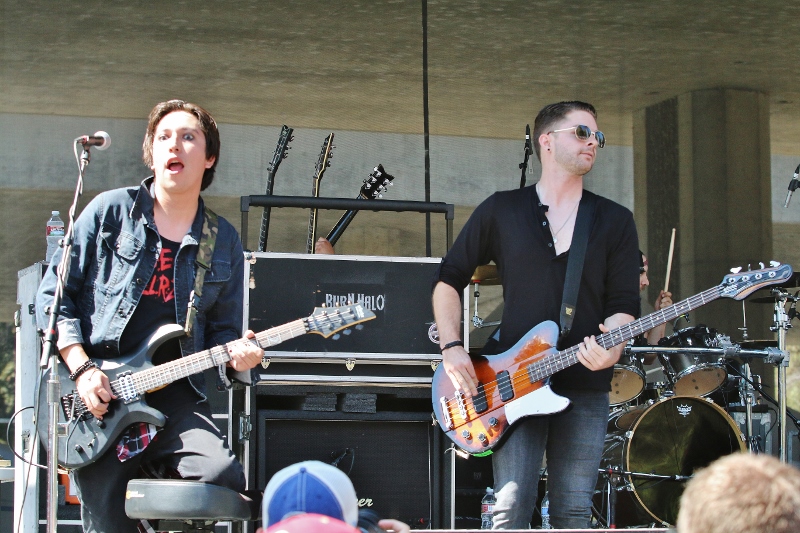 I headed to the Coors Light Stage, to catch part of a set from BURN HALO, a band that has seen quite a bit of change in the last few years. Sounded awesome from what I saw, but headed to the West Stage to catch WE ARE HARLOT, and was invited to watch them from the stage. Singer Danny Worsnop (who is also the lead singer in ASKING ALEXANDRIA..) has a good stage presence, and knows how to work a crowd. Guitarist Jeff George, showing virtually no problems from his knee issues while on stage, is a power chord king. Bassist Brian Weaver who played bass in Silvertide one of my absolute favorite bands of recent memory, is as solid a bassist as they get. He is the "engine driver" in this band. Drummer Bruno Agra completes the quartet. One thing I can tell you about this set, it had the biggest girl>guy ratio of the day. They were everywhere! Here is a Youtube video of their performance of "Denial", their first single-http://youtu.be/7i8wAWInwd0.
Off the North stage I trudged, and although slightly cooler than Day 1, it was still blazing, outside. over 100 degrees. And I caught a blazing set by the newly-re started ATREYU who have been away from the scene for awhile. after a warm-up show in Orange County a few days before, ATREYU just killed at Aftershock, with a quick 7 song set that brought the sold out crowd to a frenzy. By the time they played ,i>"Becoming The Bull" about halfway through, it was like they HAD become the bull, and were set loose in the virtual china shop. Bodies, were flying, the dust clouds were thicker than the day before, and everyone had brown teeth from smiling so much. A very strange cover of BON JOVI's "You Give Love A Bad Name", only added to the adrenaline thrown back at the band by a crowd that would have loved much more from them. Let it be known, ATREYU are back in a big way.
SETLIST
"Bleeding Mascara"
"Right Side Of The Bed"
"Becoming The Bull"
"So Others May Live"
"Blow"
"You Give Love A Bad Name" (BON JOVI cover)
"Lip Gloss And Black"
Back to the West Stage to catch one of my favorite live acts, BLACK STONE CHERRY. These boys from Kentucky never fail to please in a live setting. Opening with "Me And Mary Jane", they put on their usual crowd pleasing set, but alas a much shorter version due to time constraints. Guitarist Ben Wells is all over the stage, flailing about on his guitar and flipping his long blonde hair. Drummer John Fred Young is equally busy onstage and has to be one of the hardest hitting drummers I've ever seen. Singer/guitarist Chris Robertson looks like a truck driver, and has a very soulful growl of a voice, and really shined on their recent hits "White Trash Millionaire" and "Blame It On The Boom Boom". Here's a fan-filmed YouTube teaser of the band in action-http://youtu.be/QE4GwNanKs8.

SETLIST
"Me And Mary Jane"
"Blind Man"
"In My Blood"
"Remember Me"
"White Trash Millionaire"
"Blame It On The Boom Boom"
"Lonely Train"
I hightailed it through the ever increasing crowd to catch part of a set from teenage shredders UNLOCKING THE TRUTH, who I first saw opening for MOTORHEAD, earlier this year. 3 teenagers from New York City, nice as can be, totally destroying a sold out crowd with sonic metal. When I was their age, my bands never even made it out of the garage. They have one hell of a future ahead of them.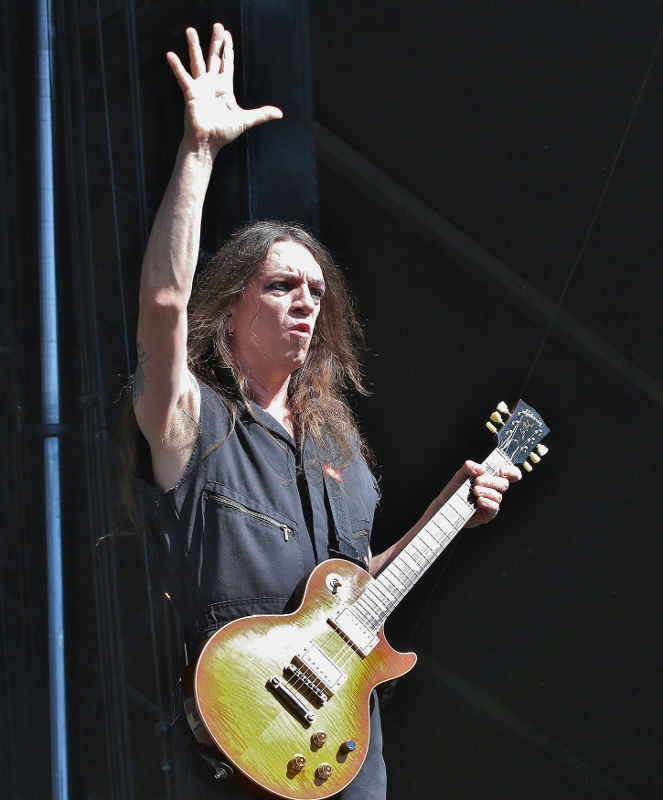 On to the South Stage to see my old friends BUCKCHERRY, who had a huge surprise for me and their fans. Subbing for guitarist Stevie D was none other than SKID ROW guitarist Scottie Hill! And it worked well. Opening with their first hit "Lit Up", these guys are true pro's onstage. Singer Josh Todd is probably my favorite lead singer of the last 20 years or so. Yeah, I said it, MY favorite, OK? The interplay between Scottie Hill and guitarist Keith Nelson worked just as well as it does with Stevie D. They played 3 songs from their new EP in their 9 song set, and you know what? EVERYONE loved it. Especially, the set closing "Crazy Bitch", the most popular of their songs, especially with the females, and there were many, screaming out every word. Always a treat to see this band. I actually found some video online showing the band warming up and heading onstage. See if you can spot me in it! http://youtu.be/dva2K3ujo3Q.
SETLIST
"Lit Up"
"Broken Glass"
"Somebody Fucked With Me"
"Everything"
"Sorry"
"Say Fuck It" (ICONA POP cover)
"Gluttony"
"I Don't Give A Fuck"
"Crazy Bitch"
To the Coors Light Stage it was, to see LACUNA COIL do their thing. I have seen them many times and it was cool to see them on a smaller stage, so close to their fans, and there were many. Christina Scabbia is unlike any of the other singers at Aftershock. Wearing a sultry, long ruffled dress, and singing as opposed to screaming at the top of her lungs, it was a nice change of pace. Co-lead singer Andrea Ferro, is on the other hand very animated, and has great facial expressions when he sings. Combine that with Scabbia's beauty, and the combination makes great photo subjects. Needless to say, the smaller photo pit was jammed tight. "Spellbound", one of their best and most commercial songs is a great metaphor when watching LACUNA COIL perform. The Sacramento crowd loved every minute.

SETLIST
"Trip The Darkness"
"Spellbound"
"Heaven's A Lie"
"Die & Rise"
"Zombies"
"Nothing Stands In Our Way"
"Our Truth"
Again, I was faced with a dilemma. Both SEETHER and MASTODON were playing at the same time. Since I had recently seen MASTONDON, I decided to see SEETHER. Yeah, I know, they are nowhere near as heavy, but, again, I had recently seen them and took a ton of pictures. Big turnout on the West Stage for SEETHER, it turned out (see what I did there? LOL...).The place was packed. And, at 5 PM, it was still blazing hot.

Everyone seemed to enjoy SEETHER's set, that is, except for SEETHER singer/guitarist Shaun Morgan. I've seen them several times and he always looks like he's not having a good time onstage. Maybe it's just me. They have great songs, in particular "Rise Above This", the second song performed, is just a great pop recording. Again, the sold out crowd serenaded the band, which seemed to please the band members, although from Morgan's lack of expression, you wouldn't know it from him. "Fake It", performed near the end of the set, would have been a good idea for him to do. My friends told me that I missed a great set by MASTODON. I wasn't surprised, and for the first time all weekend, I actually tried to kick myself...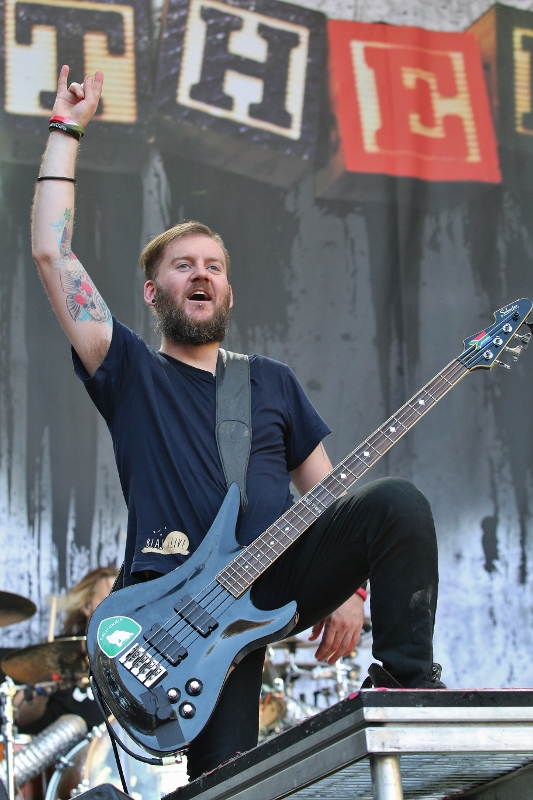 SETLIST
"Gasoline"
"Rise Above This"
"Words As Weapons"
"Fine Again"
"Broken"
"Tonight"
"Country Song"
"Fake It"
"Remedy"
On the North Stage, I got to catch a few songs from RISE AGAINST. Very rocking "Emo-meets Metal" band from Chicago. Again, it was as if the crowd surfers had hit the Bonsai pipeline in Hawaii. A sea of surfers, all loving it or scared shitless. Onstage, RISE AGAINST did their thing. Opening with my favorite song by them, "Ready To Fall", Lead singer/guitarist Tim McIlrath is a great front man. He is all over the place, very in tune with his audience. The rest of the band, just kind of follows his lead, and that's OK. i was running late and only got to see them for a few tunes, so for all you curious RISE AGAINST, here is what they played.

SETLIST
"Ready To Fall"
"Give It All"
"Re-Education (Through Labor)"
"Behind Closed Doors"
"The Good Left Undone"
"Help Is On The Way"
"Chamber The Cartridge"
"Make It Stop (September's Children)"
"Prayer Of The Refugee"
"I Don't Want To Be Here Anymore"
"Satellite"
"Savior" (extended bridge)
And then there were three...The final three bands at Aftershock 2014 all killed. FIVE FINGER DEATH PUNCH, who I thought stole the show at last years event, was next. And on they came like a tsunami. The energy level in the house just elevates to red when FFDP hits a stage. Singer Ivan Moody is like a bulldog barking out orders to his audience. The opening "one-two death punch" combination of "Under And Over It" and "Burn It Down" had him standing on the monitors, looking at times like Popeye, as he mugs and points to people in the audience to "Get The Fuck Up". Not the greatest singer, but an awesome front man. His band, led by the dual guitars of Jason Hook and Zolton Bathory, crank out leads as brutal as Moody's hoarse sonic assault. Naturally, the fired up audience goes nuts. Bodies were flying everywhere, over the rails and into the photo pit, keeping security the busiest that they would be all day. They even kicked the photographers out after the second song instead of the standard third song. All the while, Moody stood at the edge of the stage, thoroughly enjoying the havoc he had helped create.

And just like that he can calm down the crowd as well. A killer cover of BAD COMPANY's 1974 song of the same name, did just that,and brought out lighters and lots of love from the fans. Speaking of fans, FFDP as a standard during their shows, pulls a little kid or two out of the crowd to hang out onstage, as well as always saluting the military, and thanking them for their support. They even ended the set with a sing-along of "The Bleeding" into "House Of the Rising Sun". Just a great live act, with FFDP you get just about everything a great rock show has to give. And the bruises to prove it!

SETLIST
"Under and Over It"
"Burn It Down"
"Hard To See"
"Lift Me Up"
"Bad Company" (BAD COMPANY cover)
"Burn MF"
"Remember Everything" (Acoustic)
"Coming Down"
"Never Enough"
"The Bleeding"
"House Of The Rising Sun"
As the sun had officially set in Sactown, It was time to get spooky with the next act, ROB ZOMBIE. A great stage set with large pictures of classic monsters such as Frankenstein and Wolfman as a backdrop and chrome microphone stands in the shape of Count Orlok from the horror classic Nosferatu. Combine this with eerie lighting, and you have one creepy rock show.

Opening with their version of the GRAND FUNK classic "We're An American Band", ROB ZOMBIE and his band, guitarist John 5, bassist Piggy D and drummer Ginger Fish, gave the sold out crowd exactly what they wanted. All sported scary attire, especially John 5 with his makeup and bandanna, and Ginger Fish looking like a frightening Scarecrow, not to mention the horrific looking ROB ZOMBIE himself. As for the music, "Living Dead Girl" is an anthem of sorts for those in the "Goth" frame of mind, and there were plenty in attendance.

ROB ZOMBIE is all over the stage, leaping about and in constant motion, the long fringe on his outfit made for a crazy effect whenever he flailed his arms, and that was often. They did a pretty scary version of THE RAMONES classic "Blitzkrieg Bop", complete with audience chants of "Hey, Ho, Lets Go", and that led into the WHITE ZOMBIE classic "Thunder Kiss '65" that had the entire audience doing the pogo dance. It's always fun to watch 20,000 or so, sweaty, people jump up and down in unison. Always a great way to end a set. But wait...There's more. After leaving the stage to a thunderous applause, the band returned and encored with "Dragula", much to my delight and many others, as it's one of my favorite Zombie tunes.

SETLIST
"We're an American Band" (GRAND FUNK RAILROAD cover)
"Superbeast"
"Living Dead Girl"
"Dead City Radio And The New Gods Of Supertown"
Drum Solo ("I Got You" by JAMES BROWN)
"More Human Than Human" (WHITE ZOMBIE song)
"Sick Bubble-Gum"
"House Of 1000 Corpses'
"Never Gonna Stop (The Red, Red Kroovy)"
"Blitzkrieg Bop" (RAMONES cover)
"Thunder Kiss '65" (WHITE ZOMBIE song, with extended guitar solo)
Encore: And now it was down to one. And to many, the best saved for last. With a new release, 1000 HP to promote, GODSMACK was the final act at Aftershock 2014. And they played on the West Stage, which seemed kind of odd to me at first, as most of the people had been packed into the area of the North and South Stages were. I'm guessing the festivals organizers set it up this way, as it was closer to the exits, and from all accounts, it was a trouble free exodus afterwards.

Opening with the title track to 1000 HP, GODSMACK is all business. All eyes are on lead singer Sully Erna, even though his eyes are mostly closed when he sings. Like a locomotive they blasted through their set. "Crying Like Bitch" sounded note-for note like it does on the record. Not a whole lot of onstage banter with this band. They essentially let the music do the talking, and that's fine by me. "Voodoo" again brought out the lighters and sing-along's on the chorus, and I was amazed that so many people, still had the energy to sing. I was virtually spent, hours before. "I Stand Alone", which finished the set, was a great tune to have in my head as I exited Discovery Park. Alone in my thoughts, as I made my way back down the hill to my hotel, watching concert goers happily wearing their new merchandise and excitingly gushing about what a great time they had. I guess that's what its all about.
SETLIST
"1000hp"
"Cryin' Like A Bitch"
"Locked And Loaded"
"Keep Away" (band played chorus of "Walk" … more)
"Awake"
"Speak"
"Voodoo"
"Batalla De Los Tambores"
"Whatever"
"I Stand Alone"
My thanks to all at Danny Wimmer Presents, and all the sponsors, as well as the amazing Kristine at AM Media, for helping me attend, once again, a very well organized and awesome event. I look forward to attending again next year. Hope to see you there. For more info go to www.aftershockconcert.com.

Check out the Aftershock 2014 Photo Gallery right HERE.






Please log in to view RANTS