True Believers: An Exclusive Interview With Steve Blaze Of LILLIAN AXE

By Wendy Jasper, Black Metal Aficionado
Thursday, August 28, 2014 @ 6:43 PM

| | | |
| --- | --- | --- |
| | | "The next year is going to have some really exciting things for us." |
Louisiana Hall of Famers LILLIAN AXE have done it again. With their latest opus One Night In The Temple they have created an audibly and visually stimulating piece of work that lives up to the expectations of any fan. The band has been a mainstay for southerners for years. Fame, MTV videos, worldwide touring; it has all been a part of LILLIAN AXE's brilliant career.

After the band's self-titled debut came their sophomore effort, Love And War, in 1989. Both albums were released by the metal graveyard that was MCA Records and the band parted ways with the label shortly afterward. The band's third disc, Poetic Justice, was delivered via I.R.S Records in 1992 and the single, "True Believer" is still as popular today with the band's diehard fans as it was when it was released.
What may be the band's most critically acclaimed work, Psychoschizophrenia, hit the airwaves in 1993 and solidified band founder and guitarist Steve Blaze as one of the most proficient performers and songwriters in the genre. Songs like "Crucified", "Deepfreeze", "Sign Of The Times" and the poignant ballad "The Day I Met You" were met to rave reviews.
The band continued to tour and record, giving us albums like the Live 2002 release, Waters Rising, Sad Day On Planet Earth, Deep Red Shadows and their last studio album, XI: The Days Before Tomorrow. New singer Brian Jones fit in perfectly with the band's signature sound and touring for the last record was successful. The rest of the band is rounded out by drummer Ken Koudelka, guitarist Sam Poitevent and most recently, bassist Chris Brown, who is replacing long time bassist Eric Morris. Morris will still be involved with the band, though in a more behind-the-scenes manner rather than as a performer.
The acoustic set performed on One Night In The Temple was filmed in high definition, during the band's performance in a Masonic Temple on the Bayou in Lousiana. The Blu-ray and DVD contain the acoustic performance, fan question and answer sessions, and videos for the songs "Caged In" and "Death Comes Tomorrow". There is also live footage from their July 4, 2013 show at the Paragon Casino. The CD/DVD combo was released in April 2014.
"We have never done a big budget DVD release before but as the band continues to have a longer history we realized that for us to really do a DVD it would take forever to go through 30 years of history," Blaze said. "I initially just wanted to do a small intimate show with about 20 people and it just started to grow as I had more and more ideas. Next thing you know it turned into a contest for people to attend the show, then questions and answers were discussed and it just kept getting bigger. We just made into an event and it is a really long set with all the songs that everyone seems to love!"
"We started to do the editing so that in between each song showed intimate details like rehearsals, concert footage, interviews with the band. It turned into a documentary movie and it made it much more powerful and interesting to do it this way. It was a lot of hard work but we are really pleased with it," he said.
The DVD was produced by Chris LeCoq in conjunction with Blaze.
"Chris is great. He has worked with us on other projects," Blaze said. "He produced our last two videos and he had a great vision for this. It was a smooth process and there was a lot of thought and creativity that went into the finished product."
The band continues to plan for tour dates for the rest of 2014 and to carry into 2015 to support the DVD and new CD boxed set, Convergence. The boxed set offers every album that the band has ever released in a neat package with lots of extras for the fans.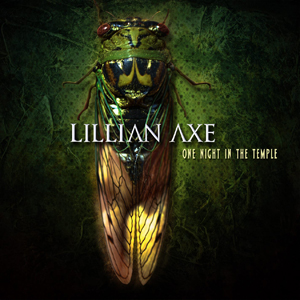 "We just got a new agency and we will be planning tour dates for the fall and we will try to hit all the places that people want us to come and play," Blaze said. "The next year is going to have some really exciting things for us. We have the opportunity to play some of the festivals that are cropping up in other parts of the country and we wouldn't be opposed to looking into the music cruises that are so popular right now."
Readers can check LILLIAN AXE out on the web at www.lillianaxe.com and look at the tour dates below to see if they are coming to your town!
09/12/14 - Corpus Christi, TX - Theo's Billiards
09/13/14 - Houston, TX - BFE Rock Club
09/14/14 - San Leon, TX - The 18th Street Pier
09/27/14 - Melbourne, FL - 80's In The Park Festival
You can pick up a copy of One Night In The Temple in the KNAC.COM More Store right HERE.
Please log in to view RANTS