JUNKMAN Recaps Rockstar Energy Drink Mayhem Festival 2014 Opening Day

By Junkman, On-Air Personality
Monday, July 28, 2014 @ 11:14 AM

| | | |
| --- | --- | --- |
| | | In San Bernardino |
"Welcome to the largest Mayhem Festival ever", announced AVENGED SEVENFOLD singer M Shadows, a few songs in to their headlining set. Indeed it was. A sold out crowd at the San Manuel Ampitheater, enjoyed a day long experience with 20 heavy bands blasting out the heaviest of the heavy on 4 stages. This was opening day on the 27 date tour throughout the US and Canada this summer.

The action started, as always, on the side stages at around 1 PM. This year the setup was done the right way, with the three side stages set up in a "semi-circle", and bands rotated accordingly so that bands on each end of the "semi-circle" could overlap their sets, giving attendees a taste of all the bands playing and not have to hike great lengths to do so. It also was easier on myself and the rest of the photographers that were shooting the show, to see, and shoot as much of the action as we could. Coldcock Herbal Whiskey, Sumerian Records, and Victory Records, sponsored the 3 side stages. 6 bands on the Coldcock stage, 5 bands on the Sumerian stage, and 4 bands on the Victory stage. Lots of great performances. Some bands I had seen, some I had not. In any case the "stage was set" for a big day, and the crowds arrived early. There were lots of merchandise booths set up on the grounds around the side stages, each band had their own merchandise booth. There were also plenty of beer and food stands as well, to satisfy and quench the thirst of the throng of head-bangers.

Victory Records stage had an interesting lineup. First up was ERIMHA, a band from Montreal, Quebec. Scary looking makeup and an appropriately named singer, who goes by the name of Gore. As "Count Floyd' used to say, "Oooh, that's scary stuff".. Not a band warm up. ISLANDER and WRETCHED followed. Both were very energetic and entertaining, and I would say they were really geared toward two different markets. ISLANDER towards a more modern, alternative fan of, say DEFTONES or CHEVELLE, while WRETCHED is very old school meets new school, deathcore, death metal.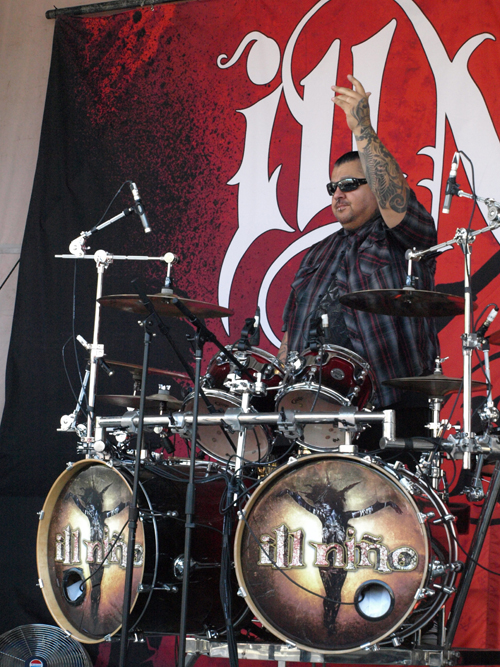 ILL NINO headlined the Victory stage with a very cool, fast paced set. Lots of their brand of "Latin Metal". Singer Christian Machado and company brought it "La Raza" style. This band has always kicked ass and today was no different. The mosh pits behind me were on full throttle throughout, and more that one body made it over the barrier and into the back of my head as I was photographing. Oh well, it goes with the territory.
On the Sumerian records stage, there were some really standout performances, including VEIL OF MAYA's blistering set. I honestly can't remember the last time I saw a 7 string bass used in a band like this. Props to VOM's Danny Hauser, for layin' it down. San Antonio's UPON A BURNING BODY were great. Dressed up in suits and ties, but blasting out some good ol' loud deathcore, these guys all looked like tattooed high school kids, especially their drummer, Tito, who looked about 14. Their onstage energy was infectious. Lead singer Danny Leal is a great front man, and really woke the crowd up. I look forward to seeing them again.
DARKEST HOUR is one of the more musically diverse bands that appeared on the Sumerian stage. The combination of guitarist Mike Schleibaum's intricate fret work and John Henry's vocals stood out from the pounding rhythm section. A very impressive set, that has piqued my interest in them. Check out www.officialdarkesthour.com for more information.
Headlining the Sumerian stage was the return of none other than BODY COUNT. They tore it up. With a new release, Manslaughter ( on Sumerian records, naturally...) to plug, their set was like getting hit with a bat. Ice T is clearly having a good time. His scowl turned to smiles many times during the set. The new single, "Talk Shit, Get Shot" won the crowd over. Bodies were literally, flying everywhere. Guitarist Ernie C and his screeching guitar sounds kept the volume levels at the max. My favorite cut off the new record, "Bitch In The Pit" was performed, and the mosh pits erupted in a huge cloud of dust that looked like "Pig-Pen" from the "Peanuts" cartoons. Of course, the controversial "Cop Killer" was performed, and nobody seemed to protest, like they did so many years ago when it was first released. I spoke with Ice T earlier in the day, and he was very pleased with the reaction to the new record, and was both anxious to perform with the band and honored to be part of the Mayhem Festival. For those that will be attending, do NOT miss their set!
Not to be outdone, the Coldcock Whiskey Stage had some terrific performances as well. KING 810 kicked things off with masked guards sporting machine guns, and blank stares, flanking the band as they started their brief set. They also had a pretty scary looking dude, covered head to toe in black paint that, I'm sure, would be someone's idea of the "Boogyman", stalk the stage as well, perhaps giving the band some what of a foil for the crowd to focus on while they blasted out some serious Flint Michigan metal.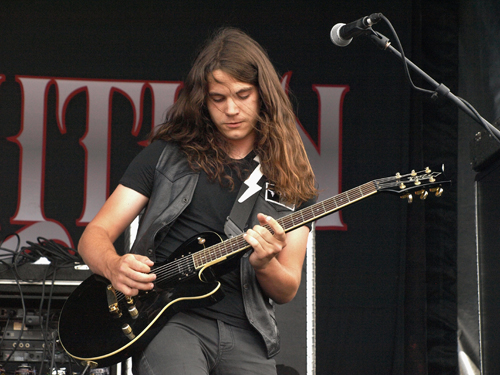 TEXAS HIPPIE COALITION followed, and got the crowd started up with "Hand's Up". Led by the enormous, Texas-sized singer Big Dad Rich, they gave the crowd a 6 song set of a great mix of southern rock influenced metal, featuring the solid guitar work of Cord Pool, in the tradition of many of the great bands form the 'Lone Star State". My favorite tune from them, "Pissed Off And Mad About It", ended their show all too soon. A new collection of tunes Ride On featuring "El Diablo Rojo" ( which they played...) should be released at press time.
MUSHROOMHEAD was next and delivered my favorite set of the day. A VERY visual band, sporting evil looking masks, and blasting out very aggressive industrial metal, they are a blast to watch. During their performance of "We Are The Truth" off their latest release, The Righteous & The Butterfly, the band brought out singer Jackie Laponza ( from Unsaid Fate) to join them, just like she did on the recording, and the crowd went nuts. All the while, eyes shifted to various members of the band taking turns on the mic and banging on large drums that sprayed water with every stroke, creating a cool fountain effect. Again, a great band to watch. I will see them again.
MISS MAY I did what they do best and brought a non stop ball of energy to the sweaty, dusty crowd, led by their dynamic front man Levi Benton, who, it seemed, liked to sing from the barrier directly to the Mayhem throng. Heads banging in unison, crowd singing along, an some of the best thrash tunes of the afternoon, made this a joy to watch and enjoy. THIS is what this festival is all about. Ending their set with 2012's "Hey Mister", they left quite the carnage in their wake. Great show!
SUICIDE SILENCE was up next and, again, did not disappoint. Featuring a new screamer, Eddie Hermida, who has done a great job taking over for the late Mitch Luckner, they gave the crowd what they wanted, a vicious dose of hometown, thrashy, Inland Empire deathcore. Speaking of their late singer Luckner, he was well represented in spirit, with "Cease To Exist" from their latest Nuclear Blast CD-You Can't Stop Me, as well as the title track, which Luckner wrote. Bassist Dan Kenney looks absolutely posessed as he bangs his bass, and guitarists Mark Heylmun and Chris Garza are in a constant state of head banging as they blast through their performance.
Last up on the Coldcock stage, fittingly, were death metal legends CANNIBAL CORPSE, who absolutely ruled. This was arguably the most anticipated set of the afternoon, and was the last set on the side stages, so the crowd was amped up like they had each drank half a case of Rockstar Energy drink. That and a few shots of Coldcock Whisky, and you got yourself a real big-ass death pit out here in the fields of the ol' 909 (look it up, if you don't understand the term 909....).
Singer "Corpsegrinder" (aka George Fisher), his hair completely covering his face, growled his way through CC classics like "I Come Blood" and "Hammer Smashed Face", from 1992's Tomb Of The Mutilated release. As I looked around, it seemed the entire Mayhem Fest was head banging in unison with their heroes onstage, I'm sure it would be quite a site to see and hear for the novice death metal fan. Closing their set with "Stripped, Raped and Strangled", the band continued their heavy thud of an onslaught that had the crowd screaming for more, before making a mass exit to the main stage, clear on the other side of the hill.
The main stage at San Manuel is famous for being the setting for the 1982 and 1983 US Festival, as well as many Ozzfest's and Mayhem Fest's through the years. It's a HUGE ampitheater, with a 65,000 capacity, making it the largest outdoor music venue in the United States. In recent years, the entire orchestra section of seats have been removed, making it a giant sloped pit, perfect for an event such as this, where sitting through a show is just not done.
First act on the main stage was TRIVIUM, fresh off some much needed down time, due to singer/guitarist Matt Heafy's recent voice issues. Refreshed and ready to rock, they treated the crowd to a 7 song set that reached the far edges of "progressive metal" much more than any other band on the bill. Heafy's voice was fine. Cory Beaulieu's blazing lead guitar led the charge through a career spanning set, including "Through Blood And Dirt And Bone" and "Strife", from their most recent release, 2013's Vengeance Falls.
SETLIST
"Down From The Sky"
"Built To Fall"
"Through Blood And Dirt And Bone"
"Strife"
"Dying In Your Arms"
"Anthem (We Are The Fire)"
"Capsizing The Sea"
"In Waves"
ASKING ALEXANDRIA was next, and had quite and elaborate stage set up. Two sets of "ego stairs" and two giant A signs (one for ASKING, the other for ALEXANDRIA, dumbass...) adorning the top of the stairs. As the band positioned themselves onstage and began the opening chords of "Don't Pray For Me", out of the back strode singer Danny Worsnop, adorned in a white leather motorcycle jacket and scarf, the perfect ensemble for a July appearance in San Bernardino. Worsnop, always the life of the party, was quite entertaining, as he led the band through quite a few of their latest material from the From Death To Destiny release. As a matter of fact, only "Breathless" from 2011's Reckless & Relentless, was the only song performed that was not from their latest.
AA are, again, quite entertaining to watch. They seem well rehearsed, and seem to be having a great time on stage, and their fans love them. As the sun was setting on the capacity crowd, a huge bonfire was forming up on the lawn area. Smoke was pluming from said fire, and fans were having fun, jumping through it. All the while laughing and screaming, and pointing their "devil horns" skyward. ASKING ALEXANDRIA seemed pleased by all the goings on, as they thanked the crowd towards the end of their set.
SETLIST
"Don't Pray For Me"
"Run Free"
"Break Down The Walls"
"Breathless"
"The Death Of Me"
"Moving On" (live premiere)
"Killing You"
As darkness fell on the site, KORN took their turn onstage at around 8:30 PM. The crowd including myself were clearly a KORN crowd, and they put on a great show. From what I understand, it was also the longest set of the day. An always cool intro, lots of strobe lights and BANG, there they were, opening with "Falling Away From Me", much to the capacity crowds delight. Singer Jonathan Davis is a mad man onstage, a virtual "whirling dervish" to use an outdated term. "Got The Life" brought a fever pitch to the ampitheater, and it was only the third song in. Bassist Fieldy was his usual onstage self, smiling and pounding his bass.

The true life blood of this band is drummer Ray Luzier. His tempo changes and killer chops are the perfect drive for KORN songs such as "Love And Meth" from their latest The Paradigm Shift, and his love of old school rock are evident in the snippet of LED ZEPPELIN's "Kashmir" as part of the coda of "Coming Undone". Luzier is like a rebuilt motor in your favorite classic muscle car, and really is something this band needed when he was hired a few years ago. KORN is now firing on all cylinders! Paradigm Shift was well represented and well received with the performances of "Never Never" and "Spike In My Veins", and the band seemed pleased with the response from the now totally entranced audience. A revved up "Freak On A Leash" got the best response of the set, with utter chaos going on in the pits. Davis thanked their legion of fans, and telling them that it had been 20 years since the release of "Blind", which ended their set. Seeing a smiling band, reunited with guitarist Head, and even with a few of their kids onstage being applauded by their audience after a killer performance could not make you feel more happy for KORN, a band that has had their share of ups and downs.

SETLIST
"Falling Away from Me"
"Twist"
"Got The Life"
"Love & Meth"
"Spike In My Veins"
"Hater" (Live premiere)
"Get Up!"
"Shoots And Ladders" (with "Somebody Someone" snippet afterwards)
"Coming Undone" (with LED ZEPPELIN "Kashmir" snippet afterwards)
"Here To Stay"
"Never Never"
"Freak On A Leash"
"Blind"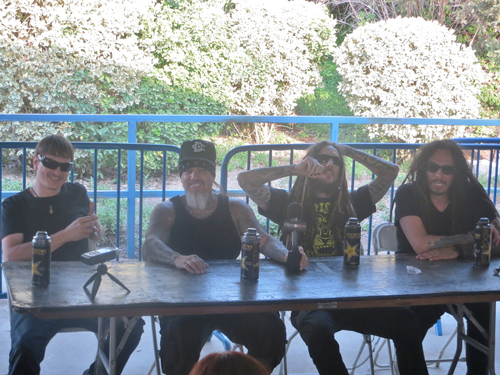 Which brings us to the final act, headliners AVENGED SEVENFOLD. Quite possibly the biggest band in the genre, just ask their management. Actually, just ask their management anything, and you will probably be told a great big "NO" to whatever it is. At least that has been my response. In the past, they have denied any kind of press request, and today was no different. "Whatever", I told myself. After marching the entire herd of photographers, to the other side of the stage, to enter the photo pit (at managements demand...) we assembled, and readied ourselves for the oncoming show, which was now delayed by an issue with the curtain, that 3 people were working on. They actually looked like the Three Stooges for a minute, as you could see whatever the issue was, was getting very frustrating to them.

Finally, the curtain parted (YAY!) and A7X came out blazing (literally, lots of pyrotechnics...) with a hot 12 song set, opening with the appropriately titled "Shepherd Of Fire", the first song on their latest release Hail To The King. Again, lots of flames accompanied the bands stage set, and singer M Shadows paced the stage like a caged beast. He really is the show, addressing the crowd and leading them through their favorites, like "Nightmare" and "Bat Country".

My issue with this band is not really the "handlers", as I alluded to earlier, it's their two lead guitarists Synyster Gates and Zacky Vengeance (those names still crack me up....) . Although both are very good players, onstage they look absolutely bored out of their skulls. Like this is the last place they would rather be. Not one word on the microphone to their legions of fans either. I have seen them quite a few times and it always puzzles me. Just a little enthusiasm onstage perhaps?

The crowd, on the other hand, did not seem to care about that, and loved every minute. "Seize The Day" was a tribute to their friend and former drummer Jimmy "The Rev" Sullivan, who died a number of years ago., and it is still so fresh in their minds. By the time they encored with "A Little Piece Of Heaven" and the set closer "Unholy Confessions", it seemed like everyone of the sold out crowd was ready to call it a day. AVENGED SEVENFOLD was like that last beer after a great summer vacation. We will leave it at that.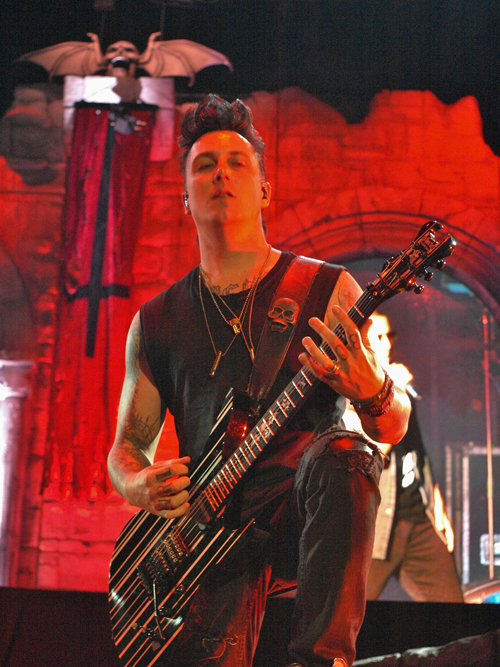 SETLIST
"Shepherd Of Fire"
"Nightmare"
"Bat Country"
"Hail To The King"
"Burn It Down"
"Buried Alive"
"Seize The Day"
"Critical Acclaim"
"Afterlife"
"This Means War"
Encore:
"A Little Piece Of Heaven"
"Unholy Confessions"
And this was just the first show of a summer long tour. Try and make it out when it comes to your town. My thanks to Rockstar Energy Drink, Adrenaline PR and all those at Live Nation for making it all possible for me to attend. For more info and tickets, go to www.rockstarmayhemfest.com. *Grabs Rockstar Energy Drink and downs it* Cheers. See you at the next show!

Check out the photo gallery from the show right HERE.
Please log in to view RANTS