For those looking for something a bit more epic in their Heavy Metal, meet ELVENKING. Like the musical equivalent of The Lord Of The Rings, these Italians want you to give them a shot to win you over. Here's my interview with the band answering questions about their new album The Pagan Manifesto and more! So pull up a tree stump, pour some mead, light a torch and delve into the world of ELVENKING.

KNAC.COM: Describe the ELVENKING sound to those not familiar with the band.

JACOBI: Looks like you wanna start with the hardest question! It's not easy to describe ELVENKING's sound as a whole, let's say it's basically melodic power metal with a lot of folk elements.

KNAC.COM: What was the one thing, song or moment that made you think 'I want to be in a band for a living'?

JACOBI: We don't. Actually, two of us are professional musicians (that means besides ELVENKING they have many more projects) but the other four have "normal" day jobs. We have been tempted (personally speaking, many times) to try to do only music in our lives, but at the end we chose a different way.

KNAC.COM: Who are your influences?

JACOBI: In the early days, the band was heavily influenced by classic power metal like BLIND GUARDIAN or HELLOWEEN, and some kind of folk influenced metal like SKYCLAD, which sounded pretty different from the current folk scene. In the following years, the band begun experimenting a lot from album to album...we wrote material from melodic hard rock, like the i<>Red Silent Tides album from 2010, to heavier stuff like The Scythe album of 2007, and even an acoustic album, Two Tragedy Poets IN 2008.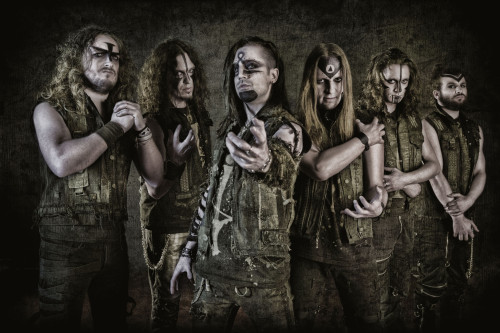 KNAC.COM: How long does it take for the process of songwriting, especially with all the complex arrangements and orchestration?
JACOBI: The process of songwriting is mainly managed by our guitarist Aydan and our singer Damna. The guys are very inspired and productive, sometimes one of them comes up with a completed song, sometimes they pull out older material, other times they take a little more time to write four hands some complicated stuff. Then the band rehearses and arranges the songs together. In the end we add the bombastic stuff: keyboards and orchestrations by Antonio Agate (ex-keyboard player of SECRET SPHERE) and folk instruments by Maurizio Cardullo (FOLKSTONE).
KNAC.COM: How easy or difficult is it to reproduce/play live?
JACOBI: It's not easy at all, and we rehearse a lot before a tour or an important show. Lots of high pitch vocals, solos, complicated structures...it's challenging and fun and we always try to change a little bit of our setlist from show to show.
KNAC.COM: How did the collaboration WITH Amanda Somerville come to be?
JACOBI: In a pretty simple way. We were casting some names for our songs "King Of The Elves", in which we needed a great female vocalist; among them there was Amanda. Then we got to know that our booking agent is a friend of hers, and that's pretty much the story. All first take. Perfect.
KNAC.COM: How long were you in the studio for the new album?
JACOBI: More or less one month for the recordings and some days for the mix. Simone Mularoni at Domination Studios (Republic of San Marino) did an outstanding job!
KNAC.COM: What goals do you have for ELVENKING?
JACOBI: Personally I'd love to keep touring with the bands I love, and play the biggest summer festivals. I'm a live animal...and I think the other guys agree with me!
KNAC.COM: What band or bands would you most like to tour with?
JACOBI: There are many...let's say that a tour with bands like BLIND GUARDIAN, NIGHTWISH or MAGO DE OZ would be awesome and fit perfectly with our music. But I'd love to get back on tour with the RHAPSODY OF FIRE guys once more! And then the gods of power metal, like STRATOVARIUS or HELLOWEEN.
KNAC.COM: Where is the largest fan base for ELVENKING?
JACOBI: Well, the Facebook hits statistics actually say Mexico. But we've never been there! We have been wonderfully received at our concerts in Czech Republic, Slovakia, Sweden and Russia though. In Italy, our home country, we have a small but very dedicated fanbase that grows day by day. Awesome people!
KNAC.COM: What countries of the world that you have never toured at do you most want to visit?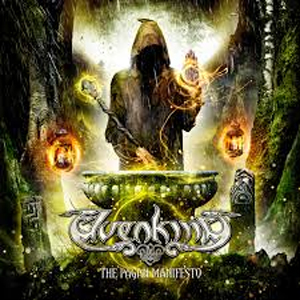 JACOBI: I would really love to get to South America (wherever and whenever possible) and to the Far East.
KNAC.COM: What's next for ELVENKING?
JACOBI: Some more summer festivals, and a club tour at the end of the year. Then, we'll see where the elvenpath leads us!
KNAC.COM: Any last parting words for our KNAC.COM audience?
JACOBI: Thanks so much to the KNAC.COM staff and followers for the space you gave us! We hope you'll like our new effort The Pagan Manifesto as much as we do. See you on the road, ELVENLEGIONS!
Pick up a copy of The Pagan Manifesto in the KNAC.COM More Store right HERE.