JUNKMAN's Epic Rock On The Range Recap

By Junkman, On-Air Personality
Thursday, June 12, 2014 @ 7:25 AM

| | | |
| --- | --- | --- |
| | | Rock On The Range 2014 - America's Premier Rock Festival Returns to The Heartland |
It's that time of year again to gather up and head to "America's Heartland" and kickoff the summer concert season. But not just for any show. This is the biggie, the mother of all American rock festivals. Over 60 bands on 3 stages, for 3 solid days. Big name headliners and new bands to see. A comedy tent, a huge press tent, with media from every state in the union. A large "Vendor Village", as well as plenty of corporate sponsorship, and for the promotors-AEG Live and Danny Wimmer Presents, over 105,000 tickets, sold out in advance! Rock On The Range is the premier rock festival, that takes place in Mid-may in Columbus, Ohio, and I have attended it each year (except for one...) since the first one in 2007. It's a great way to catch up and coming acts, and there are many, as well as some of rock's biggest headliners, in a great setting, Crew Stadium, home of the Columbus Crew professional soccer team. A huge stage, sponsored by Monster Energy drink, is at one end of the stadium, and two additional stages, one sponsored by Jagermeister, and the other by Ernie Ball, are set up just outside the stadium.
I am one of the lucky ones, to be sporting a Media, as well as Photo pass, thereby granting me front row and personal access to the acts that will be performing. It is a privilege to be in this position and I do not take that for granted, although over the years I have seen many that do. I also have made many friends in the industry that continue to attend every year, and it is always a treat to see them and catch up, as we will all be working together for three days. It has become something that I look forward to, the camaraderie amongst fellow media from around the country, all dedicated to getting as much out of this festival as possible. As always, it did not disappoint.
Upon arriving on Thursday night, I was whisked directly from the airport, to downtown Columbus, and the LC Pavillion the venue for Roast On The Range, a "Celebrity Roast" style honoring of SLIPKNOT/ STONE SOUR frontman Cory Taylor, sponsored by Revolver Magazine and Guitar World Magazine. Previous 'Honorees" have included Zakk Wylde in 2012 and Dee Snider in 2013. Upon arriving and getting my credentials, I was thrust next to the "Red Carpet" and was able to catch some of the attendees and all of the "Roasters" who would be occupying the onstage dais.
The first person I spoke to was the evenings "Roastmaster', former SKID ROW singer Sebastian Bach, who, at first, really looked like a deer caught in the headlights, but soon became his natural overpowering personality. Bach knows how to command attention, and the media attending were fawning all over him. He told me that he had always wanted to do something like this, and said he was well prepared for the amount of insults that would be heaved his way throughout the evenings festivities.
Just like that, with a greeting of "hey dude", the next person I spoke with was the man himself, Cory Taylor. Always personable, he again said he was well prepared for an evening of "shit-slinging" from a group of his friends, and when I asked him if that included a "deflector-shield", he replied, "most definately"....
The members of the dais arrived, did some short interviews on the red carpet, and headed to a VIP are where they were served dinner. I used this time to unwind after my long flight, and grabbed a huge beer, and checked out the massive venue. LC Pavillion is a two-level concert venue that has a large rotating stage, that during fair weather, can be rotated to an outside ampitheater. What a great idea! I wish we had a place like this in Los Angeles.
Soon it was show time, and my friend Jose Mangin, from Sirius XM's "Liquid Metal" satellite radio show, who served as the evenings DJ and MC, introduced one by one, the members of the dais, including That Metal Show co-hosts Jim Florentine and Don Jameson, comedians Brian Posehn, Craig Gass and Finesse Mitchell, and musicians M Shawn "Clown" Crahan (Taylor's bandmate in SLIPKNOT), HATEBREED's Jamey Jasta, as well as ANTHRAX's Scott Ian and his lovely wife, singer Pearl Aday. Finally he introduced Sebastian Bach, who got a huge applause from the sold out crowd. Next it was time for Bach to bring up the man of the hour, Cory Taylor, looking resplendent in a blue patterned suit that resembled the loud one that Frankie Banali wore on the "We're Stars" video way back when (How's THAT for an 80's reference?). Taylor seated himself on a comfy chair, center stage, smiled, and for the next few hours listened to this group sling plenty of insults and dick jokes, at him. Lots of laughs, and after seeing some of the previous roasts look incredibly uncomfortable and not really funny, this one was much smoother, in my opinion. I even watched "Clown" drink his own piss! LOL Here's a YouTube link to some of the evenings festivities: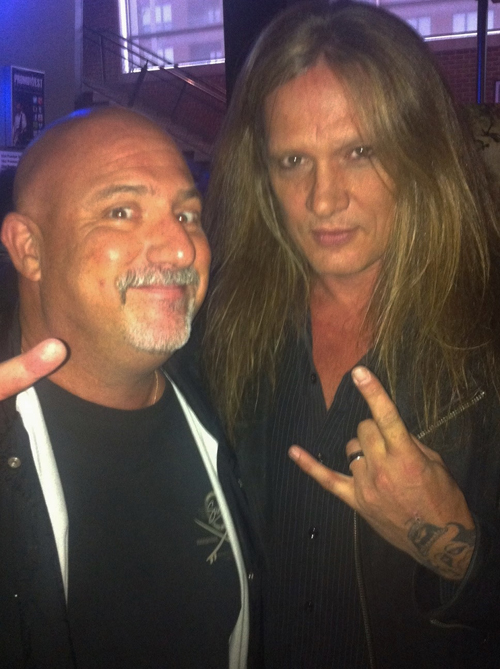 DAY 1
After some well deserved sleep that evening, my cronies and I made it to Crew Stadium and picked up our credentials and headed to the Jagermeister Stage just in time to witness a great set by KILL DEVIL HILL. It turned out to be one of the highlights of the weekend, and there were many! This band, flat out kicks ass. Singer Dewey Bragg has that growly kind of voice that makes the hair on your arms stick up. Guitarist Mark Zavon is a total shredder, pounding out chop after chop, until your ears bleed. Former TYPE O NEGATIVE drummer Johnny Kelly (who replaced original drummer Vinnie Appice this past year) and former PANTERA bassist Rex Brown round out the quartet and supply the brutal foundation. This was the ultimate kick start to the ultimate rock fest, and to make it even more over the top, an appearance by none other than PANTERA singer Phil Anselmo, joining that band for a killer version of PANTERA's "Mouth For War" to end the set, and send the crowd into hyperspace. Here's a YouTube link to that performance:
After the set, I spent some time in the media tent, which was buzzing with delegates from across the country, alive with interviews and live updates. I actually spoke with the members of KDH, who will continue to rip it up on the road. Don't miss them! Pick up their latest CD, Revolution Rise, it's a MUST HAVE for any head-bangers collection. Check them out on www.killdevilhillmusic.com for all updates.
While in the tent, I also had a chance to speak with DEVOUR THE DAY vocalist Blake Allison, who had just finished their set on the "Ernie Ball Stage" on the other side of Crew Stadium. Rising from the ashes of the band EGYPT CENTRAL, Allison and guitarist/bassist Joey "Chicago" Walser reformed as DTD and have taken to the road with some touring members. He was obviously pumped up about their opening set on the Ernie Ball Stage, as he told me how much he appreciates the bands following. "We come out swinging", was the way he described their set, and I couldn't describe it any better. I noticed that there were quite a few people in the crowd sporting DTD T-shirts, so I think that people are starting to take notice. Check out their website for all things DEVOUR THE DAY-www.devourtheday.com. here's a fan-filmed video of them doing "Good Man" live at Rock On The Range 2014
I then ventured out to the Monster Main stage, just in time to catch a great set, as always, from BLACK STONE CHERRY. These guys from Kentucky just released a brand new album, Magic Mountain, and continue to be one of the best live acts in the country. Guitarist Ben Wells is all over the stage, kicking and jumping while pounding out great crunchy chords. Singer Chris Robertson looks like a refrigerator repairman, but can belt out songs like their latest single "Me And Mary Jane", as if he's callin' hogs. Drummer John Fred Young is one of the hardest bashers on the scene today, hitting his drums like he stole them. Truly, one of my favorite live acts to see, and they never disappoint.
Here is what they played:
"Maybe Someday"
"Me And Mary Jane"
"In My Blood"
"Blind Man"
"Fiesta del Fuego"
"White Trash Millionaire"
"Blame It On The Boom Boom"
"Lonely Train"
KILLSWITCH ENGAGE followed BSC on the mainstage with their brand of up tempo, in your face, modern metal. Singer Jesse Leach is back in the band, after being replaced for a while by Howard Jones, and it was the first time I had seen him perform. He certainly is energetic, opening with a terrific version of "A Bid Farewell" and moving about the stage at a frantic pace. Guitarist Adam Dutkiewicz is not to be outdone, dressed in his geeky best, and sporting the word BEER made from strips of duct tape across his guitar. You cannot keep your eyes off him, as he is in constant motion throughout the set. A big highlight for me and many others is when they played their killer version of DIO's "Holy Diver" that sent throngs of "Devil Horns" into the air among the sold-out crowd. A huge applause followed, props for a great show.

SELIST
"A Bid Farewell"
"The New Awakening"
"Fixation On The Darkness"
"Always"
"My Last Serenade"
"In Due Time"
"The End Of Heartache"
"My Curse"
"Holy Diver" (DIO cover)
I then headed over to the Jagermeister stage to catch a few songs from BUTCHER BABIES. All I can really say about them without sounding too snide, is that they are a lot of fun to watch. Two hot chicks screaming at the top of their lungs to a crowd that really seemed to enjoy them. Crowd surfers were out in full force, during BB's set, and, in what would be a preview of things to come all weekend long, I was nailed by a pair of boots, in the back of my head while attempting to photograph from the pit. No big deal, it was all in the name of fun, and it's just gonna happen. I have to commend, as I always do, the great work by the security force, in particular, crew chief Jim, who are all about safety first, and prove it every year. 'We want to make sure that everyone is safe and having a good time", he told me, smiling, as he always does. Jim and his crew are true pro's, and I cannot say enough about how truly wonderful, and friendly they are, while going about their business. I sure wish that other in-house security at shows I attend would follow their lead. Back to the main stage I trudged, in time to catch BLACK LABEL SOCIETY. Opening with "My Dying Time" from their latest release Catacombs Of The Black Vatican, "Father" Zakk Wylde and company simply destroyed their audience in the brief but satisfying set. BLS favorites like "Godspeed Hellbound" and "Suicide Messiah" not only spotlighted Zakk's extreme fretboard work, and howling vocals, but also let new guitarist Dario Lorina have a few shining moments as well. By the time they finished with "Stillborn", Zakk, as well as most of the crowd, was a huge sweaty, stinky, mess. As a proud veteran of many BLS shows, I can truthfully say that it was business as usual.

SETLIST
"My Dying Time"
"Godspeed Hell Bound"
"Destruction Overdrive"
"The Rose Petalled Garden"
"Heart Of Darkness"
"Suicide Messiah"
"Concrete Jungle"
"Stillborn"
Originally, when the lineup for Rock On The Range was announced, both MOTORHEAD and SKINDRED were included. But, due to MOTORHEAD leader Lemmy Kilmister's ongoing health issues, and some internal issues with SKINDRED's scheduling, they were both replaced in the lineup by LIVING COLOUR and LACUNA COIL, respectively. Wouldn't you know it, they were both scheduled to perform on different stages at the same time? I had to make a decision on who to check out, and I decided on LACUNA COIL.

As the final band to appear on the Jagermiester stage on Day 1 of the festival, Italian band LACUNA COIL had a pretty big task of commanding the attention of the now, sun soaked and semi-inebriated crowd, who no doubt, were going through the same dilemma that I just mentioned. I am proud to say, they were as satisfying to me and they rest of the crowd, as I had hoped. Although they only got to play six songs, LACUNA COIL kicked ass! Co-Lead singers Andy Ferro and the beautiful Cristina Scabbia were the center of attention, switching sides of the stage and smiling, while pumping the crowd up to a crescendo. "Spellbound", the second song they played, really brings out the best in Scabbia's voice. To use a basketball term, it's like Ferro has the task of setting up the song for her like a "Pick and Roll" play, to see her "slam dunk" the chorus. Yeah, I just said that...my point being, they really work together as a team. Did I mention that she is really easy on the eyes? They have a new album out, Broken Crown Halo, and half the set was dedicated to it. I'm sure the F.Y.E. music booth sold a lot of copies of it after their brief but very satisfying show.

SETLIST
"Trip The Darkness"
"Spellbound"
"Die & Rise"
"Zombies"
"Nothing Stands In Our Way"
"Our Truth"
I did make it to the main stage to catch the first few songs from SEETHER. I have seen them before, as well as STAIND who would be coming up after them. Both of these bands have made the same impact on me. Great songs, but not a very exciting show. SEETHER is probably my favorite of the two. Not really a "Metal band" but some cool, rocking, crossover hits. "Rise Above This" probably being my favorite and they performed it, which was nice. Singer Shaun Morgan has a very distinctive voice, but again, not much stage presence. I don't really think that matters much to their fans, who were singing along all to every song. As for people photographing them, like me, it is a treat. Great shots, I must say. Here's what they played.
"Gasoline"
"Fine Again"
"Broken "
"Words As Weapons"
"Rise Above This"
"Tonight"
"Country Song"
"Fake It"
"Remedy"
I missed STAIND's set completely. Why, you ask? Because I headed to the Ernie Ball Stage to see what turned out to be a highlight of the entire weekend. An amazing set by DOWN.

The big reason, naturally, is their charismatic singer Phil Anselmo. After basically, getting out of bed to sing the PANTERA song "Mouth For War" earlier in the day with KILL DEVIL HILL, as I mentioned earlier, it was now about 6 hours later, and he is on fire. Pacing the stage and mugging for the audience, he punctuated the opening two songs "Eyes Of The South" and "Witchtripper" with pleads to the audience to get crazy. I know it's kind of a rock star cliche to do that, but, Anselmo has his own way of exciting a crowd. You just have to see it. It also doesn't hurt to have Pepper Keenan and new member Bobby Landgraf on guitar, behind him, as well as the thunderous rhythm section of bassist Patrick Bruders and Jimmy Bowers on drums.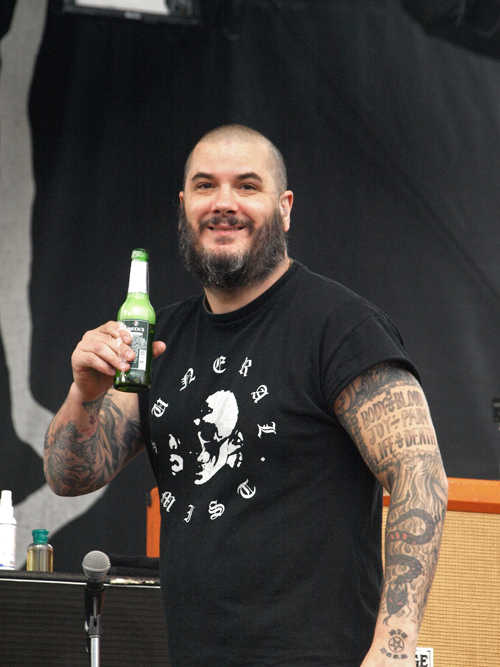 Anselmo continued to rant, and rave, and strut and pound, constantly stalking his audience. "If you had your testicles on the table, and a hammer in your hand, what would be the last song you would like to hear"? he asked. The audience cheered. And with that, out from the wings came his former bassist in PANTERA, current KILL DEVIL HILL bassist Rex Brown, bass in hand. They embraced mid-stage, much to the delight of the moshing, rabid crowd, as well as Dimebag Darrell's widow Rita Haney, who was absolutely beaming, from the side of the stage. They then slayed the crowd with a monster verson of "Stone The Crow", which even though it was outside, blew the roof off the place. I honestly think that they drowned out STAIND, who was performing on the main stage at the time.
After Brown left to a huge applause, DOWN finished their set with an extended version of "Bury Me In Smoke", joined onstage by members of LIVING COLOUR. Anselmo, sang that song like it was the last time he was ever going to sing it, just bashing away at the front of the drum kit as LIVING COLOUR drummer Will Calhoun played accent after accent on the cymbals. naturally the crowd at the Ernie Ball stage screamed and screamed for more, butthat was the end of the set. Just pure power all the way through.
SETLIST
"Eyes Of The South"
"Witchtripper"
"We Knew Him Well"
"Lifer"
"Hail The Leaf"
"Stone The Crow" (with Rex Brown)
"Bury Me In Smoke" (with LIVING COLOUR)
I was literally exhausted by the end of that set, but there was one more band to appear on the main stage, headliner GUNS N' ROSES. Now, I did not stick around long enough to see their set. Yeah, I know what you are saying to yourselves, but this was just the start of a three day festival, and I wanted to get a good start for the next two. I have heard mixed reviews about the show, some, I trust, others I do not. In hindsight, I should have soldiered on and stuck around, but my feet and body said "No Fuckin'way"! This is what I know. Naturally, they came on late, and went about an hour over their 11 PM curfew. They played roughly 30 songs, including bits and pieces and solo's. Photographers were not allowed into the photo pit, as per band request, therefore killing any way of me getting good shots of said band. If you want to see them, you will have to check out YouTube. and lastly, here is there set list:
"Far From Any Road" (THE HANDSOME FAMILY song) (True Detective theme music)
"Chinese Democracy"
"Welcome To The Jungle"
"It's So Easy"
"Mr. Brownstone"
"Estranged"
"Rocket Queen"
"Better"
Richard Fortus Guitar Solo
"Live And Let Die" (WINGS cover)
"This I Love"
"Holidays In The Sun" (SEX PISTOLS cover) (Tommy Stinson on lead vocals, with band introductions)
Dizzy Reed Piano Solo
"Catcher In The Rye"
"You Could Be Mine"
DJ Ashba Guitar Solo (La Bella Vita)
"Sweet Child O' Mine"
Jam ("Babe I'm Gonna Leave You" by LED ZEPPELIN)
"November Rain"
"Abnormal" (Bumblefoot cover) (Bumblefoot on lead vocals)
"Don't Cry"
"Whole Lotta Rosie" (AC/DC cover)
"Civil War"
"Knockin' On Heaven's Door" (BOB DYLAN cover)
"Nightrain"
Encore:
Jam
"Patience"
"Used To Love Her"
"The Seeker" (THE WHO cover)
Jam
"Paradise City"
"Baby Blue" (BADFINGER song)
DAY 2

The second day of the festival started out as kind of a blur. A light rain was falling on the festival grounds, and forecasts called for showers all day. Didn't happen. Stayed kind of gloomy, and I guess, that would be the reason for the blurry vibe that I sensed. I also got to the festival kind of late, still a little dazed from the events of the day before and the lack of sleep. I checked in at the media tent and made my way to the main stage to catch REV THEORY, a band I had not seen in a while.

RLT came out, stormtroopin'. Singer Rich Luzzi, intent on getting the crowd pumped up, was a virtual cheerleader and snarled his way through the opening number "Red Light Queen". The band was amped up, and the up-tempo, 7 song set was a real wake up call for myself an several thousand other "Rangers" for what turned out to be the best day of talent on the Monster Main Stage. Finishing the set with their biggest hit "Hell Yeah", the dampened crowd roared their approval as the band left the stage.

SETLIST
"Red Light Queen"
"Born To Destroy"
"Light It Up"
"Blow It Up"
"Something New"
"Far from Over"
"Hell Yeah"
I headed back to the media tent and spoke with members of TEXAS HIPPIE COALITION and THE PRETTY RECKLESS, who were both looking forward to performing on the Ernie Ball stage later in the afternoon. Nicer people you will not find, and singer Taylor Momsen of THE PRETTY RECKLESS was all over the tent giving interviews to many of the radio stations that were broadcasting from within the tent.

I headed back to the main stage and caught a few tunes from FUEL, who played a very subdued, but hit filled set. Songs like "Jesus Or A Gun", "Shimmer" and "Bittersweet" seem to be on the Ipod of every woman I know. Singer Brett Scallions is quite the crooner, and by the time FUEL wrapped up their set with MY personal favorite song of theirs, "Hemorrhage (In My Hands)", it made me think of SEETHER and STAIND. Great songs, not much on stage performance. Maybe I just need to see them in a smaller venue, as the massive Crew Stadium is much more conducive to bigger acts.

So now, I had to get crafty, as set times were getting tight, and I wanted to see as many bands as I could, I would have to really motivate my way through the 3 stages, quickly. I plotted my shortcuts through some restricted areas, and pulled off a few miracles. I ran through the backstage area, and through the F.Y.E tent, to get to the Ernie Ball Stage, and catch the first few songs from TEXAS HIPPIE COALITION.

All eyes are on the enormous lead singer Big Dad Rich. Sporting a ten gallon hat and a fifty gallon beer-belly, he had his Texas sized growl with him as well. The band is rock-solid and the crowd loved them. I loved Rich's mic stand, which was fashioned out of a shotgun. I will have to see them again, when I can catch a full set.

The Mission Impossible theme was playing in my head, as I navigated my way back to the main stage. Made it just in time to see POP EVIL. Straight ahead, aggressive rock. They are a great live band, constantly in motion, in particular singer Leigh Kakaty. A ball of energy all through their 10 song set which culminated by bringing out the US Marines Color guard and RUN DMC's Darryl McDaniel for a pumped up version of "Trenches". Here's a Youtube look at that great moment.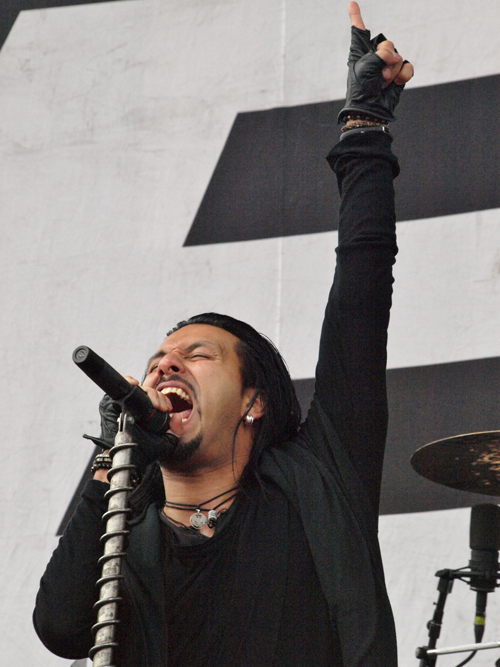 This is a band, that I have seen before, and will see again.
SETLIST
"Flawed"
"Hero"
"Boss's Daughter"
"Monster You Made"
"Goodbye My Friend"
"Sick Sense"
"Torn To Pieces"
"Deal With The Devil"
"Last Man Standing"
"Trenches" (with DMC)
Again, I made my way back to the Ernie Ball stage, and again, quite a hike through the ever growing and increasingly inebriated crowd of "Rangers" as the attendees are lovingly known as. Got to my destination in time to catch part of NOTHINGMORE, from San Antonio Texas, who's set, unfortunately, was plagued by sound problems. They did, however, blow people's minds with this cool jam on a bass guitar contraption, that more than made up for the technical issues.

Again back to the main stage I went, to catch THEORY OF A DEADMAN. With a very aggressive set, they thrilled their fans, with a 9 songs that included plenty of sing- along's for their fans. Singer Tyler Connolly is a big hit with the ladies, although with songs like "Lowlife" and "Bitch Came Back", you would think the opposite. But girls love the "bad boy", and they shrieked and screamed throughout the set which culminated with "Bad Girlfriend". Check out these YouTube videos that will give you some insight on the action up front.

http://youtu.be/pAMUA9PCZCc
http://youtu.be/ZKZSuOQ5oQw

SETLIST
"So Happy"
"Lowlife"
"Bitch Came Back"
"Not Meant To Be"
"Hurricane"
"Drown"
"Savages"
"Hate My Life"
"Bad Girlfriend"
As was my routine for the entire day, I again fought my way back to the Ernie Ball Stage, which, I must say, was a lot longer and difficult than my passage to the Jagermeister Stage. I realized later that I did not even visit The Jagermeister stage the entie second day of the festival! That's the way things go sometimes, but I was on a mission. This mission, in particular was to catch a set by THE PRETTY RECKLESS.

And what a great set it was. Back on the road after a brief break due to some voice issues, singer Taylor Momsen is a bonafide rockstar. The band, Momsen, guitarist Ben Phillips, bassist Mark Damon and drummer Jamie Perkins, rocked the Columbus crowd with a 7 song set that drew heavily on their latest CD, Going To Hell. Momsen, slinked and swayed around her microphone stand and around guitarist Phillips, shifting from a subtle moan to a primal scream on songs like "Sweet Things" and "Make Me Wanna Die". I enjoyed it, and would like to see a lot more of this band, and plan on it. Check out this YouTube clip:

SETLIST
"Follow Me Down"
"Since You're Gone"
"Sweet Things"
"Cold Blooded"
"Heaven Knows"
"Make Me Wanna Die"
"Going To Hell"
Yep, you guessed it, back to the Monster Main stage I trudged. I made sure that I waved to all the security and workers who I passed for the hundredth time today. Made it back in time to catch a few songs from CHEVELLE, before heading back to the Ernie Ball Stage for SUICIDAL TENDENCIES. As much as CHEVELLE lacked in energy onstage, SUICIDAL TENDENCIES more than made up for it.

ST came out viciously with the one-two punch of "You Can't Bring Me Down" and "War Inside My Head". Band members were jumping around the stage at a furious pace throughout the set. Singer Mike Muir, as always, looks like a man possessed. His cholo bandana almost covering his eyes, as he paces back and forth, and runs to each side of the stage like a caged beast. The crowd surfers and moshers were in war mode, bodies were flying everywhere, although that is normal at any ST show. You just expect it, and I have witnessed it many times. There is more energy spent during their set than just about at any point during the weekend, which is cool, because that is what it's all about, releasing your aggression. After the photographers were tossed from the pit after the third song ("Possessed to Skate"), I decided to high-tail it out of there to the friendly confines of the Monster Main stage. I needed to prepare myself for the onslaught that would follow. 50,000 or so, crazy lunatics, all hyped up for a set from none other than the kings of thrash-SLAYER!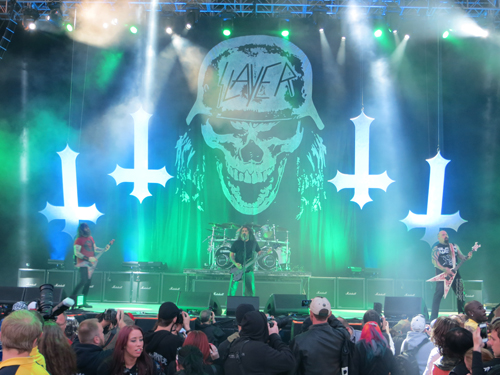 They did not disappoint. Blasting out a killer 13 song set, it was everything you would want out of a SLAYER show. A great stage set, Kerry King's buzz-saw guitar playing, bassist/singer Tom Araya's screeching vocals, Paul Bostaph's impossible pace behind the drums and lead guitarist Gary Holt's thunderous lead guitar. By the time they played "Seasons In The Abyss" about midway through their set, I could literally feel the stadium shaking, and found a piece of concrete and steel that had apparently broken off. This was SLAYER's first time at ROTR and no doubt the heaviest set of the entire weekend. Capping off their set with "Raining Blood" and "Angel Of Death", it looked like a war zone in the midst of Crew Stadium, "Rangers" bloodied and battered, helping their friends up, loving every minute and applauding their heroes, who smiled at the carnage they had created. Quite a scene indeed.
SETLIST
"World Painted Blood"
"Hate Worldwide"
"Disciple"
"Mandatory Suicide"
"Postmortem"
"Chemical Warfare"
"War Ensemble"
"Hallowed Point"
"Seasons In The Abyss"
"Hell Awaits"
"South Of Heaven"
"Raining Blood"
"Angel Of Death"
The final act of the second day of ROTR had the toughest job. How do you follow SLAYER? Only a handful of acts, as far as I am concerned could be up for that task. And tonight in Columbus, AVENGED SEVENFOLD were the band for the deed. My fellow neighbors from Huntington Beach, California are more popular in this area of the mid-west than just about anywhere else. Just an observation.

Opening with "Shepherd Of Fire", the opening track from their latest Hail To The King release was punctuated by massive amounts of pyrotechnics, which thrilled the crowd and warmed them up on a chilly damp evening. Singer M. Shadows, as always, was on his game, shouting to the crowd, and providing spot on vocals to many of their most popular tunes, like "Nightmare" and "Bat Country". Guitarists Synyster Gates and Zacky Vengence (LOL I always laugh at their names...) are technically superb, but always look like they are bored, or would rather be somewhere else. AVENGED's stage set is second to none. Spooky looking stained glass castle vibe throughout, again, with constant flames that accent every riff.

I don't know how the ROTR crowd kept up their energy after such a heavy day, although that is a tribute to AVENGED SEVENFOLD's popularity and quality live show. I was exhausted, and, by the time AS encored with "Unholy Confessions", I was on my way out, ready to soak my feet and crack open a cold one, resting up for day three of the festival.

SELIST
"Shepherd Of Fire"
"Critical Acclaim"
"Bat Country"
"Hail To The King"
"Doing Time"
"Buried Alive"
"Seize The Day"
"Nightmare"
"Burn It Down"
Guitar Solo
"Afterlife"
"This Means War"
"Almost Easy"
Encore:
DAY 3

Sunday morning came with sunny skies, and a bittersweet attitude. It would be the last day of the Festival, and for that, I promised myself to see as much of it as possible, and not just from the photo pit, and media tent. I got to the site early, and checked out a few of the vendors. I even bought a ROTR T-shirt. Reasonably priced, pretty cool looking, and it wasn't one of those "wash it once, give it to your little brother the next day" cheapies. Lots of food and cheap beer stands, a US Army stand, and a ton of roving vendors, like my friend Darryl, of "Rock And Roll Gangstar" clothing, who, every year, hits the road and goes to all the festivals on the "World's Loudest Month" tour, (www.worldsloudestmonth.com) which of course included Rock On the Range. He, as well as my friends from I Love Vagina, F*ck Cancer, and others were doing a brisk business, selling all kinds of apparel to the attendees. A huge web page was dedicated to the vendors, and even had band set times and helpful info on it (www.rockontherange.com/vendorvillage).

I also paid a visit to my friends from Monster Energy drink, the biggest sponsors of ROTR, and spent some time in their suite, located inside Crew Stadium. It was a great place to cool off, and enjoy a cold Monster drink during the weekend. While inside, I was able to catch up with my friends that work for Monster, as well as speak with old friends DJ Ashba from GUNS N' ROSES, Tim "Ripper" Owens as well as That Metal Show co-hosts Jim Florentine and Don Jamieson and others. Always a good place to hang and "shoot the shit", while enjoying the show.

I headed to the Jagermeister stage to catch and act that I had never seen before. This is something that I love to do at ROTR, and over the years I have had my first taste of many a band that has gone on to bigger and better things afterward. "Graduating" to the main stage eventually, is an honor that I have seen bestowed on quite a few acts, but I love to see them perform on the small stages like this one, as they hone their craft in front of a curious audience like myself.

Today, the first of which was MONSTER TRUCK. After getting the lowdown on these guys, from Ontario, Canada from my fellow journalists, I really loved their style of "Southern Rock Boogie" with a metal flair to it. Yeah, I know, I hate to classify stuff, but it fits. These guys rock. It felt like I was seeing a band like BLACKFOOT or POINT BLANK back in the 70's, although much heavier, and I will be seeing them again, for sure.

SETLIST
"The Lion"
"Old Train"
"The Giant"
(Unknown) (new, unreleased song)
"Seven Seas Blues"
"Sweet Mountain River"
"Sworded Beast"
Luckily for me, the management for GEMINI SYNDROME had announced that photographers could shoot their entire set, as opposed to just their first 3 songs, so I hightailed it over to the Ernie Ball stage (the longest walk of the weekend...) and caught their last few numbers. Great band! I have raved about this band ever since I first saw them at last years ROTR, and have seen them a few times since.

Not just a great visual band, but great songs and performance as well. Every band member uses the stage as their own personal platform, singer Aaron Nordstom and drummer Brian Medina in particular. Great songs, like "Basement", "Pleasure And Pain" and the set closing "Stardust" had the early crowd entranced. They are currently touring with SEVENDUST. Don't miss this band when they are in your town! Go to www.geminisyndrome for more info.

SETLIST
"Pleasure And Pain"
"Falling Apart"
"Mourning Star"
"Resurrection"
"Syndrome"
"Basement"
"Stardust"
I then came to my first decision of the day as far as scheduling would go. Passing up TWELVE FOOT NINJA on the Jagermeister Stage, and TRIVIUM on the Main Stage (in which TRIVIUM singer Matt Heafy blew out his voice, forcing the band to cancel some upcoming shows...). I decided to stick around the Ernie Ball stage and catch a great set from Great Britain's HEAVEN'S BASEMENT. First of a few great decisions on my part. I absolutely LOVE this band. And so did the crowd.
This band is just solid all the way through. Great performance. Singer Aaron Buchanan has a very good range and is obviously influenced by the late Freddie Mercury of QUEEN. The way he conducts himself onstage while hitting quite a range of notes, brings that to mind. He goes all out, even jumping in to the crowd, and performing a hand-stand on a fan's shoulders! Guitarist Sid Glover just exudes coolness, kind of in a Joe Perry way. He also sings as well, and HB songs like "Can't Let Go" and "Fire, Fire" were well received. The comparisons to some of my favorite bands are obvious, they really show their influences, and there is nothing wrong with that. If you like good old fashioned British rock, this is a great band for you to check out. Get a copy of their latest CD Filthy Empire and visit www.heavensbasement.com. 100% "Junkman Approved".
I then made my way to the Monster main stage for a set from Las Vegas rockers ADELITAS WAY, who I had seen on a much smaller stage a few months ago in their hometown. Very aggressive modern sound. Singer Rick DeJesus towers over the other members of the band, and was all over the stage and beyond. After admonishing the crowd to rush the stage, and in the same breath tell them to be safe, he kept the security crew busy by jumping into the audience, and crowd-surfed to the sound board and back. That took a lot of balls, and I'm sure his were grabbed more than once during that experience by the overly zealous fans. I stuck around for a few more songs, but, again, I was on the move to cover as much ground as possible, and the day was really starting to heat up. Here's a YouTube video of them from ROTR performing "The Collapse":
SETLIST
"The Collapse"
"Dog On A Leash"
"Scream"
"Cage The Beast"
"Criticize"
"Sick"
"Invincible"
Back to the Ernie Ball Stage. Again, this place was starting to get really hot, and everywhere, there were people who had obviously been "Out in the sun too long", if you catch my drift. After getting the heads up about this band, from my friend, guitarist Jeff George, it was time for the debut performance of WE ARE HARLOT, featuring Jeff and ASKING ALEXANDRIA singer Danny Worsnop. Lots of hype and talk have proceeded this performance, and I'm proud to say they delivered. Worsnop is a great rock singer, and is great on stage. Opening with a rocker called "Denial", he was in command of the sun-drenched audience, from the get-go. Jeff George has great stage presence as well, and blasted out solid riffs throughout the set. A rock solid rhythm section, featuring bassist Brian Weaver, (from one of my favorite bands, SILVERTIDE) and drummer Bruno Agra, complete the quartet. This is a band, that lives up to the hype. Great show, songs, and presence. Check them out.

From there, it was back to the Monster Main stage, for a set from WOLFMOTHER, which was a refreshing change from the aggressive rock that was to be pounded out all day. WOLFMOTHER, is an Australian trio that has a cool, bluesy 70's vibe about them. They also dress like hippies from that era, and use vintage equipment that adds to the whole experience. Consisting of Singer/ Guitarist Andrew Stockdale, Chris Ross on bass and keyboards and drummer Vin Steele. Lots of grungy, feedback influenced tunes like the hit "Woman" was the perfect antidote for the overly hyped up crowd to get into the music as opposed to the mosh pit. Kudo's to the people that scheduled this band at this time of the day.

SETLIST
"Dimension"
"New Moon Rising"
"Woman"
"How Many Times"
"White Unicorn"
"Joker & the Thief"
I headed back to the always alive Media tent with a dilemma; which stage to head to, as there were two bands performing simultaneously that I had never seen. KVELERTAK on the Jagermeister stage, and MISS MAY I on the Ernie Ball Stage. When in doubt, consult a pro. I asked the advice of my friends and fellow memeber of the KNAC.COM family, Full Metal Jackie, who I had just happened to run into. She said, "Definately, KVELERTAK", and I cannot thank her enough for the suggestion. It turned out to be a killer set, and I am now a fan. Thanks Jackie, "horns up"...

Hailing from Norway, KVELERTAK (Norwegian for "Stranglehold" or "Chokehold" in case you were wondering) took the stage in an interesting fashion. Singer Erlend Hjelvik stood motionless, sporting a stuffed owl (yes, a fuckin' owl!) on his head while his band blasted the crowd with a driving, thud of killer metal. I was instantly impressed, and not just because of the interesting choice in headwear.

Eventually, the mask came off and the 6 piece band proceeded to kick ass on a solid but all too brief set. Again, the beauty of a festival like ROTR, that even an old fart like myself, that has seen them all, can get blown away, by a Norwegian metal band, who's singer pays tribute to taxidermy. Keep it coming. I applaud you. Here's a peek at what I experienced:

Go to www.kvelertak for more info.

The next two bands I saw are, coincidentally, touring with KVELERTAK. On the Monster Main stage it was MASTODON, who put on as solid a set as I have seen from them. They are like a brutal, heavy machine, opening with "Black Tongue" to a ready and willing crowd. Bassist/vocalist Troy Sanders is always a bit goofy looking onstage, but always in control, moving about and pounding his bass, while delivering his growly vocals. Guitarists Brent Hinds and Bill Kelliher are an outstanding tandem, and really drive the sound of this Atlanta-based quartet. Again, the swarm of crowd surfers was massive, and I noticed the trend of people dressing as superheroes and clowns had hit the "America's Heartland" pit, just like back in Los Angeles.

SETLIST
"Black Tongue"
"Divinations"
"Naked Burn"
"Oblivion"
"Blasteroid"
"Chimes At Midnight"
"High Road"
"The Sparrow"
Closing out the Jagermeister stage was none other than French progressive metal band GOJIRA, one of the most anticipated sets of the day. With a new release to plug, it was great to see them again on American soil. They rocked. A killer, tight 6 song set, that borrowed heavily on 2012's L'Enfant Sauvage release. Their fans were out in full force. The lot where the Jagermeister stage is located, was as packed as I had seen it all weekend. You could feel the energy and excitement as they "plowed the crowd". Here's a bit of that :

SETLIST
"Explosia"
"Flying Whales
"The Heaviest Matter Of The Universe"
"L'Enfant Sauvage"
"Toxic Garbage Island"
"Oroborus"
I again headed to the Monster main stage, but this time via the Old Milwaukee sponsored Comedy Tent, which I had not visited all weekend. I looked around, and it was filling up with people, as the acts throughout the weekend were scheduled between half past 6 PM and 7:30. Some big names in comedy performed during the weekend, like the aforementioned Jim Florentine and Don Jamieson from That Metal Show, and head banger comedian Jim Breuer, who was doing double duty by performing on the Jagermeister stage with his band earlier in the afternoon and headlining the comedy tent that evening. Another great idea from the promoters. Take a break from the madness of the stages, cool off in the comedy tent and have some laughs before heading out again. Brilliant.
Next up on the Monster stage was ALTER BRIDGE, the band fronted by singer Miles Kennedy and featuring three members of CREED, most notably guitarist Mark Tremonti.Kennedy had many fans attending. They screamed whenever he opened his mouth. And, that is indeed what he did, opening with the song "Addicted To Pain", from last years Fortress release. Clearly enjoying himself and, surprisingly, not a bad guitar player, as he paced the stage and went toe to toe with Tremonti, who blasted out lick after lick on his beautiful PRS guitars. Clearly touring with SLASH has taught Myles something about guitar playing. Although not as familiar with their material as with other bands on the bill, I could see what people like about them. I saw a ton of ALTER BRIDGE merch being worn around the field area that day, much more than any other band appearing on Sunday, it seemed to me. Closing out the set with "Isolation", I sprinted to the Ernie Ball Stage for the last time.
SETLIST
"Addicted To Pain"
"Come To Life"
"Cry Of Achilles"
"Metalingus"
"Blackbird"
"Rise Today"
"Isolation"
Last, but certainly not least on the Ball stage was JASON BONHAM'S LED ZEPPELIN EXPERIENCE. Although not as big of a production as the touring version I experienced a few years back, it is always a treat to see Jason and company bash out LED ZEPPELIN tunes like the opening number, "Immigrant Song" and 6 other Zep favorites. Using a completely chrome drum kit, (even the heads and the tympani drums where chrome) which reflected the setting mid-western sun back out into the crowd, Bonham paid homage to his dad's bands memory with great renditions of the band's classics. Singer James Dylan and guitarist Tony Catania have their parts down perfectly, and while the band cranked up "Black Dog", if you closed your eyes, you could travel back in time to a live 1975 Zeppelin show. Great stuff.

SETLIST
"Immigrant Song" (LED ZEPPELIN cover)
"Black Dog" (LED ZEPPELIN cover)
"The Ocean" (LED ZEPPELIN cover)
"Over The Hills And Far Away" (LED ZEPPELIN cover)
"When The Levee Breaks" (MEMPHIS MINNIE & KANSAS JOE MCCOY cover)
"Kashmir" (LED ZEPPELIN cover)
"Whole Lotta Love" (LED ZEPPELIN cover)
So now it was down to the last two acts of Rock On The Range. What a weekend it was. 3 days of non-stop rocking, and by now it was beginning to take its toll on me. As I approached the photo pit of the Monster main stage, the setting sun beamed down upon the crowd that was behind me. I walked to the soundboard and took a few pictures. I spoke with some of the "Rangers" that were pressed up against the rails, like the three girls that I have dubbed "The Barricade Babes". I see these three young ladies every year, in the same place, right up front, pressed against the front barricade (hence the name...) for the entire day, at least 12 hours, all three days of the festival, year after year. Earlier, I had asked them about how they do it, year in and year out. This is what they said:

Just that simple, they LOVE the music. But they indeed typify the attitude on so many of the people that attend this festival, they are willing to do whatever it takes to experience the music and acts that play it. I felt very fortunate to be in my position, as I have been that kid against the gates many times in my life before moving on to reporting about it. with that I got the proverbial "second wind".

And I needed it. Up next was FIVE FINGER DEATH PUNCH. As I made my way past their dressing room, on my way to the photo pit, out popped none other than singer Ivan Moody, bouncing up and down and getting ready for what is always a great show. I "high fived" him and told him to have a great set. He thanked me, and said he would. I have seen them many times and have never seen a bad one. The "Rangers", were ready, I was ready, Ivan was ready. To the pit I sprinted, and got my camera ready...

Drummer Jeremy Spencer was first onstage, raising his arms to the deafening roar of the crowd, as the song "They're Coming To Take Me Away (Ha Haa)" , the novelty song by NAPOLEON XIV blasted over the PA system. Fists and "Devil Horns" were all you could see for the entire bowl of Crew Stadium. And out came the rest of FFDP, with a leaping Ivan Moody asking "What the fuck is goin' on Ohio"? as the band exploded into their traditional opening number "Under And Over It".
And with that, FFDP blasted out a signature 11 song set. Again, one of the most satisfying sets for any fan of this band. So much energy. They have it all. Great songs to sing and scream along to, like the aforementioned song, as well as my personal fave, "Lift Me Up" which features the great guitar work of Jason Hook and Zolton Bathory, with Hook's guitar sporting glowing green graphics, quite the visual. They brought it down about halfway through the set with an acoustic rendition of "Remember Everything" before recharging again and bringing the crowd to a fever pitch. A couple of great cover songs were included, like their terrific take on the BAD COMPANY classic "Bad Company" and LL COOL J's "Mama Said Knock You Out" that spotlighted singer Moody's onstage antics and vocal range. He's a terrific front man, always playful, reminding me of "Popeye" at times. But he really is at one with his crowd, looking them directly in the eye, and throwing his sweatbands and lots of bottles of water to them. All the while keeping the security guards busy, handling the hordes of crowd surfers that stormed the barriers throughout the set. Just a great show, I always enjoy seeing them, and so do the rest of their fans.
SETLIST
"Under and Over It"
"Burn It Down"
"Hard To See"
"Lift Me Up"
"Bad Company" (BAD COMPANY cover)
"Burn MF"
"Remember Everything" (acoustic)
"Coming Down"
"Never Enough"
"Mama Said Knock You Out" (LL COOL J cover)
"The Bleeding"
So after all that, it was now down to one. Although I have never been much of a fan of his music, I must say the KID ROCK does put on one hell of a show. His massive popularity amongst the mid-western crowd was clearly evident. EVERYONE stayed! People were pumped up and rejuvenated, even after the pounding from FIVE FINGER DEATH's brutal assault. Even after, to paraphrase the late Max Yasgur, "Three full days of fun and music, and nothing BUT fun and music" were these fans ready to go home.

After a long intro, while silhouetted behind a large behind a large, white curtain, it finally dropped and the crowd roared. KID ROCK was in the house!Covering a with range of music, and backed by a huge band, complete with background singers, he simply commands the stage. All eyes are on him, despite all the action behind him. He is today's rock star. Again, cover a wide variety of music, from the heavy hip-hop of "You Never Met A Motherfucker Quite Like Me" and "American Bad Ass", to classic southern rock rehashes like the LYNYRD SKYNYRD/WARREN ZEVON Mash-up "All Summer Long", and takes on "Cat Scratch Fever" and "La Grange", to full on country songs like "Born Free" and a bit of "Picture". He finally closed out his long set with the rap-rock "Bawitdaba". After all these years, I still don't know what the fuck he's talking about in that one...

Again, looking around the "Rangers", loved every minute, and again, I will stress, that this is KID ROCK's, "Meat And Po-Taters" audience. The American mid-West. The heartland. Do I sound like a commercial for a Chevy truck yet? I give the guy credit for what he does, and it's very entertaining, but I personally will take a SLAYER show over that any day. This weekend, I got both, and a lot more.

SETLIST
"Devil Without A Cause
"Celebrate
"You Never Met A Motherfucker Quite Like Me
"American Bad Ass
"Wasting Time (acoustic)
"Forever (with "Tom Sawyer" by RUSH music)
"Cocky"
"All Summer Long"
"Cowboy"
"Lay It On Me"
"So Hott"
"3 Sheets To The Wind" ("What's My Name") / "La Grange" / "Cat Scratch Fever"
"Rock N' Roll Jesus"
"Only God Knows Why"
"Born Free"
"Picture" (first verse only)
"Bawitdaba"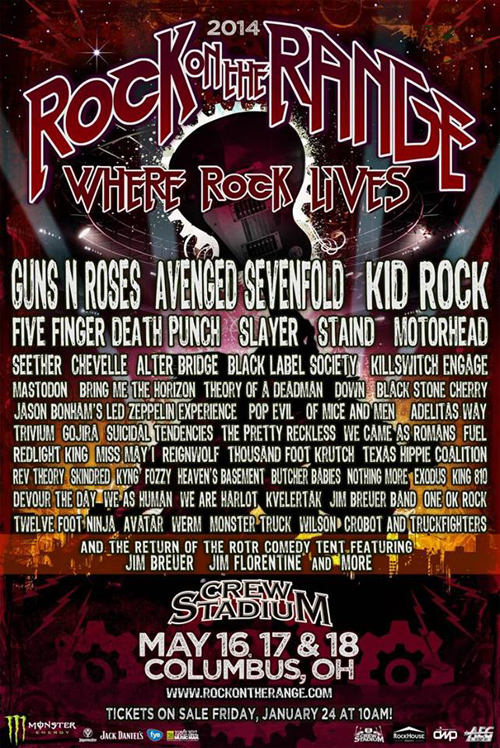 So, after all that, I needed a cold one. I locked down my camera equipment and headed for the "Artists Lounge" backstage, that had a full bar set up. I gathered with my posse of friends and we chugged a few beers and reflected on all the great happenings that the weekend had brought. I ran into Ivan Moody from FFDP, and again, commended him on his show. As he thanked me, I told him "YOU sir, are a true rock star". He smiled, and said that KID ROCK was the true rock star, but I think there were many that could be labeled with that phrase.

Thank you first and foremost, AEG Live and Danny Wimmer Presents for putting on, once again, "America's Premier Rock Festival". Especially Gary Spivak, who has always been so cool to me. I consider him a true friend, and "Top Ranger For Life". Marcee and Aaron at MSO PR for getting me set up for credentials, Kristine for all that you do. Thurman's will always be on me! All at Monster Energy drink, Jagermeiser, and Ernie Ball, the stages rocked because of you. To all the bands, publicists, fellow media from around the nation, and especially fellow "Rangers For Life", lets do this again next year! I hope you enjoyed my review and pictures. Sorry it took so long, but I hate to leave stuff out. Lastly, to Jim and the security crew at Crew Stadium and all the people of Columbus that make us feel safe and welcome, I salute you for a job well done. Long live Rock On The Range. For more info on the festival, visit www.rockontherange.com.

Check out Junkman's MASSIVE Photo Gallery right HERE.
Please log in to view RANTS