CINDERELLA FRONTMAN Tom Keifer released his first ever solo effort, titled The Way Life Goes, in April of 2013. Since that time he has been in constant touring mode in support of the release. One of those stops brought him and his solo band to the 7th Annual Rocklahoma festival in Pryor, Oklahoma over Memorial Day weekend this year. He played a stellar set the final day of the 3 day festival during the hottest part of the day, donning a black leather jacket with the phrase 'It's Not Enough' emblazoned on the back. KNAC.COM caught up to Keifer just shortly after this performance to talk about 'the way life goes' for this iconic vocalist. Interviews at Rocklahoma are a different kind of animal, with bands appearing in the media tent at certain times only and in Keifer's case, we were given 10 minute time slots to choose from, a rock journalist's version of speed dating if you will. Ready, set, go!

KNAC.COM: Was it hot enough for you in that leather jacket?

KEIFER: Yeah, you know it's pretty light. I'm a glutton for punishment.

KNAC.COM: So, I have to ask you about the back of it. "It's Not Enough". Is that your new, personal motto?

KEIFER: It's our new single that will be coming out in June, off of the solo record.

KNAC.COM: And it's a good motto, too.

KEIFER: Well, that's where the song came from. Push it to the limit, right? Wear your leather jacket in the 90 degree heat...

KNAC.COM: Facing the sunlight.

KEIFER: Well, you know, it wasn't that bad and then the clouds parted. It stayed there for awhile but when the sun came out it was fuckin' brutal.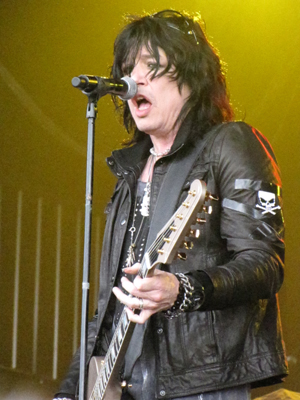 KNAC.COM: Now, you've played here (Rocklahoma) multiple times with CINDERELLA....
KEIFER: No, actually only one time. We were scheduled one time and it was cancelled and then I think it was in 2010, we played with ZZ TOP
KNAC.COM: Did it feel weird playing this one as a solo artist instead of with the rest of your bandmates?
KEIFER: Well, I've been touring with my solo band for a year now and I love this band, they're a great band. This is the first, what we refer to as a 'throw and go' festival. We've done some big shows like this, a couple with HALESTORM and SAMMY HAGAR and the NFL Hall of Fame in Canton we did with the solo band, and on all of them we got soundcheck. This is the first gig I've done with my solo band where it was like, 'just get out there'. And you know what? It sounded pretty good. We got out pretty unscathed because that can sometimes be a disaster. And it sounded decent up there.
KNAC.COM: They have a pretty good crew working up there.
KEIFER: Yeah, and obviously it's a contemporary kind of bill and I'm up there with my new thing building a brand. So, on a bill like this we're a bit further down than say CINDERELLA would be, like the direct support we were with ZZ TOP. But, number 5 on the bill, I'll take it. I love KID ROCK so I'm really excited about doing the show.
KNAC.COM: Your solo CD's been out a little over a year now. Has it lived up to your expectations?
KEIFER: Everyone seems to like it, you know? That's what you want, especially when you spend about 10 years on that record. and the reason I did that was because with CINDERELLA I felt like I was a part of some pretty special records, we worked with Andy Johns and some great producers, learned a lot from him and made some great records. I just don't make music for the sake of making it, so I spent like 10 years just making sure it was great. So far, all the reviews and response has been great. So, to answer your question, I'm thrilled, I really am. The label is really happy, too. We had a couple singles out last year and they were like 'we want you to tour again this year', so we have a new single coming out, "It's Not Enough".
KNAC.COM: Is that your plan for the rest of the year, to tour on the record?
KEIFER: Yeah
KNAC.COM: Now, how's your voice doing? It's been awhile since you had your surgery, so how's it doing?
KEIFER: I've had 6 surgeries actually and all of the surgeries have been to fix collateral damage. The problem I have is a paralyzed vocal chord, something that surgery can't fix. I tore it up a bunch of times and it's really hard to sing with that condition. It's great now though, probably as strong as it ever was. It took me years and it was a real up and down battle, working the vocal chords and having to retrain the chord to do what it's supposed to do. It's still a lot of maintenance though. Before this show I warmed up for an hour and a half, for a 40 minute set. But i'm happy to do it to be able to sing.
KNAC.COM: Did you get nervous every time you had to go under the knife or did you just get used to it?
KEIFER: Well, I haven't had surgery in quite a few years now and I'm not planning on having it again, but yeah, it's always scary. I mean, bottom line, the scariest thing is the anesthesia, right? Every once in a while people don't wake up from that and that totally freaks me out more than anything. My pipes have been through so much crap you know, if I've got to go under the blade again it'll just add a little more rasp I guess (laughs).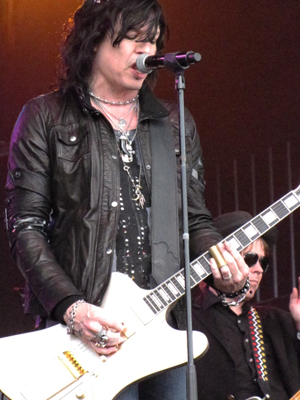 KNAC.COM: What would you give it on a scale of 1 to 100, with 100 being just like it used to be before blowing it out?
KEIFER: Well, some things are better and some things are still a bit of a struggle. I didn't used to have to warm up for an hour and a half to get it to where it needed to be, so that's the negative but I mean, when it is warmed up and it's a good night, it's 100%.
KNAC.COM: Now watching you perform, I saw you in Houston last year when you played and one thing I noticed was that it's almost like you're pacing yourself, not using your voice up early on in the show. But when you got to the end, the last tune, you just belted it out, no holds barred.
KEIFER: Well, and the more I train it and the more I tour with the training it's actually getting to where I can hit it a little harder earlier in the show, more and more and more. That's the biggest difference, about a third of the way into the set its usually full on or half way, always. The biggest difference is what you just mentioned, at the beginning of the show I pace myself, but less and less I have to do that. But for most people who get that (paralyzed vocal chord), they never sing again. And I couldn't for years, even if you had said, if he had said (pointing to his tour manager, a stocky fella) he was gonna beat the crap outta me (laughs). I couldn't hit a note, so I'm grateful to have been able to work with really great coaches.
KNAC.COM: It's a bit early, but it's coming up soon, the 30th anniversary of CINDERELLA. Have you guys thought about any plans to celebrate that yet?
KEIFER: Yeah, that's an obvious year, I mean the last one we did was 25 so yeah, we may do a tour for that. We definitely have talked about it.
KNAC.COM: Maybe play an entire album?
KEIFER: Well, I like to play all of them (smiles). I like to mix it up. I know some bands do that like 'tonight we're doing this album' and that sort of thing, but I kinda like playing all of them (smiles again). That's just me.
KNAC.COM: On a personal level, how's life treating you in general? Are you happy?
KEIFER: I love life! Yes, I'm happy as can be. I've got a beautiful family, the music business has been incredible to me, I'm still doing this after 30 years and I've got a killer new band and life is good.
KNAC.COM: What's one thing on your bucket list you haven't done yet?
KEIFER: (pauses) Well, before tonight I hadn't played with KID ROCK so that's kinda cool. I love KID ROCK, (sings) 'I'm a cowboy babyyyy' (laughs). That probably would have been on my bucket list but no one ever asked me that before.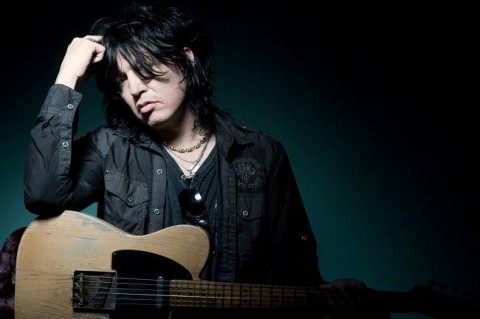 KNAC.COM: Was your solo album on the bucket list?
KEIFER: Oh yeah, and had been for awhile. You know, in the mid 90's I was thinking about doin it and actually started making one and put it on the back burner. CINDERELLA had gotten back together, we attempted to make a record and it got held up in courts and all kinds of stuff and then during that legal battle I came back to my solo record to finish. Yeah, I mean for a very long time on my bucket list was getting this record done and out, putting together a band and getting on the road. What's down the road for the bucket list? I don't know, I try to take it one day at a time. I've had a great run and a great life and I've done a lot of stuff....I don't know, bucket list? How about jam with the STONES? How about that? (laughs) That would be great if I got to be Keith Richards for a night. Yeah Keith, you take a break and let me play with Mick (Jagger).
KNAC.COM: Thank you so much Tom.
KEIFER: Thank you my friend and thanks to KNAC for all the support over the years.
Pick up a copy of Tom Keifer's solo album, The Way Life Goes, in the KNAC.COM More Store right HERE.
Catch Tom Keifer at one of these upcoming dates:
6.19 - Cincinnati, OH - Inner Circle Ent. Center
6.20 - Watseka, IL - Watseka Theater
6.21 - Springfield, IL - Boondocks
6.22 - St. Charles, IL - St. Charles Theater (w/VINCE NEIL)
7.5 - St. Paul, MN - Taste Of Minnesota (w/HALESTORM)
7.12 - McHenry, IL - Fiesta Days (w/NIGHT RANGER)
7.25 - London, Ont - Harris Park (w/SAMMY HAGAR)