Here I Am To Give 'Em Hell!: An Exclusive Interview With SEBASTIAN BACH

By Wendy Jasper, Black Metal Aficionado
Monday, April 21, 2014 @ 5:32 PM

| | | |
| --- | --- | --- |
| | | "I am a perfectionist, I expect a lot out of the music I am working on, and I try to bring the best people into the mix." |
He has one of the most recognizable voices in modern-day heavy-metal. From the time he fronted SKID ROW to his modern-day solo career, Sebastian Bach is still one of the most enigmatic frontmen in the business. He has juggled his solo career, regular appearances on television, and leading roles on Broadway and in touring musicals for Jekyll And Hyde, Rocky Horror Picture Show and Jesus Christ Superstar. Bach is even working on a book like many of his iconic 80's contemporaries.

With more than 40 tour dates planned and a new solo album, Bach is able to definitively outline his career in one single phrase, "Here I am to give 'em hell!" Incidentally Give 'Em Hell is the name of Bach's new solo album. With crunchy, sexy songs like "Temptation", Bach is about to release one of the most anticipated solo albums of 2014.

"I have so many dates planned," he said. "I plan to go worldwide with this tour and we have got so much to do! I'm looking forward to this in so many ways and all I can say is that this record has a lot to offer. I am a perfectionist, I expect a lot out of the music I am working on, and I try to bring the best people into the mix."

If Bach expects perfection out of the music, he is even more diligent when it comes to the quality of his videos. The latest video for "Temptation", a song that features Duff McKagen as guest bassist, is catchy and visually enticing, however, getting it up to Bach's standard was a bit of a test.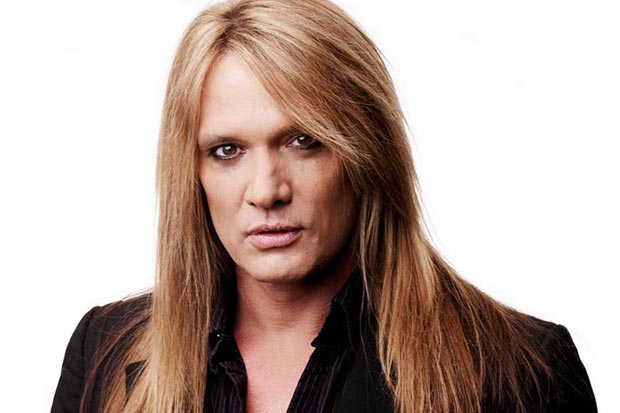 "Oh my God! When I first saw it I was really happy but then I found out that the way they upload the videos wasn't high quality and it really affected the visual components and the sound was bad," He said. "So I got on the phone and said that it had to be uploaded high resolution so you don't lose the quality of either the picture or the sound. When it premiered it was exactly what I was hoping for. Have you seen it? Do you like it? I really hope that people like it as much as I do! It just really does it for me and I think that we put so much into the sound and energy!"
With music transitioning to an online and downloadable format, Bach thinks music is not always being heard the way it should be; loud and in your face. Today's musical modalities often irritate Bach and the idea that so much is missing from the music based on how you are hearing it is a topic that he feels very strongly about.
"So many people don't know what they are missing when they hear new music because they use those little earbuds and the sound quality is compromised," He laughed. "I love working on new music and I am making music that needs to be heard and experienced in the proper setting. Live, through real speakers; Man! There are so many ways to hear it and the music I make is meant to be played loud!"
Bach has assembled some of the most renowned names in the music world to play on his record and to tour with. He snared John 5, Steve Stevens, Bobby Jarzombek, Duff McKagen and Devin Bronson to play on the record. He felt that this was something the fans would appreciate as well.
"I want only the best people on my record. Man, we've got John 5 playing guitar and he is great to work with; Duff is pounding out the bass and Bobby Jarzombek is in there, and, wow, Steve Stevens. I can't say enough about the guest musicians on this record. You know, I can say that I thought Kicking And Screaming was a strong record, but this new music, it really brings out more in me vocally and the whole process was just great."
Over the years, Bach has worked on various projects, but he remembers his time with SKID ROW as definitive and is proud of what he accomplished with the band. He even fondly remembers one of the first times he heard tunes from the first SKID ROW record on the radio.
"When the first SKID ROW record came out, I was in Los Angeles and I was just marveling that this was my life and what all was happening for us as a band," he laughed. "I decided I wanted to just cruise around town and I went and rented a Corvette, which I thought was really cool at the time, and I turned on the radio. Being in LA, the big rock station was KNAC! Wow, and there I was, driving around LA, jammin' to tunes on KNAC, and all of a sudden "Here I Am" starts playing. That was so killer for me, driving around, hearing our song on the radio. What was even funnier and more amazing to me was that it was not the single I was hearing but a song that wasn't charting for us. That told me that the fans were diggin' the whole record, not just one or two songs. So all I can say is that "Here I Am" is still my outlook on things. Here I am to Give 'Em Hell. That's my new slogan! I'm doing what I love, I'm singing, I'm touring, and I'm out there giving it everything I've got!"
The album title may be an accurate depiction of Bach's outlook on his music, his life and what he is looking forward to on his upcoming tour. Give 'Em Hell is in stores in the U.S. as of April 22nd and he is consistently adding dates to the tour. The CD can be purchased via iTunes or most retailers and all information can be found at www.sebastianbach.com OR you can preorder it now in the KNAC.COM More Store right HERE.
See the video for "Temptation" right HERE on KNAC.COM!
Please log in to view RANTS