Fans and media gathered to enjoy an early evening party at Hustler Hollywood with STEEL PANTHER as they celebrated the April 1st release of their third studio album, All You Can Eat. The event included a 10-minute Q&A with singer Michael Starr , guitarist Satchel , bassist Lexxi Foxx and drummer Stix Zadinia . Well-equipped Hustler models flanked the band and the usual adult paraphernalia decked the store, creating the nefarious atmosphere for which Hustler is famous. The foursome then played a solid, praiseworthy set for the small crowd. The unplugged, three-song performance included "The Burden Of Being Wonderful" and "Party Like Tomorrow Is The End Of The World", both from the new album. "Girl From Oklahoma" finished the set.

After signing memorabilia and posing for photos, the Los Angeles bad boys made their way across the street to the Rainbow Bar and Grill to party, taking their fans with them.

The various representatives from the media posed the following questions to the band, and as usual, the band's answers had everyone in stitches.

Q: How do you decide on your song titles?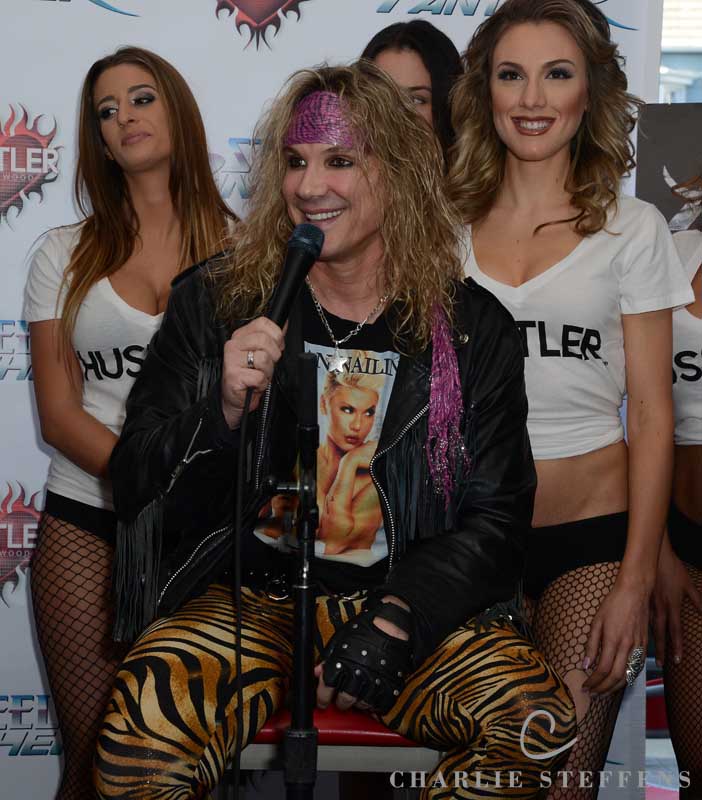 STARR: Our song titles come from personal experiences that we have on the road. You know, like, "Bukkake Tears" was an experience that Satchel had. Remember that?
SATCHEL: I was pretty drunk at the time.
STARR: Well, we were double teaming this chick, right? And I pulled out and I shot my load and I hit him in the eye. And he started crying. Remember that? I could see the tear. It was weird. I felt bad. But it doesn't make you gay, by the way.
SATCHEL: I didn't feel gay. Not until you started to suck my dick.
Q: So Lexxi, Maybelline or Loreal?
FOXX: Maybelline.
STARR: Wow. Why?
FOXX: Because that's the eyeliner I use.
Q: For Satchel: Why is Lydian the best mode?
SATCHEL: What did you just say? Really? Are you fucking kidding me? Wow. Well, first of all, Lydian is not the fuckin' best mode, unless you're a fuckin' dick. I would go with Mixolydian, myself. So you can fuckin' put that in your fuckin' pipe and smoke it. And for all the girls who just fell asleep, I just want you to know we are partying for a while after the fuckin' show tonight. Yes. Because these girls (points to the Hustler models) are only hired for about a half-hour.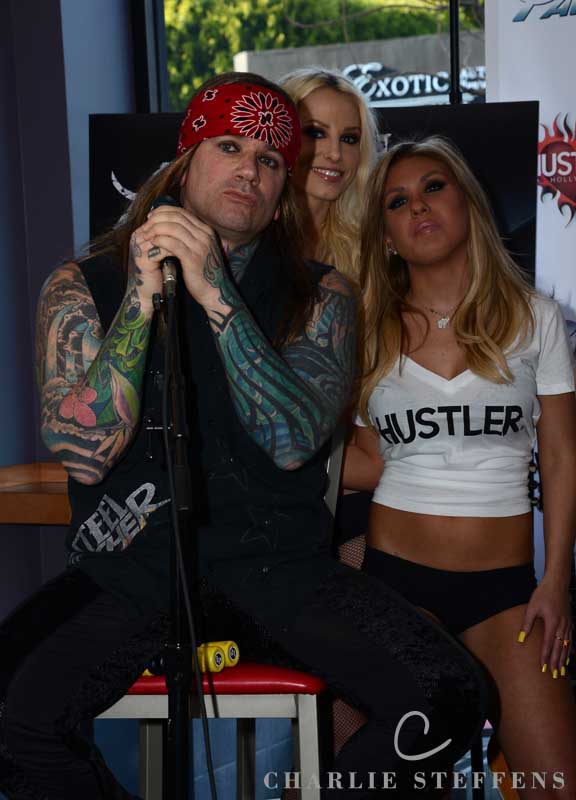 Q: How much lube went into the making of the new album?
SATCHEL: I can only speak for myself. I use, mostly, my own spit, but it works quite well.
STARR: For me, I don't really use any lube or spit, because the girls I'm with usually get really fuckin' wet.
FOXX: And for me if I run out of lipstick I will use, like, a red crayon and then put lube over it.
Q: Stix, any insight into the lube?
ZADINIA: I'm a big fan of lube and I use it as often as I can.
Q: Follow up question: where's the missing Malaysian airliner?
SATCHEL: Wow, that's an awkward question. Nobody knows for sure, but it could probably be somewhere inside of one of the girls' vaginas that we fuck, because they're pretty big, those vaginas.
Q: Final question: why does it burn when I pee?
SATCHEL: Wow.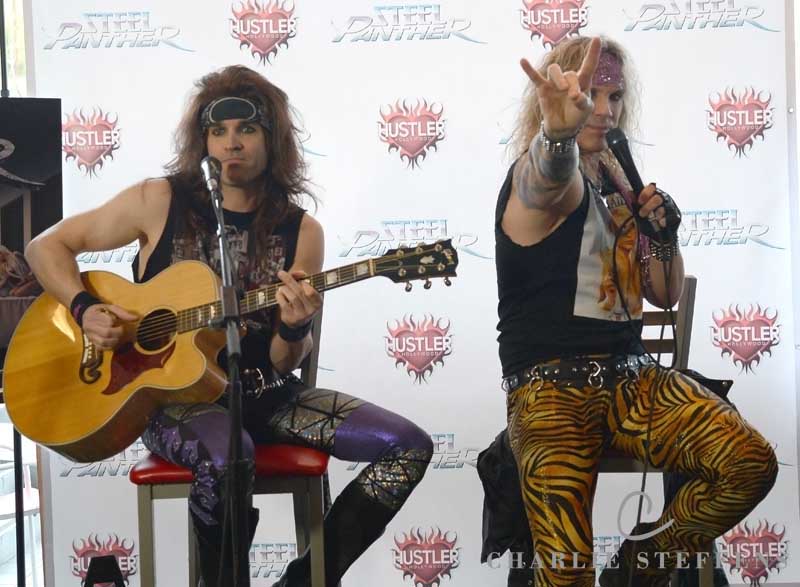 STARR: I know that answer.
Q: Please.
STARR: Yeah, it's either chlamydia or gonorrhea. And just to let you know, the best way to get rid of it if you give it to your girlfriend--and you know you have chlamydia--but she doesn't know she has it yet--just tell her she's fat, then put her on a protein shake diet, put penicillin in it every day for seven days.
SATCHEL: Or you can try, actually just dumping her ass.
STARR: That works, too.
Q: With the huge success of Feel The Steel and Balls Of Fire ...
SATCHEL: Yeah, Balls Of Fire was a huge success. Big hit for us. For Jerry Lee Lewis.
ZADINIA: Jerry Lee Lewis was really happy with it.
FOXX: The last guy that asked the question had balls of fire.
Q: Was it hard to come up with stuff and how hard is it to go in there and do the recording process?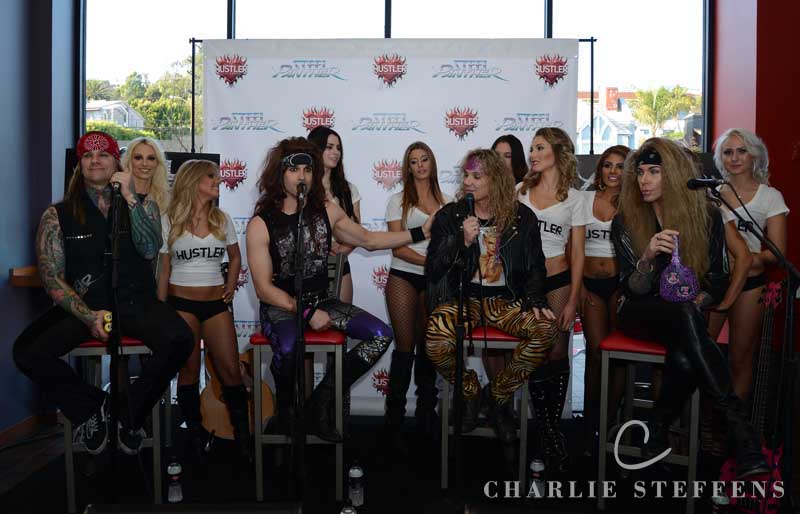 SATCHEL: Well, when we recorded Slippery When Wet it was tough. Then we had to move on and do Hysteria the same year...it's one of our best records. We don't ever think about our follow up records because nobody in this band really knows for sure if we're going to be alive tomorrow or not. Because we party pretty fuckin' hard and this guy right here (points to Michael) can break a fuckin' hip any fuckin' day now. He could be fuckin' people in the old folks home because he lives there. We just got for it. We write what we feel and we fuckin' record the record.
STARR: And I just sing whatever he tells me to sing, you know.
SATCHEL: Yeah, and he does a great job, aside from the fact that he doesn't know how to pronounce a lot of words. I write it out phonetically for him and he gets through it. But we don't live in the past. We fuckin' write the best record we can and if people don't like it--they can suck our dicks. That's the way we do feel.
STARR: And if you do like it, you can suck my dick.
Q: And I am a new fan. I apologize that I don't know all the history here. I have heard the new stuff and you are amazing.
SATCHEL: That's okay. We'll still fuck your face after the show.
Q: The House of Blues show on Monday--do you have a special surprise for the L.A. fans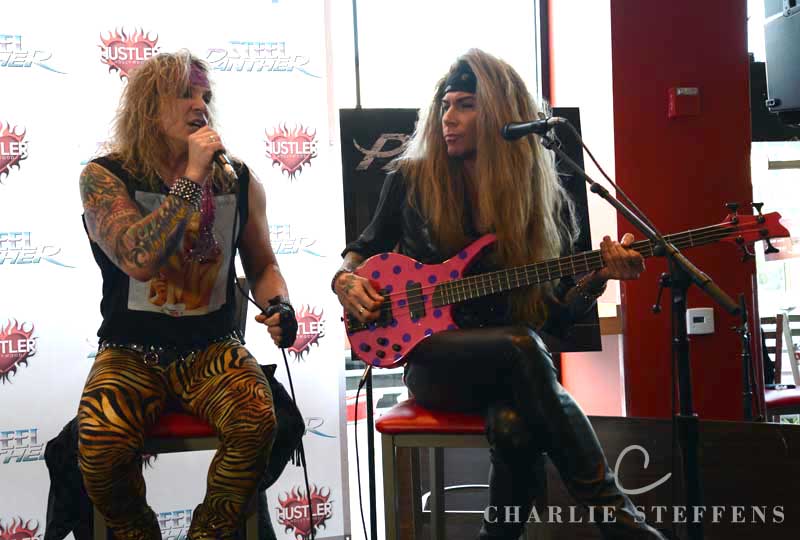 STARR: No. Not really.
SATCHEL: I didn't want to tell you guys this, but there's going to be some special guests that night.
STARR: Who?
SATCHEL: Well, Eddie Van Halen's gardener is going to be there. And he said that he's friends with BON JOVI's gardener.
STARR: That's fuckin' amazing, man.
SATCHEL: It's going to be a fun show.
STARR: I did hear that we're going to have some tigers at the show, which is pretty bitchin'.
SATCHEL: Well, if you come there will be at least one cougar. How many people wanna see some tits right now? Loosen this place up a bit. We got a wall of dildos over there--not you, sir. The actual dildos, yeah.
KNAC.COM: Charlie, KNAC.COM.
SATCHEL: KNAC fuckin' rocks, dude!
STARR: Is that Gnarly Charlie? Love you, dude. What's up?!
KNAC.COM: Love the new album.
STEEL PANTHER: Thank you.
KNAC.COM: Wanted to ask you about "Glory Hole". Who is that experience about?
STARR: Well, it was our experience, the last time we were touring on Balls Of Fire. We were out in France playing. It was cool, man. I remember we went out after the show, right?
SATCHEL: I don't remember that.
STARR: You don't remember that? There's a bus call at 3 A.M., so we have, like, three hours after the show to go do whatever the fuck we want to do. So we went to this one place called Jimmy John's. It's an American bar. And inside we met this stripper. Her name was Donna. She took us to this place called the Glory Hole. And that's where we learned about the glory hole. And it was amazing, 'cause I got my dick sucked and it felt so good--and then the dude came out from behind the hole and he laughed his ass off. Dude, it felt killer. So then he (points to Satchel) went and tried it, knowing he was behind it. It was fun and we wrote the song.
KNAC.COM: Did you go into it feeling kind of scared before you stuck your dick through the hole?
STARR: Absolutely, because the last thing you want to do is get your dick cut off. Or get your dick bit.
SATCHEL: Oh my god. That'll make you go Chris Brown on somebody.
Q: Is a blow job cheating?
FOXX: No.
ZADINIA: No.
STARR: Really? Do you know what? Is fucking cheating? No. It's not. It's just a way of expressing your feelings for another person. When you fuck another person and--let's say you have a girlfriend--that's cool, man. That shows your chick that you care about her when you come home and fuck her after that.
FOXX: Yeah. That's called practice. That's what that is.
SATCHEL: We wrote a song on our first record called "Community Property" and I highly recommend it to you. If your girlfriend is not cool with you fucking as many other girls as possible, then she has got some issues, guys. And you need to move on. You know what? It might be a good idea to stay single as long as possible. Our singer here, for example, he's 64 years old. Still, at this point, his longest relationship has been two and a half days, people.
STARR: That's only because we had a hotel room for free.
SATCHEL: And he's not emotionally stunted at all.
STARR: No, dude.
SATCHEL: That's not sarcasm.
STARR: No. I love to just hang out with a girl and just get to know her, with some room service and some champagne, and then fuck the shit out of her.
SATCHEL: And a twelve-inch dildo.
Q: My name is Savannah and I was wondering if you guys would take me to prom?
ZADINIA: You're awesome.
STARR: Wait a minute. How old are you, Savannah?
SAVANNAH: Nineteen.
SATCHEL: Wow. Nineteen years old. A little bit old for me, but I'm sure Michael would be happy to.
STARR: God, I'll take you to prom. Fuck it. That'd be killer.
SATCHEL: I'll meet you in the limo after the dance is over, alright? Remember, I only use spit.
STARR: I don't know. I look at her, she gets wet.
SATCHEL: Did anybody invite your daughter to this fuckin' thing?
ZADINIA: That's her dad, bro.
SATCHEL: Oh my God. Where? Whose dad?
STARR: Hey. He knows she gets wet.
ZADINIA: Everybody just went, Oh no!
SATCHEL: Everybody went, Oh, that's fuckin' awesome.
ZADINIA: That is sexy.
SATCHEL: That's fuckin' killer!
STARR: Yeah, I'll take you to the prom. As long as your dad buys the limo and gets us the cocaine.
SATCHEL: Fuck, he just gave you the thumbs up, dude. Badass, dude. Hey, honey, I want you to fuck one of the guys in STEEL PANTHER. They have a new record. Those guys are making fuckin' hundreds of dollars.
STARR: How many people got a new record? Raise your hands. Hey, can I get some reverb? Reverb is very important. That's what it sounds like in a big pussy.
SATCHEL: Hey, that's that missing airliner over there.
http://www.steelpanther.tv/
Check out Gnarly Charlie's interview with STEEL PANTHER from a few years ago right HERE! WARNING: NSFW!
Check out some more photos from the press conference!
Photos By Charlie Steffens