Chela Rhea Harper is one BUSY lady. When I met her she was in COAL CHAMBER and was developing a project called VII. Little known fact: I was one of THE first people to hear "Entropy" from that band and have played it thousands of times since. But I was rocked to my core when I found out that Chela was a part of this WHITE EMPRESS I'd been hearing so much about, so I made it my mission to score another interview with her and try to get some of the scoop. Read on to see what we talked about:

KNAC.COM: How did you come to be in WHITE EMPRESS?

HARPER: It was right around the time that I posted my congrats to Nadja (Peulen) on rejoining COAL CHAMBER. The next day I got a message from Mary Zimmer (vocals for WHITE EMPRESS) and she sent me a couple of the demos and asked me if I was interested at all. I was like, "Your timing could NOT be better!" (laughing). I love this music! This (WHITE EMPRESS) is the perfect band for me. I was to be given total creative freedom, with no limitations. "Whatever you want to play, play it." I was super-excited by that. This is the kind of music that's really inspiring to me and it also surprised me. I was pretty shocked to be contacted to do this type of music, and so happy.

KNAC.COM: I saw that another site posted the band's line-up, and I noticed your name and I was like, "What the fuck?!?" Which is why I messaged you right away with, "Tell me everything!! I wanna know! Gimme gimme gimme!!"
HARPER: It's funny actually because I was trying so desperately to keep it quiet. I don't like to over-discuss things I'm involved in until it's solidified and then I'm happy to talk about it. It was in early stages and we wanted to keep some mystery. It was so brand new and I was itching to tell people, believe me! So at some point we just knew it was time. Because people were already listening to it and they didn't know who was involved, which was fun, you know? Saying to someone, "Oh check out this song, what do you think?" and getting an honest answer out of them. That was the most amazing part, the fact that we're getting really positive feedback and it wasn't because of WHO is in the band. There was no biased opinion.
KNAC.COM: Are you playing bass and/or guitar, or just the bass?
HARPER: Bass. I am all bass in this project.
KNAC.COM: Are we singing at all?
HARPER: Mary's got the voice and I would be a little intimidated trying to sing honestly (laughing).
KNAC.COM: I downloaded the EP and loved it. Do you have plans for a full-length record?
HARPER: Yes, actually. Most of the songs are written already which is kind of amazing in terms of how quickly they're coming. We've got about 17 tracks written, and it's so natural for the group to come up with songs. Paul (Allender, guitarist) is just a machine, he's ridiculous. This is his baby. At any time he's like, "Check out these riffs," and I'm thinking, "That's amazing! That's awesome!" you know?
KNAC.COM: Right. I want to ask you this in two parts. Firstly, tell me about the whole WHITE EMPRESS concept. Visually it's so kickass. And when is the merch with her picture on it gonna be available? I need to rock that shirt!
HARPER: Merch is up now. If you go to the website, there are some shirts, beer koozies, and some other stuff. I actually have two of the shirts that I wear and when people ask me what that is I say, "I will tell you…"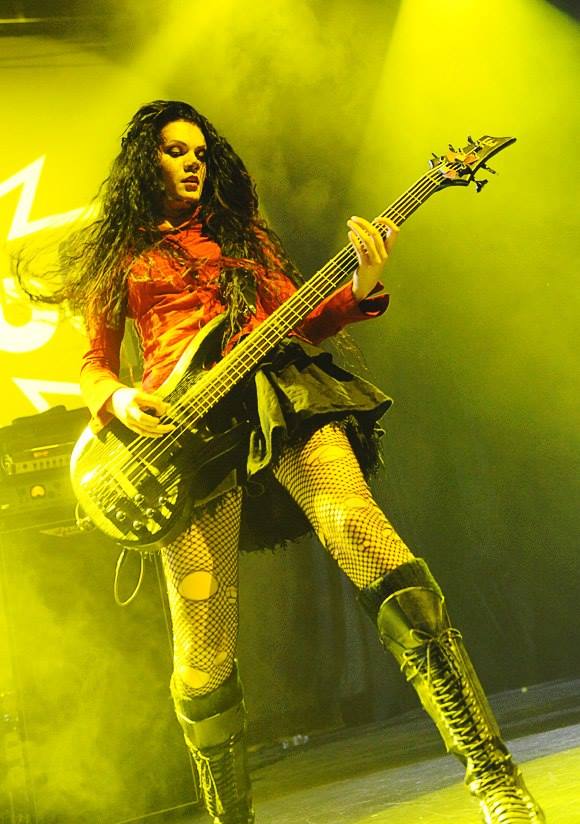 How do I explain WHITE EMPRESS? Yes, it's a band and we play these songs as archetypes/characters in the entire storyline (which is her rising from an apocalyptic end/new beginning). She begins to lead from there and brings all her followers (that's who her court is). When I first saw the imagery I was totally blown away. I thought it was amazing. I'm such a nerd so anything that has to do with sci-fi or fantasy I'm like, "Yes! Let's do it!" And it's done in such a way that it leaves a bit of mystery. When we speak of The Empress it represents change in the world and something to stand for and that's an amazing thing in itself. It's cool not only for the band members who are totally immersed in this whole concept but for the fans, it's something that's fun to support and be a part of. It's like a community.
KNAC.COM: Are you going to play live? And if so will there be a whole visual presentation behind this?
HARPER: Oh yes. And I can't tell you anything about it. But it will blow people away. We're visual people. Paul's a visual artist, I'm a visual artist, DJ's (Gunnarson, guitar) a visual artist and it's a cool thing to be able to integrate the musical and visual, but take it to another level and make it so eye-catching and well-put together; I think people will be surprised.
KNAC.COM: If you guys don't come to Dallas, I swear I will call whoever's in charge of Canada and raise hell!!
HARPER: (Laughing) We'll come! I don't want to see 'Missed Call" and be going "Uh-oh"!
KNAC.COM: You are in 5,000 projects! How do you do it all?
HARPER: People ask me this all the time. I have a very fortunate schedule. I'm able to only work on music. If I had a full-time job this would be impossible. But I've narrowed it down to three projects. I can't take on any more bands or I'd totally implode. But it's great because each project represents a different side of me creatively as well as instrumentally. Nothing is the same.
KNAC.COM: So you ARE still in KARTIKEYA, good. And my biggest question of the day…what's going on with VII?
HARPER: Something really cool, actually. We're doing a split release with ADORA VIVOS which is Joe's (Waller) other band and the mood of both bands compliments each other so well we decided instead of doing two separate EPs let's do a full-length that is a combination of both bands. I don't know how long it will take to do this because I'm super-busy with WHITE EMPRESS and Joe's got some different bands. His band NUKLEAR FROST, a black metal band is totally amazing! Everyone's busy and we're trying to get it in order.
KNAC.COM: And I'm not trying to be a pain in the ass, it's just that "Entropy" was SO FUCKING GREAT! And I know you have more of that in you, so I wanna hear it.
HARPER: It's gonna surprise people who only heard that song. There's some dirty guitars and choir-type shit. We're adding a lot of other elements that I think will be well-received. The bass player from DESCEND (Justin Biggs), who is one of my favorite new bands right now, we've talked on and off for a while and I brought up the whole VII thing, and he's totally down to do it, at least for this release. And also my good friend Leigh (Underwood), who's also from Minnesota like Joe is gonna play drums on it. She's really quite talented; Joe sent me a video of her doing a DREAM THEATER cover. She's such a cool person, so laid back. And it's important for me to find people who are passionate about music, but still laid back.
KNAC.COM: Let me ask you this…How is life for Chela right now?
HARPER: I feel really good. I feel like I'm in a really good place, like all the work I've done has led up to this moment. And that's a good feeling. From the time I started playing until now it's been one continuous progression. And there were moments of fear and "What am I gonna do now?" but that's gone. Everything from here on out is just gonna challenge me and make me a better player and musician.
Really, what more can I say? Chela Rhea Harper is in demand for a reason. Her tireless work ethic, great personality, and dynamic stage presence make her one of the best bassists in rock/metal today. And with WHITE EMPRESS, the sky's the limit.
Download the EP HERE.
Check out Damian's website at www.ampsandgreenscreens.com!