Recently I was lucky enough to get a chance to catch up with the ever multi-tasking guitar master, George Lynch. Between T&N, LYNCH MOB and building custom guitars, George has found the time to collaborate with dUg Pinnick (KINGS X) and Ray Luzier (KORN). Together they have formed the band KXM whose debut album drops March 11th via Rat Pak Records.

KNAC.COM: Let's start right off with the new stuff-let's talk about KXM. I know that you've worked with dUg Pinnick before, but how did you manage to hook up with Ray Luzier? And how did this group come together?

LYNCH: Actually I really only worked with dUg once on the T&N record Slave To The Empire. So that seed was planted when he came in to do his vocal track for "Tooth and Nail" and shortly after that we all met at a party with Ray and we were all sitting around and it sort of came up. What amazed me about it was-this happens a lot in the industry; everyone seems to have high aspirations of playing together and it tends to never work out. Usually you just sort of wake up the next morning like a bad hangover and realize-I can't do that. In this case-you know-Ray was very supportive and proactive in making this happen. The telling point, when we knew we were doing this, was that we decided-let's have a window of time and meet at a studio-and everybody showed up. It was on. It was a gradual realization that this thing was actually gonna be worth doing. It was very productive and creative. Time constraints were the problem, so we spent a total of ten days in the studio and we wrote the whole album in those ten days and we wrote the songs as we recorded them. Very rewarding and gratifying actually doing it that way.

KNAC.COM: That's unbelievable.
LYNCH: Lots of pressure…hahaha….hey-come up with a freakin' brilliant, genius song with a brilliant hook and a great guitar solo, and all the cool riffs, and do it right now!
KNAC.COM: Well if anyone could do it that way, I'd put my money on you three.
LYNCH: You know, you're right. On paper if you would have said okay you have these three guys; dUg Pinnick, George Lynch, and Ray Luzier - if it would have been bad, that would have been more surprising.
KNAC.COM: Right, exactly. Now are there any plans in the works to take this band out on tour?
LYNCH: We're gonna go out and do basically the magical mystery tour. I got this idea from an old band in the bay area called THE RESIDENTS; this really mysterious band that liked to remain really mysterious and anonymous. You never knew who they were; their names, or what they looked like. They had this incredible mystique about them, by design. They did shows all around that were unannounced. Unannounced – so if you were fortunate to see them, you saw them. We were thinking of trying to do something like that. It would be something to talk about if nothing else. We are in the initial stages of talking about it, but we might do that and just go out and do the magical mystery tour for a month or so.
KNAC.COM: Touring on just one album could potentially be difficult – any chance you guys would plan on throwing in some of your old material from each of your past bands?
LYNCH: Absolutely…I mean it would be very minimal. I don't want to dilute what we are about. We would have to just because there really are not enough songs for a full set. Plus I think it would be cool to add one thing from each one of our respected legacies and maybe a cover. Plus I think there would be a lot of jamming. There will be some constraints, but knowing what we did in the studio, I think we would end up with a lot of that going on. There is a jam song on the record called "Tranquilize" and that's just us just fucking around. It would be fun to do that stuff live. I'm not really a big fan of just playing the record for fifteen kids. I want to expand and go off and do kind of do live versions of these songs that could just go off anywhere. LYNCH MOB is on tour right now, we just played Seattle last night and dude it was a jam-fest and a half. We would just go off anywhere. We ended up in this one center jam piece that went on fucking forever. All of a sudden we were playing one of the SHADOW TRAIN songs from the SHADOW NATION movie soundtrack. We just sort of landed there and then it evolved into this sort of progressive jazz kind of – I don't even know what the fuck it was and somehow we ended up back where we started and that's what I live for.
KNAC.COM: Speaking of LYNCH MOB, are there any new dates or possibly a new record?
LYNCH: Oh yeah, we got Jimmy D'Anda, who is also in my SHADOW TRAIN band and we've got Kevin Baldes on bass who is kind of a life-long friend. I've known him since he was like ten or twelve years old. He used to live in the same neighborhood. He would come over and ride on our skateboard half pipe that we had in the back yard. I was in DOKKEN at the time so he would run around the house pretending to play guitar, acting like he was going to be a rock star some day. He was in LIT. He had a lot of success in the 90's and he's just so talented, such a great guy. Now he's in LYNCH MOB. So it's me and Jimmy and Kevin; it's just a wonderful and tight-knit group. We are friends, there are no egos, it is just so beautiful. We have a good time out here working. We have half a record and I got to find time to do it. I'm thinking maybe some time after the fall.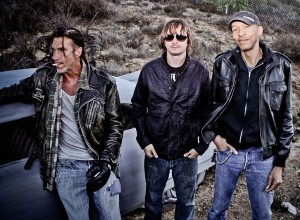 KNAC.COM: That sounds great…well let's shift gears a little and talk about yet another one of your projects, T&N. I loved the Slave To The Empire record and thought that Jeff Pilson's vocals were great. Have you been in touch with Jeff lately and is there anything coming down the pipeline as far as T&N is concerned?
LYNCH: Yeah, we already recorded the music for half the record. We re-recorded six more old DOKKEN songs. Some of which are really interesting, like we did "Just Got Lucky", but we didn't want to do it the corny old way, so it kind of turned into kind of a hybrid country-rock song in a really cool way. We are kicking around ideas for the singer; we kind of want to get somebody Joplin-esque. So that's done. So I guess the plan is at this point to go back into the studio in the winter when FOREIGNER takes a break and finish writing the originals and put it out in 2015.
KNAC.COM: Well I know we are running short on time – your publicist told me 20 minutes – but I wanted to ask you about Mr. Scary custom guitars. I have checked them out and wanted to tell you that the snake hunter is just gorgeous. Does Mr. Scary guitars have anything to do with ESP?
LYNCH: No it has nothing to do with ESP – it's all me. ESP has been gracious enough to allow me to build these custom guitars outside of ESP. That's kind of wonderful they let me do it, but maybe not the right thing for me to do because I am endorsed by ESP (laughs). It's kind of a different market. They are extremely high-end. I build them all myself. I have a shop where a do my timber routing and sanding – different things like that. I get my own wood, pickups, do all of the work myself. I have my necks lathed, but other than that everything is done by hand or by hand tools. It's all just home-made stuff and I make about ten a year when I have time. You picked a good one. The one that you like, the snake hunter is the most expensive one and the most difficult one to do. I'm on my third one of those. I have made two; one for a gentleman in Australia and another one. I really enjoy doing it. It is creative. You sort of lose your sense of time and space and really sort of just zone out and you wake up and you have created something beautiful. I have never built one for myself because I never have time and if I have one, someone wants it.
You can purchase a copy of the KXM self-titled debut in the KNAC.COM More Store right HERE.