Photo Credits To Justin Borucki

Leslie West is renowned for his iconic guitar tone andrevered as a forefather of classic rock, making his mark with MOUNTAIN. His musical history spans six decades. In both music and in life, West is a true survivor. His music has withstood the test of time and he is still one of the most influential guitar players on the planet. On a personal level, West is still adapting after undergoing a lifesaving leg amputation in 2011. While he has had to make numerous adjustments, he has not allowed it tokeep him on the sidelines as a musician. He was eager to get back in the studio and was determined to start work on a new album.

West recently released the results of his efforts — a powerful and appropriately titled album calledStill Climbing. His voice is robust, his guitar playing is rock solid, and his songwriting is as strong as ever. The album includes collaborations with several of his friends including TWISTED SISTER frontman Dee Snider, Jonny Lang, Mark Tremonti and legendary guitarist Johnny Winter. West gave us a rundown of the tracks and the gear he used while recording.

KNAC.COM: Tell us how the music came together and how the guest performances were coordinated on Still Climbing.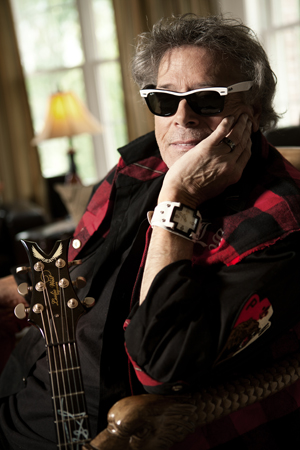 WEST: I started recording a year ago. I wanted this album to be a progression of Unusual Suspects, and I wanted to take my time putting everything together. I had some good ideas for riffs and I didn't want to be redundant in guitar solos so I really thought everything out. My wife Jenni wrote some great lyrics and my friend Jon Tiven helped me with some others. My co-producer and engineer, Mike Goldberg, played drums and Rev Jones played bass. I'm really happy with the way it came out.
The first song I started working on was "When A Man Loves A Woman", the track with Jonny Lang. He and I sat in the control room, and played and sang together. I love the way Jonny sings and plays. He sings from his chest and with a lot of feeling. He sounds like he could be a 50-year-old bluesman. Then I started "Dyin' Since the Day I Was Born" which Mark Tremonti played on. He's a fast player, but he's very melodic. "Tales Of Woe" is just me with an acoustic guitar and a slide. That's one of my favorites. It's not a pity party, but I've had some "tales of woe" in the last year… My friend David Biglin played the acoustic intro that sounds like a Spanish guitar. David also played acoustic, keyboard, and B3 on "When A Man Loves A Woman" and "Feeling Good". He plays great acoustic and he plays things that I'm not so great at. I'd rather have him play those parts so I can play lead or slide over them. I did "Feeling Good" with my good friend, Dee Snider. People don't realize he's not just a screamer. We trade lines in a couple of places and when we sang together, sometimes you can't tell who's who. We had a lot of fun with that.
I'd heard "Fade Into You" on the TV show Nashville. A guy and girl did it acoustic, and I thought it was a great song. I started fooling around and changed it up. I started off acoustic, then really rip into it heavy when the chorus comes up. I was really surprised by how good it came out. "Hatfield Or McCoy" also came from Jenni and I watching TV. She started writing some lyrics, then I started playing slide and it came together quickly. That one was a lot of fun. The female vocals were Elaine Caswell. She did a great job.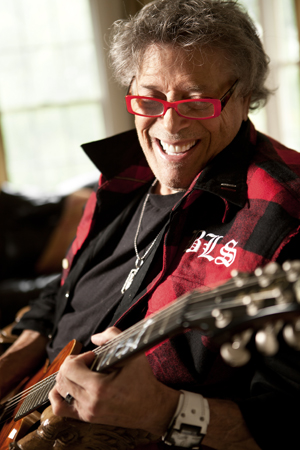 Johnny Winter played on "Busted, Disgusted Or Dead". He wrote a couple of songs with me before, and I'd done a track on his album, so I thought it would be great to have Mike go out to the studio in Connecticut where Johnny works and record him. He plays the middle solo and you can tell it's him. We made it sound like we're playing together.
"Don't Ever Let Me Go" has a guest spot by Dylan Rose. He plays guitar with James Durbin from American Idol and his father is Jim Rosenberg, the president of Epiphone. My manager said he thought the he kind of plays like me so I let him play the ride out on this one. He did a nice job. He has melody and he's a good player. To me, he sounds more like a Mark Tremonti or Zakk Wylde.
I re-did "Long Red"[from West's 1969 debut album called Mountain, which later became the name of the band] because of all the people who sampled it! There's a map on Wikipedia showing everyone who sampled the song. It's one of the most sampled hip hop songs of all time. That completely blew my mind! Lana Del Rey, NAS, DEPECHE MODE, Kanye West, Jay Z… It's amazing how many people have used it. So this is the way I do it now. It's a lot heavier than it originally was. Who knew back in 1969 when I wrote it that it was "hip hop"? I had my brother Larry play bass on it.
"Over The Rainbow" is something Rev Jones plays every night onstage, but for a lot longer than that. So I thought it was time that he did it on an album. He's a great player and a great guy to have in the group. He had played with Michael Schenker for years, he plays with STEEL HEART and with me. I'm thrilled to have him in the band so it was time to give him a spot on the record.
My favorite track on the album is "Not Over You At All". Oh, boy, I love the riff on that song! I'm really happy with the way the whole album turned out from the songs to the sounds. I'm really proud of it!
KNAC.COM: Tell us about the gear you used. Was it different from your usual set up?
WEST: I changed amps on this album. I started using a Blackstar Series One 100 head with the channel-switching foot pedal for clean, fat clean, a little dirty and then full-out gain. I'm not using the "confidence" pedals anymore and the Blackstar worked out really well for me. Mike Goldberg didn't EQ my guitar, so what you hear on the record is the sound coming from the amp. For effects, I used a TC Electronic digital delay and an octave pedal. That's it.
I played four of my model Dean guitars which all have my MOT Mountain of Tone pickup in them. It sounds like a P-90, but it's a humbucker. The new Mudflap Mama model has a stainless-steel mudflap girl inlaid on the neck and it's got the biggest sound of all of them. The Mississippi Queen sounds different all together and the graphics are amazing. I also used a Dean V that's set up for slide. The slide I use is a Joe Perry Boneyard slide that's made of porcelain. Porcelain works really well because you don't hear any of the squeaking or clanking of metal. I like playing slide with open tunings.
All of the acoustic guitar parts were played on a Laravee jumbo that I got a few years ago. It has a great sound for recording. David also used it for the acoustic parts he played.
KNAC.COM: How are your guitars set up? What string gauge do you prefer?
WEST: I use half and half. I use .009s for the top three strings (E, B, G) and the bottom three (D, A, E) are from a set of .010s. I like to break it up so I get a nice fat sound with the bottom strings and I can stretch the shit out of the top strings. I guess the action is about medium, not too low, on all of them except on the V for slide.
KNAC.COM: What type of picks do you use?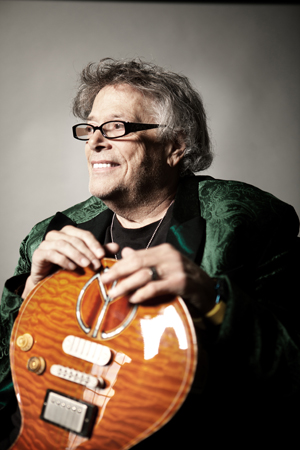 WEST: I use thin picks. Most people use heavy picks, but I like the thins. When they break, I like to use the corners.It's different than playing with the smooth edge and you can get harmonics out of them.
KNAC.COM: Will you be doing any touring?
WEST: I am going to tour, but the tour bus situation is a problem. It's near impossible to find an accessible bus. I have this great vehicle that was given to me by a Rolls Royce and Bentley dealer. It has a ramp that pulls right out. But I can't take long drives. I can do two or three hours. But I am planning to get out and play some shows. The dates will be listed on my website.
More info about Leslie West and upcoming tour dates: lesliewestofficial.com