Wearing A Broken Crown Halo: An Exclusive Interview With Andrea Ferro Of LACUNA COIL

By Wendy Jasper, Black Metal Aficionado
Monday, February 24, 2014 @ 4:01 PM

| | | |
| --- | --- | --- |
| | | "We wanted to try something new and I think we created something exciting for the fans to enjoy." |
It is only fitting that the very first Revolver Magazine Hottest Chicks in Hard Rock/Heavy Metal be a headlining attraction for this year's Revolver Hottest Chicks Tour. Not only has Cristina Scabbia and LACUNA COIL been a mainstay on the metal scene, the band is celebrating the release of their seventh studio album, Broken Crown Halo.

Cristina's vocal counterpart, Andrea Ferro, elaborated on what has been going on with the band, the tour and the new CD.

"The tour is going to be great," Ferro said. "We did the very first edition of this tour years ago because Cristina was the first girl on the cover of Revolver and was the first hottest chick so they asked us to do the accompanying tour. We are coming back after all this time. We will be able to showcase songs from all of the albums. I think we will have about 50 minutes onstage, which will give us time to play songs from the earlier releases as well as four or five from the new album."

The album is scheduled for release on March 31, 2014 and the tour will run from February 24-March 20th. It give the fans a chance to have a preview of what critics are already calling LACUNA COIL's most forceful work to date. The album was produced by Jay Baumgardner and the band recorded at home in Italy.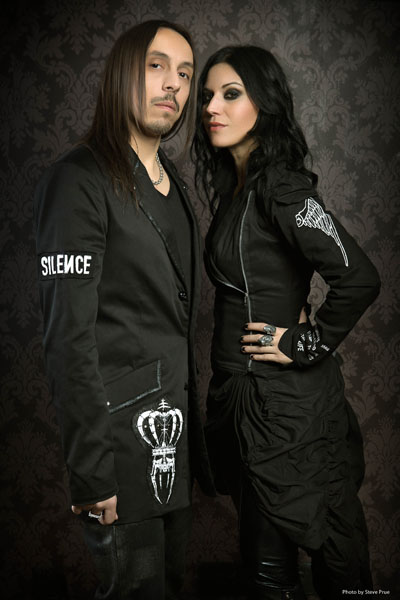 "The first song on the record, "Nothing Stands In Our Way", has all of the classic elements of our sound and it has some new twists and we talk about all of the things that we as humans have gone through like depression, heartbreak, and other human emotions," he said.
Following up 2012's critically acclaimed Dark Adrenaline was a feat for the band and according to Ferro they put so much effort and energy into creating the new music and have been pleased with the results.
"There will be some songs that are a new feel for us," he said. "We were able to play around a lot in the studio with some effects and there will be more variety between slow and fast songs as well as darker, heavier songs. We wanted to try something new and I think we created something exciting for the fans to enjoy."
Touring plans for the band not only include the Hottest Chicks Tour, but headlining and festival dates as well.
"After the headlining dates in May, we will do the festivals in Europe and then we hope to come back to the US later in the year. There are a lot of plans that we look forward to," Ferro said. Those plans include several high profile North American dates like 98Rockfest in Tampa, Florida with Avenged sevenfold, as well as Fort Rock and Rockville with Rob zombie and FIVE FINGER DEATH PUNCH. It has been noted that two original members, Cris 'Pizza' Migliore and Cristiano 'CriZ' Mozzati have retired from the band, but this will not affect the future of the group as they plan to continue recording and touring.
The original lineup of Cristiano "Criz" Mozzati (drums), Marco "Maki" Coti-Zelati (bass), Andrea Ferro (vocals), Cristina Scabbia (vocals), Marco "Maus" Biazzi (guitar) and Cristiano "Pizza" Migliore (guitar), is featured on the new record.
In the meantime, fans can check out the band's new lyric video for "Nothing Stands in Our Way" that has been recently released by their label, Century Media Records. There is also an iTunes download for the lead single, "Die and Rise".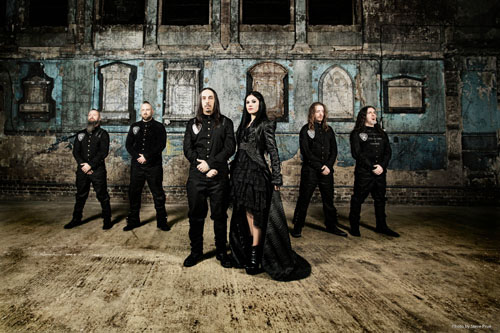 North American dates for LACUNA COIL are listed below along with the lyric video.
REVOLVER HOTTEST CHICKS IN ROCK TOUR
LACUNA COIL with SICK PUPPIES, EYES SET TO KILL & CILVER
2.20: Wilmington, NC - Ziggy's By The Sea
2.21: Atlanta, GA - Masquerade
2.22: Lexington, KY - Buster's
2.23: Springfield, VA - Empire
2.24: New York, NY - Irving Plaza
2.26: Worcester, MA - Palladium
2.27: Lancaster, PA - Chameleon Club
2.28: Columbus, OH - Alrosa Villa
3.01: Joliet, IL - Mojoe's
3.02: South Bend, IN - Club Fever
3.05: Broussard, LA - The Station Live
3.06: Houston, TX - Scout Bar
3.07: Austin, TX - Infest
3.08: Dallas, TX - Gas Monkey
3.10: Denver, CO - Summit Music Hall
3.12: Salt Lake City, UT - The Complex
3.14: Spokane, WA - Knitting Factory
3.15: Seattle, WA - Studio Seven
3.19: Los Angeles, CA - House Of Blues
3.20: Anaheim, CA - House Of Blues
FORT ROCK (with KORN, ROB ZOMBIE, FIVE FINGER DEATH PUNCH and more)
4.16: Fort Myers, FL - JetBlue Park
98ROCKFEST (with AVENGED SEVENFOLD, VOLBEAT, FOZZY, SAIGON KICK and more)
4.25: Tampa, FL - Tampa Bay Times Forum
WELCOME TO ROCKVILLE (with KORN, ROB ZOMBIE, FIVE FINGER DEATH PUNCH and more)
4.27: Jacksonville, FL - Metropolitan Park
Please log in to view RANTS