Becoming Unblackened: An Exclusive Interview With Zakk Wylde Of BLACK LABEL SOCIETY

By Lisa Sharken, New York Contributor
Monday, February 17, 2014 @ 8:34 AM

| | | |
| --- | --- | --- |
| | | Zakk Wylde Strips Down Black Label Society For Unblackened |
When Zakk Wylde was asked to record a new DVD/CD package, he decided to give his BLACK LABEL SOCIETY fans something different. The Wylde Man tells us about the experience of making Unblackened, a live acoustic/electric performance featuring Wylde on guitar and piano, along with his BLS bandmates bassist John Deservio, guitarist Nick Catanese (who has since been replaced by LIZZY BORDEN guitarist Dario Lorina), drummer Chad Szeliga, keyboardist Derek Sherinian, and vocalist Greg Locascio. The package also includes some cool extras such as an appearance he did at a prison in the UK, which is an interesting and entertaining bit of footage to watch, and the video for ďLosiní Your MindĒ. In addition, Zakk explained how his book, Bringing Metal to the Children, the tales of all things BLS, came to be.

KNAC.COM: Tell us about Unblackened and how that project came together.

WYLDE: I didnít want to put out another heavy one with the same stuff weíve already done. The Black Label Berzerker Nation was always asking if we were ever going to do any of the mellow tunes on the records that never see the light of day. It was the natural progression of the band to do something like this. And personally, as much as I love listening to heavy stuff, I love all the mellow stuff, like the EAGLES, Neil Young and Elton John. So it was great to do this.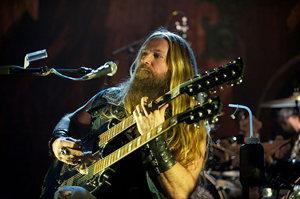 The show was recorded in March at Club Nokia in LA. We rehearsed for 8 to 10 days. We were originally going to play with a string section, but once we started working with them, it didnít go as planned. We figured weíd bring them in and weíll rehearse with them for two days. These are union musicians, so itís not like youíre hiring a bunch of guys who will be there for two days and rehearse for 10 hours a day. They rehearse for two hours, and then they have to go. But they also need a break in between to sit down and have coffee. I guess theyíre used to playing weddings. When they started playing with us, it was such a train wreck of Hindenburg/Titanic-esque proportions! It was hysterical! It just wasnít working. They offered to stay an extra hour because they really wanted to do it. We could have rehearsed for the next two and a half months, and it was still going to sound like shit! We called it a day. Thatís when we looked over at Father Sherinian to cover all the string bits.
We included six additional songs on the CD because we had recorded ďAinít No SunshineĒ, ďSong For YouĒ and a bunch of others that turned out the way theyíre supposed to be done with strings, so we put them on.
Now in between our normal tours and doing the regular shows, weíre going to do an Unblackened run. Weíve toured three years straight doing the regular show and the Unblackened thing is completely different, so itís gonna be awesome to bring that out.
KNAC.COM: Tell us about the assortment of gear you used for the show.
WYLDE: I used my Gibson stuff. I used the EDS-1275 doubleneck, and the Flying V, which has a Floyd Rose tremolo bridge with a Steinberger kickstand so I can sit down and play it like Iím playing a Les Paul. I used my Pelham blue Les Paul, the maple Vertigo Les Paul, and I also broke out the Rebel. I havenít retired her. I still record with her, but I donít bring her on the road anymore. I also used the pinstripe ZV. For the acoustic stuff, I used a Chet Atkins steel and a Chet Atkins nylon-string.
For amps, Iím playing through my signature Marshall JCM800s, which are 100-watt tops with 6550s. For the clean sounds, Iím using a Roland Jazz Chorus and also just turning the volume down on my guitar when I play through the JCM800s. That way you can just turn the guitarís volume up and you have distortion.
For effects, I use all my signature Dunlop pedals. I run my guitar into the wah pedal, then into the Rotovibe, phase, distortion, then run the stereo chorus outputs to both amps.
KNAC.COM: What inspires you as a player and as a songwriter?
WYLDE: I still listen to the stuff Iíve loved since I was 14 and started playing. When I hear Randy Rhoads, I have great memories from when I first started learning to play that are attached to those records. Then, obviously, thereís Eddie Van Halen. But I really get inspired when I listen to Frank Marino. Iím just awestruck. Then John McLaughlin, Al DiMeola, Paco De Lucia, Allan Holdswoth, Joe Pass and a lot of the country pickers as well. I just listened to a mess of Albert Lee. Itís just mind-blowing stuff! Of course, Jimmy Page ó not just for the guitar playing, but the writing and producing. Then Tony Iommi for his songwriting and guitar tone.
KNAC.COM: Do you maintain a regular practice routine when you arenít touring?
WYLDE: Iíll run through scales and stuff like that, but I play every day because I love it. I always tell kids that when you play video games, you donít look at it like youíre practicing. Youíre just trying to get to the next level. Itís no different when youíre practicing your scales or thereís a lick that you want to learn. You just keep doing it until you get it right. When youíre playing video games, you keep doing it until you get to that next level. And itís no different when youíre trying to get to the next level on an instrument you want to learn. If you do it because you love it, itís not practicing. You just play because you love it.
KNAC.COM: What would you put on an essential listening list of your own music? What do you consider the standout tracks of your recorded work?
WYLDE: For the BLACK LABEL stuff, Iíd have to go with ďStillbornĒ, and from the last album, I really dig ďCrazy HorseĒ. That oneís really cool. I thought ďDarkest DaysĒ came out really well as far as the production. With Ozzy, ďMama, Iím Cominí HomeĒ and ďNo More TearsĒ.
KNAC.COM: Tell us about the book Bringing Metal to the Children and how that came about.
WYLDE: Me and Eric [Hendrikx] took about a year to write it and cut it down or it would have been a 6,000-page book of comedy ó the sacred bible of stupidity that is BLACK LABEL, and written on parchment, of course. When we first started writing it was a combination of stuff from the studio, then I had scales and guitar instruction, and then there were the road stories. We had like three books in material, and then we had to turn it into one thing.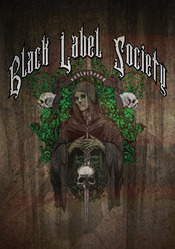 I remember, it was New Yearís Eve and we were hanging out, and we just started taking the piss out of everything. Iím Catholic, and I said what I believe in is like Jesus, just being supportive of other people, and encouraging them and inspiring them. You want people to do well and see them succeed, and that is totally unlike management, which is basically Satanism, selfishness, money crunching. We were on the floor, crying and laughing from that point on. So I said this whole book has to be a combination of BLACK LABEL and George Carlin on steroids ó just taking the piss out of ourselves, the music business, and the whole nine yards. So from that point on, it was game on with the book. You can literally open up the book at any page and just start laughing your balls or your labia off. Itís really the truth. You have all your posters on the wall with all your heroes ó LED ZEPPELIN, Randy Rhoads, Al Di Meola, Eddie Van Halen, BLACK SABBATH ó and itís pretty much the same for every one. Once they enter into the music business, everything just goes down the shitter from there. Itís just the way it is for everyone and itís just funny. Thatís part of the joy of being in this business. Itís just one living, breathing Seinfeld-on-steroids world where you donít have to write the episodes, they just fall in your lap, whether you want them to or not. Just being in a rock band, it doesnít matter how successful you are, whether youíre as big as LED ZEPPELIN or youíre just starting out, the comedy will attack at all times. Me and Eric had a blast writing it. It was a good time.
KNAC.COM: Are your own children following in your footsteps and taking interest in music? Thereís a great early clip of you and your daughter singing in the DVD.
WYLDE: Hendrix, our third bambino, heís 11 now and he loves playing piano. He takes lessons and heís way into it. But the older two ó our older son, who is Ozzyís godson, he is studying to be a doctor, and our daughter Rae, sheís in college as well. Sheís learning a couple of languages and she wants to get into social media. I donít know whether she wants to go overseas and be a translator, but thatís what sheís into. I always tell my kids that the whole secret to life is that youíve got to have passion for what you do, and whatever it is that you love, do that. And if you can make a living doing it and pay the bills, then youíre rolling!
For me, I was always working another job and it was just a means to save up for a Les Paul or a Marshall, and save up for what I wanted to do at the end of the day, which was to play music. I was never pissing or moaning about whatever job I had. I would just tell myself that Iím going to do this until I make enough money to get my guitar and then Iíll leave when I can do something else. If Iíve got to flip burgers, Iíll flip burgers. I donít care while Iím there. Iím just making the money and every day that Iím there itís putting me one day closer to getting my Les Paul. I never had any intentions of becoming a professional construction worker. I did that during the summers, being a grunt, hanging sheeting and roofing, and just carrying crap around all day. It wasnít what I wanted to do. But as long as I knew I was getting paid, I kept thinking that Iíd have that guitar before you know it!
Please log in to view RANTS