Dynamite In A Small Package: The Maestro's Exclusive Interview With Klaus Meine Of SCORPIONS

By Damian J. Cousins aka "The Maestro", Dallas Contributor
Saturday, February 8, 2014 @ 9:10 AM

| | | |
| --- | --- | --- |
| | | On Doing MTV Unlugged: "When you think of all the artists that have done it throughout the years you want to join this class, so you have to prove yourself and show that you're ready to join this class." |
I recently had the chance to sit down with legendary vocalist Klaus Meine of SCORPIONS to discuss their newest project MTV Unplugged. Recorded live in Athens, Greece to a crowd of about 3,000 under the stars, it's available now on CD/DVD/Blu-Ray. Klaus was very excited about it, and rightfully so. We also talked about what the future holds for the band. Check it out:

KNAC.COM: The first thing I have to ask you is HOW is it possible for you to be singing as good as you were on all the old SCORPIONS albums?? What's the secret to keeping your voice in such great shape?

MEINE: It's just that we keep on going, keep on playing, and keep on singing. And at the same time to try to treat your instrument in the right way, you know? That means not to stress yourself too much while you're on the road. I think it's always the best when we're on tour and we have it set up to where we're not playing so many shows in a row. After all these years I cut it down and said, "Ok, no more than two shows in a row" because with this kind of show it's really a challenge for a singer. When you talk about songs like "Still Loving You", "No One Like You", which is a toughie because it goes up and up in range. And it's a very popular song here in the US, so you got to take care of yourself and find a way to pull this off every night and come out with a strong performance. As a singer you have to take care of yourself, that's just the way it is. And sometimes Damian, to tell the truth you feel like hell in the morning and you go, "I'd like to order breakfast" (mimics frog voice) and your voice is really rough and you wish you were the bass player (laughs)! But then, when I'm onstage it's all good. I love to be onstage and I love to be a singer.
KNAC.COM: One of the things that impressed me when I saw you live for the first time two years ago is what a well-oiled machine SCORPIONS are in concert and how tight the show is. Does that come from having this line-up in place for so long?
MEINE: I think so. It's a great chemistry in the band. I mean Rudolf (Schenker, guitar/vocals), Mattias (Jabs, guitar), myself with James (Kottak, drums) and Powel (Maciwoda, bass). James is like a machine you know, just a great drummer. And James and Powel work great together so that's a strong foundation. And with Rudolf, Mattias, and myself, the German engine of this SCORPIONS ship, we just rock it. We have so much energy that we enjoy ourselves onstage. From the very beginning days until now the minute we hit the stage we feel at home, you know? This is where you get SCORPIONS at its very best. And also with this MTV Unplugged it's a whole different story when you compare it to a regular rock show because the whole set up is different; all the members are seated onstage. In essence since this was the very first time in the MTV Unplugged history that this was taking place under the open sky. So that usually in the studio production you have a few hundred fans gathered around the stage but this was 3,000 people and MTV wanted them to be seated: "Come on, this is not a rock show this is MTV Unplugged, so take it easy Greek fans! Stay on your stools, don't rush the stage when the band comes on!" It was nice working with our Greek audience who went nuts anyway but in a different set-up.
For every musician this was challenging because it was two and a half hours and 25 or 26 songs and most of them we never performed live. So this was like a whole new show. We went all the way back to the 70's with songs like "Speedy's Coming", "Born To Touch Your Feelings", songs from the Uli John Roth Era, "In Trance" of course. We played some brand new songs that were written for this project and some of them were taken from a project we called Outtakes that started in 2011 where we went all the way back to the 80's and picked some unfinished songs. This project was never finished because we've been touring so much since 2010, but there were some electric versions of songs (we might pick it up again at some point) like "Dancing With the Moonlight" and "Rock N' Roll Band" that were from that session. And together with the classics this turned out to be an attractive kind of package for our audience, not only in Greece but around the world. But it was a huge challenge, you know? It's an honor to be asked by MTV to do an Unplugged and you join this illustrious MTV Unplugged family and you want to play your songs working with new arrangements and come out with something totally different and give those songs a whole new expression.
KNAC.COM: What was that atmosphere like for you, the open air setting?
MEINE: It was fantastic. We picked Athens because of our die-hard fans down there. We could have done this in many parts of the world but we picked Greece because we knew our fans there, they have a huge heart, they know all the songs going back to the 70's and we wanted to find a place in Europe where in September you have the perfect climate. And it was the perfect setting, Lycabettus Theatre. It's the highest mountain in the city of Athens, you can see all the lights of the city, almost like you were looking down at L.A., and it's a beautiful amphitheater surrounded by pretty bizarre rocks. The fans were climbing up there to see, and we played this venue more than ten years ago when we played stadiums in Greece. We knew this place was intimate but still big enough to handle a bigger capacity audience. This was such an amazing set-up from mandolin to accordion to slide guitars, piano, harmonica, and then we had the Strings From Heaven, a string quartet. There were eighteen musicians onstage and we had an actress doing the talking parts in "Born To Touch Your Feelings". We recorded two shows and the crowds went wild, you know?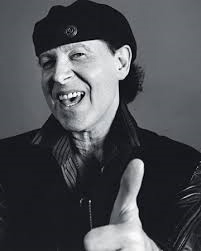 KNAC.COM: Why do you think that apart from the obvious ones like "Wind of Change" that your harder/heavier stuff translates so well to an acoustic setting?
MEINE: I think it's the quality of musicianship. Working together with our Swedish producers and really making sure that we don't end up playing too many ballads and becoming bored with this whole project. We wanted to do Unplugged, yes, but at the same time you're looking for the dynamic of the real show. And that means you can't do this with too many slow songs. You have to find many rockers and from "Can't Live Without You", "Pictured Life", "Speedy's Coming", "Dancing With the Moonlight", which is a new one, "Rock You Like A Hurricane" of course, "Hit Between the Eyes", even "Blackout" is in there. With the arrangements I think that's the answer because I think we wanted to give them strength and an erratic LED ZEPPELIN "Kashmir" feel, and you can hear this little erratic kind of touch which makes them more rock and not too soft. One of the new songs, "Rock N' Roll Band", was never performed live but I got the audience singing it, you know? It was great! They heard it the first time, we PLAYED it the first time and it came out pretty good.
KNAC.COM: Speaking of new songs...will that new material translate to a new studio record at some point?
MEINE: Like I said before, we started working on the Outtakes project with those songs that were never finished and never released and there was some great rock stuff there. We started working on it in 2011 and then we never really had time to finish it, then MTV Unplugged came in and we focused on this project. Two of the songs, "Dancing With the Moonlight" and "Rock N' Roll Band" I wrote new lyrics for them. But those two have electric versions and they rock, let me tell you. We had three more new songs that came about during spring of last year, and those three songs would be also great in electric versions. As for now we only performed them live in Athens. But to maybe go back to the studio at some point this year if we have a chance we might include them as well on this album from the 80's material. It will be a mix of then and this brand new stuff.
KNAC.COM: When you listen back what song do you think turned out the best on the Unplugged?
MEINE: When you listen to "Send Me An Angel" that version when our Greek fans sang it with us it's very strong and powerful. I must say "Wind of Change" with Morten Harket from A-HA came out pretty good as well. "Still Loving You", it's a different arrangement and that's also pretty cool. And if you love the rockers, "No One Like You". "Passion Rules The Game" is also one we never performed live because of the vocal parts in the chorus, but with our Swedish friends they all did an amazing job on the backing vocals. Normally you would have some beautiful ladies but Mikael Nord Andersson and Martin Hansen said, "Klaus…we can do this perfectly" and I was blown away. When you listen to it they did an amazing job, not just on this song, but on all the songs.
KNAC.COM: You're in the midst of an epic tour that's been going on awhile...is there ANY chance of you coming back to Dallas to see us, and maybe doing an unplugged set here?
MEINE: That's a good question. For now, it's a big show; just the band is 18-20 people on the stage so to take this on the road even in Europe is more or less something we will not do. Just a few shows in Germany and Belgium and very few select concerts here and there. To take this on a worldwide level we'd have to see. We know our fans in the US love the SCORPIONS to rock it and turn up the Marshall amps to 11 (laughs) so if this would be a success in the US as well and there was a demand for it we would definitely think about it. As of now we will bring this onstage for a very few shows in Europe. In between we'll still be doing rock shows, we pick it up again this year in March in Madrid, Spain. The first show sold out so quick we added another one, then we go to Portugal and Russia, then in April it's back to Germany for Unplugged shows. But my honest answer is that we'd love to come to America anytime for anything! We love to play for our fans in the US, and this would be a whole new show and if the demand was there and the promoters would go nuts then just give us a call and we will Rock the US Like a Hurricane!!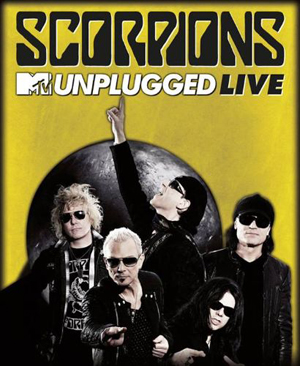 KNAC.COM: If you could sum it all up, how was the overall experience of filming MTV Unplugged?
MEINE: I think for us growing as musicians and growing as artists this came at a perfect time. We have the experience of so many years out there and this was about music only. And it's a huge honor to be part of this. To do this it's a challenge, and it only works if you give it your all and your very best performance. This is like the level that is set up by this format, this MTV Unplugged, and it's SUCH a high level. When you think of all the artists that have done it throughout the years you want to join this class, so you have to prove yourself and show that you're ready to join this class. And that feels really good. When you listen to it or see it you can see for yourself and come up with your own judgment and I think after so many years for us as artists this is the icing on the cake. We put everything in there to make it special because we wanted to join this class, which is Top Class.
KNAC.COM: Klaus thank you so very much for taking time out to speak with a fan first and a writer second. This means the world to me.
MEINE: Alright, Damian. I hope you have a chance to see us over here in Germany or if we come back to TEXAS!!
There it is, my interview with Klaus Meine, one of the greatest singers in heavy metal, and one of my favorites PERIOD. I really enjoyed my conversation with him and if it was up to me we would have talked for hours, but he's a busy man, so I reluctantly let him go. You can get your hands on SCORPIONS MTV Unplugged everywhere music is sold, and I recommend you do so…NOW!
Purchase SCORPIONS MTV Unplugged Live in the KNAC.COM More Store right HERE.
Check out Damian's site at www.ampsandgreenscreens.com!
Please log in to view RANTS