The metal community has more proof that the resurgence of classic thrash is at an all-time high. In the past two years, we have seen more from this genre than we have for years and there is nothing better than being able to say that L.A's Heretic is at the forefront of the bands who have returned stronger than ever.

Since their 1986 showcase on Metal Massacre 7 and the release of their first EP Torture Knows No Boundary, founding member and guitarist Brian Korban has stayed true to his metal roots. The band reformed after a long hiatus and now features Korban, bassist Angelo Espino, guitarist Glenn Rogers, vocalist Julian Mendez and drummer Ignazio Coppola. This incarnation of the band has a long history of working together in other projects like HIRAX, BITCH and REVEREND, the project that featured late METAL CNURCH vocalist David Wayne.

"We have had many changes over the years but I think that this is the strongest we have ever been," Korban said. "I think we made some good music back in the day and there are many that say that Breaking Point, the album we did for Metal Blade, may be our defining album, but our new music is so strong that I think we are the best we can be right now."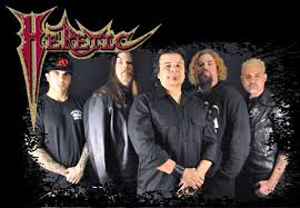 The strong links between the current band members is what Korban attributes to the ferocity of the band's 2012 release A Time of Crisis via Metal on Metal Records.
"What is great is that we have all known each other, literally, since high school," he said. "Our music careers always crossed paths in some way too. Glenn and Angelo played in HIRAX together and Julian has been our longest running vocalist. We have great chemistry and now that we are working on new music it seems like the right time to get back into this. The fans have kept this band alive over the years and for a band whose albums were out of print and rare, that is a great compliment."
The CD had a great response with the band's permanent fan base and they also did several shows to promote the CD that gained them a new following. Korban says that the members work together naturally and that they have fun, without the pressure to constantly tour and produce. However, at the same time, the easy transition back to the stage also had a resounding effect on the fans.
Korban said that the fan enthusiasm contributed to the 2013 release of the boxed set From the Vault: Tortured and Broken via Metal Blade Records. Featuring all of the band's early music plus live sets and remastered bonus tracks, the release has been celebrated worldwide.
"We were excited when Andreas from Metal Blade Europe reached out to us about the boxed set," Korban said. "It all stemmed from a recent interview that we had done with a German magazine and it grew from there. It is interesting because when it comes to some of our vintage material, we are actually limited. We literally reached out to fans and friends who donated old footage and photos to help out with the promotion and production of this."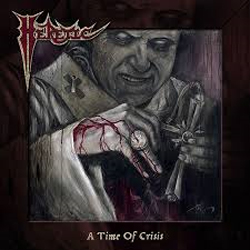 Touring is another aspect of band life that is certain to happen for HERETIC.
"We do try to play locally every few months," Espino said. "When we first started it was very nostalgic but the more we worked on new music and played shows, the more we agreed that it was time for us to forge back into this full speed."
Espino said his choice to join the band was an easy one. Once he heard the new HERETIC music that Korban sent him to entice him to join the band, he knew it was what he wanted to do.
"We talked about it and I said, 'ok, send me some songs' and once I got them I was blown away. It was blistering thrash metal and there really is a market for this. I have been in the band for three years now and I know I made the right move," he said. "Touring is something that we hope to do in the near future. Our management is working on some things, we have had a lot of publicity about both of the current releases and I think that we will be able to set up shows periodically across the country."
The band has also generated quite a following on the internet with the releases of their videos from "Child of War" and "Blood Will Tell".
"We rerecorded "Blood Will Tell" for the box set. It contains the old version and the new version and the video is really being pushed right now," Espino said. "I think what we are doing really resonates with a variety of metal fans. We have our long-time fans and most of our crowds are older, but we do see some kids and younger adults at the shows and believe it or not, we are getting a lot of fan mail from younger fans overseas who are picking up on us. They will seek out the earlier music after they have heard the new CD and I think that the word is really getting out that HERETIC is back together. There were a lot of people that didn't know at first, but now it's really catching on."
Look for the band to schedule shows over the next year and in the meantime, don't miss out on the band's latest CDs.
You can also view the video for "Blood Will Tell" right HERE and be sure to check out the band online at https://www.facebook.com/HERETICUSA or www.hereticusa.com