CARMINE APPICE is a busy man. In addition to playing with CACTUS, and his new band LEGACY X, he has recently launched his own record label, appropriately titled Rocker Records. The first few releases are from CARMINE'S personal collection with material from other artists to follow.

You can go to rocker-records.com and see all the goodies. I caught up with CARMINE by phone just before the holidays and he was in great spirits and very excited about all the irons in the fire. Take a look:

KNAC.COM: Tell me more about Rocker Records.

APPICE: Rocker Records is an idea that came about through my partner Mike Cusanelli who's been working a lot with indie record companies and I also have a book that I'm writing for VH-1 books. And when we were putting my deal together Mike actually worked with a management company I was using and he helped put it together. So we were sitting around just talking and he asked me if at this time in my career if I had any product laying around that hasn't been released. I had just released a lot of stuff, 13 catalog albums. So I told him I still had a few and asked him why. And he told me that it would be a good idea to form a label so that I could put out stuff I hadn't released. And not only me, but my friends who might wanna release something, you know?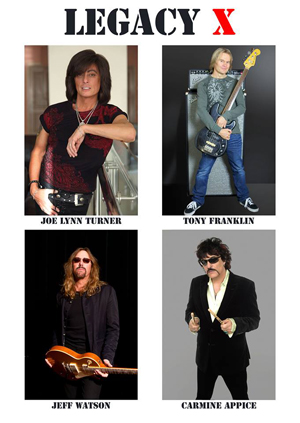 So I went back and found that I did have some stuff that I could release. So then he had a talk with the head of eOne, which is our distributor, and he was totally into the idea. So I thought, "Okay, let's give it a try" and with that we went and started looking for the product. We had gone to Japan last year with CACTUS and had a soundtrack to a DVD we did. It was the first gig that CACTUS had done in 2006, first one in 30 years. We also had the deal in Japan to record 500 live CDs that we had the rights to and we had the rights to the DVD which is gonna come out in the first quarter of 2014. Plus, I had this bootleg of the TRAVERS & APPICE thing and that sounds great, like an approved bootleg, and some stuff with Tim Bogart from VANILLA FUDGE that we did on our own. So we called it BOGART/APPICE & FRIENDS and did a six-song EP that sounds awesome.
KNAC.COM: Will you just keep it to your own personal and friends' releases or do you intend to seek out new talent as well?
APPICE: We're releasing an EP from a group called THE LIZARDS with Bobby Rondinelli on drums and CACTUS' harmonica player Randy Pratt, Glen Hughes is singin' on it, Frankie Merino's on it and it's a little star-studded affair, so we're gonna release that. An I just talked to my brother Vinnie (Appice) and he had a group called THREE LEGGED DOG about ten years ago and their record never got released by anybody, so they're gonna do a couple of bonus tracks and we'll release that. I'm excited; it's a damn good record! I love it! I think with all the friends I have and all the music we're making, and since we already have a distributor, that makes it worthwhile. And we're gonna make sure everybody wins. We are also gonna move ahead with new talent, we're looking into that slowly but surely.
KNAC.COM: Speaking of star-studded…Tony Franklin, Jeff Watson, Joe Lynn Turner, and you...LEGACY X. How long has this been in the works?
APPICE: It's been awhile. That's been in the works and it started a year ago in the summertime. I had a meeting with Frontiers Records and they were saying how it would be nice to get a Supergroup project together with me, Joe Lynn Turner, Rudy Sarzo and Pat Travers. But then Pat got busy with his own record on Frontiers and Rudy got real busy with other projects, so I got Tony Franklin and Jeff Watson into the mix. Tony's my favorite bass player. I just love the whole fretless thing. He really makes it sing. Anyway, we got really serious the last four or five months writing songs and been e-mailing them back and forth. We've worked on nine tracks, with three more to do. Joe hasn't finished all his vocals yet, we just got drums and bass on most of em.
KNAC.COM: Do you have any idea when we might get to hear it?
APPICE: We're shooting for a May release date.
KNAC.COM: Will LEGACY X venture out on the road? I saw Joe live at the Crazy Donkey back on Long Island in 2008 and his voice is still kickass!
APPICE: Oh my god, that club was such a dump!
KNAC.COM: Yeah, it closed in 2011.
APPICE: Good! It should be gone! Such a dump, especially that kitchen! I played there with MICHAEL SCHENKER, with CACTUS, place was horrible! But yeah, this year with LEGACY X we're looking to do a lot of festivals in Europe, and Japan later in the year. You know, career building gigs. We're not gonna be playing any Crazy Donkeys (laughing)!!
KNAC.COM: Your style of playing can be pounding, swing-type, and groove-oriented. What do you enjoy playing most?
APPICE: I dunno. I like it all. As long as I got a good song, a good singer and stuff I like it all.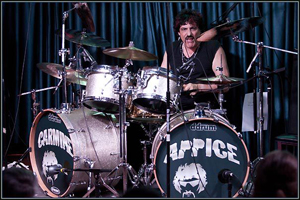 KNAC.COM: Tell me ONE thing that people don't know. That we CAN'T find on the internet...
APPICE: Well, I like to go to movies a lot. I go with my girlfriend of 12 years, my better half. We also own an off-Broadway production of The Gong Show, and I was talking to a friend who wants to do a Vegas version. Anyway, whether she goes with me or not I go to the movies. I go by myself, I go with her, sometimes her and her mother, doesn't matter. I'm just a movie buff. I love sitting there with a bag of popcorn, big-ass screen in front of me, watching sci-fi, action, drama.
KNAC.COM: Oh, you go by yourself, too? People look at me like I'm crazy when I tell 'em that!
APPICE: I go by myself, I don't care. It's about the movie, not sitting there talking to somebody, you know? Christmas Day there's a bunch of good ones coming out and I don't know what I'm gonna do!
KNAC.COM: What would you like to say to the fans older and younger?
APPICE: Well, I'd like to say to the new ones thanks for following this classic rock. I always find it amazing when I see 20-year olds at my shows. I just did a benefit last week in Vegas and L.A. and we played "You Keep Me Hangin' On" and "Do Ya think I'm Sexy" and these 20-yr old girls in the front are loving it. I'm like, "How do you even KNOW this stuff??" They said, "Oh we LOVE this music, we love your playing!" and I find that amazing, you know? So again, thanks for following. To the older ones thanks for being there for all these years, and to those that don't know, check out some of these things we're doing.
I'll say it again: CARMINE APPICE is one busy man! He's running around with twice the gusto of guys more than half his age and it seems like there's no end in sight. Thank the Rock and Roll Gods, I say!