A Worldwide War Of Wills: An Exclusive Interview With Hiran Deraniyagala Of BATTLECROSS

By Wendy Jasper, Black Metal Aficionado
Friday, January 3, 2014 @ 6:00 AM

| | | |
| --- | --- | --- |
| | | "This album (War Of Will) did really well so quickly and for a new band like us to be able to chart like that was unbelievable." |
Detroit's BATTLECROSS is a busy band. Consistent touring during 2013 across the U.S, including a high profile appearance during the Mayhem Festival, a U.S. tour with thrash veterans DEATH ANGEL, and an upcoming European tour have rendered them one of the most sought after bands on the market. The band's sophomore release, War of Will, has fueled their popularity in ways the band didn't expect and the have been exited to share it with the fans.

"This year has been great. The festival shows are awesome because it gives you an opportunity to get in front of people who may not have heard of you in addition to existing fans. We found that there were a lot of people that came out to Mayhem just to see us so that is really exciting," Hiran Deraniyagala, guitarist said.

Constant touring this year has exposed the band to several demographics and various venues. Hiran and his bandmates, vocalist Kyle 'Gumby' Gunther, guitarist Tony Asta, bassist Don Slater, and touring drummer Kevin Talley are enjoying the ride.

"Large festival shows are great but then you have the club shows that are so much more intimate as well as one off shows where the fans are definitely there for just you. In that respect you are able to let loose a little more and maybe your nerves aren't as bad," he laughed. "From Mayhem to our run with HATEBREED and then DEATH ANGEL, we have had to conquer some nerves. It is so awesome. There is a mixture of age groups and we are getting exposed to a whole new era of fan. We have been so fortunate to have great camaraderie with the bands we have toured with and it has been such a good time! We are seeing a lot of familiar faces at each show!"

War of Will was produced by veterans Mark Lewis and Eyal Levi and debuted this past July at #134 on Billboard's Top 200 chart, making a very impressive mark for the young band. The album sports ten tracks, leading off with the straightforward thrash strains of "Force Fed Lies" and followed up by the fan favorite "Flesh and Bone".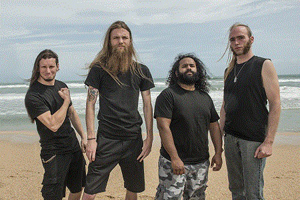 "This album did really well so quickly and for a new band like us to be able to chart like that was unbelievable. People are loving it, the review are coming in positive and believe it or not, it has pushed the sales of our first album, Pursuit of Honor, because people who liked the new CD want to hear more and are searching out our first release," Hiran elaborated.
The band doesn't plan to enter the studio too quickly and are riding the success of the current release into bigger tours and venues. However, that doesn't stop them from brainstorming and working on ideas for future releases.
"It (the album) is doing so well that the plan is to do more touring. We may work on some new material between tours and we always have ideas in our head for songs and you work on bits and pieces. I think that the plans to go overseas will move toward bigger things for us and we are excited about the possibilities," he said.
The band has experienced increased exposure and their label, Metal Blade Records, has been actively pushing the band's new album. War of Will sports a heavy, thrashy feel that also lends influence to classic heavy metal bands and it has been well received by fans and critics. Numerous accolades have been heaped on the band over the past year and the response was enough that the band was asked to join KILLSWITCH ENGAGE, TRIVIUM and MISS MAY I on their European jaunt starting at the end of January.
"We are so stoked to hit the UK with KILLSWITCH ENGAGE, TRIVIUM and MISS MAY I as our first overseas tour ever and thank them for having us on this awesome tour! What an honor it is to share our first UK experience with these bands and we're ready to thrash with you, our new friends! Thank you all who have been waiting so patiently for BATTLECROSS to come overseas, and we promise that it will be worth the wait!" Hiran said.
Be sure to catch them on the road in 2014 and see the European dates listed below.
BATTLECROSS
w/ KILLSWITCH ENGAGE, TRIVIUM and MISS MAY I
01/29 Dublin, IE The Academy
01/30 Belfast, IE The Limelight
02/01 Manchester, UK Academy
02/02 London, UK Brixton O2 Academy
02/03 Newcastle, UK O2 Academy
02/04 Glasgow, UK O2 Academy
02/06 Birmingham, UK O2 Academy
02/07 Southampton, UK Guildhall w/ TRIVIUM, MISS MAY I
02/08 Amsterdam, NL Melkweg
02/09 Cologne, DE Essigfabrik
02/10 Filderstadt, DE Filharmonie
02/12 Antwerp, BE Trix
02/13 Muenster, DE Skaters Palace
02/14 Berlin, DE Huxleys
02/15 Wuerzburg, DE Posthalle
02/16 Munich, DE Theaterfabrik
02/18 Milan, IT Live Club
Please log in to view RANTS