THE CORONER'S REPORT: Year Of The CARCASS

By Peter Atkinson, Contributor
Tuesday, December 31, 2013 @ 4:14 PM

| | | |
| --- | --- | --- |
| | | A Recap Of the Year 2013 In Extreme Metal |
What's old was new again in the world of extreme music in 2013. And, in many cases, to put it in death metal terms, what was dead came crawling back from the grave to feast on our sweet, sweet brains – given the resurrection of CARCASS, BROKEN HOPE and GORGUTS, all of whom released their first new material in more than a decade during the year. The death/black/thrash story of the year, at least where actual music was concerned, arguably was Surgical Steel, the jaw-dropping comeback album from England's CARCASS that seemed to come out of nowhere – until it was everywhere.

Though the band – who pioneered gore-grind in the late '80s and melodic death metal in the early '90s before imploding amid label and creative turmoil prior to 1996's tepid Swansong - reformed in 2007 for rounds of reunion shows and had performed at the odd festival ever since, once guitarist Mike Amott and drummer Daniel Erlandsson returned full-time to ARCH ENEMY in 2010 any talk of new CARCASS music seemed to fade.

At the end of 2012, however, word came that founding guitarist Bill Steer and bassist/vocalist Jeff Walker were finishing up a self-financed new album with ABORTED's Dan Wilding taking the place of founding drummer Ken Owen – who was still physically unable to perform as the result of a near-fatal cerebral hemorrhage in 1999. Once said album had a title, artwork, a label home (with Nuclear Blast) and, finally, a release date, the Internet was awash in CARCASS. And when people at long last got a taste of the new music, holy shit!

Surgical Steel turned out to be the perfect comeback album. Despite a 17-year recording hiatus and off-the-charts expectations, CARCASS produced a death metal masterpiece that not only sounded fresh, new and vital, it washed away the bad taste of Swansong and delivered just the kind of boot up the ass most people were hoping it would - but might have been afraid it wouldn't.

In one fell swoop, Surgical Steel managed to capture the surging riffs and sinister wit of 1991's transitional Necroticism: Descanting The Insalubrious and the crunching melodies and hulking production of 1993's landmark Heartwork; pay occasional homage to the raw vitriol of Reek of Putrefaction and Symphonies Of Sickness from the late '80s; and even bring the catchiness of Swansong into the mix, though certainly with much more punch. From the opening salvo of the snub-nosed grinder "Thrasher's Abattoir", CARCASS showed they meant business here and over the course of the album expanded their sonic palette to blend bombast, melody, dexterity, aggression and purpose, and finely hone it to yet again raise the bar for contemporary metal.

And this despite Steer and Walker having all but removing themselves from the metal scene after CARCASS split. Incredible.

With new second guitarist Ben Ash – who didn't perform on Surgical Steel – in tow, CARCASS played a triumphant set - despite some unfortunately damp and chilly "British" weather - over Memorial Day Weekend at the Maryland Deathfest. The fresh blood brought an undeniable jolt of energy to the band.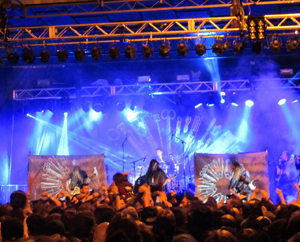 The 2009 reunion show I saw in Baltimore with Amott and Erlandsson was good, but it seemed oddly slick and clinical – almost too professional. With Wilding and Ash, CARCASS were loose, feral and menacing. And where the 2009 crowd seemed almost ambivalent, the much larger and more expectant Deathfest throng went apeshit, even though CARCASS played largely the same set list and offered nothing from Steel, which would not be released for another four months.
After playing but a handful of small club shows in the states and Canada last fall, CARCASS will be doing a full-blown U.S. tour this spring, headlining the Decibel Magazine Tour that also will feature THE BLACK DAHLIA MURDER and Canada's aforementioned GORGUTS. Can't wait.
A couple weeks before Surgical Steel was unleashed, GORGUTS issued their first album in 12 years, Colored Sands, which echoes the mind-boggling technical wizardry of 1998's cult classic Obscura. Lone remaining member/guitarist/vocalist Luc LeMay rounded up a veritable super-group of ace musicians - guitarist Kevin Hufnagel and bassist Colin Marston of DYSRHYTMIA and ex-ORIGIN/SKINLESS drummer John Longstreth – for the album and just let 'em loose.
GORGUTS are like the KING CRIMSON of death metal now, or some demented jazz band. Colored Sands is free-form and utterly unpredictable – while still being punishingly brutal when it wants to be – with weird time signatures and spastic rhythms galore, layers of cascading guitars, LeMay's freaked out leadwork, Middle Eastern musical forays and the string-section classical piece "The Battle of Chamdo" at the midpoint that should remind everyone of the shower scene from Psycho".
It's a lot to wrap your head around, for sure.
More lewd, rude and crude was Omen of Disease, the first album in 14 years from Chicago troupe BROKEN HOPE that was issued in October. It harkened back to before their last album, 1999's aimless, overly technical Grotesque Blessings, reveling in the blunt-force death metal of 1997's Loathing and earlier.
Here, too, the band returned with a patchwork lineup that featured one original member (guitarist Jeremy Wagner), one former member (bassist Shaun Glass) and three newcomers (ex-DIRGE WITHIN guitarist Chuck Wepfer, drummer Mike Miczek and GORGASM's Damian Leski taking over on vocals from Joe Ptacek, who committed suicide in 2010.
Yet the new BROKEN HOPE did a stellar job of re-creating the old-school, chunk-blowing sound of vintage BROKEN HOPE as evidenced on "Ghastly" or the deliciously sick "Choked Out and Castrated", "Blood Gullet", "Give Me The Bottom Half" and "Rendered Into Lard".
Unfortunately, BROKEN HOPE's return went a little off the rails last fall - in an ironic bit of life imitating art - when a fan attacked three others with a box-cutter during the band's set in El Paso, Texas. One poor bastard got his throat cut, though miraculously survived.
The next day, headliners DEICIDE booted BROKEN HOPE from the tour, which begat a week or so of back and forth flame wars and shit-talking. The bands supposedly made amends a bit later, but somehow I don't think this is how BROKEN HOPE would have liked what should have been something of a triumphant year for them to end.
The prize for the longest wait for a new album in 2013, by a long shot, went to Chilean death/thrash metallers PENTAGRAM. Now known as PENTAGRAM CHILE, to differentiate themselves from long-running U.S. doom-rockers PENTAGRAM, the band finally released their debut album - nearly 30 years after their formation in 1985!
After issuing some surprisingly influential demos back in the day, the band broke up before ever recording a proper album. Following a 13-year split, guitarist/vocalist Anton Reisenegger – who has led the thrash outfit CRIMINAL since 1991 and played guitar with the grind-metal supergroup LOCK UP since 2006 - and guitarist Juan Pablo Uribe got PENTAGRAM back together in 2009 to play shows after a compilation of demo material re-ignited interest in the band.
The pair, along with CRIMINAL producer/bassist Dan Biggins and drummer Juan Pablo Donoso, subsequently went ahead and wrote and recorded what is now the band's first genuine album, The Malefice, which came out – finally - in September. And while the album might not quite live up to the legend that inexplicably built up around the band in their absence over the years, at least it's out.
A couple other death metal bands who rose from the grave in recent years issued notable new albums in 2013. San Jose, Calif., sick bastards EXHUMED, who returned in 2010 after a five-year hiatus, delivered the excellent Necrocracy in August, the second album since their reformation. Though frontman/guitarist Matt Harvey is the only band member left from the lineup of the 2011 reunion album, All Guts, No Glory, EXHUMED have been going great guns with a pretty solid lineup ever since. And while Necrocracy is riffier and less frantic than its predecessors, and far less overtly grotesque, it's arguably the most solid and punishing album the band's done yet.
Long Island stalwarts SUFFOCATION, now a decade into their second life since reforming in 2003, had some lineup drama of their own in 2012 with the ouster of long-time drummer Mike Smith and the announcement by frontman Frank Mullen that he would not be touring full-time with the band anymore because of work/family obligations. Nevertheless, SUFFOCATION packed their familiar wallop with Pinnacle of Bedlam back in February. Here, too, the band showed a tauter, tidier, punchier side than they have in a while with their technical tendencies taking a backseat to big riffs and vicious delivery.
2013 wasn't a particularly noteworthy year for black metal. Between all the hipster bands emerging from the U.S. scenes on the East and West Coasts (though I quite liked Virginia's BASTARD SAPLING and DEAFHEAVEN's Sunbather was a trippy delight, pink cover art and all), a relative dearth of anything all that interesting from Europe (new albums from Norway's VRIED and Italy's ABORYM were pretty cool for vastly different reasons - ABORYM's retooling of IRON MAIDEN's classic "Hallowed By The Name" was mind-blowing), and a lot of overwrought, experimental stuff (AOSOTH, ALTAR OF PLAGUES, etc.), there wasn't a whole lot to cheer about.
Norway's notorious BURZUM issued a new album, yawn!, and its mastermind Varg Vikernes found himself in trouble with the law again, this time in France – along with his wife. Some things never change.
But change is not necessarily a good thing, as evidenced by rather puzzling new albums from black metal big shots WATAIN from Sweden and SATYRICON from Norway. WATAIN's brash The Wild Hunt was aimless with its mix of traditional metal and clean vocal parts, though it certainly had its moments of brilliance. SATYRICON's self-titled effort, though, continued the band's metamorphosis from tradition black metal to black 'n' roll by introducing "black pop" into the mix with the NICK CAVE-like crooner "Phoenix" and the simplistic hooks of "Necrohaven" that sounded like black metal meets THE KNACK. What the fuck?
Ex-EMPEROR frontman IHSAHN, however, took a dramatic left turn away from anything approximating traditional black metal with his fifth solo album Das Seelenbrechen with dramatically better results. Ever-unpredictable over his solo career to begin with, IHSAHN offered music steeped more in jazz, ambient and industrial elements than metal and built it around improvisation. It was a challenging, daring work that probably did not sit well with purists, but for those with more open minds it was quite an interesting earful.
And for those who are pining for IHSAHN to return to EMPEROR-like form, the band is reuniting again, this time with ex-drummer Bard "Faust" Eithun, for summer festival shows in Europe that will highlight the symphonic black metal benchmark In The Nightside Eclipse that was years ahead of its time when it was released 20 years ago. Given Faust's past legal issues – he served more than nine years in prison for stabbing a gay man to death in Lillehammer, Norway, in 1992 – don't hold your breath for any shows in the states.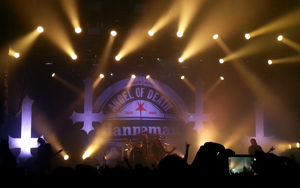 Drama in the SLAYER camp was the big news in thrash during 2013. First there was the firing, yet again, of drummer Dave Lombardo, which was followed by the even more shocking death of guitarist Jeff Hanneman from liver failure in May and then by the band's decision to soldier on – with two-time drummer Paul Bostaph back in the fold, and EXODUS guitarist Gary Holt filling in as he had for two years - at least through their touring commitments, which ended with their first genuine headline tour of the states in a few years in late fall.
There has been much talk of new material – including some written by Hanneman, who had not played with the band since contracting necrotizing fasciitis in his right arm from a spider bite in 2011 – and a new album, but we probably won't know exactly what the future holds for SLAYER until the new year, if even then. Guitarist Kerry King has been busy demoing new stuff, first with Lombardo and now with Bostaph, and appears eager to proceed, whereas frontman Tom Araya seems more wait and see. So wait we shall.
The end of the year saw the release of D.X. Ferris' rather exhaustive, and amazingly up to date, biography of the band, Slayer 66 & 2/3: The Jeff & Dave Years, A Metal Band Biography ... that is a must-read for curious new fans and SLAYER archivists. It tracks the band all the way up through Hanneman's death and Lombardo's latest departure – as well as getting into the nitty-gritty behind it, citing divorce records and other documentation showing that "contract dispute" was an over-simplification of what actually went down.
It also offers loads of background and behind the scenes anecdotes and information from over the years of this famously hard-to-get-to-know band. I've interviewed the various members of SLAYER – save for Hanneman - almost a dozen times going back to South of Heaven or Seasons In The Abyss, it's been so long I can't quite recall, yet I don't feel like I really "know" any of them. Reading Slayer 66 & 2/3 fills in a lot of blanks.
It was a much better year for other old-guard thrash bands, with TESTAMENT, KREATOR, OVERKILL taking victory laps and DEATH ANGEL and SEPULTURA producing some of their best work in years, while old-school throwbacks kept plugging away, ensuring the resurgence the genre has been enjoyed over the past five-plus years continues on, at least for now. TESTAMENT and KREATOR issued excellent retrospective DVD/live albums, Dark Roots of Thrash and Dying Alive, respectively, and KREATOR joined OVERKILL for a well-received, and aptly titled, "Legends of Thrash" tour of North America in October and November. Around the same time, TESTAMENT joined "New Wave of American Metal" front-runners LAMB OF GOD and KILLSWITCH ENGAGE for a tour of the states.
LAMB OF GOD frontman Randy Blythe began the year facing manslaughter charges in the Czech Republic, resulting from the death of a fan at a show in Prague in 2010. On March 5, the Municipal Court in Prague found Blythe – who spent about a month in jail in Prague after his arrest there in June 2012 - was not criminally liable for the fan's death. The acquittal was upheld by the Prague High Court on June 5.
The re-thrash wave continued on - though with mixed results. HOLY GRAIL's Into The Void was fantastic, and SKELETONWITCH's Serpents Unleashed brought a cool black metally tinge to the table. But far more pedestrian were new albums from WARBRINGER, EXMORTUS and HAVOK, while drama kings WHITE WIZZARD made more headlines for the infighting and firings that left the band in shambles than their unremarkable third album The Devil's Cut. So perhaps the wave has crested.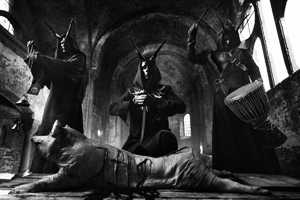 Of course there was some notable new stuff in 2013 that was actually, well, new – at least relatively speaking.
Please log in to view RANTS