A Ravenous Plague: The Maestro's Interview With Maurice Swinkels Of LEGION OF THE DAMNED

By Damian J. Cousins aka "The Maestro", Dallas Contributor
Tuesday, December 31, 2013 @ 7:46 AM

| | | |
| --- | --- | --- |
| | | "I think the power comes from doing stuff all together, songs are built up from jamming with each other, everybody bringing in ideas and thoughts without having one person write a song at home." |
LEGION OF THE DAMNED are back with their newest album Ravenous Plague, out January 7 via Napalm Records. For those of you not in the know, LOTD formed from the ashes of OCCULT in 2004 and have been steadily putting out albums since 2006. And they are ALL worth checking out, especially this new one. I caught up with vocalist Maurice Swinkels by e-mail and he told us about working with producer Andy Classen again, the addition of Twan van Geel on guitar, crazy tour moments, and more. Here it is, for your enjoyment:

KNAC.COM: First things first, you're back with Andy Classen as producer. How did that help you in the recording of Ravenous Plague?

SWINKELS: Andy Classen is the person/producer who knows LEGION best, he already recorded and produced many of our albums, he knows the bands intentions in terms of sound, he knows our borders and limits, and he also contributes to the recording in terms of ideas, so for us he is always the best choice!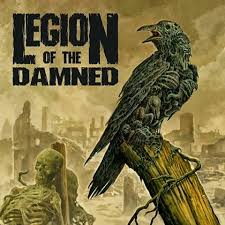 KNAC.COM: What is the writing dynamic within the group?
SWINKELS: I think the power comes from doing stuff all together, songs are built up from jamming with each other, everybody bringing in ideas and thoughts without having one person write a song at home. They start spontaneously, what sounds good we keep, and what sounds rubbish we "delete".
KNAC.COM: I've been listening to the album a lot, and I think it's definitely a big step forward. How does everyone feel about it?
SWINKELS: We are very happy with the result. I think it does have some more melody and much more diversity in the songs, I am also happy with Twan's inspirations and energy since he is new to the band. And after being in this band for 23 years, it's good to have a new soul in the band that can boost up your own energy level.
KNAC.COM: You guys tend to tour for a while. Safe to say you'll be out for a long time supporting Ravenous Plague? And will you come to America, more importantly, TEXAS??
SWINKELS: People have been asking me for years if we'll come to the States, even back in the days when we were still under the OCCULT banner. We've been doing LEGION for almost 7-8 years and toured with the big names in Europe: AMON AMARTH, EXODUS, NUCLEAR ASSAULT, MORBID ANGEL, OBITUARY, KREATOR, CELTIC FROST, BEHEMOTH, CANNIBAL CORPSE, AGENT STEEL…but never did I get one single message from a U.S. promoter to bring us over for a show, it must have been for some reason, I don't know. I think also because we really never released an album officially in the States, whereas in South America, like in Brazil, we've been releasing most of the albums there, even on Nuclear Blast, so we did a South American tour last June (2013). So whether the band will ever play the U.S. or do a tour there it's hard to say. We have been asked to tour twice with SATYRICON already, but we did not go with that offer, it's just hard, you know. But who knows, maybe we will!
KNAC.COM: With all that touring, have there been any SPINAL TAP, crazy moments?
SWINKELS: Tons, although we are not the usual party band that has stories every day, most are ranging from trying to pull a car out of the water in Portugal with the guys from EXODUS. Doing some fun stuff at the EXODUS stage in Portugal on the last day of the tour with the singer of NUCLEAR ASSAULT (John Connelly) dressed up in toilet paper as a Mummy or throwing a birthday cake into the singer of MISERY INDEX'S(Jason Netherton) face on the last tour onstage when it was his birthday.
KNAC.COM: "Summon All Hate" is definitely one of my favorite tracks on the record. Do you have any particular one that jumps out?
SWINKELS: Also "Summon All Hate", but I also dig "Ravenous Abominations" and "Armalite Assassin"!
KNAC.COM: Maurice, you have a very distinctive voice. How do you keep it in shape?
SWINKELS: Thank you! This is actually the first question EVER about my voice hahaha! I think I do have a distinctive voice without being cocky, but you know when you turn on LEGION and you hear the guitars, but it's when the vocals come in, combined with the production/music you always know it's LEGION OF THE DAMNED. Many death metal bands use growls/grunts that I've heard tons of times before….I do have a voice that is typical for LEGION, or became so for LEGION. As for keeping in shape, hard to say, I am a restless person, stress, worries, I run my own company, do tons for LEGION and also work for Nuclear Blast in Europe, so if my body is in a stressed mood my voice suffers a lot. Also bad sound on tour, bad monitor sound, drinking, no sleep, etc. It all affects my voice, so on tour I try to keep my voice stable by keeping it warm, drinking tea with honey, water, almost no alcohol, and try to rest and sleep a lot, although the last thing is hard!
KNAC.COM: Live, you have a second guitarist (Hein Willekens). I'm curious as to why you don't record with two.
SWINKELS: He came into the band when the songs for the new album were already done. Also it was Twan's choice that he wanted this album to do on his own when it came to recording guitars. Also at first Hein was hired as a live session live guitar player, although he did record a solo on the song "Morbid Death".
KNAC.COM: What are you listening to these days? What's in your car/iPod/home stereo?
SWINKELS: A lot of different stuff, also non-metal. For metal I like the new SATYRICON album, ROTTING CHRIST and BLUES PILLS, but I also like KATATONIA. I am listening to ZACK HEMSEY a lot lately; I love trailer/soundtrack kind of stuff.
KNAC.COM: What's one CD people might be shocked that you own?
SWINKELS: There are tons I guess, I need to listen to all sorts of music because I do a lot of metal videos as work, so I am always into metal, but I like it when I listen to pop music here and there. I have albums from MICHAEL JACKSON, RIHANNA, MADONNA….I love stuff from MADONNA for instance! Don't think that's shocking though, haha!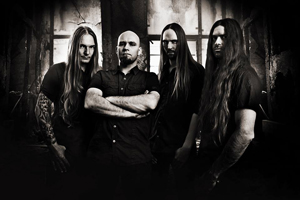 KNAC.COM: What would you like to say to all your fans worldwide?
SWINKELS: People should just enjoy quality music without puking their guts over people's releases saying that they can do things better or what this or that band does that they can do this as well, or that they have heard it better elsewhere, or that it's nothing new what they bring to the table, blah blah blah….LEGION makes music we want you to enjoy live, having a beer, listening to some nice tunes and riffs, bang your fucking head and go home with a satisfied feeling without looking at an ego band showing off their guitar or drumming skills or wonder what the hell they are playing because they try to be so technical you cannot understand shit! Just enjoy and if people think they can do better, then start something on your own and DO it!
KNAC.COM: Thank you so much for chatting with me. I hope everyone in the band has a Happy and Healthy Holiday Season! I can't wait to see what 2014 has in store for you.
SWINKELS: Thanks man! I appreciate the support we're getting from the States!!! Wish you all strength and health and happy holidays!!
It always amazes me that the bands who play some of the fiercest, bone-crushing metal on record and onstage are some of the nicest and coolest off of it. I enjoyed chatting with Maurice, and I hope to do so again, if and when LEGION OF THE DAMNED tours the United States. I strongly urge you to pick up Ravenous Plague on January 7; it'll kick off your 2014 right!
Please log in to view RANTS