From the brilliant mind of Arjen Lucassen comes his most ambition release to date. AYREONís The Theory Of Everything is a brand new story for the catalog and once again, Lucassen collaborates with some of the most noted musicians in the rock and metal genres.

This is the eighth studio album released under the AYREON moniker and in the vein of previous AYREON releases, Lucassen wrote, produced, arranged and played all of the instruments for the recording, with some guest players lending a hand. Offering their voices to the release are NIGHTWISHís Marco Hietala, LACUINA COIL's Cristina Scabbia, ASIAís John Wetton, KAMELOTís Tommy Karevik and GRAND MAGUSís Janne Christofferson.

"I gathered together a lot of my ideas and I wanted the whole process to be very natural," Lucassen said. "All of the music was recorded chronologically and there are four tracks that are over 20 minutes. I wanted to start an entirely new story and while it may be cryptic and weird, it is easy to understand. While my previous stories were based in science fiction, this is set in more of a real world context."

Lucassen says that the singers on the album are those that he has great respect for. He elaborated that there had to be just the right feel with the vocals for the album because of the storytelling aspect.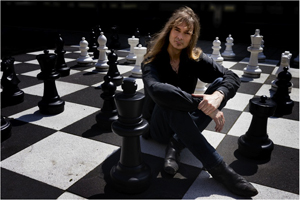 "I met Cristina at a festival and I told her about my idea and she was very interested. I cast her as 'The Mother' and her initial reaction upon hearing the music was that it was very different from what she was used to and that it was a challenge that she wanted to take," he said. "I like to use singers that people would not expect me to use and she was just so real in her performance and it exceeded my expectations. It is the same with Marco and Tommy. I have so much respect for their talents and I am extremely proud of all of the singers I worked with."
He says that he knew that he needed emotional voice to accurately portray the characters in the story.
"I flew all of the singers to my studio and I see myself as a director for their acting because this is a story. Tommy was cast as 'The Prodigy' and he actually is something of a prodigy so he knew exactly what I wanted from his performance. Marco was perfect as the evil character 'The Rival' because he has such a prolific actorís voice."
Lucassen says he sees himself as a producer and composer rather than a performing artist; he says he is even a bit of a recluse.
"I started AYREON so that I wouldnít have to perform live anymore because I donít identify with being a performing artist. I would, however, be interested in possibly adapting some of my work for a theater or movie production. I have very specific ideas of how I want the final product to be," he said. "An AYREON project does take a lot out of me and once it is done, I am empty and can start immediately on new ideas."
Lucassen says that even though he does not perform the music live, his fan base has been very loyal and he likes to offer them everything he can to make their listening experience a good one.
"I like to spoil them with beautiful packaging. I also use social media and the internet to stay in touch with fans and I will often run contests. For example, for this album, I did a contest on my Facebook page where the fans had to guess who the singers would be. It was very fun an interactive," he said.
Lucassen has said that at this time, he does not plan to produce a video for the music, though he did produce videos for past releases.
"It would be very hard to choose which part of the album I would use for a short video because all of the music is so integral to the story and I canít do a live performance video because I am the band," he laughs. However, Lucassen says that even without a video, the music speaks for itself. "I believe that this music is timeless and that fans will stay with me and enjoy it as much as I do. I still have more in me and I am excited to see what I come up with for the future." Until then, fans can enjoy The Theory of Everything and itsí emotional themes.
CD 1
Phase I: Singularity
"Prologue: The Blackboard"
"The Theory of Everything Part 1"
"Patterns"
"The Prodigy's World"
"The Teacher's Discovery"
"Love and Envy"
"Progressive Waves"
"The Gift"
"The Eleventh Dimension"
"Inertia"
"The Theory of Everything Part 2"
Phase II: Symmetry
"The Consultation"
"Diagnosis"
"The Argument 1"
"The Rival's Dilemma"
"Surface Tension"
"A Reason to Live"
"Potential"
"Quantum Chaos"
"Dark Medicine"
"Alive!"
"The Prediction"
CD 2
Phase III: Entanglement
"Fluctuations"
"Transformations"
"Collision"
"Side Effects"
"Frequency Modulation"
"Magnetism"
"Quid Pro Quo"
"String Theory"
"Fortune?"
Phase IV: Unification
"Mirror of Dreams"
"The Lighthouse"
"The Argument 2"
"The Parting"
"The Visitation"
"The Breaktrough"
"The Note"
"The Uncertainty Principle"
"Dark Energy"
"The Theory of Everything Part 3"
"The Blackboard (Reprise)"