One of the newest forces in thrash metal is Chicagoís DIAMOND PLATE. Formed while the members were still in high school and riding the wave of local stardom, the band came under the notice of Earache Records and was soon offered the opportunity to get their music to the masses. KNAC.COM was able to sit down with the band during the Texas stop at the South By So What Festival during their tour in support of DEATH ANGEL.

The band is comprised of guitarist Konrad Kupiec, vocalist and bassist Matt Ares, and drummer James Nicademus. Their debut album, Generation Why? Was produced by legendary metaller Neil Kernon and garnered the band critical acclaim and the opportunity to open for veterans like ANTHRAX and OVERKILL and to set sail on the 70,000 Tons of Metal Cruise.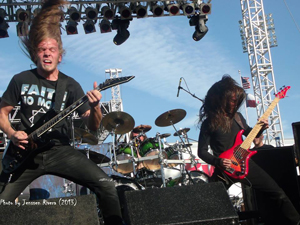 "Me and our drummer got together and started jamming before high school and then went on to where at high school age we were performing regularly. We got picked up by Earache and started touring. Then things didnít work out with our original bassist and we were able to meet Matt and started working on new music," Konrad said. "We transitioned from Earache to Century Media and we love the label and everything they have done for us."
Matt joined the band after a search for the right bassist and vocalist lead Konrad and James all the way to Florida. "I was in and out of local bands and nothing ever got too serious, but then I had the chance to audition and Konrad and James drove to Florida to see me and it just clicked. We knew immediately that this was the right thing for us to do," Matt said.
Century Media sent the band back to the studio to record their 2013 release, Pulse. Once again produced by the legendary Neil Kernon, the album boasts ten songs that each have a heavy, solid sound that the band is also able to carry through live.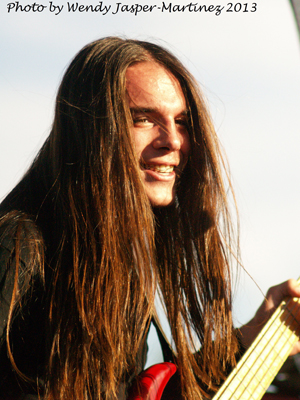 "Working with Neil Kernon was such an experience. He did both of our records and he has such a good connection and he is such a wizard. We have been so lucky. "Face to Face" stands out and "Walking Backwards" is a personal favorite and we hope the fans enjoy it," Konrad said. "Lyrically, the vibe we have been able to create is essential to the music and we see the fans at the shows really getting into the sound and we hope that trend continues for us."
In support of the release, the band secured a spot on the coveted DEATH ANGEL tour, which also featured heavy hitters like REVOCATION and 3 INCHES OF BLOOD.
"This is a great opportunity for us and we have been able to go out with an amazing lineup," Konradsaid. "I hope that we get to stay out for a long time. We have been noticing so much buzz being generated and all we want to do is be on the road and do what we love. My family was a huge influence for getting me into music and they have been very supportive and this tour has been given us so much exposure."
"A lot of bands put in for the spot that we got on the DEATH ANGEL tour, and they chose us! This has just been amazing and we are beyond blown away to find out that they wanted us on the tour. This is something of a victory for us," Matt said.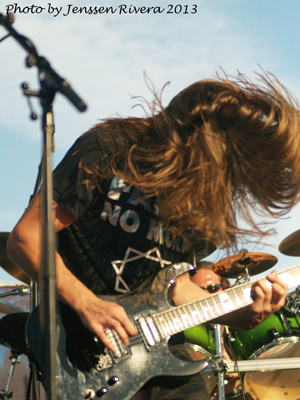 The band is hoping that the success of the U.S. tour transitions into an opportunity to head overseas in the coming year. "We will be ready to go to Europe and there is a lot of talk about next year and the festivals. We have a lot of work to do in the U.S. and there is so much with the live show that we are working on," Konrad said.
The band is constantly working on new music, sharing creative ideas and working to improve their sound. They have also commissioned a video that should be visible soon. They teamed up with director Lester Cohn (MASTODON, NEIL YOUNG, CHEVELLE,TAKING BACK SUNDAY) to shoot the video for the song "Dance With Reality". Check out the teaser trailer and the video will be available via YouTube once released.
"We are constantly writing and we all have ideas. We wanted to make a good and we are really excited about the songs that were recorded," Matt said. "The reviews have been positive and some of the music is very different from our previous music but we have naturally progressed and this is really not a straight forward thrash record. It has so many other elements and we hope that people get it."
For more information on DIAMOND PLATE, check them out on Facebook at https://www.facebook.com/diamondplate1
"Dance with Reality" Teaser Trailer:
Photos By Jenssen Rivera And Wendy Jasper-Martinez