JUNKMAN Recaps ROB ZOMBIE's Great American Nightmare

By Junkman, On-Air Personality
Saturday, November 9, 2013 @ 2:15 PM

| | | |
| --- | --- | --- |
| | | |
The end of October for me and many others is always an interesting time of year. The weather cools down a bit, the change in seasons for most of the world happens,( with the exception of Southern California, where I live. It's 80 friggen degrees outside...) and of course, you start to think about Christmas shopping, and all the crap that goes along with it. And lets not forget to set our clocks back!

But, again for many, the biggest part of the end of October is Halloween. Outside of Christmas, I can't think of a more marketed day of the year. For many, it's the time to bring out there 'inner freak" and play dress up. How many people do you know that dress up like a member of KISS, or cowboy, or a cat? And lets not forget all the slutty nurse outfits on people who have no business wearing anything of the sort on their fast food fueled physiques.

To each his own, I always say. Hell, if someone wants one day of the year to live out a fantasy, why the hell not? Big money is spent on Halloween. Not just for the dress up part, but to pretend to be scary. In every neighborhood, you will see people spreading cheap cotton on their fence to look like spiderwebs, fake skeletons and ghosts, and lets nor forget everyone's favorite, that witch on the broom that looks like it ran into your tree? Yes, craft stores and gift stores and the like, clean up at this time of year with satisfying the urge of so many to be frightening, by selling you cheap ways to make middle America more frightening than it really is.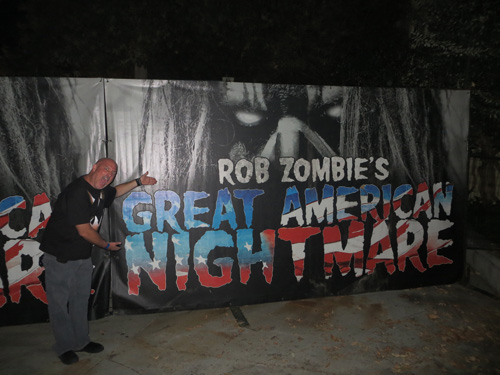 Every empty store becomes a costume shop, and every theme park and tourist trap becomes a "Haunted House". To me, the only thing remotely frightening about this is the people that fall for this nonsense, or scarier yet, the credit card bills that arrive in November, right before Christmas time, leaving the average consumer twice as screwed over, come January when it's time to pay said bill.
You will be happy to know that there are people that actually have a clue when it comes to satisfying peoples need to be scared shitless, as well as providing quality entertainment at a reasonable price. One such person would be Rob Zombie. It's no secret that he is an aficionado on horror. From his music, to his films, hell to his entire LOOK, this guy knows scary more than just about anyone not "teets-up" in the local graveyard after midnight. And, this past Oct 10-November 2 at the LA County fairgrounds Fairplex (re-named "Fearplex" for the occasion..) in Pomona California, Mr. Zombie presented "Rob Zombie's Great American Nightmare".
Sponsored by the likes of Monster Energy Drink ( how fitting for Halloween...) Ernie Ball, and others, this was the "Ultimate Halloween Event" for Los Angeles. Combining live music featuring a variety of acts over the few weeks it was presented, as well as three spectacular Haunted Houses/mazes, I elected to go the night that Rob Zombie himself was performing. (He actually performed two nights..) When I arrived, I was directed into an expo hall on the fairgrounds sight that was packed with revelers and was immediatly entertained by the band POWERMAN 5000, featuring the always interesting Spider One on vocals. Playing a brief but satisfying set, that featured all my fave POWERMAN 5000 tunes, like "Nobody's Real", "Supernova Goes Pop" and, of course "When Worlds Collide", it was the perfect opener for the headliner. Loud as hell, with plenty of strobe lights and fog to enhance the mood.
I exited the exhibit hall after PM5K's set and was pleasantly surprised to see a large beer stand directly outside. It was well stocked with a number of different beers and I gladly indulged. Surrounding the beer stand were set props from previous Rob Zombie tours, including a giant boom box, and the steel robot that the band had appeared out of when I had seen them, a few years ago. Also on display was Rob Zombie's custom 1967 Ford F-100 truck, which was to be auctioned off for charity.
This led to "Bloody Blvd.", which was a vendor row, featuring food and merchandise, as well as huge life-like zombies, and animatronic monsters. All the while you were surrounded by scary actors who spent their time interacting with the guests. One guy who revved up a real chainsaw, set his sights on my girlfriend, and there were lots of shrieks heard throughout the evening by all who attended. One guy even offered to let you staple dollar bills to his body using a staple gun. There were great scary green-screened photo booths where you could purchase a computer enhanced horror scene, or your could take your kid on a ride on the haunted carousel. I especially enjoyed the ghoulish, circus inspired bar area, and another spot where you could watch scary movies on a big screen. No expense was spared. This was a very professional, and well thought out production. My compliments to the designers.
It was time to head back into the pavillion for a performance from the man himself, Rob Zombie and his band. As the fog machines and strobe lights set the tone, the crowd was packed in and pumped up. Rob Zombie and his band, guitarist John 5, bassist Piggy D, and drummer Ginger Fish, treated us to a set filled with most of my favorite Zombie tunes, a combination of both Rob Zombie and WHITE ZOMBIE songs.
"Meet The Creeper" got the crowd singing along during the chorus, and being third song into the set, (like most rock shows, photographers have the first 3 songs to shoot pics) I put my camera down and enjoyed watching not only the band, but the crowd as well, about half of them dressed in ghoulish costumes. "Living Dead Girl" followed and the energy level hit the roof.
Rob Zombie mentioned to the crowd that the police were trying to hassle them about the whole thing, and asked if they had visited the mazes (the Haunted Houses"..) before launching into "The Star Spangled Banner/ We're An American Band" his killer version of the old GRAND FUNK song. Great back ground video and graphics accompanied every song, but due to a smaller stage, it was without the huge stage props of previous Zombie tours. His huge headed dancing robot, did appear though, during "More Human Than Human" and the crowd roared it's approval.
His band are all top-notch musicians. Guitarist John 5 stands out among them. His energy and skills on guitar are equaled by his scary look, bringing to the stage, the perfect foil for the animated Rob Zombie. Zombie himself is in constant motion throughout. I was glad to hear him bring to the set, music from his films, including "Pussy Licker" and "House Of 100 Corpses" from the film of the same name, as well as "Lords Of Salem", before wrapping it up with "Dragula". Always the perfect way to end a set with a song about a hot rod from the Munsters TV show. Now THAT is what Halloween is all about!
Ok, so by now, it's Halloween time, I've got a couple of beers in me, been blasted with some killer live rock, it's time to get the living SHIT scared out of me in the "Haunted House"! The line to get in by now had snaked it's way from in front of "Bloody Blvd", but actually it wasn't too long till we entered the first maze.
Upon arrival in a huge pavillion, on one end of the "Fearplex", we were hurried inside and, while being stared at by a zombie girl with piercing red eyes, one of the characters from Lords Of Salem, and entered the first maze. As we headed inside, we immediately had our heads covered in a foul smelling sack, leaving us totally in the dark. strange sounds and an annoying alarm were played as we made our way through the narrow tunnel. All the while, you would feel someone next to you or within arms range. This was the Lords Of Salem In Total Black Out maze, and as I reached out at one point, I felt an electric shock on my hands. Bits and part of the floor moved, and I could hear someone scream at someone to "Keep that mask on your head, or you will die". That's all it took for me, wussy that I am, as we slowly made our way through. Upon arrival at the end, my sack was taken away, quickly, by a scary looking person, and I heard others say, that it smelled like dead bodies inside.
After catching my breath, the next thing I saw was a pair of inflatable ladies legs. Yes, the entrance to The Haunted World Of El Superbeasto 3 D was a huge vagina! Upon entering ( it actually was kinda tight!) I was pleased to know that it wasn't wet and sticky (or stinky, for that matter...) and we were immediately given a pair of 3D glasses. A plethora of day-glo colored skulls in 3D as well as day-glo painted characters from the El Superbeasto film greeted and interacted with us throughout the rest of the maze. At one point, I do remember crossing a bridge inside, that looked as though it was moving from the 3D effect. Not exactly scary per se, but very well done!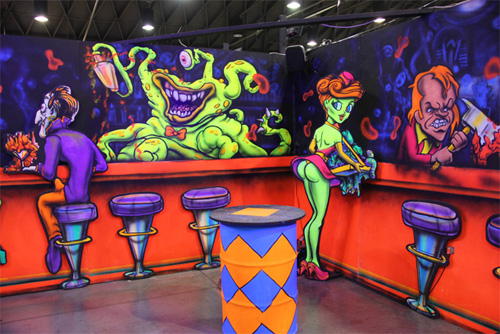 The 3rd and final maze was "The Haunt Of 1000 Corpses", based, of course on Rob Zombie's popular film, House Of 1000 Corpses.
At first, you are entering "Captain Spaulding's Museum of Monsters and Madmen", complete with a live actor dressed as Captain Spaulding himself, the character made famous by actor Sid Haig, who greets you while eating some fried chicken. You are asked if you would like the characters to be able to touch you, and if you agree, a bloody red X is painted on your forehead.
Once inside, it is like an all star tribute to mass murderers. There is, amongst other gory rooms, a clown (John Wayne Gacy, perhaps?...) who asks you what you would like to see, as well as a complete recreation of the Sharon Tate murder scene by the "Manson Family", complete with bloody writings on the walls. Lots of interaction with the actors, and more fake blood then I've ever seen in one place. Surely intended to be and quite successful at being disturbing.
I do hope this becomes a yearly attraction. Again, people have an intense need to have the shit scared out of them, but at the same time, feel comfortable, and have all the things around them to satisfy their urges. And be affordable as well. At about 30 bucks a pop, I'd say its a pretty good deal. Food, drink, shopping, TV, and of course live rock and roll. "Rob Zombie's Great American Nightmare" takes care of all that and more.
Check out some more photos from Rob Zombie's Great American Nightmare!
All Photos By Junkman
Please log in to view RANTS