Wizards and Windmills: IN MEMORY OF THE WHO'S JOHN ENTWISTLE

By Lonn Friend, Senior Contributor
Monday, July 1, 2002 @ 12:03 AM

| | | |
| --- | --- | --- |
| | | |
"There comes a time when sea and land some to rest. There comes a time when even the heavens withdraw. There comes a time when weary travelers need a rest from the journey."
--Rumi
Five nights ago, I'm backstage at the Universal Amphitheater in Los Angeles at the Sammy Hagar/David Lee Roth circus, loving the hoopla, the friends, the theater, the rock. Industry icon, John Kalodner --the guru of A&R, bearded, eccentric, independent, white clad and slightly mad, the archetype music man whom all others struggle to emulate both in vision and success – greets me at Sammy's dressing room door. We embrace and reconnect. John's been on his pilgrimage of suffering, I've been on mine.
"Do you know how long it's been since you and I went to concert together?" I asked after pleasantries were exchanged. "A long time," he replied, his mind no doubt scanning the myriad road trips we've shared over the past fifteen years. " I've got a great idea," I bristled." Let's see the Who together Monday night at the Hollywood Bowl, like old times." I could tell from his tepid grin (John doesn't have an ear –to- ear smile) that he immediately dug the concept. "That might be fun," he replied. "Call me later in the week."
I woke up Thursday at 6 am, pranced out to my guesthouse where the tunes are stored, and plucked three discs for the plane ride to Washington D.C. departing at 8: 30 am. Brief business trip; back in time no problem for Monday's concert. Part of the trio I instinctively grabbed was The Who's Ultimate Collection, a beautiful remastered package, swollen with classics.
There's a girl reading the new Tom Wolfe outside the American Airlines gate. She's got a ring piercing her lower lip and a 'let's rock' tee shirt. I sidle up next to her, sit down, and commence the rap. Within minutes, I'm telling tales, dispensing wisdom and learning about what's new and cool to a 21 –year- old college student from a suburb in Maryland. She whips out her two massive binders of CDs, loaded with metal, punk, pop, hip-hop, an impressive eclectic mix of legends past and flavors present. Then I see it. The Who. Ultimate Collection. Synchronicity.
Pictures of Melissa. Well read, but not so much that the used copy of Tropic of Capricorn I bestowed on her wasn't a welcome addition to the backpack, a ratty, well-traveled pouch littered with pins of punk's finest, from the Ramones to Green Day. "If you're reading Wolfe, you need to read Miller," I lectured. "Without Henry, there is no Tom." Her dream is to be a professional photographer, like Brett Weston or Georgia O'Keefe. Landscapes, that's her thing. She works in a warehouse by day collecting pennies, and plays with her friends at night, collecting experiences. She reveres her older brother who turned her onto all the cool music, and her dad, the tattooed New Jersey tough guy in his mid 50s. They aren't as close as they used to be, not since dad found Jesus. She doesn't judge him; she's just not on the same spiritual page.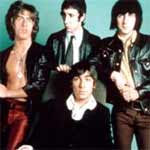 "You've got The Who," I said. "That's very good, because if you claim to be a punk, you best honor the first punk band the world ever knew. I'm gonna see them Monday night when I get back to L.A." She could see how excited I was, animated about my music, just as she was about hers. It's all our music. Melissa scribbled her email address in my book and disappeared into the belly of the giant steel magic bus. At some instant over the next five hours while we skated clouds from angel's heights, one of those seminal punks met his God, father.
They call me the seeker, Ive been searching low and high/I won't get to get what I'm after/'til the day I die.'
Five minutes after I dropped my bags in the room, my cell phone rang. It was Mike Ross, my midlife soul brother of music and sporadic manic depression. "Brotha, did you hear the news?" he said. His voice was cryptic. This is the man who was holding filmmaker Ted Demme in his arms the moment his spirit took flight on the basketball court during one of their routine Brentwood league games last December. His tone gave me pause.
"John Entwistle is dead."
Silence. Shock. And then questions, but no answers. He literally got the call ten minutes before. It wasn't even on the wires, but it would be soon enough. I did not doubt for an instant the validity of this tragic communiqué. I just sat there, stunned, numb. I hung up and closed my eyes, took a couple deep breaths, and called Kalodner. He hadn't heard yet. My voice was choked with tears.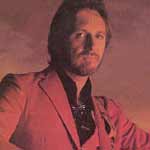 "John was the healthiest, the strongest, the clean liver," he uttered in that classic, nasal delivery. "Keith Richards will probably live to be a hundred," I said. "Yeah, and look at me," replied Kalodner the courageous, fresh from a nine month battle with the big C, thyroid, the scars of two operations neatly covered by the wisps of his long, rabbinical beard. No one practices a more sycophantic, healthy dietary regiment that JDK. He's never even held onto a cigarette, drug or alcoholic beverage, no less consumed it. So much for clean living.
"The Who at Madison Square Garden, 1975, remains to this day the greatest rock concert I ever witnessed," he recalled with definitive clarity. "Even the best Aerosmith shows, they came close, but that was the one. This is so sad." No, sadness does not make the grade here. This is beyond belief, the sickest of all possible ironies, tragedy in Greek with a capital G. Beatle George had been ill for a long time; his bags were packed for the Promised Land. John Entwistle's bags were packed for the tour, The Who's last, great, amazing journey. He died in his sleep, at the Hard Rock Hotel, while the crew downstairs prepared the stage and performed sound checks.
The road show was scheduled to start today in Las Vegas with the rhythm section, pipes and windmill reborn, recharged, prepared to slaughter planet rock like never before. Oh yes, the Stones are warming up in the on deck circle, but they've been round this block before, delivering with the consistency of a veteran prize fighter, dependable, slightly predictable, fun, eternal yet familiar. The Who were all revved up with every place to go, back in the public eye thanks to a #1 TV show theme, a drummer grafted from the surface of the Moon, a plugged in Townsend, a dynamic Daltrey and the undisputed grand high exalted mystic ruler of the R&R four string bar none no iffs ands or butts shut the fuck up you don't have a prayer in this argument if you've ever bled one authentic drop of red in the name of rock.
The original Who are now two. I feel despair, sorrow, frustration, indignation, and catastrophic sorrow. Yesterday morning, I glanced at the Time Magazine cover story warning of the Apocalypse, listened to the endless news bites on NPR of the demise of WorldCom, and I grinned a Cheshire grin at Satan's dwindling to -do list. But just when you think the good guys are starting to chip away at the black tower, boom, we lose one of own and the field of play levels.
Last evening in our nation's capitol, I walked in the rain, drank two Guinness's at a high volume bar on Connecticut where there wasn't a being within ten years of me, and made as many people in the establishment startlingly aware that today was a day of mourning, not just for a bearded bass player of an immortal band, but for the entire institution of rock n' roll.
Most of the twenty something's sighed a 'that sucks' and returned to their liquid medication, unable to fully comprehend the magnitude of loss and I didn't have the energy to stand on a table and orate at the top of my lungs just how fucking horrible this day was. So I sipped my brown elixir in private silence and felt the beat of my own heart drown out the din of the room, each thump aimed through the ether at Pete, Roger, Zach Starkey and every single Who fan who'd ever been touched by their musical magnificence over the past four decades.
Long live rock/be it dead or alive.
* *
Flashback, January 2002.
"So, why are you going to England again?" they asked in unison on the eve of my departure. Points two and three of the Friend family triangle know they are asking a rhetorical question, but I reiterate for argument's sake. Besides, after six months of unemployment and a bank account resembling the southward movement of Nasdaq, they deserve an explanation. "I had $500 credit on British Airways," I explained. "I found a sixty dollar a night flat in Paddington." Those were logistical adjuncts. I swallowed hard and coughed up the real reason. "I'm going to see The Who," I confessed. "They're doing warm up shows in a small venue in Portsmouth on the southwest coast."
Joyce had heard the myriad reasons for my countless musical pilgrimages my entire career. Hell, she's been with me almost since the beginning of the crazy ride. But Megan was a bit puzzled. "You're going all the way to England, dad, to see a concert?" The rock n' roll grooming of Megan Friend, age 12 has only recently passed the immense Beatles hurdle. There was no way I could do a Cliff Notes rundown of Townsend and company at this moment. "Well, Meg, The Who are important, very important to the history of rock n' roll. And there's other stuff going on over there. I've got some friends in the music business I can see. Something in my gut is telling me I need to make this trip now." I detected both confusion and wonder on my perfect angel being's face, looks I've come to know well in the recent, wandering years.
I'd been thinking about The Who since last November and their volcanic appearance at the VH1 concert for Heroes in New York. That event deteriorated from a well intentioned charity hang amongst a few rock legends into an excruciating long Saturday Night Live abortion with so many embarrassing low points, you needed and Arthur Andersen accountant to keep track. Yet amongst the chaotic, ill timed, technically flawed music and comedy blackouts, a rock n' roll hand grenade exploded, laying waste to the building, making the whole damn fiasco worthwhile.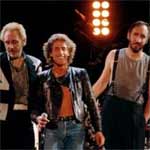 It only took four songs. "Who Are You?" and three from the seminal, "Who's Next?" and the talk of the town that cool Manhattan night turned to four lads from across the pond. This was the best Who in twenty years, galvanized and energized by the 35 year old son of Ringo, who gave notice to the world in thirty minutes on the kit, he had discovered that his place in rock history transcended merely being the son of a Beatle. It was ear-ringing awesome and I knew I would bare witness to this phenomena again, even if I had to travel great distances to do so.
Come on the amazing journey, and learn all you should know.
Elaine is a student at the University of Glasgow. She was raised not far from Portsmouth. I sent her an email from the States conveying my arrival time at Heathrow and to meet me at the gate if she and her boyfriend would like to have an adventure. Elaine found me at KNAC.COM in the summer of 2000. She found most of us who were on staff, keeping watch on the web's most vibrant, hard rock interactive community, reaching out from across the Atlantic via emails and phone calls. She wanted to write about rock. I took Elaine under my wing. She came to the States in the summer of 2000 and interned at the online station, brightening the studios with her English dialect and sincere passion for music, experience and journalistic lust for life. I had little doubt that when I got to Heathrow, she would be waiting for me.
"This is Jamie, Lonn," she said with a shy smile. I'd gotten the advance profile. New Jersey born, known her for a couple years, he's very smart in computers, loves music, and apparently, loves Elaine. He reached out his hand for a shake but I pulled him close for a hug. When others hearts are full, mine fills accordingly. "So, you got your bus tickets?" I said. We met at the Heathrow bus terminal. The ten- hour flight from L.A. for me and the six -hour train ride from Glasgow for them were the main legs of the trip but we still had another two hours by ground to get to Portsmouth. "It's all about the journey, right Lonn?" said Jamie. I liked this kid already.
Too much, the Magic Bus.
The damp, cold wind blew strong off the Channel as we disembarked at Portsmouth. It was four pm. We didn't know what time the show started, where the venue was, where we'd be staying for the night, or even if Rod Smallwood's office at Sanctuary Music in London was able to procure the tickets for me at the last minute. I sent Rod the email the day before. He forwarded my note to his assistant, Dan McKinley, with the accompanying: "Dan, the Who boys visit Sanctuary all the time. Suss Lonn out for the show." The note was passed onto Sanctuary "it girl" Angie Jenkison, longtime friend of the Daltrey family. As the Brits say, No worries.
We hopped in a cab and asked the driver where The Who might be playing tonight. "Only one place, The Guardian," he said in thick English dialect. "Take us there," I respectfully commanded. We got out of the taxi in front of a Tetley hotel boasting "Single Room 36 pounds per night," which comes out to a about 55 bucks US. Worked for us. We secure two rooms, rest for a bit and rendezvous in the lobby at six pm. While waiting, I check out the Internet terminal by the elevator. One pound for fifteen minutes of email air time. I check my messages. Nothing important.
The three of us stroll out into the Portsmouth night, awash with excitement. We case the venue first, a brief ten- minute walk from our hotel. The Guardian is a glorious old Gothic building in the town's main square. It looks like a place where politicians rather than rock bands would perform. The steps in front are now scattered with early arriving fans. A door to the right of the entrance appears to be the guest window. "The list will be here at six thirty," says the portly sir in charge of the gateway. "Let's have a pint and some dinner," I say. All agree and we float into a pub across the road.
My affinity for English music and culture goes back to, of course, the Beatles. They sparked my fascination for the Mother Country. Most of records I bought from childhood through my teens and into my twenties were from bands over there. Pink Floyd, Gentle Giant, Black Sabbath, Deep Purple, Genesis, Supertramp, Roxy Music, Psychedlic Furs, Elvis Costello, The Clash, Sex Pistols, Led Zeppelin, Generation X…the list is immense and traverses the change in Britain's socio-cultural temperature.
Before my first pubic hair arrived, I was coughing up blood to Monty Python's Flying Circus every day on PBS, still too young to get the biting sarcasm but seduced by Terry Gilliam's mind boggling animation and the troupe's uncanny gift for sight gag. Between the music and the comedy, there was something happening over there that seemed so much cooler to what we were up to here, in US suburbia. From the eye-boggling Hipnosis album covers to flexier, sexier composition of import vinyl, my mates and I were connected to the famous charisma magic a half a world away.
"I'm not trying to cause a big sensation."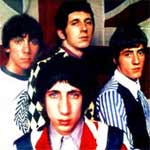 I got two albums for my 14th birthday in July 1970: The Who Live at Leeds and the Woodstock soundtrack, the latter massive musical package bestowed on me by my step mother, Sherry's, mom. I remember so clearly standing in the front yard of my dad's Richmond, Virginia, house and being blessed with so radical an offering from this kind, sweet, fifty something southern lady. I don't think she had any clue what Woodstock was all about. She just knew that I loved rock.
Beyond all the performances at Woodstock, none was more iconoclastic than The Who's. Roger, Pete, Keith and John came, saw, felt, touched and healed the half million mud and drug drenched love children. The power of their set was seismic; the reverberations were felt from Yazgur's Farm all the way back to Britain and beyond. Behold, the virgin birth of the first punk. Rock would never be the same.
Pete Townsend's rock n' roll arrogance was reflected in every mannerism. On stage, he hopped, pounced and gyrated with an abandon that foreshadowed Rotten, Weller, Costello, Strummer, Cobain and Vedder. Pete was the archetype; no one made this kind of trouble before him. His rebellious imprint is as indelible as the scarred stages that played victim to a thousand shattered guitars, slammed home at the close of every show in a climactic clank of revolutionary theater that sent parents and principals racing for the exits. The kids, however, were all right.
No guitarist in history has even wielded his weapon with so perfect a balance of antisocial violence and virtuoso grace than Townsend. The Who's radioactive presentation was a ballet of brutal beauty, held in sync by the most brilliant and punishing rhythm section in rock history—uber- bassist John Entwistle and drummer Keith Moon -- and fronted by the cockneyed screech and whipping mike of the crooner Daltrey. The Who and later, Black Sabbath and Led Zeppelin, proved how sonically encompassing three instruments and a killer set of pipes could be.
"We opened for The Who in 1970," recalls another rock legend, Alice Cooper. "That was the band who inspired me the most. The first time I saw Pete Townsend hit that guitar, the blood running off his knuckles, the reckless, wild, flying right arm, that was it for me. That's what I wanted my band to sound like. He was a punk, but he transcended that, because he was also a consummate musician. Townsend brought majesty to rock n' roll."
Alice gets a glare in his eye when he remembers one particular evening three decades ago. "We were drinking after that gig where we opened up," he smiles. "Me and my guys on one side of the table, Pete, Roger, Keith and John on the other. I had a bottle of V.O. in front of me, Pete had a fifth of Remy Martin. We traded, ritual bonding of bottles, I guess you'd say. We were hammered when (producer) Bob Ezrin showed up. Bob had just gotten off a plane and was starving. He wolfed down this pepper steak and all of a sudden wasn't feeling too good. Then, in a flash, he threw up all over Townsend. I mean, projectile vomit of the Exorcist kind, right on Pete! Without breaking stride, undaunted, Townsend grabbed a napkin, wiped himself off, and poured another round. Pete's the greatest."
Pete Townsend defined the rock opus. He challenged popular music's rules of engagement by daring to compose what no other had ever attempted: Rock symphonies. He was the genre's first Beethoven, a visionary rebel who led us by moped and magic bus to the outer reaches of modern musical theater. His two ethereal works of conceptual art, -- Tommy and Quadrophenia, -- are embraced by each new generation with enhanced scrutiny and commensurate adulation.
"Laugh and say I'm green/I've seen things you've never seen."
Most would label it folly to travel six thousand miles to see a rock concert. If you think I can't explain why this practice retains religious sanctity, you're wrong. If you can see the real me, you know. With formidable foundation laid via the groundbreaking, TheWho Sellout and By Numbers, the beatification of Pete Townsend commenced in earnest with Tommy. Far and away, the most ambitious rock production ever conceived, this double-album took the torch extended by The Beatles in their whitest moment. The hook wasn't just the size or eclectic genius of the project. It was the theme. Like a classical aria, Tommy told a story. An opera. A rock opera. The curtain rises on a new g, g, generation of musical expression.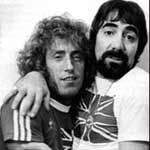 Drummer Keith Moon transformed into the tribal shaman of slam with this record. His 'take no prisoners' approach to skin bashing drove Pete's whirling guitar, John's seamless bottom and Roger's mountain-climbing vocals to the highest high. "Listening to you…" It was anthem -like gospel in glorious four- track stereo. We were 14 years old and the minority. Not too many kids in our San Fernando Valley public school were spending their afternoons cranking LPs, following lyrics, engaged in Rod Laver tennis racket air guitar performances to audiences of none. We were the longhaired, pimpled misfits (throw in four-eyes for yours' truly), not quite intellectuals but hopelessly addicted to the music.
The first live concert LP I ever owned was Live at Leeds. Though many have smoked the stage and transported the recordings to vinyl or disc immortality in the three decades since, this crash, burn and bristle moment remains the finest in rock history. Just an average night at a college campus in a northeast suburb of London for a few hundred punters with their hometown bad boys made good. Yes, that was the script then. Return to the riffs of that ephemeral eve long, long ago and you shall behold in a ninety -minute nutshell the big bang birth of concert recording. That was then; this is now. Cue the lights, again.
"I'm going mobile"
Portsmouth, England: A seaside town where the wind blows icy off the English Channel. An envelope with just my first name on it awaits me. There was a never a doubt. My friends are important and dependable. Tenth row. Dead center. I relish another Guinness in the lobby while the unknown opening act does their kindly thing. Set change and we enter the smallish theater. The inside décor is slightly 70s drab and drafty completely anathema to the gothic, glorious external architecture. I wonder if the designers were knocking back the ales across the street when they got around to the interior.
"This looks like the place where my mum and dad use to go dancing when I was a kid," she observes. Elaine is 22. She's still a kid, only with the wit, wisdom and musical heart of someone years beyond. "The balcony is cool," I say. Then I glance at the stage. I see the instruments, laid out across the smallish platform, awaiting their masters. The weapon of doom catches my eye first: The immortal Entwistle's four –string, Goth-shaped machete, poised to pierce through the decades and slaughter the beat beasts of old. Look, the axe of the prophet Pete. And on the kit, son of Ringo, Zach Starkey. The four songs in New York served notice. I was so excited I could feel the Guinness rising in my bladder.
The Who, one of the eternal three. The Trinity. In the beginning, there was The Beatles, The Stones and The Who. So it was written. The lights were dimming and the crowd was wailing. Riff-born memories were so close we could detect the psychic vibrations. "I Can't Explain" started it off. I don't need to elaborate on the set list. It was wondrous. The triumphant return of the Windmill, the single most significant demarcation of the rebirth, in full accompaniment. Hallowed be thy Who.
He toured with scraped, scarred, bandaged fingers from '67 to '80. The whirling arm of twang whipped the strings with a precise fury previously saved for other professions, like fencer or bullfighter. Here was a guitar player, flailing on his expensive instrument in performance like a mad man. But that wasn't enough ultra-violence for Townsend the Terrible. Let the finale each night see the destruction of the weapon, a gesture of Confucian symbolism. Scatter its' pieces, bread crumbs for the fanatic followers whose numbers will grow over the years to legendary proportions.
"The future's been seen/The men try and realize/The simple secret of the note in a song."
Who's Next? is one of rock history's few pristinely perfect records. It was also the bridge between the opuses. Tommy planted the seed; Who's Next? watered it thoroughly for the soon to bloom rose called Quadrophenia. Who's Next? is the prophetic poem put to song conceived by Townsend originally as a film production known as The Lifehouse Project. It is the unabated crush that identifies this effort as perfectly priceless. No matter how much you are assaulted by the axe, you are also equally serenaded by the literary brilliance of Townsend's spiritual hymns. Roger and Pete were Zen parity in vocal prowess, the hard and the soft, the wet and the dry. Who's Next? is the ultimate give and take dichotomy, swaddled in song. Drop the needle on any groove and watch the clouds open.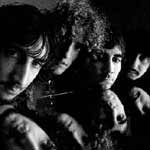 In his humble yet analytical liner notes for the incredible 1995 re-issue of Who's Next? (containing a sorrowful and cosmic remix of "Behind Blue Eyes"), Townsend explains the film project that inspired the recording sessions which spawned the tuneage perfecto that would eventually become Who's Next?. "The Lifehouse idea was very simple," said Pete. "It was a portentous science-fiction film with Utopian spiritual messages into which were to be grafted uplifting scenes from a real Who concert. I was selling a simple credo: Whatever happens in the future, rock n ' roll will save the world." I've kept that thought etched to my soul since September 11th.
No one expected The Who to eclipse an LP like Who's Next? No one except the visionary Townsend. Two years later, he would compose the most introspective work of the band's career. And Roger, Keith and John would connect so deeply with the message, they delivered performances of transcendental brilliance and power. Quadrophenia was both the crossroads and the epiphany. It presented the metaphor of self in four distinct personalities or characters, each represented by a member of the band.
One my prized bootlegs, courtesy of Chicago's Captain Kidd, the vault keeper of the covert disc underground, is the Who's November 27, 2000 performance at London's Royal Albert Hall. A scintillating soundboard quality postcard of a Leeds like immortal concert. Well into the set, Pete brings out his guests, among them, Pearl Jam's ethereal Eddie Vedder, who flew nine thousand miles from Hawaii to partake in the cosmic moment of one song. He sang Townsend's immortal anthem of affirmation, "I'm One."
"You'll all see I'm the One."
"A lot of people have connected with Quadrophenia," said Townsend as the crowd basked in the afterglow of Vedder's soulful, honey-drenched homage to his favorite band's landmark musical achievement. "The Who were always about finding out who in the hell we are and what our purpose is here on this planet." Prodigy, prophet, punk, poet, quadraphonic in purpose, Townsend's personal vision quest to the land within became the lantern for each of our individual journeys.
"So that's why I'm here, the bleeding boat drifted off and I'm stuck here in the pissing rain with my life flashing before me. Only it isn't flashing, it's crawling. Slowly. Now it's just the bare bones of what I am. A tough guy, a helpless dancer. A romantic, is it me for a moment? A bloody lunatic, I'll even carry your bags. A beggar, a hypocrite, love reign over me." – Liner Notes, Quadrophenia, 1973
"How many of you were here in 1974?" asked Townsend to the Portsmouth crowd now baking nicely in a set list of incomparable glory. The band performed a free show in this building for the local extras that week as a thank you. "How many of you here tonight were here for that one?" From the thunderous applause, one could assume every body around me was in the room that night. How magnificent for these hard working, loyal local rock fans to re-live the bells, buzzers and whistles of that eventful eve. But beyond that -- as Pete whirled into the cataclysmic opening riff of "Pinball Wizard" -- how incredible that the strains off the stage are as strong and sweet as they were a quarter century ago.
The machine gun intro to "Pinball Wizard" is cemented in rock culture. Townsend's acoustic wrist play sucks us in like a six -string vacuum but the song – no, the ride – doesn't begin until the first, bombastic bang of Entwistle's mighty bass. It is so fat, so authoritarian, so goddamn heavy, it almost stops the song before it's started. But therein lies the true power of the wizard John. He did not play the bass guitar, he invented it.
John Entwistle in performance was a perfect balance of stoic beauty and blinding speed. He manipulated the instrument with digital precision while holding Redwood stature. Once he took his position stage left, that is where he stayed, his feet never strayed from their spot. All movement took place at the ends of his almost Simeon length arms that emptied onto the two most fluid, insane, cantankerous hands to ever caress a four string. He was Flight of the Bumble Bee fast, surgically precise yet completely free form. He was more than a wizard; he was a true star whose light went out just as the rhythm was soaring again.
"Keith taught Zach to play," said Simon Daltrey, son of Roger, cosmically seated right next to me in the Portsmouth theater, now bouncing in riotous glee to the stains of "We Don't Get Fooled Again." "When he was a kid, Keith and Ringo were best mates. I watched it. Zach and I the same age…35. Keith was always showing Zach how to hit the kit." Pete, John and Roger feel it, too. It's evident by the aura that spills forth from the rhythm section into every wonderful note.
It was during Entwistle's mind-boggling bass solo for the sleazy epic "5:15" from Quadrophenia that the teacher/student dynamic in truly revealed itself. John dances off a series of notes with ageless perfection, and Zach answers, confident, concise, and so, so cool. What was once thought impossible is now reality: The finest rhythm section in the history of rock is reborn; the lunar spirit is in the house.
"And freedom tastes of reality."
Pete and Roger played with the audience for it was not really an audience but rather, a bunch of neighbors hanging out at a live rehearsal. They jammed, kidded, jammed some more. And yet, here I was again, the stranger in the strange land, the rock journalist, drowning in time, place and experience. How did I get here? Los Angeles, where on Earth is that? From my seat, in the presence of rock divinity, I only perceive the here and now. I can see for miles and miles.
Still vibrating from the two- hour dream sequence, Elaine, Jamie and I drifted around the back door of the venue where a small gathering of fans waited for the band to emerge from the building. A time machine scene, twenty -five years past, the rock stars in early development, signing a ticket stub for the locals. They were so friendly, chatty, warm with the kids, who were no longer kids, but still very much, all right.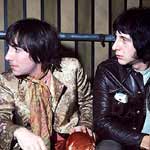 I stood quietly as Roger and John made their way after autographs to their respective cars that would drive them, not to some five star hotel, but home. This was their home. Sure, we who walk the sunset strip have encountered Entwistle at the Rainbow Bar and Grill, where one of his weapons hangs proudly from the ceiling. He loved L.A. but The Who was born here, in these woods, by this Channel. The stranger observed the ethos of family and fan, where it all began, so long ago. This was a world away from my home, but this was still, my generation.
Townsend was the last to exit. As he gently traversed the small crowd, I sensed a moment approaching, like that McCartney moment I experienced in New York last November, when I shook the hand of the Beatle at that VH1concert after party. "One of your icons is here, Lonn, within reach," came the familiar inner voice. "Now, don't blow it. Make the connection or forever hold your peace, love and understanding." Hey, that's how my inner voice talks, okay?
His back was to me, six inches away, as he signed the last photograph placed in his hands by a fan. The car door was open, awaiting his arrival. Townsend the magnificent, a breath away, in a brick alley in Portsmouth, England, on a cold, damp night in January. "Pete," I said softly. "I came from Los Angeles." He stopped, turned around and caught my glance. "Well, you came further for this gig than I did, mate," he grinned. Then he took my hand, shook it, and I felt the calloused strength of a million windmills pierce my being. And it was so good. A soft drizzle began to fall as the chariot of the rock god sped away into the English night. Love, reign o'er me.
* *
"No one knows what it's like, to be the bad man, to be the sad man, behind blue eyes."
March 2002. I'm in the kitchen of Anthrax founder, Scott Ian, and his blonde haired goddess girlfriend, Pearl. Scott's far better half is the child of Mr. and Mrs. Meatloaf, the latter a magnificently fair maiden in her own right. How near the apple, how beautiful the tree. "I've been working on a piece about The Who, Scott," I say, launching into a recap of my trip to Portsmouth. "Really?" he says. "Pearl's mom just had dinner with Roger last night. They're best friends. He's in town for a couple weeks." My mind is spinning. Roger's here? And my piece isn't quite done. Coincidence? Try, Synchronicity.
"Roger is so amazing at telling stories," bubbles Scott who's hung with the immortal pipes on several occasions. "He told us this story the other night about Monterey Pop (the legendary 1969 northern California rock festival that ushered in the west coast's post Woodstock love generation)." The Who, Grateful Dead, Janis Joplin, The Band and Jimi Hendrix, to name a few, destroyed the pristine coastal community for three days and nights and left a memory as indelible as any in concert rock history.
"Roger hears Hendrix warming up in his dressing room tent," begins Scott. "All the artist tents were in one area, lined up next to each other. The Who was next to Hendrix. Roger says he starts hearing these amazing notes wailing out of Jimi's tent. But they weren't his songs. He was playing the Beatles' White Album. Roger stuck his head in and listened as Jimi went from one song on the double album to the next. And he was not just playing chords, but every note in the song. All the parts!
"Roger started spreading the word around the backstage and pretty soon, all the bands were gathered around Hendrix's tent, listening and singing the songs to the White Album. Is that fucking heavy, or what? I mean, Dylan and Joplin singing along to Hendrix playing "Blackbird." Scott quivered. I was plain numb. I love those tales of the glory days, where the talent pool was so deep you dare not jump in for fear of drowning.
Five days pass and the phone rings as I'm flying out of a marvelous restaurant in Korea Town where my buddy, Rex, and I have just been satiated by a Far Eastern repast of the most fine. There's a message on my voice mail. "Lonn, it's Scott. Listen, Saturday night, me, Pearl, and Leslie (Pearl's mom) are going to dinner with Roger. We want you to come. Call me back."
I'm shaking as I listen to the message. You may think that I'm jaded when it comes to artists. Well, I would say that is true if you're talking about a lack of adulation for some of the new breed of stars that appear temporal and image created. Come back in 20 years when you've endured and moved the culture forward with your musical mission and we'll break bread and reminisce about your glory days. I called back immediately, my fingers dancing on the keypad like an Entwistle bass fill.
I picked Scott and Pearl up a half hour early. Live at Leeds was cranking in the car. We arrived at the Chadwick Restaurant in Beverly Hills – owned by my friend, Benjamin Ford, son of Harrison -- at 8 pm sharp. Leslie was picking up Roger in the San Fernando Valley. He's just bought a nice piece of property about ten minutes from where I was born and raised. Or more importantly, a healthy jog from the two bedroom, 800 square foot apartment where every day after school, a near sighted student once sat in awe of a deaf, dumb and blind boy.
With the cosmos in control, the lead singer found himself seated directly to my right. We were six inches apart. I am no stranger to fame. I never change my demeanor, not anymore. I'm Lonn, take me or leave me. And let me say now, under the spotlight of truth, Roger is Roger, take him or leave him. He is the most brutally honest, straightforward, heart on the sleeve beautiful bloke legend I've ever met. He's a true philanthropist, devoted to the children's hospital mission in London, and deeply conscious of his charmed, unfathomable life.
After an hour, I felt comfortable with Roger, at least enough to engage him some primordial dialogue of the old days. "Pete's songs would never had acquired the immortality if it wasn't for the presentation," I said. "He could never have sung 'Love Reign O'er Me.' He must know that deep inside." I guess part of my comment was ego stroke; part true personal belief that the windmill without the pipes would have had different results, different history. Roger nodded obviously pondering three decades of a relationship of unspeakable chemistry, good and bad. He bellowed his classic, raspy, howling giggle. I knew what lay beneath the clown. Even George Harrison's internal peace at departure time was not perfect.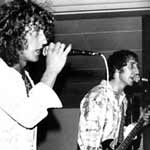 The pipes and the windmill, one could not exist without the other. It was a balance of vocal undulation and instrumental Dementia. Roger Daltrey and Pete Townsend -- reflections, brothers, partners in the definition of a musical and cultural epoch. Let the front man scream and flail while the axe whirls a bedeviling dance. The punk meets the Godfather and symphony is born. Pete wrote the script and played the music. Roger stood up front and swallowed the white- hot spotlight, interpreting the message, delivering the goods, track after track, night after night. It could not have happened any other way.
"That was the greatest rhythm section rock has ever known." Not so much a bold statement as an accurate one, but when you consider the ears its landing on, maybe it was bold. My brain always produces sentences my mouth has trouble relating. What was going on in my head was a minute waltz of canonizing scripture devoted to the almighty Entwistle and Moon. Gibraltar rocks so solid, the riffs and wails floated about them but never penetrated. The blasting, bumpity bump bottom, seamless in delivery, paralyzing in power, married with stick play of dervish destination, it was simply incomparable, unmistakable and absolutely unchallenged.
"And if I swallow anything evil, put your finger down my throat/and if I shiver please give me a blanket, keep me warm, let me wear your coat."
Dinner was flying by, now two plus hours old, and familiarity replaced idle chitchat. Make way for the journalist. "Roger," I said. "I just got the Who's Next? re-released from '95 with an alternate mix of "Behind Blue Eyes." It's fucking unbelievable. The track bleeds with soul. Can you tell me about the recording?"
"Okay, Lonn. I'm going to tell you something I've never told anyone," he said. His eyes were glassy, possessing an honesty unbecoming a legend in social conversation. I gazed back with equal commitment. "The day we cut that track, my dog died," he said with an almost bittersweet grin. "That dog was my best friend in the world. I loved him more than anything. He got killed, hit by a car. And I had to go to the studio and lay down that vocal."
"But why didn't you call Pete or (producer) Glyn Johns and say, "I can't track today, my dog died?" I asked, giddy at this tender revelation. He shook his head. "We never stopped working, not for anything. That was not an option back then. There's a lot of pain in that vocal. My pain."
There were at least a dozen such moments in the evening where I needed someone to periodically pinch me. This was so unreal. Imagine that you are a rock n' roll fan since you were seven years old, spent your entire youth listening to the only music that survives with all it's teeth in tact -- and you're in close, warm, company with one of the ones. And he's painting you glorious murals depicting how it really was, from inside the ropes. I felt every emotion possible and when we were saying our goodbyes, I made no bones about it. I hugged Roger, revealing my appreciation with a most personal gesture. I'll see you in Las Vegas in June for the first date of the tour," he said.
"Listening to you, I get the music, gazing at you, I get the heat/following you, I climb the mountain/I get excitement at your feet/right behind you, I see the millions/on you, I see the glory/from you, I get opinions/from you, I get the story."
* *
Present moment. All I can sanely process in the here and now is this: a healthy baseball player dropped dead last week, a clean living music executive went to the Cancer mat; Billboard magazine editor Timothy White -- barely 50, who wrote the most glorious editorial on the bizarre wonderful band I signed during my Arista years, the Bogmen – this music loving, bow-tie sporting weirdo, well, his heart stopped beating the same day as Entwistle's; my dear friend, actor Miguel Ferrer lost his mother, Rosemary Clooney this past Saturday night, she was 74, and she rocked like the legend she was; two Ramones are dead, Layne Staley spent half his life making love to a needle, Osama Bin Laden is alive and well, three quarters of the world is waiting for the Messiah in one form or another, Billy Joel went to rehab, Colorado and Arizona look like Hiroshima after the blast, the fourth of July is coming and we're worried about terrorists messing up our fireworks and backyard BBQs; Axl won't talk to Slash, my mother won't talk to me and shit, the whole fucking world looks nuttier than a Three Stooges episode. What am I trying to say?
Okay, I guess it's this. Life is short. Life is hard. But life is glorious. Do the math; it's the only life we have. The earth is still green, the flora and fauna still flourish, sex is still fun, children are still our salvation, Steven Spielberg still makes fantastic movies, Spirit, not greed, is still the driving force of human civilization and last but certainly not least, John Entwistle has just arrived at rehearsal. He's standing next to Hendrix, Morrison, Lennon, Harrison and his old friend, Keith, and if that jam session ain't takin' the varnish off the pearly gates, then my name isn't Boris the fucking spider.
Oh and one last thing. The Who in performance at the Hollywood Bowl tonight, sans the only bass player their immortal quartet has ever had. It has been decided that the show must go on. John Kalodner and I will not be attending. No indictment, no judgment, no commentary. We're going to have a long, quiet dinner together, raise a glass of Peligrino water in honor the Ox, friendship, survival, and the God blessed glory of rock n' roll.
Cue the windmill.
Please log in to view RANTS