Locked & Loaded: A Conversation With Taki Sassaris of EVE TO ADAM

By Wendy Jasper, Black Metal Aficionado
Sunday, October 27, 2013 @ 10:56 AM

| | | |
| --- | --- | --- |
| | | Risquť Rockers supporting racy new album |
Hard rock has been waiting for a band like this. A band that gives a nod to the risquť, raunchy bad boy image of earlier times while still churning out appealing tunes. EVE TO ADAM is currently supporting their latest release, Locked And Loaded, and the CD has had an excellent response. The band also has a new tour in the works and was asked to premiere their new video, "Immortal", via Sixx Sense with Nikki Sixx.

"We toured and recorded for ten years and things are really going well for us now. The new CD has been the best received work we have done and has had the most enthusiastic response by both fans and critics," Taki Sassaris, lead vocalist, said. Sessaris is joined by drummer Alex Sassaris, lead guitarist Gaurav Bali, bassist Luis Espaillat and guitarist Adam Latiff

. The bandís touring plans include a run throughout the month of November with POP EVIL, THE LETTER BLACK and BLACK OXYGEN that starts on November 8th in Michigan.

"Weíve done some touring earlier in the year with TEXAS HIPPIE COALITION and we hit some great towns and had full houses at the shows. Last year we toured with CREED and got an excellent response. The band is very excited about the upcoming tour as well as plans to tour Europe and South America in 2014, where we have been elated to have received awesome reviews of Locked and Loaded," he said.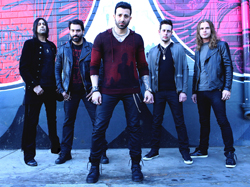 The bandís first video from the CD, "Straightjacket Supermodel", features Fuse TVís Mistress Juliya and was inspired by the hit thriller, Dexter. It was written with Eric Bass from SHINEDOWN and encompasses all that the average metal video has to offer.
"Itís really tongue in cheek," Taki said. "We have Juliya playing the lead character and it was fun to make. We wanted something that was left of center but also had all the elements of a great hard rock video; hot girls, loud rock, live footage. I think it has something that while not totally controversial, really appeals to a metal and rock crowd."
Sessaris says the band is constantly writing and said that some of the unreleased music that didnít make the CD will possibly be released next year to the public as well as being played live.
"We have so much invested in the band and we are excited that people seem to enjoy what we are doing. We love to tour and we hope that we are able to reach a wide ranging audience," he said. "We see such a huge demographic at tour shows, with kids ranging from age 14 to the classic rockers of later generations. Itís such a revelation for us that we have done so well."
Try to catch the band when they come to your town. See the new video for "Straightjacket Supermodel" HERE.
Check out the new lyric video for "Immortal" below!
Tour Dates:
Nov 08 Ground Zero Nightclub, Traverse City, MI
Nov 09 Austin's Fuel Room, Libertyville, IL
Nov 10 The Fillmore, Wassau, WI
Nov 12 Planet Rock, Battle Creek, MI
Nov 14 Capones, Johnson City, TN
Nov 15 The Handlebar, Greenville, SC
Nov 16 100.3 THE BUZZ PRESENTS: GREENSBORO'S CHILI & WING FLING, Greensboro, NC
Nov 17 Masquerade, Atlanta, GA
Nov 18 The Drunk Horse Pub, Fayetteville, NC
Nov 20 Hooligans, Jacksonville, NC
Nov 22 Update Concert Hall, Clifton Park, NY
Nov 23 WAAF LOW DOUGH TICKET SHOW, Quincy, MA
Nov 24 Westcott Theater, Syracuse, NY
If they're coming to your area, this is going to be one hell of a rock show.
Please log in to view RANTS