Unbridled Passion: Gnarly Charlie's Interview with Kiko Loureiro

By Charlie Steffens aka Gnarly Charlie, Writer/Photographer
Friday, October 11, 2013 @ 6:42 PM

| | | |
| --- | --- | --- |
| | | "I really wanted to play guitar. I came out of nothing. I had no musicians in the family. It was just this passion that came." |
A good guitarist is made, not born. It's essential to acquire the rudiments of chord-playing and knowing the notes and frets. By and large, most wannabes give up after they realize what kind of commitment it takes to be any good at guitar. Perhaps a blistering one-finger E-string performance of the legendary riff from "Smoke on the Water" is as far as some ever get. Great guitarists, whether veterans of the stage or garage band warriors, have passion. When all the technical jive is learned, you gotta have passion. More than a distorted face with lips pursed, passion is something heard. And felt by the musician and listener.

Kiko Loureiro is a guitarist who started playing early, and became an avid fan of the instrument: "I started with an acoustic with nylon string classical, that's more like the Brazilian tradition. Not the folk stuff, but more of the Spanish, Brazilian stuff. Then I switched to the electric guitar. I was around 13 or 14."

Bands like LED ZEPPELIN and IRON MAIDEN played a big role in Louriero's musical development, along with progressive greats like YES. After seeing YES play at the Rock in Rio festival in 1985, along with QUEEN, WHITESNAKE, SCORPIONS, and others, the young Louriero became obsessed on practicing his guitar and wanting to have a band.
It's hard to remember a time when a musician couldn't readily find video instruction via the internet. A beginner would often buy a Mel Bay beginning guitar book or just noodle around until that note or tricky chord was found. As Loureiro describes: "It was kind of hard to get the stuff back then. There was no internet, so I had to find some friends who were coming from the U.S. with a new VHS tapes with live shows. And we didn't have much stuff released back there. Even to buy albums you had to wait. I just started practicing and studying like all day. My discipline was very good. I really wanted to play guitar. I came out of nothing. I had no musicians in the family. It was just this passion that came. I only listened to bands. I didn't have any close person, playing guitar to inspire me. It was mainly the bands and albums and the music itself. It was really listening to the vinyl and getting inspired."
With persistence and lots of practice, Loureiro found success at an early age joining the Brazilian metal band ANGRA.
"When ANGRA started, I was 19. I had some bands before. Some small garage bands. We had a manager; somebody we knew from Germany. He said, 'Send a demo to me and I can send it to Japan. I have some contacts there.' ANGRA recorded a five-song demo at home in Brazil and sent it to their manager in Germany. "He sent it to Japan. Japan loved it. The record company, JVC, released the album and it was a gold disc. I was like 21 and I had a gold disc with this album in Japan, on the other side of the world. I started receiving fan letters. It was pretty cool, the fast changes."
In 1994 ANGRA opened for AC/DC on the inaugural date of the Brazilian Monsters of Rock Festival, sharing the stage with KISS, BLACK SABBATH, and SLAYER. Loureiro recalls playing to an audience of 45,000: "That was kind of scary to come on this huge stage and there were all these AC/DC things around. The band was three or fours years old. We weren't very experienced at that moment. ANGRA shows that I remember a lot were in Paris and Japan--a lot of fun moments on tours with all the bands, traveling, discovering new cultures, new countries, new languages."
Loureiro's range of influence spans from the classical to the heavily technical. He cites Jeff Beck, Jimmy Page, Eddie Van Halen, and Pat Metheny as some of his biggest influences along with fellow Ibanez axemen Joe Satriani and Steve Vai.
"I grew up listening to all those guys. Satriani and Steve Vai. And the other ones like Tony MacAlpine, and from Tosin Abasi from ANIMALS AS LEADERS. Guys with eight strings and seven strings. I'm glad to be with a company with that legacy. I really believe that guitarists--they all influence me somehow. I also have the Brazilian influence. So I'm bringing this with the Brazilian stuff mixed with all the influences I've had."
Sounds of Innocence is Loureiro's fourth solo album to date and showcases his soulful, melodic approach to playing guitar.
"When I was composing the album my wife was pregnant and then my life was very different. Expectation. It was very intense somehow. When I was recording I had this little baby. I became a father. The older that you get, the more mature you get, the more experience you get, you tend to lose the childlike part of you. You tend to lose this creativity and inspirational stuff that any child can do. They can draw, they can be an artist, they can imitate somebody, can jump, can scream. They have all this freedom. Then when you get old and you get experienced, you don't do it anymore. Because you don't believe in yourself anymore. Or you're afraid that people are going to talk about you. So that's why I always have to keep this innocence, as a child. Just whatever you do, just do it. Feel grateful that you're having this idea of a melody and believe in yourself. Every melody I wrote I just thought, 'Wow, that's me. I'm going to keep this. It's coming from me.' That was the starting point of the album--to just do whatever I composed. Not thinking what other people are going to think, or if I did this already, and that the music business sucks (laughs). That's what you start thinking when you have experience. You think a lot about what other people are going to think, and you think about the business, you about the market, what you're going to do, and all this. And then you don't do the most important, which is to create the music that you like, that reflects what you think. That was my first vision for this album and that's why the title is Sounds of Innocence."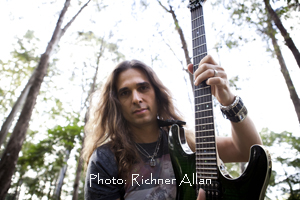 A 10-song instrumental album that showcases Loureiro's musical sphere, Sounds is a record that guitar-heads and melody-lovers alike will want to play over and over.
"I think for the guy who likes the heavy stuff and the more progressive stuff, I'd say "Conflicted". There's a song that shows a totally different side of me, "Reflected". It's more groovy and there's no fat licks or running scales up and down."
"There's a very meaningful song for me--the last one. It's called "A Perfect Rhyme". It's only guitar and piano. This song came when the album was done. The album was done, everything was recorded and I was playing one night on the piano with my baby, and my baby started singing the melody and the melody's not that easy. The baby was like two months old or something. It reflects the moment I was living at that time. It's a very naive kind of melody and a very Chopin-kind of classical thing. Livia."
"That's a good story to tell her in the future."
http://kikoloureiro.com.br/en/
Please log in to view RANTS