After hanging low for a few years KILLER DWARFS have reunited to tour in support of a new album, Start @ One. After their killer show in Streetsboro, Ohio, Russ "Dwarf" Graham sat down with us to discuss the new album, future plans, and what he has been up to while the band was on hiatus.

KNAC.COM: Well Russ, tell us what has been happening for, oh I don't know, the last 12 years or so…since the Reunion of the Scribes Tour.

GRAHAM: Wow…for the last twelve years…I did my own solo album called Penny Black in like 2000…I worked on it for a couple of years after we went on hiatus in '95 from the Dwarfs and I did my thing and Darrell (Dwarf) did his thing. In 2001 we got back together and did the reunion tour, we toured until 2005, we did the DVD, we did the live album, we did a bunch of shows. I think we may have been a little ahead of ourselves on that one…a little before everybody of our genre wasn't doing it yet, right? Whether early or late…I don't know what the fuck is wrong with us. So that was 2005 and I ended up doing a bunch of stuff, I was singing and playing on a bunch of other people's stuff and at that point I did an album with a band from Canada called HARDROAD and the album is called Miles. I wrote some tunes with them. At that point, I have been playing shows the whole time and I have been doing an acoustic thing with a friend of mine that I've known since I was 14 years old, Glen Belcher. For a couple years and I do stuff that I grew up with like ALICE COOPER and I do all of the Dwarfs stuff and my solo stuff, but acoustically, right?…so a different take sort of thing. He had the idea – let's go in and record our album live off the floor with a good friend of mine – an engineer that I've worked with for thirty years. This turned into nine months of eating, drinking, and having fun. Lots of friends came and played on it – it was a really good time. Bumblefoot played on a track for me, Glen Drover from MEGADETH played on a track and a whole bunch of my Canadian friends…Kevin Reed, who played with me here in the states on the Monsters of Rock Cruise. So we did that…there's like ten KILLER DWARFS songs – some of my favorites that we just made into a different interpretation, the album is called Russ Dwarf – Wireless and it did really well. I wasn't expecting anything from it and all of a sudden it blew up and it was like happening and I have a business partner and stuff and we had been thinking about doing the Dwarfs again for a couple of years. Darrell (Dwarf) and I, we're brothers, we talk to each other every day anyways. Nothing goes away…and we remembered…oh we have this album that was never released…

KNAC.COM: I was going to ask you – what took so long to release the new album?

GRAHAM: Because it was the time, you know what I mean? It was the end of the era – the eighties and everything – you know, generations come up with their own thing and stuff and it's understandable, it's all music and it doesn't matter. You know what I mean? And at this point we've become classic rock. So we had a meeting – the meeting consisted of drinking in a bar, and we decided okay let's release this and go have some fun. So we're just out here for almost thirty days or something. The album is called Start @ One – it's twenty years old.

KNAC.COM: That's a great song.

GRAHAM: Thank you - I love that song too…that was supposed to be on Method to the Madness, but a whole 'nother thing happened there, but…so we're out and we are just trying to re-establish ourselves and see if people still remember us and hopefully you will see us next year. We are getting a lot of offers and people are receptive to it and the fans are amazing. Our fans…they are still out here, they're hardcore, and it's such a pleasure – it's heart-warming to see the love of the band. It obviously connected with some people mentally and spiritually which is awesome. And we get along so well – this lineup. It's basically the Method to the Madness lineup and we have a lot of fun together and we have a lot of laughs and shit. We don't hate each other or anything, so it's a good thing. When we have some time off, we will actually all end up in the same room or something , so…it's very odd.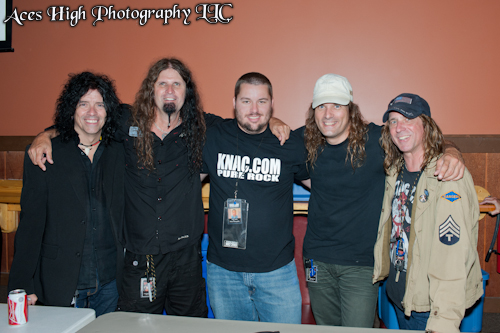 KNAC.COM: KILLER DWARFS has always incorporated humor into everything and that's kind of what your niche was.
GRAHAM: Exactly, yeah, we've always had a sense of humor because this isn't like rocket science; we are entertainers.
KNAC.COM: Exactly.
GRAHAM: And our motto has always been…"hey you're gettin' a 3.50 show for 2 bucks" and we always take the music seriously but life is too rough to be all lookin' at your shoes and sobbing and shit. You know what I mean? Life is just a very fuckin' short time here and we are so lucky to have what we have and you're gonna laugh and you're gonna cry, so we have fun. If you don't get it, that's not a problem.
KNAC.COM: Who is the voice in "Hard Luck Town"? – the intro voice.
GRAHAM: Okay, that's a funny story. This is a very odd story. We used to do 200-300 shows a year, right? And we played from the shittiest clubs to Wembly with (IRON) MAIDEN and stuff like that. We had played in this club, and it was really early on – probably the first album or something and we were playing in this old hotel – if you stayed for like a week or something they put you up in the upstairs with all of the other people that lived there, transients or whatever.
KNAC.COM: Is this in the states?
GRAHAM: This is in Canada, actually in Trenton, Ontario. It was a place called the Sherwood Forest Inn. – I can't believe I remember this shit!
KNAC.COM: (Laughs)
GRAHAM: And there was this old dude that was a miner. He was in there and he was running away from his wife. He was trying to spend all of his money before she got it and he had this stuff – binoculars and tape decks and shit and we got talkin' to him and Darrell bought a tape deck off of him and there was a cassette in it. He said "oh…don't worry about that" (in a scratchy voice). You know…you've heard it and he said "there's a tape in there that is a letter to my son – just erase it or whatever." Of course we listened to this tape and this tape is a fuckin' 45-50 minute tape of his whole life and the shit he went through. He was a hard rock miner and it's almost a tragic story. It's hard to listen to sometimes but we took the humor in it, of course, because that's the kind of idiots we are. We played it for Andy Johns, who did a couple of our records, and became a good friend of ours…when we put that on, he couldn't listen to it. It was too hard for him. But that's basically Tommy, Tommy the miner. That was what we called him. Maybe one day we will release it. It is just unbelievable to hear this guy's whole life story. But that's basically it – no one has ever asked me that.
KNAC.COM: Perfect intro for that song…
GRAHAM: Oh, yeah…totally…totally, I love that kind of humor and shit. Not that it's humorous but you know.
KNAC.COM: Let's talk about the new album real quick…it officially dropped what, a week or two ago right?
GRAHAM: Yes, a week or two ago.
KNAC.COM: Is it available through your website or how can people get it?
GRAHAM: It's through Band Camp and it's through russdwarf.com at this point. They are building the KILLER DWARFS site, but it's on Amazon, it's on iTunes, it's on all the stuff. Just go to russdwarf.com and that will send you right there to where you want to be.
KNAC.COM: Do you have future plans…more touring?
GRAHAM: We do, We do. We are going to come back down here (U.S.) in October, I think, to play in Nebaska at Wolf Fest and Skull Fest…I think…you ever hear of those?
KNAC.COM: (Pauses) I'm not completely familiar, there's a lot of "fests" so…
GRAHAM: Yeah yeah…I'm not either…I know there is…this is what I'm told. I think it's only a couple of dates and then I think we are just gonna regroup and see what occurs. We're from Canada, so we won't be playing, unless we are doing southern gigs, we don't go out in the winter. We don't go out up north, or anywhere above the Mason-Dixon Line…we want to live (laughter).
KNAC.COM: You guys are just across the lake.
GRAHAM: Yeah - you guys are Canadians too.
KNAC.COM: The way things are going, we may come over. (laughs)
GRAHAM: Yeah, we have the healthcare right? (laughs)
For more info on Russ Dwarf and KILLER DWARFS check out http://russdwarf.com/