Horror Lives: An Exclusive Interview With ROB ZOMBIE Guitarist JOHN 5

By Wendy Jasper, Black Metal Aficionado
Tuesday, September 17, 2013 @ 4:56 PM

| | | |
| --- | --- | --- |
| | | JOHN 5 Gears up for Great American Nightmare And Shares Mayhem Experience |
The Rockstar Energy Drink Mayhm Festival tour may be over, but Rob Zombie's fall itinerary is just getting started. Guitarist John 5 has had a full year touring with Zombie on the highly successful Twins of Evil Tour, which also featured his former musical cohort Marilyn Manson, as well as two months on the road for Mayhem. During that time, Zombie's new album was released and the shows and new music have had an outstanding reception.

"I really have to give the fans a 10. Each night when we come out there are so many people and they not only really get into the older music, but they are also cheering and singing along with the new songs," John said. "It was the same with the Twins of Evil tour. These tours have been almost back to back and we have been on the road non-stop. What was really great for me is that in addition to the fan response, my seventeen-year-old son, who has never gotten to see me play, was able to come out to the first show of the Mayhem tour in San Bernadino and that was really special for me."

John says that working on the new record with Zombie is a highlight of his career and he thinks that it is the band's most creative effort to date. Entitled Venomous Rat Regeneration Vendor, the album boasts twelve songs that are reminiscent of Zombie's first solo efforts and have an edgy, heavy feel. John 5's signature guitar style is evident and while he enjoys his solo work, writing and touring with Rob Zombie offers him a whole new world of musical exposure.

"The crowd response has been amazing and people are really getting into it," he said. "We have been really lucky and it's a great feeling to know that people enjoy it. I love the record. There are so many good songs so it's really important to me because I was able to contribute so much. This is a dream come true for me because I have always been a huge WHITE ZOMBIE fan and to now get to be a part of working with Rob is outstanding."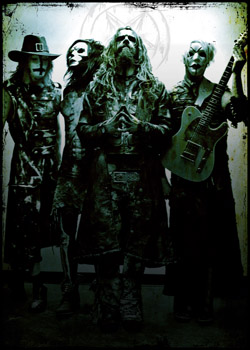 Songs like "Dead City Radio" and "Trade in Your Gun's for a Coffin" are pure Zombie, and John says that the live shows encompass not only Zombie's new music, but all of the old favorites.
"The live show is not like anything we have done before. The lights, sound and set are magnificent. It is going to fit in really well with the Great American Nightmare shows because it's right around Halloween and that is my favorite holiday! Then we plan to hit the whole world. There are going to be shows in South America, probably Europe, and then for the first time ever, we will be releasing a tour DVD. We have been filming for it these last few shows and I am really excited for the fans to be able to see it! It really is the biggest show you will ever see!"
Rob Zombie will headline the closing night of music performances on November 2nd, during this bone-chilling experience that will combine the most advanced haunted house attractions with a not-to-be-missed music festival from top artists in the realms of hard rock/metal, rock alternative, EDM, and Latin. Other additions to the music lineup include: 3OH!3, 45 GRAVE, BEWARE OF DARKNESS, BLAZE YA DEAD HOMIE, BUTCHER BABIES, Duane Peters, EAGLES OF DEATH METAL, GHOST TOWN, MOD SUN, MOTIONLESS IN WHITE, POWERMAN 5000, TSOL, THE DICKIES, THE VANDALS, and WALLPAPER.
"This will not be like anything that anyone has ever seen! There are so many great bands lined up, haunted houses, horror vendors and so much more," John said. "This is the culmination of all of the work the band has done and we will headline the main event of the experience and it will be a show to remember."
Rob Zombie's Great American Nightmare will feature 15 nights of music. Each Thursday night will feature rock alternative music, Fridays EDM, most Saturdays hard rock/metal, and most Sundays will be Latin-focused. Visit www.GreatAmericanNightmare.com for more details.
A creative collaboration between masters of the macabre Rob Zombie and preeminent haunted house producer Steve Kopelman, the fully immersive haunted house experience will feature three attractions based on Zombie's own horror films: Lords Of Salem Total Black Out, The Haunted World Of El Superbeasto 3D, and Haunt Of 1,000 Corpses.
Please log in to view RANTS