Since April 2012 BUCKCHERRY has been relentlessly touring in support of their sixth album, Confessions. The thematic record revolves around the seven deadly sins and sheds light on the excesses, tragedies, and successes of the band as a whole and as individuals. Before a show in Akron, OH, I sat down with vocalist Josh Todd to get the whole scoop on the new record and everything BUCKCHERRY.

KNAC.COM: Obviously everyone is still talking about the latest BUCKCHERRY album, Confessions, that was released in February of this year – In your eyes, how has the fan-reaction been to the new record? Is it what you expected?

TODD: Oh yeah…it has had great reviews in the press. All around I think that this is just what we needed to do at this point in time. It is our sixth record. It is kind of a theme record for us; out of the box. It is still a rock record; still a BUCKCHERRY record, but people really appreciate the direction that we went. I don't know if we will stay in that direction but yeah we had a lot of fun doing it and worked really hard on it.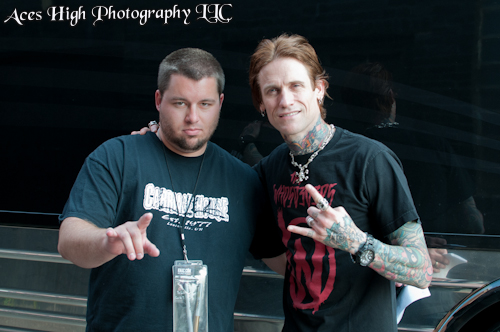 KNAC.COM: The record has the ongoing theme of the 7 deadly sins throughout – whose idea was it originally to do that?
TODD: We all struggled with moderation in this band over the years, so it was always such an interesting subject for us and something that Keith and I had thrown around for a long time, so it was just time.
KNAC.COM: There are some really personal undertones on the new album – especially the track "Sloth" – can you just elaborate a little bit on what it was like to really tell that story when writing that song?
TODD: It would have been difficult like twenty years ago…but you know I have done a lot of internal work on myself over the years so I just want to be honest to the art. When I was doing research on sloth…the most slothful act is suicide and I have a history of that in my family. "Sloth" is really about the day that it happened because my father called my sister and I that night, the day before he actually did it. It was just a turning point for me. You know, I was only 10. It really affected me and that song was really hard to get through, but I felt…you know it is a sad story but it is nice…I wanted to get it out there.
KNAC.COM: You were also working on a short film – tell us what that is about and what the status is.
TODD: Money. I wrote a short film. I casted it, we had a director, we had a location and then we just didn't know how much-we aren't in the movie game. It was a lot of money and there just is no money in the music business to throw around like it used to be. It doesn't really benefit anyone else but BUCKCHERRY so when you are trying to get people to invest in it and get outside money it is difficult and it still is so we are still trying to do it.
KNAC.COM: You guys recently premiered the music video for "Nothing Left But Tears" – that was more of a big production thing with characters and what not – what was that experience like?
TODD: Yeah very cinematic quality. It was different for us…like you said. That's kinda why we chose the treatment. We just read the treatment and thought it was cool. Then we waited and we read some more treatments and just kept coming back to that one. We always thought it was something we needed to try instead of the typical performance video.
KNAC.COM: You've been touring relentlessly since long before the album dropped…since its release, have you guys tried to incorporate more new material into the set?
TODD: Yeah, yeah…we are doing "Gluttony", "(Nothing Left But) Tears", "Wrath", "Greed" tonight…and then we have to take something from everything…oh and we are doing "Seven Ways (to Die)" in there.
KNAC.COM: With an ever-expanding catalogue now, how hard is it to sit down and write a setlist?
TODD: It is really hard because I like to have a certain kind of rhythm. I like to mix up maybe 4-5 songs a night and have a certain structure for me vocally because it's just better for me. I mean there are always the usual suspects like "Crazy Bitch", "Lit Up", and "Sorry"… They might riot if you don't play some of those songs. Yeah yeah..so that is kind of like the core and then we change it up around those.
KNAC.COM: As a seasoned musician, you have this great stage presence when performing – is that something you had to work on or did it sort of just come natural?
TODD: No…I don't know. I just…I put in a lot of work. I put in a lot of practice…on my own. I practice to this day. I will go home-and I have been on the road since April of last year; over 200 shows on this record-and I will go home and I don't like taking more than two days off of singing so I will rehearse, on my own. I will rehearse a lot. So yeah, I put a lot of time and energy into my craft and when I first started it was really the lyric writing that attracted me to singing and I developed my voice later because I really wasn't really just a naturally gifted singer.
KNAC.COM: When the band is not on the road or writing new music, what do you do in your spare time?
TODD: I race really fast go-karts. I am a big race fan; motor sports fan. I will just go to any track. I just did two tracks in Ontario. I race Rotax engines…they go like 50-100mph…they are fast. It's like a mini Indy Car…it's outdoor racing, it's not really what people think. I own one at home that I race and I read a lot of books and spend time with my family.
KNAC.COM: You have said that your foundation in music has been punk – is there any particular band that had the biggest impact on what you do today?
TODD: It is not anything specific…music in general just really touched me. Before I got into like buying my own records…you know, I mean the very first record I was given was from my father, it was THE EAGLES– The Long Run and my mom, when she would clean the house she would listen to LINDA RONDSTADT, WILLIE NELSON, and ROD STEWART. So I kinda grew up around music all the time so when I bought my own records-I grew up in Orange County California-huge punk rock movement…it was all independent records and I had a huge record collection. I didn't really own a major label record until I was 17. Some of the bands that had a really big influence on me were MINOR THREAT and THE REPLACEMENTS and a band called THE TOY DOLLS.
KNAC.COM: Besides vocals, do you play any instruments?
TODD: Yeah, Yeah I play the guitar.
KNAC.COM: When writing new music do you prefer to wrap up a tour and get into the studio immediately or are you more inclined to take a break and go home for a while to let things digest?
TODD: It's weird you know…writing is the only thing I can do in moderation. It's like…I like to just do it and focus on it and piece a product together. I work as hard as I can on it and it's really emotionally intensive so when I am done with it I am exhausted-I like to leave it alone and be out on the road and focus on the performance. Now it's been over the year, so I am getting the itch to write so I am accumulating ideas, titles, and music. There is talk of us putting together an EP after the first of the year, which I am really excited about.
KNAC.COM: What is the most memorable show BUCKCHERRY has been a part of?
TODD: Wow…that's tough…there's so many…I will give you some highlights.
KNAC.COM: That's fine…I will take some highlights.
TODD: Woodstock 99 was pretty big…when we did our first proper tour of Europe it was a month with KISS-we had never been in arenas-we had never been in a bus-it all happened at one time, so that was cool. The millennium new year show in Osaka, Japan opening up for AEROSMITH, that was really memorable. We did five shows with AC/DC which is still like my rock n' roll fantasy come true and we got to meet them after the last show at the Garden, in the dressing room, just hanging out with them and they were like the nicest people ever. It is always great when you meet your heroes and they are cool, you know, they are not jerks. That was really awesome. Let's see what else…playing the Download Festival in Europe which used to be Donnington which has such a rich history of huge rock n' roll bands…so that was really big for us.
For everything BUCKCHERRY visit http://www.buckcherry.com/
All Photos By Geoff Ketler/Aces High Photography