Girls Just Wanna Have Fun: A Brief Interview With BUTCHER BABIES & HUNTRESS

By Wendy Jasper, Black Metal Aficionado
Thursday, August 22, 2013 @ 4:02 PM




Move over boys 'cause the girls are here to stay. While Mayhem Fest may be over, two bands are carrying on into the fall season with multiple shows, slots on large touring packages and boisterous album sales.

Femme'-metal is, for some, an acquired taste, but it was evident by the crowd size that a large number of fans attending Mayhem this year were there for BUTCHER BABIES and HUNTRESS. Both female fronted outfits have recently released albums and their draw is steadily increasing. Goliath, the debut by BUTCHER BABIES, hit shelves on July 9th and HUNTRESS's Starbound Beast dropped just a week before on July 2nd.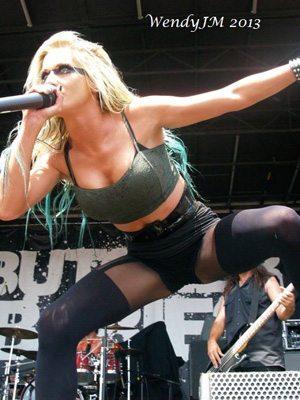 "This is the most fun we have had and definitely the largest touring package we have been on to date," Jill Janus, HUNTRESS vocalist, said of Mayhem Fest 2013. "We also have several fall tours in the works. We are going to be out with DANZIG and it was also recently confirmed that we will have a slot on tour with LAMB OF GOD, KILLSWITCH ENGAGE and TESTAMENT later this year."
HUNTRESS also did some select post-Mayhem shows with tour-mates BUTCHER BABIES, BATTLECROSS and AMON AMARTH in the days following the end of the tour.
Additionally, BUTCHER BABIES held a free CD release party at the Roxy in Los Angeles on August 21st to celebrate. "This has been so amazing for us," Heidi Shepherd, BUTCHER BABIES vocalist, said. "We have so many exciting things happening and we think it can only get better."
"We also have a major tour announcement that we can't wait to tell everyone, but we can't yet!" Carla Harvey, Shepherd's vocal counterpart, said. "What we can say is that Mayhem has been a great opportunity for us and has exposed us to more people and we have been very well received. You are going to be seeing a lot more from us."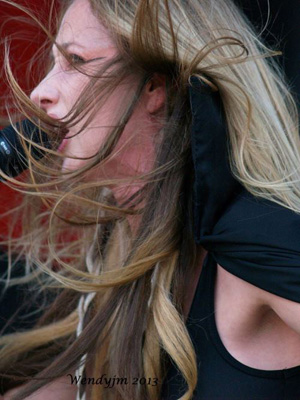 While HUNTRESS tears up the road with LAMB OF GOD, BUTCHER BABIES will be preparing for that yet un-named tour as well as appearing at the Monster Energy Aftershock Festival in Sacramento, California on September 15th and the Great American Nightmare with Rob Zombie on October 26th in Pamona, California.
HUNTRESS is Janus, guitarists Blake Meahl and Anthony Crocamo, bassist Ian Alden and drummer Carl Wierzbicky.
BUTCHER BABIES is Shepherd and Harvey, guitarist Henry Flury, bassist Jason Klein and drummer Chrissy Warner.
Be sure to look for both bands on tour this fall and check out videos for both bands below.
Please log in to view RANTS