New OBITUARY Book, Turned Inside Out: The Official Story of Obituary, Set For Release


By Larry Petro, News Monkey
Tuesday, November 2, 2021 @ 11:16 AM


| | | |
| --- | --- | --- |
| | | Pre-Orders Available Via Decibel Books |
Decibel Books recently announced the pre-order for Turned Inside Out: The Official Story of Obituary, and today Decibel is proud to share the first excerpt from this 328-page hardcover book authored by David E Gelhke (No Celebration: The Official Story of Paradise Lost, Damn the Machine: The Story of Noise Records). The following passage takes readers back to the mid-'80s when OBITUARY's founding core of John Tardy, Donald Tardy and Trevor Peres were about to discover a sound that would change the course of death metal history:

"During a 1985 EXECUTIONER practice, John Tardy stood quietly in the corner of his parents' garage while his bandmates bashed away on "I'm in Pain", a new Trevor Peres composition. One of the many tracks to emerge from Peres' CELTIC FROST-inspired songwriting run, "I'm in Pain" had a unique arrangement - its chorus was placed at the very end, eschewing the conventional song structure Peres was already doing his best to avoid. The heavier direction Peres was taking EXECUTIONER required a different approach from John, who came away from the Metal Up Your Ass demo thinking there was more he could do as a vocalist. He was confident, though, that he no longer wanted to sound like a thrash singer. John had to find a way to match Peres' fiendishly heavy guitar tone and his brother Donald's dynamic style of drumming.

As his bandmates continued to hammer away at "I'm in Pain", John hovered around the microphone. He had a basic grasp of what to do during the song's verses (parts that would eventually be rewritten), but something about the chorus stood out. He strode back and forth as the song's riffs and rhythms emanated from Donald, Peres, bassist Jerome Grable and freshly inserted new lead guitarist Mark Vittoe. When the chorus came around, he suddenly grabbed the microphone stand, reared back and, with every ounce of froth, aggression and fury in his not-even-18-year-old body, unleashed the line of "Help me, I'm in pain!"

Peres, Donald, Grable and Vittoe each looked at each other, astonished.

"What the hell was that?" asked Peres. "That was badass!"

"We have to do that again!" yelled Donald from behind his kit. "Let's go!"

EXECUTIONER then launched back into the song, each member almost hurrying their pace so they could get to the chorus, anticipating what John would do next:

"HELP ME, I'M IN PAIN!"

The song ended, and a satisfied John Tardy had now stumbled upon a vocal style that altered the course of both EXECUTIONER and death metal history."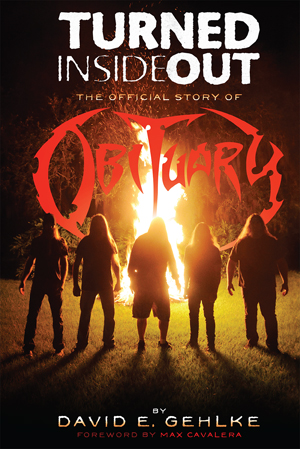 To read more from this exclusive excerpt, go HERE.
As the first fully authorized biography of the Floridian death metal legends, Turned Inside Out: The Official Story of Obituary provides an unprecedented look into their nearly four-decade career through all-new, in-depth interviews with band members past and present, recording engineers, scene contemporaries and music industry veterans who've worked directly with the band. Packed with hundreds of rare and never-before-seen photos, as well as a foreword from Max Cavalera, this hardcover book is the definitive story of OBITUARY.
"This is the first time that we, as a band, have ever officially opened up to the fans," says Donald Tardy. "We took a look at the past, remembering how it all began in Tampa. We shared stories from the studio and the road, and also the mayhem throughout our career like it really was: the good, the bad and the ugly. Turned Inside Out sets the record straight after 35 years - these are the events that made us who we are and the facts that made it history."
Propelled by the inhuman vocals of John Tardy, the obscenely brutal guitar tone of Trevor Peres and rhythmic brilliance of drummer Donald Tardy, OBITUARY redefined heaviness throughout the 1990s. From undisputed classics Slowly We Rot and Cause of Death, through an unexpected hiatus to their current creative renaissance, OBITUARY have pioneered, defined and expanded extreme metal, becoming one of the underground's most recognized and respected acts.
Pre-order Turned Inside Out: The Official Story of Obituary via Decibel now at: https://store.decibelmagazine.com/collections/books/products/turned-inside-out. Copies are expected to ship in early January.




Please log in to view RANTS

If you don't have a username, click here to create an account!