Sacramento based heavy rockers HELION PRIME have checked in with the following update:

"We are thrilled to finally reveal plans for the next HELION PRIME album. We are confident this third album is some of our absolute best work to date. Pre-Orders are now live via Kickstarter. Please head over to the official Kickstarter page and check out what we have to offer. This will be a monster of an album, and we want to bring you along for the ride. As soon as we reach 50 percent of our goal, we will release a new song to all backers."

Kickstarter link HERE

Jason Ashcraft states - "I am so excited to finally announce this album. The concept is something I've been holding on to for a long time, and it's great to finally see it come to life."

The concept of the album shows each song focusing on a different scientist or figure throughout history. Though they went against the common beliefs of their time and often faced persecution for their ideas, they continued to ask questions and stand up for what they knew to be true. As time would go on, their theories and beliefs would eventually be acknowledged.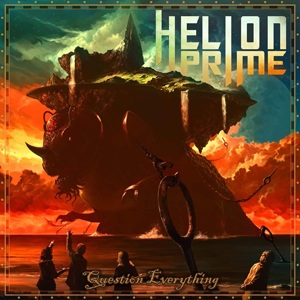 Check out the track list below to get a glimpse at the new song titles and who each song is about.
HELION PRIME - Question Everything"
"The Final Theory" - Albert Einstein
"Madame Mercury" - Katherine Johnson
"Prof" - Alan Turing
"The Gadfly" - Socrates
"E Pur Si Muove" - Galileo Galilei
"Photo 51" - Rosalind Franklin
"Words of the Abbot" - Gregor Mendel
"The Forbidden Zone" - Dr. Cornelius
"Question Everything"
"Chaulmoogra" - Alice Ball
Bonus Tracks:
"Kong at the Gates"/"Forbidden Zone" - MISFITS Cover
"The Final Theory" - Demo
"Alan" - Demo
The album art was done once again by the always fantastic Marc Whisnant, with edits by Bo Bradshaw