ACCEPT Reveal Cover, Track List And Formats For Symphonic Terror – Live at Wacken 2017


By Larry Petro, News Monkey
Wednesday, September 26, 2018 @ 10:09 AM


| | | |
| --- | --- | --- |
| | | Out November 23rd Via Nuclear Blast |
The German heavy metal legends ACCEPT are experiencing more success than ever, and have hit their stride creatively! In the 10th year since the band's reunion, the quintet can look back on four top 10 albums in Germany, including an unbelievable #1 with Blind Rage (2014) and a brilliant #3 with their latest album The Rise Of Chaos (2017).

Over the past few months, ACCEPT has been anything but passive, instead they've been finalizing their latest project, their upcoming live release Symphonic Terror – Live at Wacken 2017, which will come out on November 23rd via Nuclear Blast!

Today, the pre-sale has started for this amazing live document, which will be available as:
BluRay+2CD-DIGI
DVD+2CD-DIGI
2CD-DIGI
3LP Box (black) incl. booklet, poster
3LP Box (gold) incl. booklet, poster // NB Mailorder exclusive
BluRay+DVD+2CD-Earbook
BluRay+DVD+2CD-Earbook + photo card (signed) // NB Mailorder exclusive
Pre-order here: http://nblast.de/AcceptSymphonicTerror

The Tracklist:

DVD/Blu-Ray
Part 1: Accept
"Die By The Sword"
"Restless And Wild"
"Koolaid"
"Pandemic"
"Final Journey"
Part 2: Headbanger's Symphony
"Night On Bald Mountain"
"Scherzo"
"Romeo And Juliet"
"Pathétique"
"Double Cello Concerto in G Minor"
"Symphony No. 40 in G Minor"
Part 3: Accept with Orchestra
"Princess Of The Dawn"
"Stalingrad"
"Dark Side Of My Heart"
"Breaker"
"Shadow Soldiers"
"Dying Breed"
"Fast As A Shark"
"Metal Heart"
"Teutonic Terror"
"Balls To The Wall"
Bonus:
Making Of: Wacken
Making Of: Headbanger's Symphony
Fans can expect a unique, 2 hour ACCEPT show, shot on August 3rd, 2017 at the legendary W:O:A, where the band played the biggest and most extraordinary show of their career in front of 80.000 live fans at the festival, on top of thousands more fans watching via the live stream! The show was divided into three parts, showing the full creative power of ACCEPT: The first part hosted the premiere of new tracks "Die By The Sword" and "Koolaid", as well as some of their most popular songs, such as "Restless And Wild" and "Pandemic". The middle part hosted guitarist Wolf Hoffmann accompanied by a symphony orchestra, presenting the best-of from his recent solo album Headbangers Symphony, which includes metal versions of some of the world's biggest classical compositions (e.g. from Beethoven, Mozart, Vivaldi,...). And in the last but not least part, fans were able to bang their heads to ACCEPT anthems (also accompanied by the orchestra), such as "Princess Of The Dawn", "Breaker", "Fast As A Shark" and "Metal Heart", as well as to new songs like "Stalingrad", "Shadow Soldiers" or "Teutonic Terror". The finale could be nothing less than an 8 minute version of their eminent hit "Balls To The Wall"!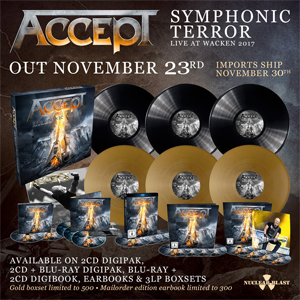 "This was a mash-up of intensity and precision," Wolf Hoffmann says about the fusion of Heavy Metal and classical music. "The fans are extremely open-minded," continues Wolf happy, "but I was nervous 'till the last minute before the show anyway. After all it's still a metal festival! But I think that, after many years of ACCEPT combining both worlds, fans have started to really accept this concept."
By the way: What started as a world premiere in Wacken and caused quite a stir worldwide (thanks to the live streams) will be continued in early 2019. This means: ACCEPT are planning to tour across Europe with an orchestra in spring 2019! "I really hope we will be able to fulfill our dream - we are working hard on it!" tells Wolf Hoffmann with eager anticipation. "What I can already say now is that there will be lots of optical and musical surprises, that fans of ACCEPT have never experienced before. We want to multiply what we have achieved in Wacken and are happy about every bit of support we get. One thing is for sure: 2019 will be exciting!"
In advance, ACCEPT are releasing a very special, limited 10 inch vinyl single "Balls To The Wall"/"Symphony No.40 in G Minor", which will be released on October 5th. Both songs are from their upcoming live album Symphonic Terror – Live at Wacken 2017, which will be out on November 23rd.
Pre-order now via this link: nblast.de/AcceptBallsToTheWall
Pre-order digitally: nblast.de/AcceptBTTW
ACCEPT live:
26.09. USA - St. Charles, IL - Arcada Theatre
28.09. USA - Agoura Hills, CA - The Canyon
29.09. USA - Pasadena, CA - The Rose
30.09. USA - Santa Clarita, CA - The Canyon
02.10. USA - Dallas, TX - Gas Monkey Live!
04.10. USA - Houston, TX - White Oak Music Hall
06.10. MEX - Monterrey - Tecate México Metal Fest
10.10. BR - Belém - Botequim
12.10. BR - Fortaleza - Complexo Armazém
14.10. BR - São Paulo - Carioca Club
16.10. BR - Belo Horizonte - Mister Rock
18.10. RA - Buenos Aires - Teatro Flores
19.10. RA - Chubut - Predio Ferial Comodoro
20.10. RA - Cipolletti - Kimika Night Club
23.10. RCH - Santiago - Teatro Coliseo
25.10. RCH - Puerto Montt - Arena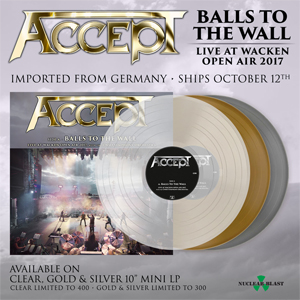 Rise Of Chaos Festivals 2018
w/ ORDEN OGAN, REFUGE, MONUMENT
01.11. D - Cologne - Live Music Hall
02.11. D - Weissenhäuser Strand / Ostsee - Metal Hammer Paradise* *SOLD OUT*
03.11. D - Wiesbaden - Schlachthof
04.11. D - Regensburg-Obertraubling -Airport-Eventhall
* ACCEPT only

The flagship of German Heavy Metal, ACCEPT, are very pleased to announce the "Rise Of Chaos Festivals 2018" for the very first time. The events will take place in Germany. After the big success of their latest album The Rise Of Chaos, ACCEPT will be playing three "festivals" under the same name. As a platform for interesting, young and dynamic bands, these festivals will be established as a recurring event over the next few years, they will be presented by Continental Concerts to offer a live spectacle to all fans of Heavy Metal.

The Heavy Metal legends have therefore invited ORDEN OGAN, REFUGE and MONUMENT for the "festival" shows 2018! While ORDAN OGAN are one of the most established bands in the German Power Metal scene, REFUGE (with the original RAGE Line-Up from 1988-1993) are known for their Ruhr-Area Thrash Metal. Fans of this RAGE era should take note! Supporters of MAIDEN and PRIEST will also be pleased with the young and dynamic guys in MONUMENT. They don't make it a secret that they openly quote their heroes in their own songs, and are loudly spreading the flair of the 80s!




Please log in to view RANTS

If you don't have a username, click here to create an account!